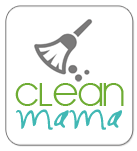 I'd love to introduce you to Clean Mama's newest ebook…
Cleaning Around the Seasons: Deep Cleaning On Your Schedule
What's included in
Cleaning Around the Seasons: Deep Cleaning On Your Schedule?
6 quick read chapters
Chapter 1 The Motivation – Seasonal and Deep Cleaning
Chapter 2 First Things First – De-Clutter
Chapter 3 Choose Your Method
Chapter 4 Gather Your Supplies
Chapter 5 How to Start Deep Cleaning
Chapter 6 Ideas for working Deep Cleaning into a Full Schedule
7 printable guides to help you through the process:
De-Clutter Before You Clean Checklist
The One Day Clean
The Weekend Clean
The One Week Clean
The 31 Day Method
The Deep Cleaning Checklist
The DIY Deep Cleaning Checklist
Clutter and chaos taking over your life? Need some motivation and insight to figure out the best way to do a little deep cleaning? Hop on over to the Clean Mama blog to learn more about
and to purchase your copy today!