This is a Sponsored post written by me on behalf of Walmart for SocialSpark. All opinions are 100% mine.
When I was in first grade, there was a boy in my class who was noticeably different than everyone else.  His jeans were always torn and dirty, he smelled like he hadn't bathed in MONTHS, he was very defiant and not very friendly with the other kids.  Back then, I did not understand why, I just knew to steer clear of Jimmy.  As we got older, Jimmy didn't change much, but my understanding did.  I learned that Jimmy was a foster child, his parents were drug addicts.  He (and his siblings) had been horribly abused in multiple ways by their parents before being removed from their home and put into the foster system.  My heart still breaks to this day when I think about the sweet child that was broken, and I hope and pray he has been able to overcome the trials he's been given.
I was recently reminded of Jimmy a few months back while watching my local news.  Their was a segment about a local charity called the Sunshine Angels.  This group of 3 charitable organizations support and enrich the lives of children who, for their safety, had to be removed from their home, family and friends and now live in a group home in foster care.  I thought about Jimmy and felt great appreciation for those individuals and groups that help take care of and LOVE these sweet children who have been neglected.  They really are angels!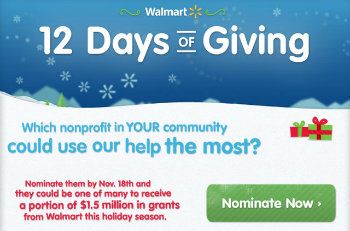 Starting December 10th, Walmart is going to be giving a total of $1.5 million in grants to deserving non-profit organizations across the country!  They will be providing basic need items like food, diapers, coats, baby formula, and winter necessities.  During this campaign, Walmart is giving Americans the opportunity to nominate organizations they feel deserve to win a portion of the $1.5 million in grants!   Walmart is taking nominations starting now through November 18th.  I of course nominated Sunshine Angels.  Nominating an organization of your choice is simple!  Just visit Walmart's 12 Days of Giving page on Facebook, fill out a quick form about the organization of your choice, including their name, contact info, website and photo(optional).  Then just write a quick blurb about the charity and what they do for your community!  What a great way to give back this time of year!  Remember you have until November 18th!  Leave me a comment, I'd LOVE to hear about the organization you nominate!