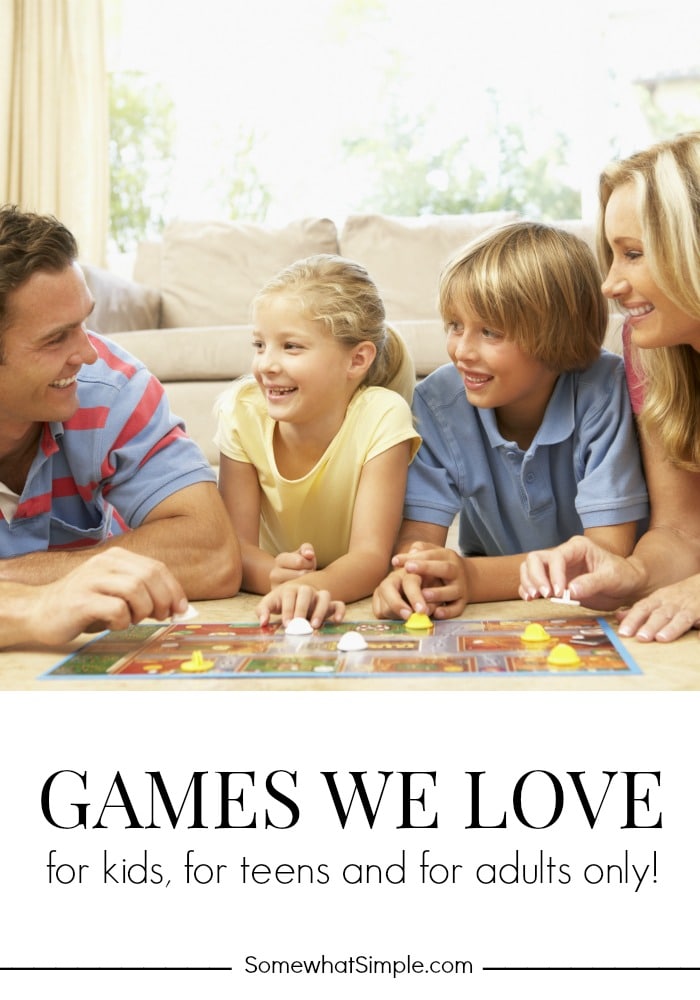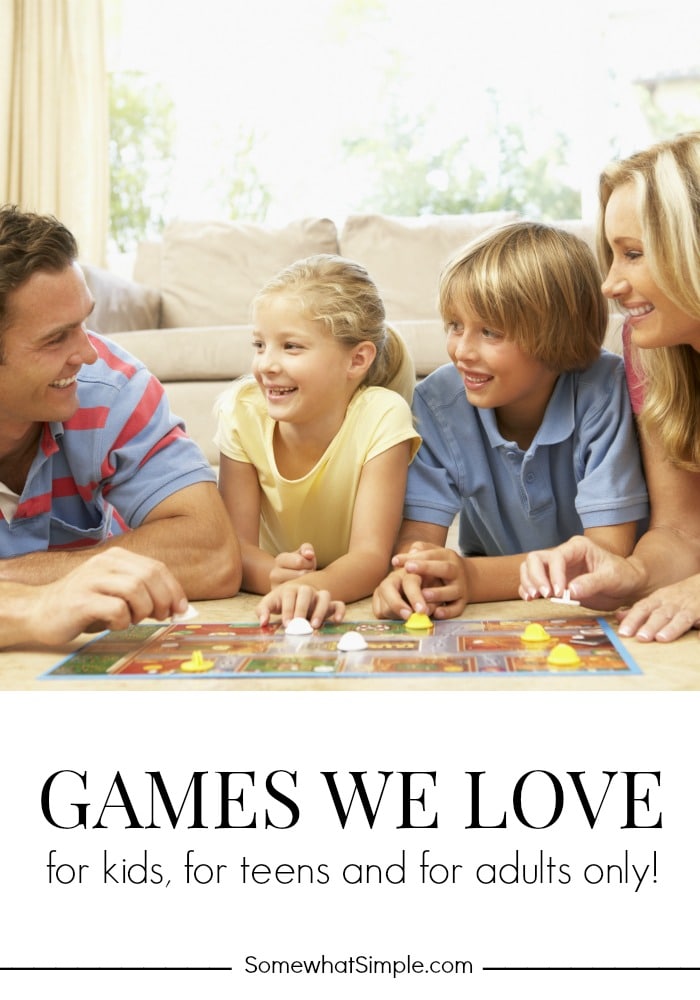 For Thanksgiving this year we are getting together with my husband's family – grandma, grandpa, 6 siblings, 6 spouses and a couple dozen grand kids. It is going to be a full house, but a FUN house and I am really looking forward to it! In preparation of the few days that we will all be together, I've gathered 5 favorite games for the family to enjoy! Take a look:
(Amazon affiliate links are included in this post for your purchasing convenience.)

1. BeanBoozled || $7.94 – This game proves just how accurate those dang Jelly Bellies can taste in a hilarious and disgusting way that your kids will get a kick out of!!! The game comes with a box of Jelly Bellies and a spinner. One player at a time spins the spinner and eats the color of Jelly Belly that it lands on. If it lands on green, you could be eating a pear-flavored candy OR you could be eating a candy that tastes like boogers! They look exactly the same, so you don't know what you're getting. Black jelly beans could be black licorice, or they could be skunk spray! You can try to smell it beforehand, but you won't smell anything until it's in your mouth and stuck in your teeth… and then it's too late! The popcorn Jelly Bellies could also be rotten egg, and from personal experience, I can tell you it is not awesome. The reactions of those eating and playing is enough to have the whole room laughing! (Amazon also offers refill packs for a couple dollars if you burn through the original box… which we have done 3 times now.)
This game is best illustrated by a video of our family playing it- take a look:
2. Pie Face Game || 21.05 – This is the only game on this list that our family hasn't played yet, but it went viral on Facebook months ago and the laughter in the video was enough to make me want to try it with our crew! Take a look:
Jukin Media Verified (Original)* For licensing / permission to use: Contact – licensing(at)jukinmediadotcomPie Face …. So Funny ….. My crazy Family xx

Posted by Sharon Boswell Obrien on Sunday, April 19, 2015

3. The Game of Things || $24.01 – Read the hilarious topics and write down your answers, then try and guess who said what!
4. Malarky || $16.22 – Read a question, like "Do fish sleep?"– only one player has the answer and everyone else must make up a believable one! Players vote for who they think gave the real answer, so make your bluff a good one!

5. Cards Against Humanity || $25.00 – A fellow blogger and friend of mine mentioned on her FB page that she loved this game and she got some awful feedback by so many people who were ashamed of her for playing such a crude game. (Eek!) I should mention that I have only played with the box of cards that my hilarious, but straight-laced aunt went through, and apparently she got rid of some of the cards that were too inappropriate, so take that for what it is worth. For a group of adults, it can be quite hysterical!
. . . . .
We wish you all the happiness and laughter as you spend time with your family and friends!
Cheers!!!