THIS POST IS UNDER CONSTRUCTION – PLEASE CHECK BACK LATER WHEN WE HAVE IT LOOKING NICE AND PRETTY1 : )
We all have that scary space in our home that's full of junk that we pretend isn't there. Now is the time to declutter that space and these 5 questions will help you determine what to keep and what to get rid of.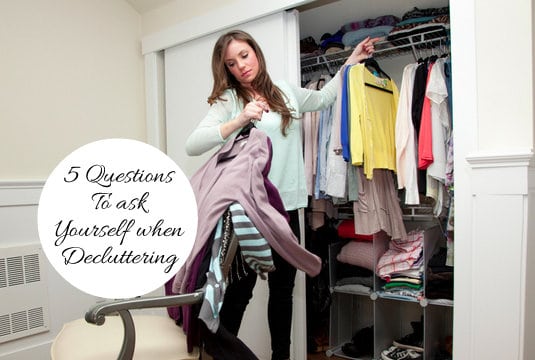 How To Declutter
1. Would I buy it today?
Rather than focusing on how long ago you purchased something, or how much it cost, it's most beneficial to evaluate your belongings through the lens of the present. By asking yourself if you would buy something today, you're able to clarify whether it still truly appeals to you. After all, the act of paying money for something is incredibly illuminating of our intentions and desires.
2. Will I wear/use it tomorrow? This week?
Most people think that the best question to ask when decluttering is "when was the last time I wore/used this?" While that question is certainly a good starting place, the response to it is confined to the past. The answer is usually vague at best. It's difficult to recall when exactly the last time was that you wore that white button down. The past is a blur in our minds, and using it as a measure of whether or not to keep something doesn't guarantee we'll gain a definitive answer about any one item's necessity.
As with the first question, asking yourself if you will wear or use a particular item now is ultimately more revealing of whether or not it should stick around.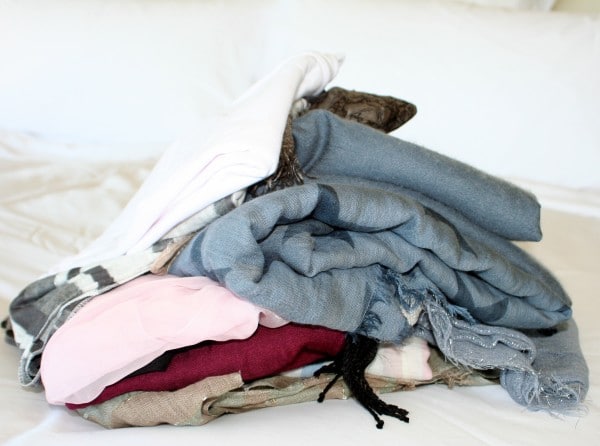 3. Do I have space for it?
This question is one of the most important when you declutter your home and one that often isn't prioritized. While your feelings about various belongings are vastly important, it's ultimately your spatial means that decides what or how much stays and goes. You just can't keep more than your space can accommodate. Or, you can, I suppose, but it won't do you much good; overcrowding only decreases the accessibility to all things, limiting your ability to get to the items you truly love and need.
4. It is unique?
It's important to consider your belongings in the context of a larger collection of things. Rather than evaluating an item on its own, it's important to consider how it relates to the rest of your collection. Do you own many versions of an item? If so, are there ones that are in better condition, or that you prefer for subtle reasons? By comparing like items against each other, you can better cultivate a well-rounded collection, full of unique pieces, each of which, then, serves a distinct purpose, and thus, earns it space in your home and in your life.
5. Does owning it/wearing it/using it make me feel good about myself?
This question is the bottom line when it comes to decluttering. Any material belongings you bring into your home, you do so on a voluntary basis. With that in mind, it's just silly to surround yourself with anything other than that which makes you feel abundantly great about yourself. Surround yourself with things that make you feel beautiful, that conjure strictly happy memories, that make your life simpler.
Who is ready for a fun July Challenge?
This month's workshop is a good ole' Summer DeClutter. We're going to tackle 4 hot spots in 4 weeks with our special guest Becky, from Clean Mama.
Why a Summer Declutter?
It's hot, kids are home – is this really a good time to tackle the projects?
Done right, decluttering is a great way to lighten your load, simplify your life and maybe make a few extra bucks. Summer is a great time to clear out the closets, drawers, basements, and get ready for a garage sale or a trip to your local thrift store for a tax-deductible donation. I'll be working right along with you, sharing some organizing and cleaning tips that you can use in your own Summer Declutter. Shall we get started?
The Summer Declutter Plan
We are going to clean and organize 4 "hot spots" in 4 weeks in an easy, breezy way. What do I mean by easy, breezy? Make it fun – set yourself up with a bin or basket to sort through while watching a great movie or listening to your favorite CD. Make a pitcher of lemonade and organize while chatting on the phone with a long-distance friend or your sister. Make it fun and make it relaxing. Sound like fun?
Weekly Assignments
Choose 4 areas in your home to declutter and write them down in the 4 hot spot blanks (some suggestions: an area or two in your kitchen, paper clutter hot spot, a closet or cabinet, clothing….)
Complete your Summer Declutter Hot Spots by following the 4 steps and checking them off as you go.
After you complete your first hot spot, check off the "Done" box on the printable
So what do you think? Are you ready to join us?
Come back next Thursday to share your progress Good luck!!!
About the Workshop Author:
Becky is the go-to-gal for all things clean! She is a former elementary art teacher, who incorporates art and craftiness into every place she can. Her blog, Clean Mama, is full of crafty, cleaning and organizing fun!