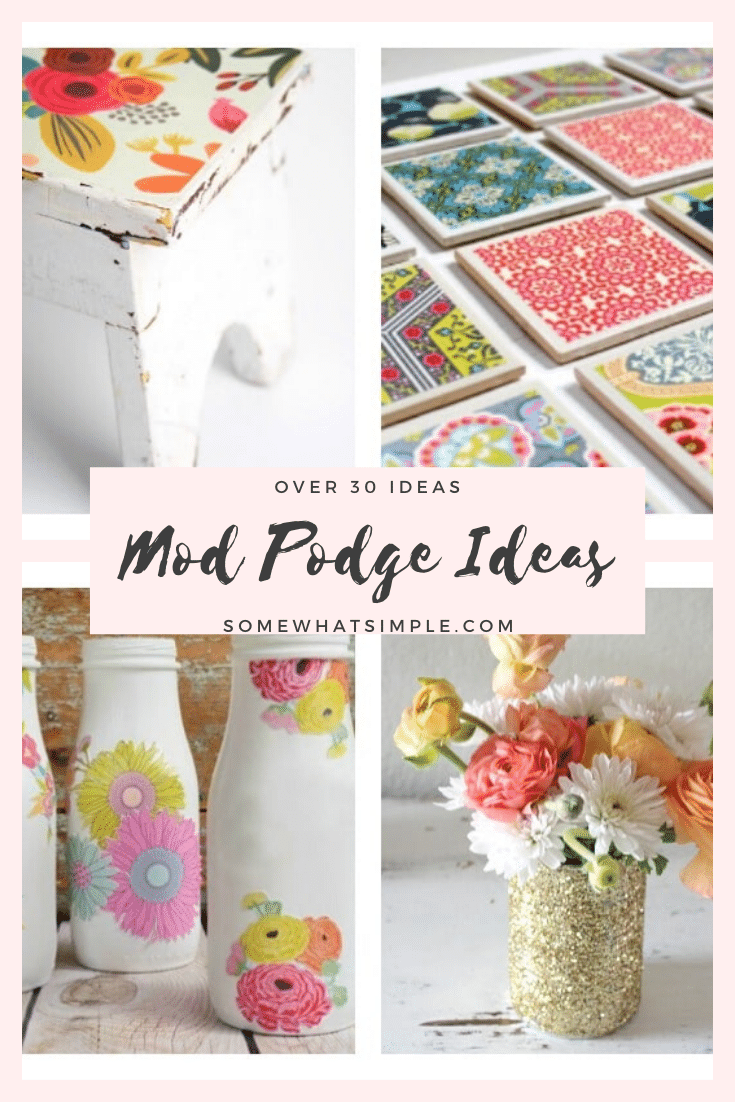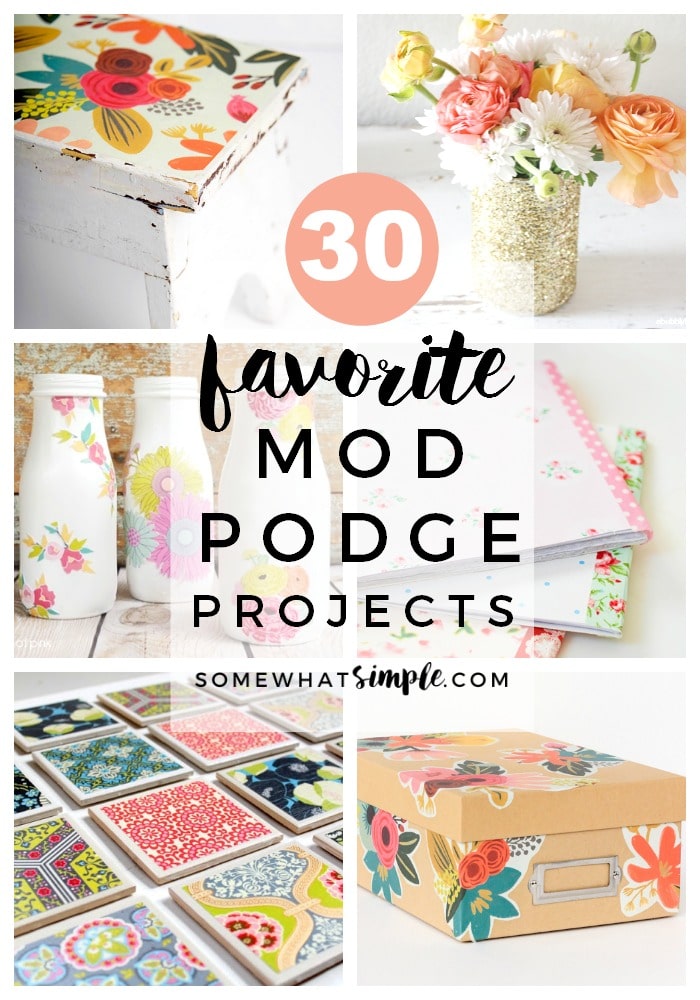 30 favorite Mod Podge projects and crafts, from wall hangings to decoupaged furniture and everything in between!
Here are a few more colorful crafts you might enjoy: Paper Ice Cream Cones, Paper Bag Pinatas, and Painted Rock Art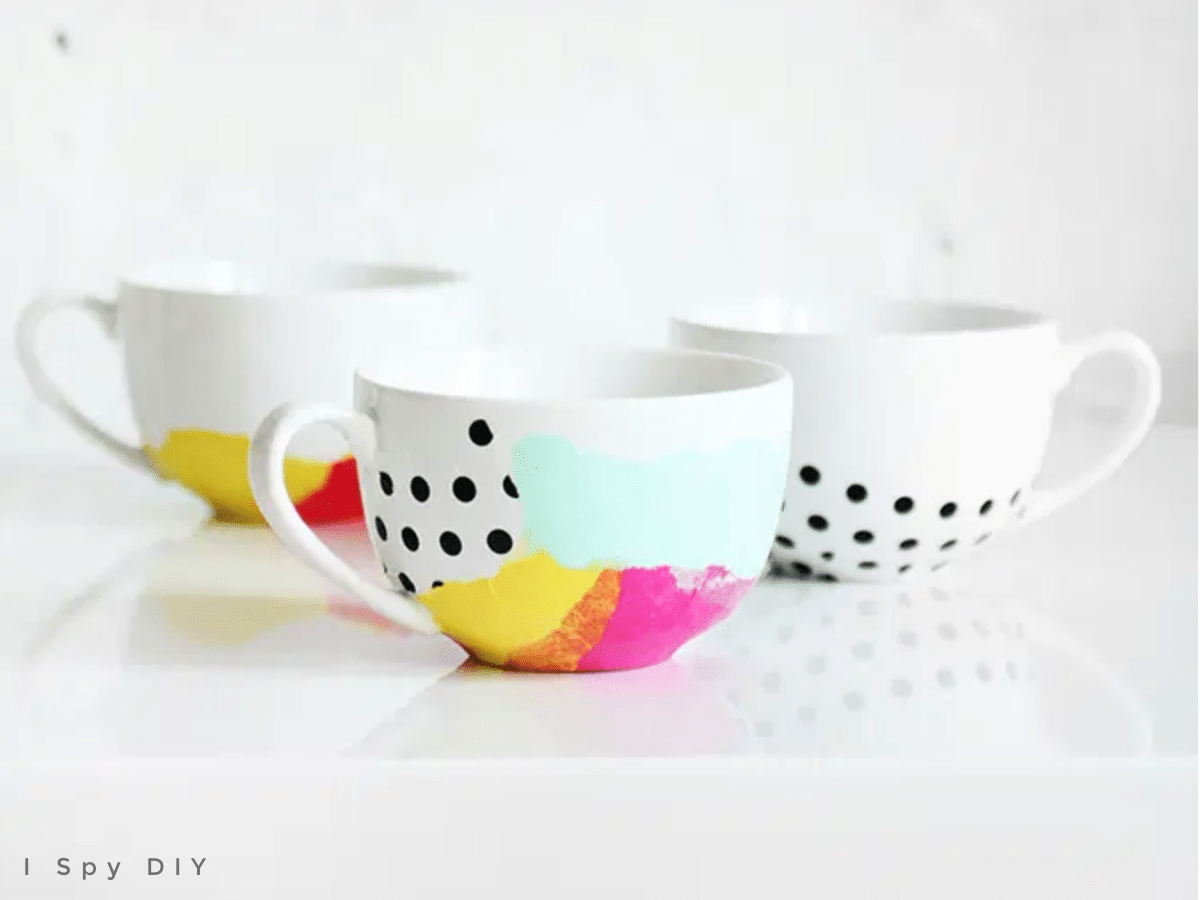 Mod Podge Craft Ideas
Mod Podge is one of those items no crafter can live without! I made my first mod podge project way back in high school, so you know it's been around forever! 🙂 If you've never used Mod Podge before, you definitely need to try it!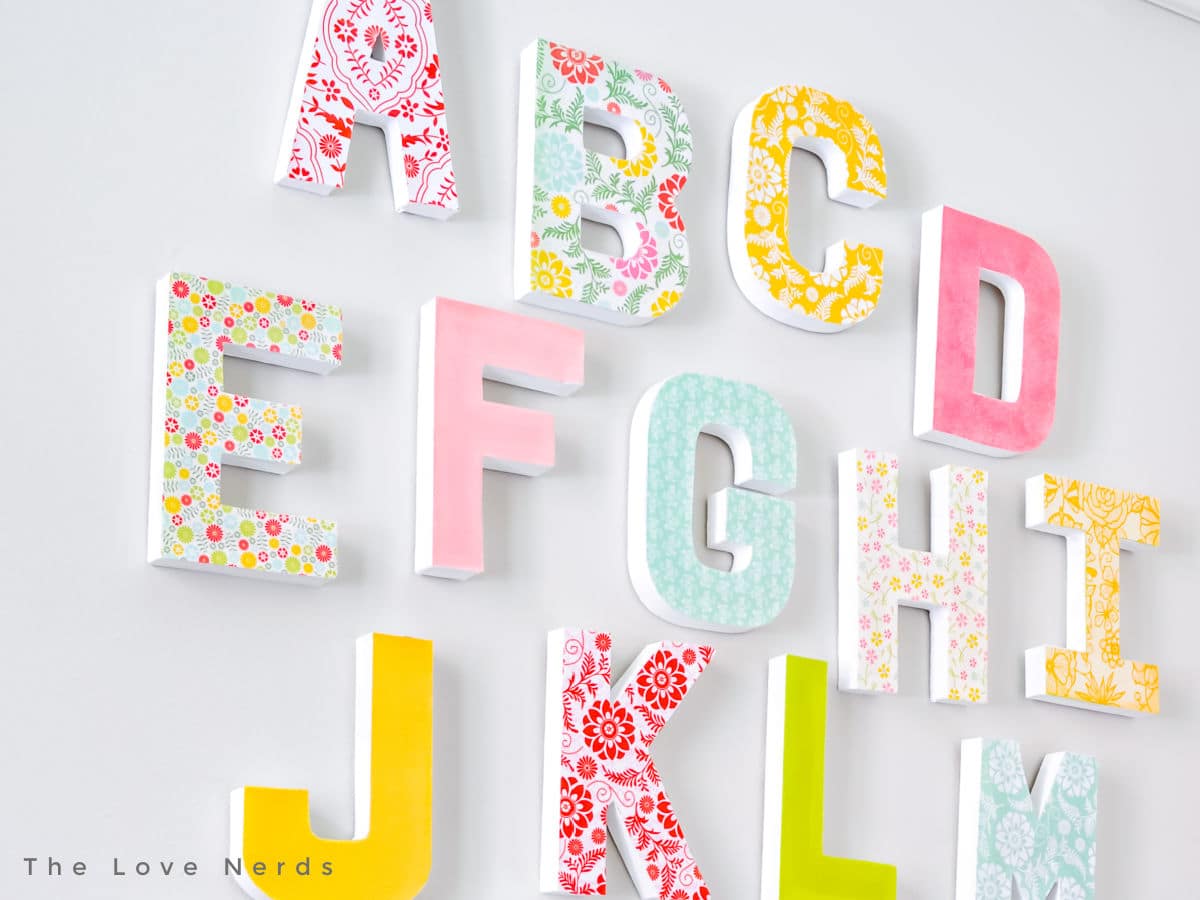 Mod Pod Questions – ANSWERED!
What Is Mod Podge?
Mod podge is one of the most popular brands of decoupage craft supplies on the market. Mod podge is a glue-type sealer that can attach paper and fabric to different types of surfaces.
Is decoupage and Mod Podge the same?
Decoupage is the name of the art form. Mod Podge is the glue/sealer used to decoupage.
What can you make out of Mod Podge?
Mod Podge is used to make numerous DIY crafts and gifts. If you need mod podge inspiration then you've come to the right place!
Can you use Elmer's glue instead of Mod Podge?
While Mod Podge is a type of glue, it is very different than other white craft glue. Mod Podge also works as a sealant and creates durability for your craft projects that Elmer's glue doesn't allow.
How do you make homemade Mod Podge?
You can make a matte Mod Podge by mixing 2 parts white glue with 1 part water.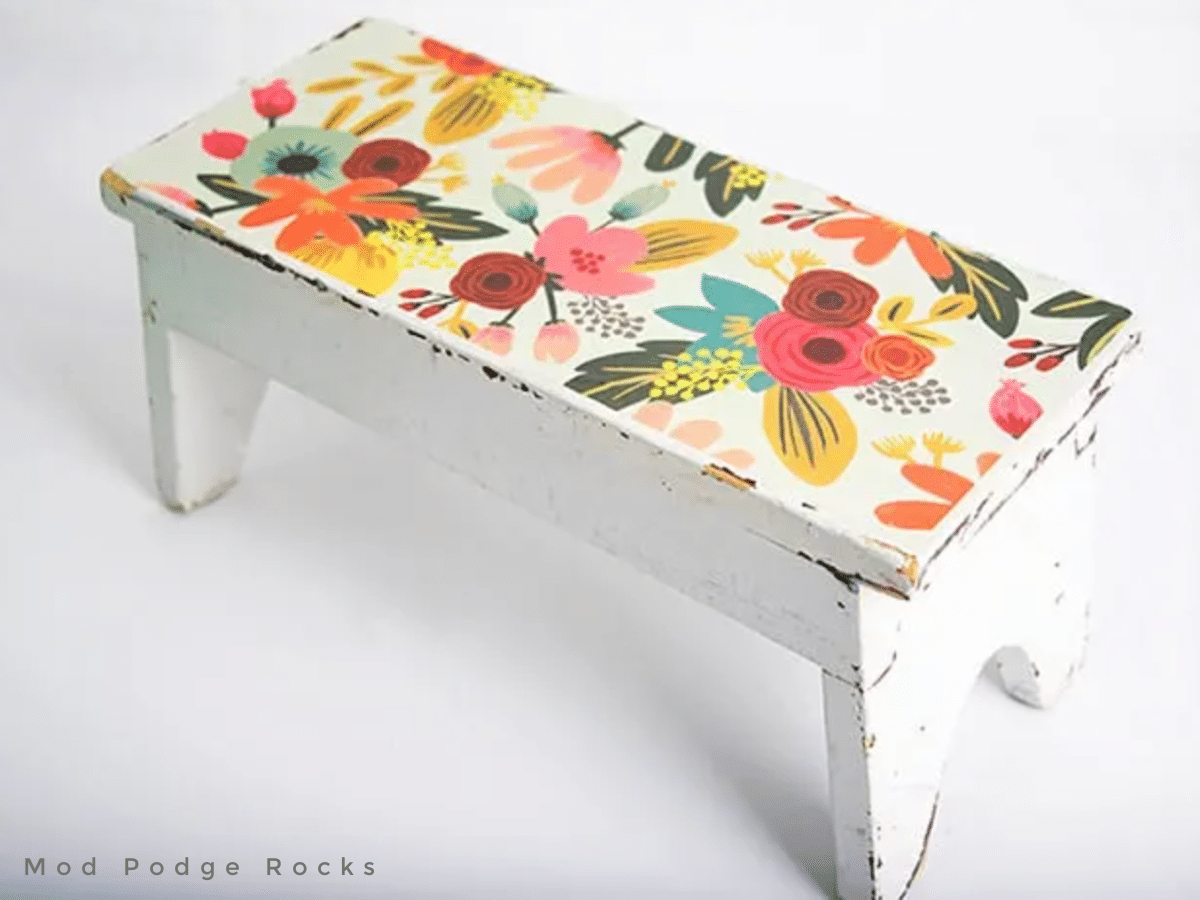 DIY Mod Podge Projects
Here are 30 fun mod podge ideas and craft projects to help get your creative juices flowing!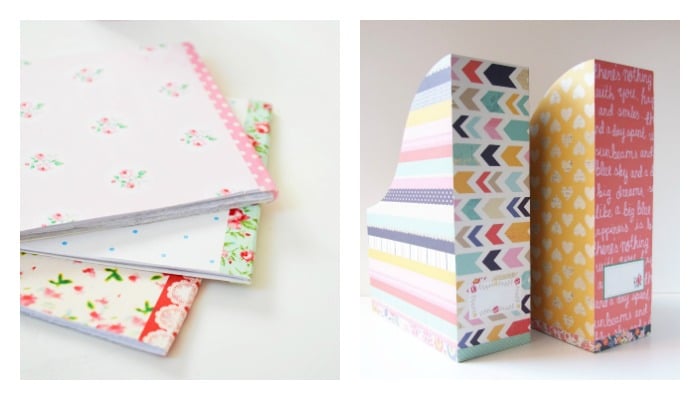 1 || Mod Podge Notebooks make the prettiest desk accessories and even prettier gifts for friends! || Once Upon Her Dream
2 || Beautify a plain magazine holder. || Gathering Beauty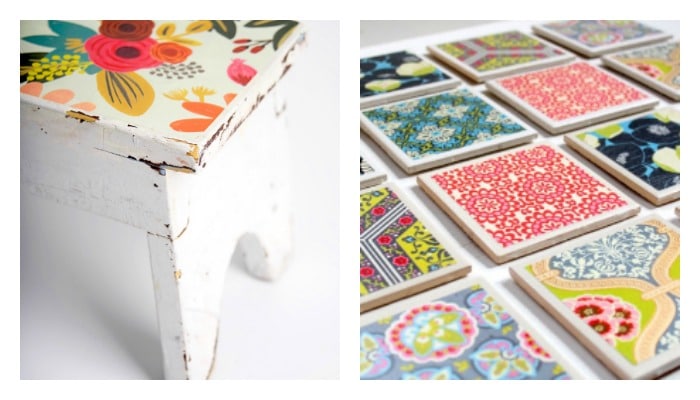 3 || Give a Little Wooden Stool a colorful makeover! || Mod Podge Rocks
4 || DIY Tile Coasters are made from inexpensive tiles from the hardware store and are embellished with fun, designer scrapbook paper. (My son made one of these with his picture on them in his classroom for Mother's Day. It was such a sweet gift!) || The Cottage Mama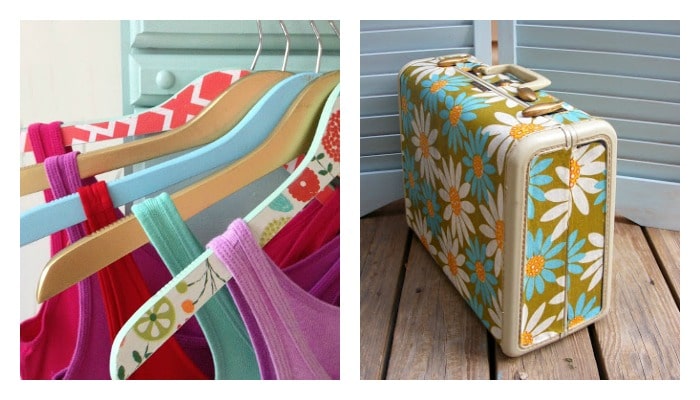 5 || Give your closet a fresh update with darling Mod Podge Hangers. || Live Love DIY
6 || Update a Vintage Mod Podge Suitcase with fabric and Mod Podge. || Sew Can Do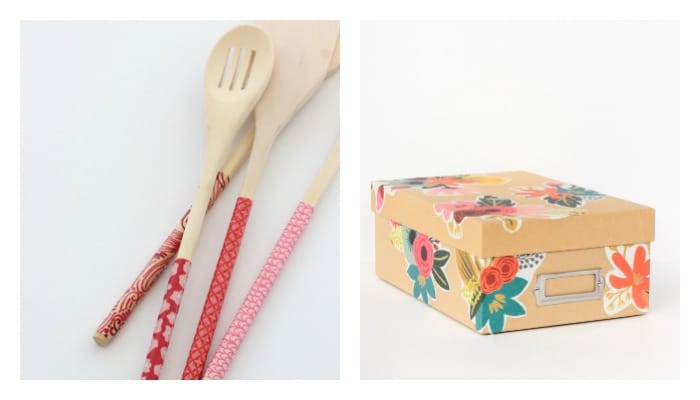 7 || Fabric-Covered Wooden Spoons are not only simple but they're also easy on the pocketbook. They made a great gift for anyone in your life that enjoys cooking. || Alice and Lois
8 || Grab a storage box, Mod Podge, brush, wrapping paper, and scissors and make this fun Floral Decoupaged Photo Box. || Crafted Life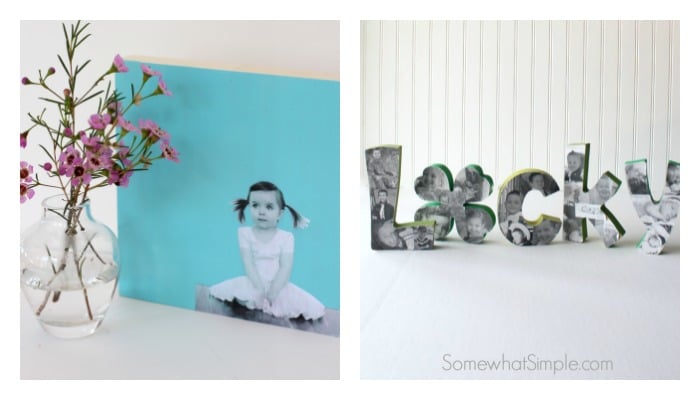 9 || Make some Modern Wall Art with a pop of color and cute pictures. || Project Nursery
10 || Celebrate March 17 by making this easy St. Patrick's Day Decoration for your home! || Somewhat Simple Living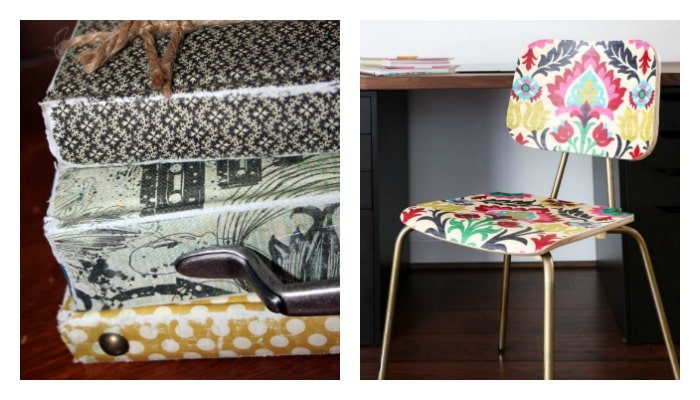 11 || Make a stack of books to match your decor with this tutorial on Mod podge covered textbooks. || Gorg Fab Goodies
12 || Get the look of upholstery without the expense! This Mod Podge-covered chair is so fun! || Designer Trapped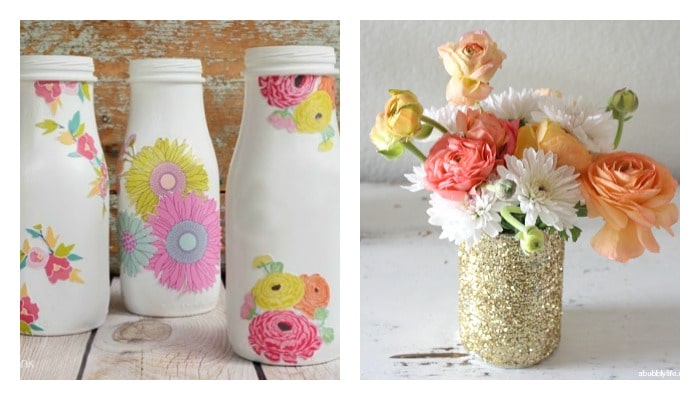 13 || Mod Podge Milk Bottles are spray-painted and embellished and look absolutely darling! || Two Shades of Pink on Eighteen25
14 || An Upcycled Glitter Vase can be used to hold anything, but fresh flowers look especially amazing! || A Bubbly Life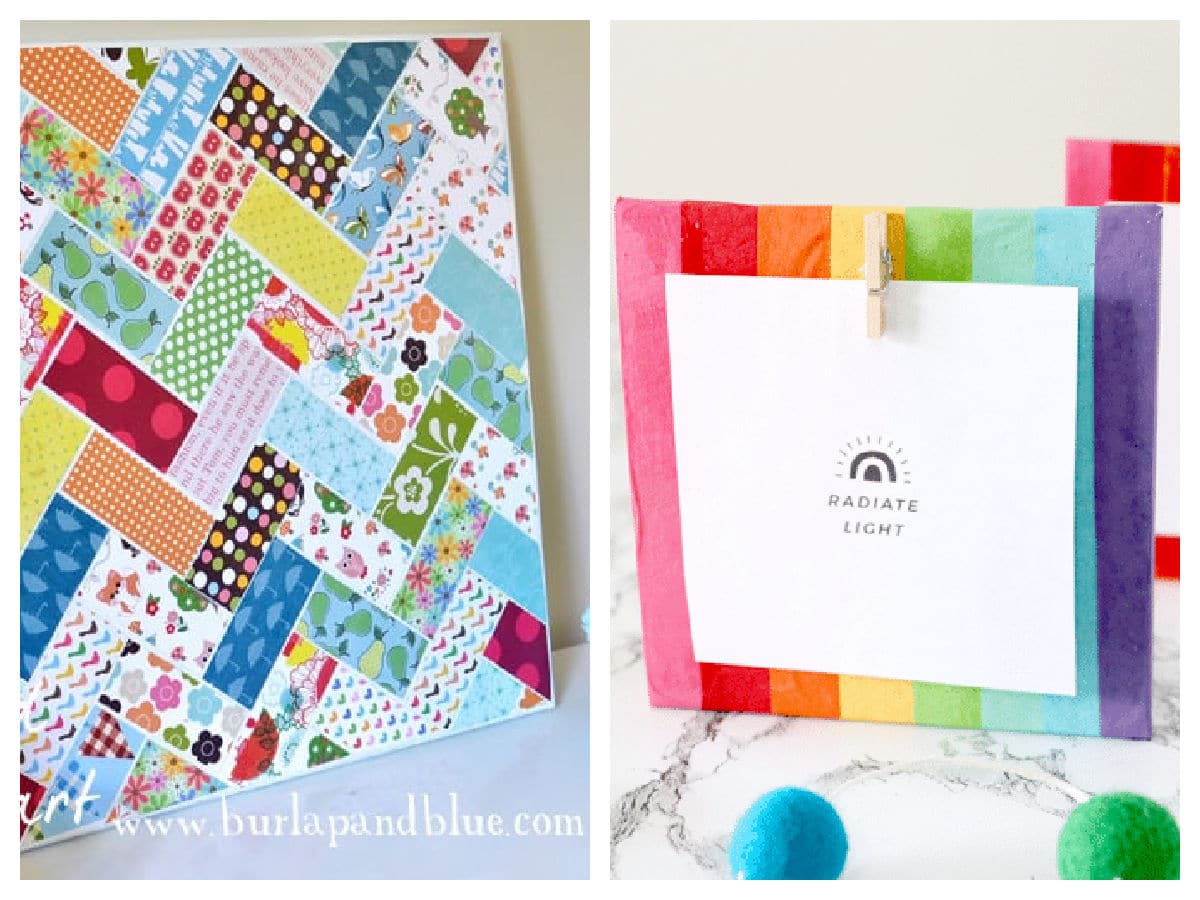 Even More Mod Podge Crafts
15 || Gussy up a blank canvas with this Herringbone Wall Art. || Burlap and Blue.
16 || This DIY Picture Frame can be made in just a few minutes for $5 or less! It's a thoughtful gift for someone you love that couldn't be easier to create! || Somewhat Simple Living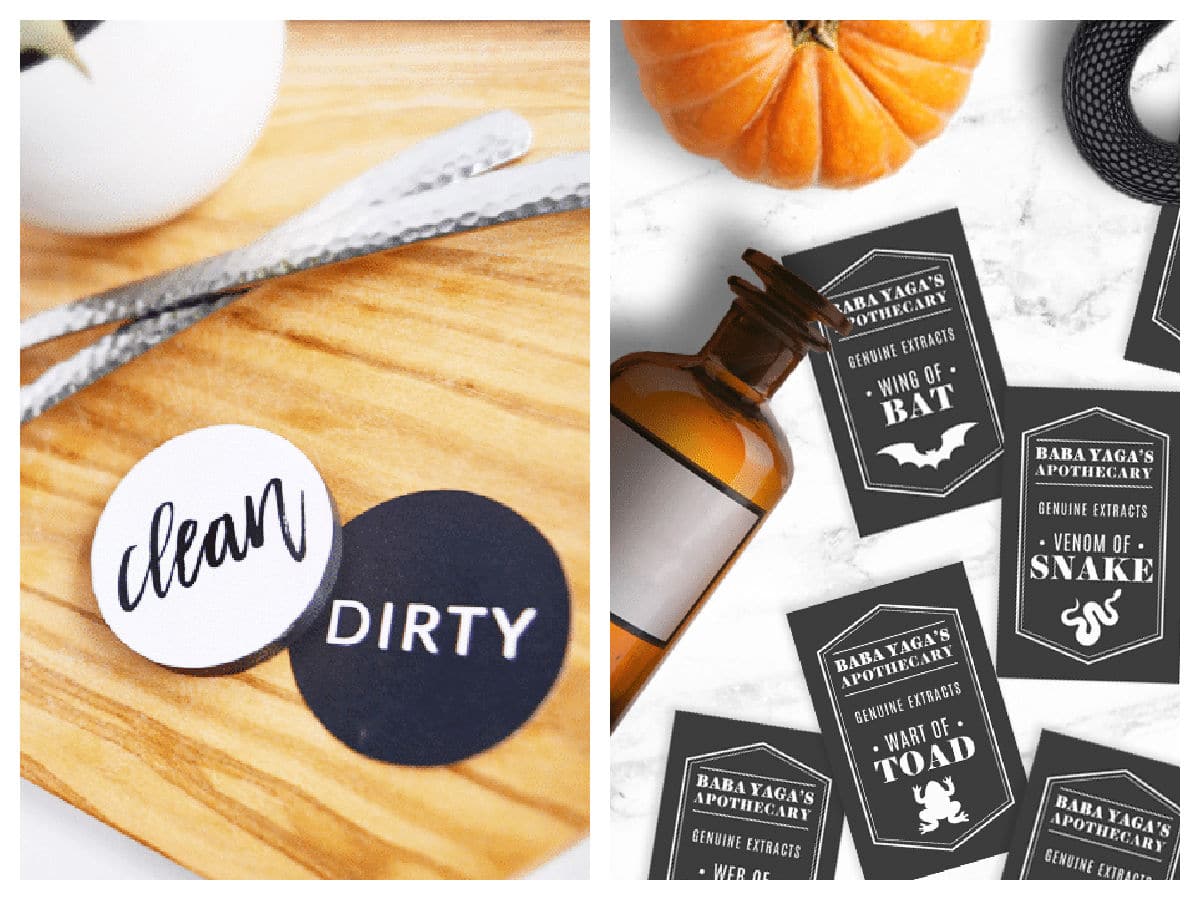 17 || With this Mod Podge dishwasher magnet, you'll never have to wonder if the dishes are clean or dirty again! || Somewhat Simple
18 || Eye of Newt, Claw of Raven, Wart of Toad, and MORE! Make your own Halloween Apothecary Jars with these FREE spooky printable labels! || Somewhat Simple Living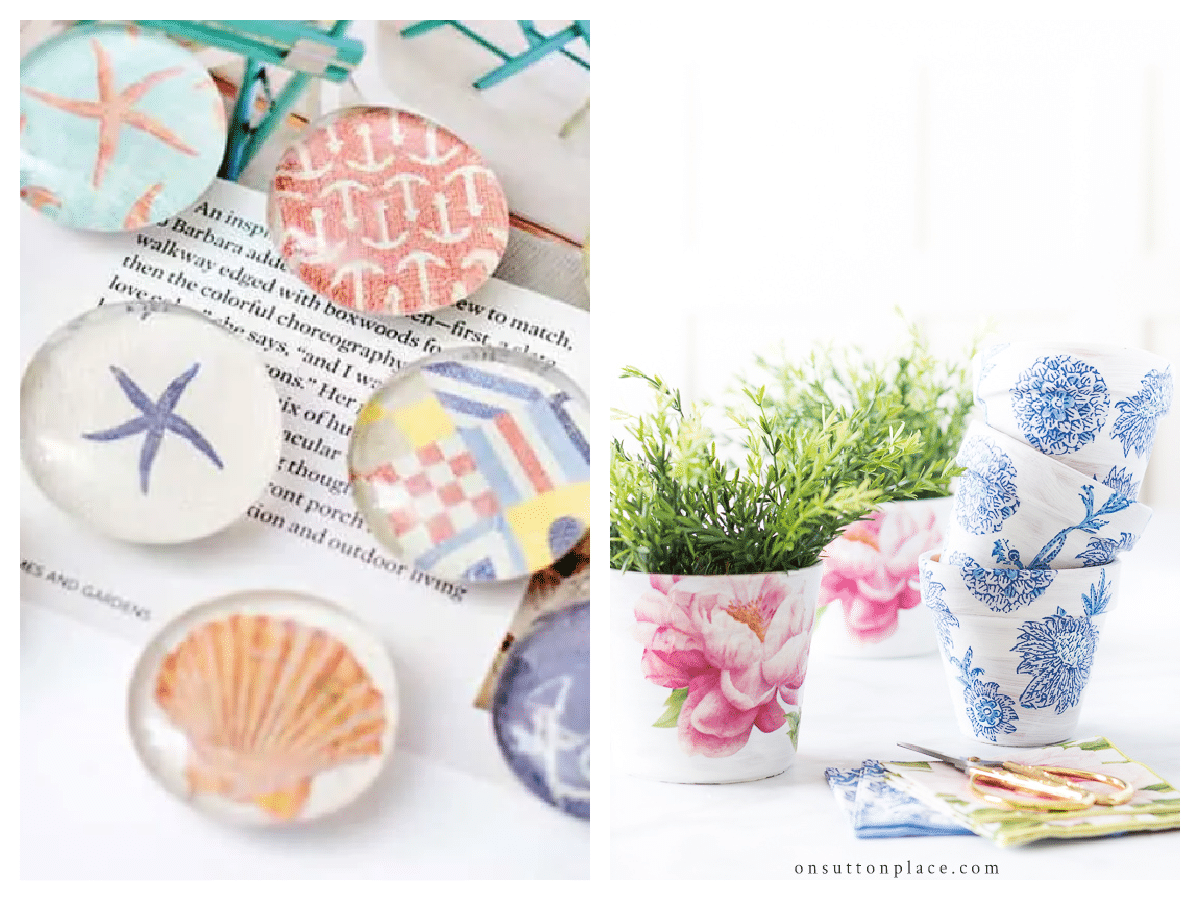 19 || These DIY Glass Magnets are SO easy to make! You can use scrapbook paper, or magazine cut outs for fun designs, or you can use photographs to make some fun face glass magnets, too!0 || Mod Podge Rocks.
20 || Make these fun DIY Mod Podge terra cotta pots to add to your spring and summer home decor. || On Sutton Place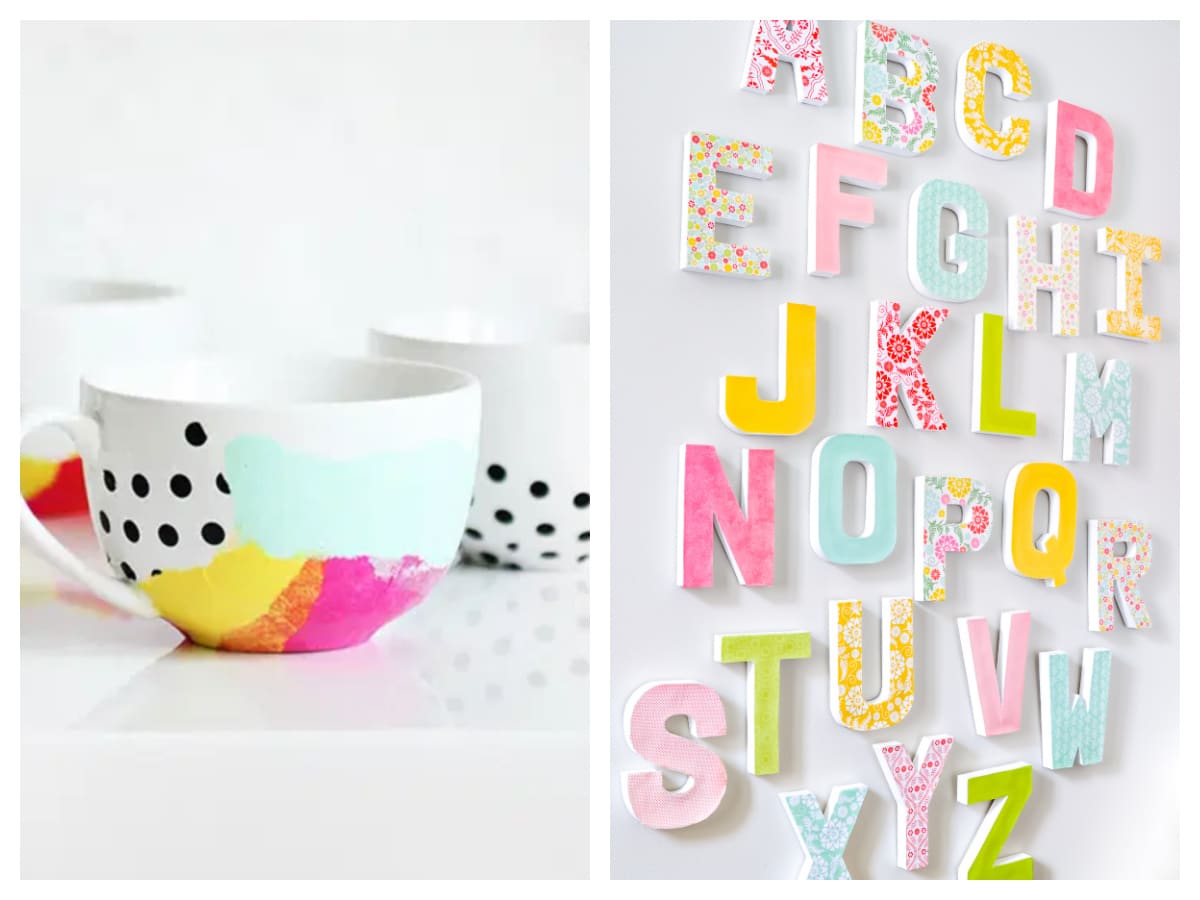 21 || Make a DIY Tissue paper Mug with dishwasher-safe Mod Podge (Yep! They make that too!) This method would be great for mason jars or a wine glass, too! There are so many creative possibilities! || I Spy DIY
22 || These DIY wall letters make the perfect addition to your nursery, home office, classroom, or playroom! || The Love Nerds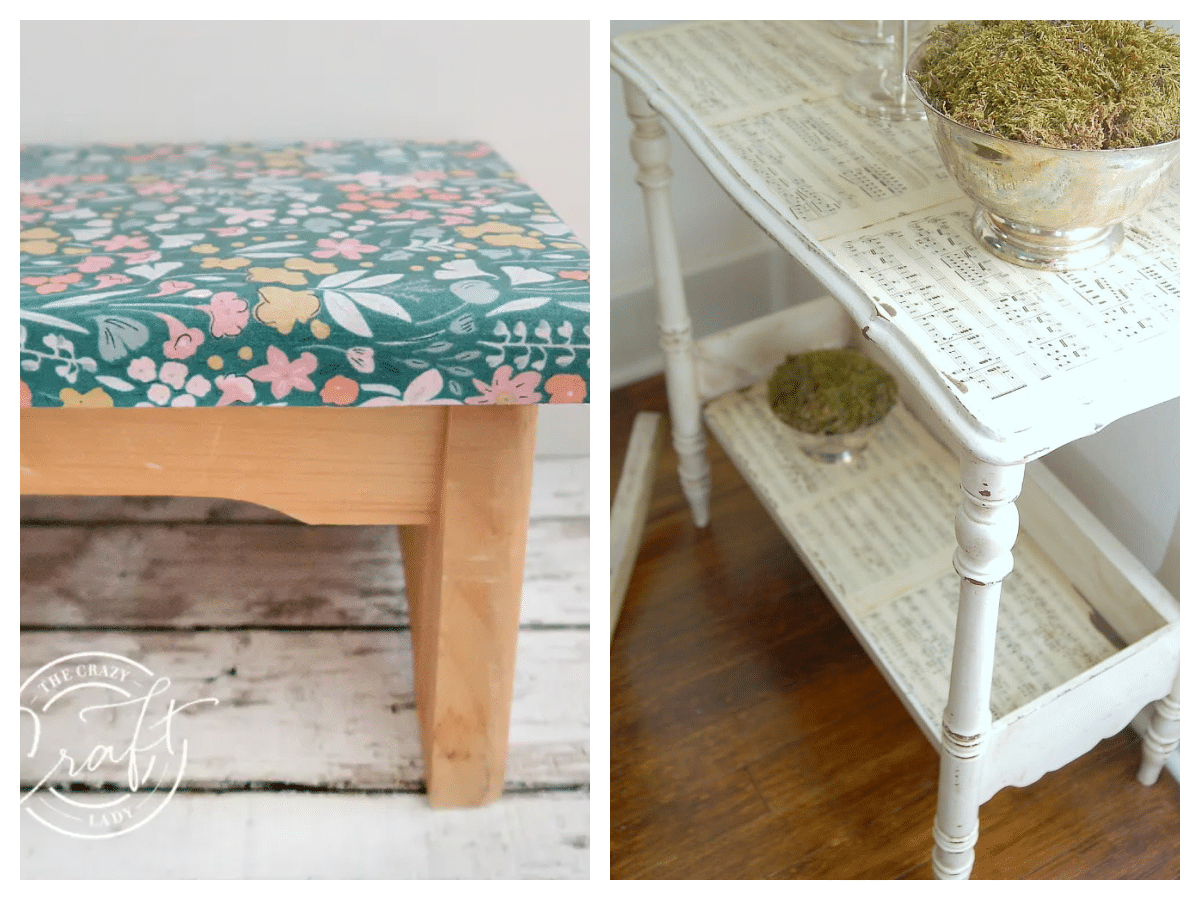 23 || The color and design possibilities are endless when you update a piece of furniture with a favorite fabric and Mod Podge. || The Crazy Craft Lady
24 || An old side table or entryway wood cabinet is given a second life with some paint, Mod Podge, and sheet music! || Somewhat Simple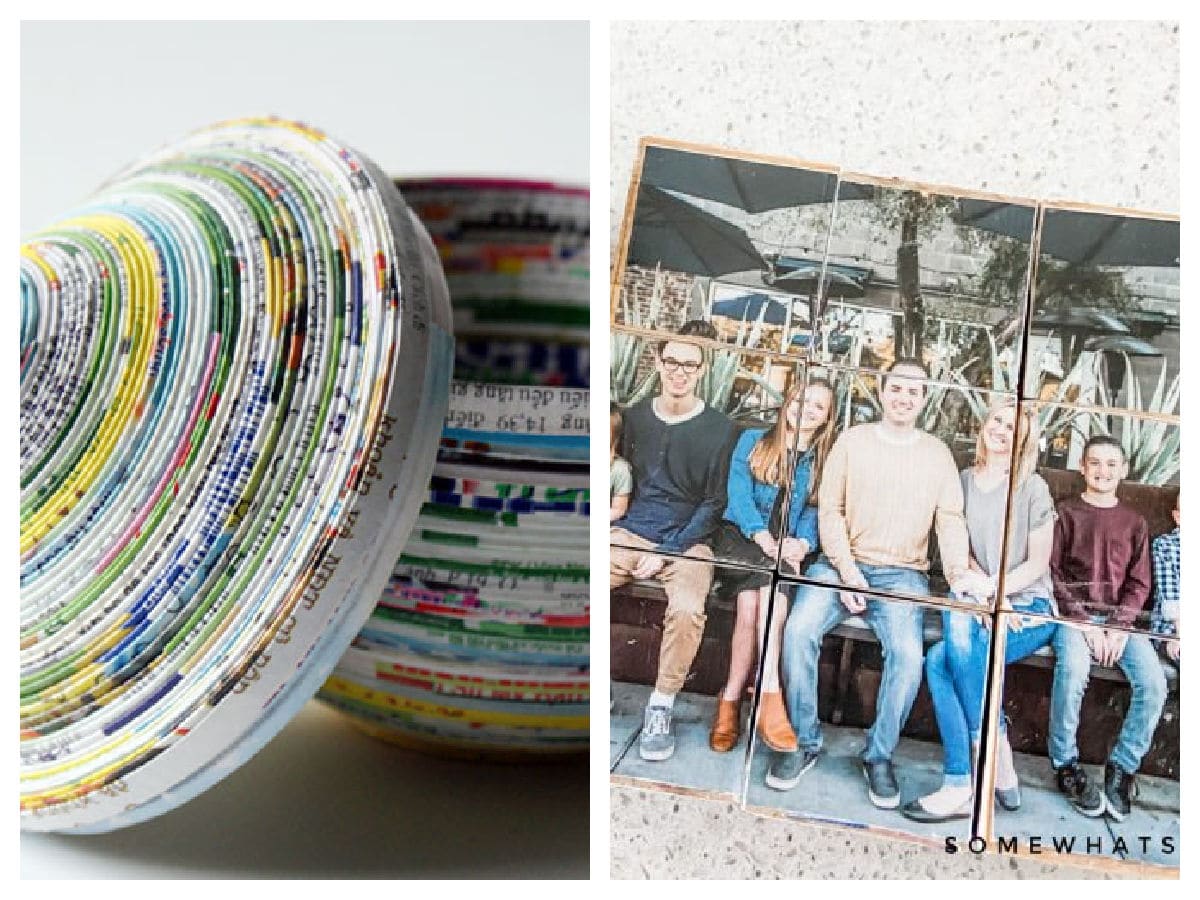 25 || This Coiled Magazine Pot with an adorable lid costs nothing but your time, a stack of old magazines, and some Mod Podge. Such a fun project! || Saved by Love
26 || A Wood Block Puzzle is a simple, affordable gift idea that can be made in one hour for $10 or less! || Somewhat Simple Living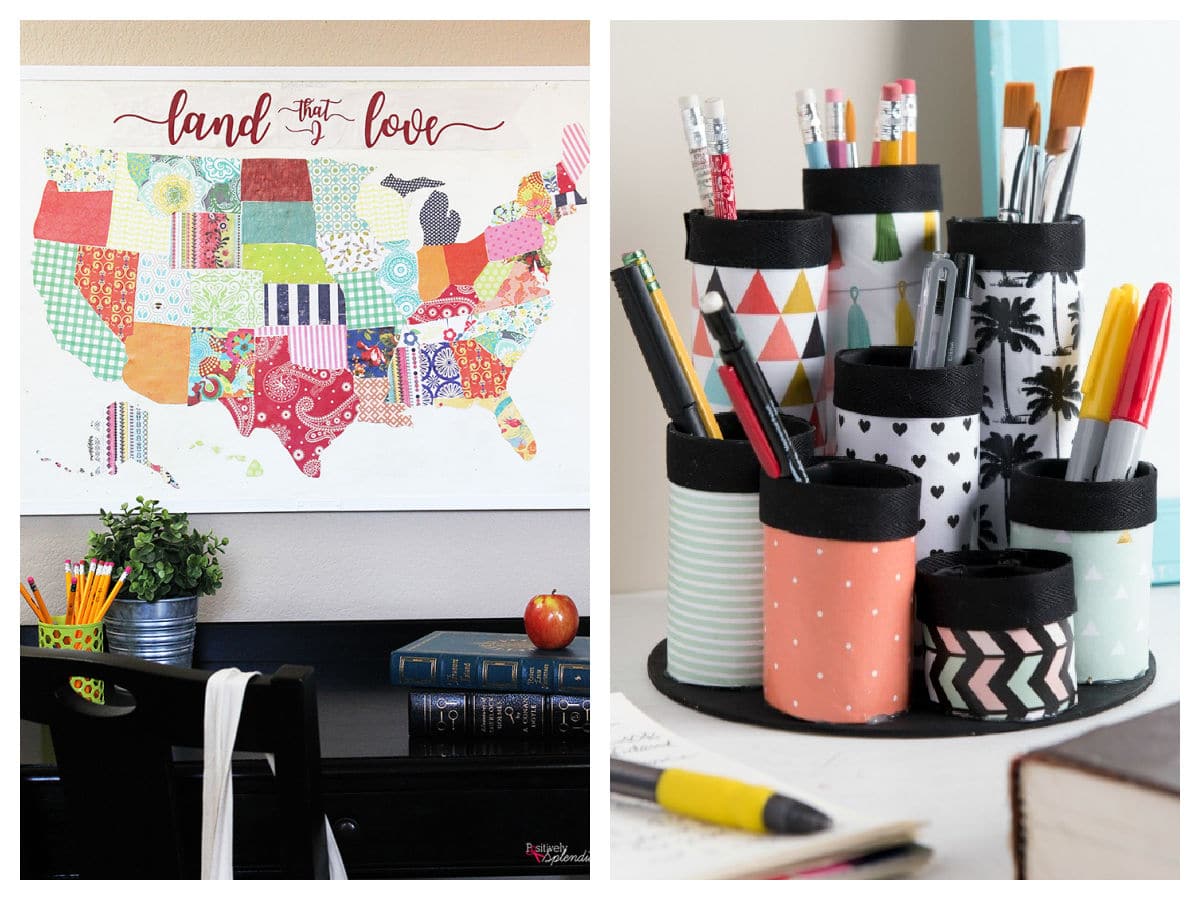 27 || Armed with Mod Podge, paint, and some decorative paper, this outdated bulletin board turned into a United States map Mod Podge bulletin board that would look great in any classroom! || Positively Splendid
28 || Upcycled Tin Cans make a great makeup, office, or art organizer! || Plaid Crafts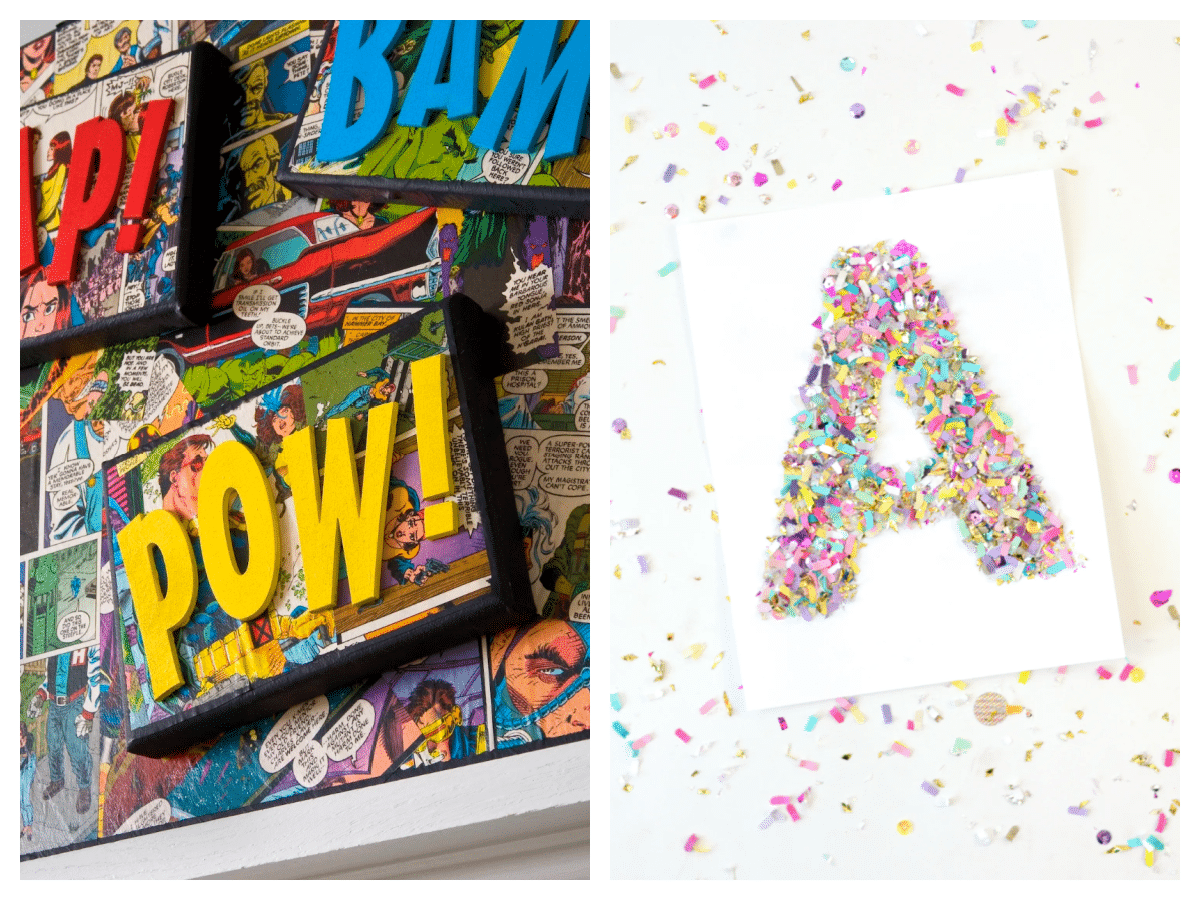 29 || If you love confetti crafts, try this easy monogram confetti letters art! || Mod Podge Rocks
30 || A Comic Superhero Canvas is a great gift for guys or any comic book lover! || Mod Podge Rocks
More Fun Crafts and Project Ideas