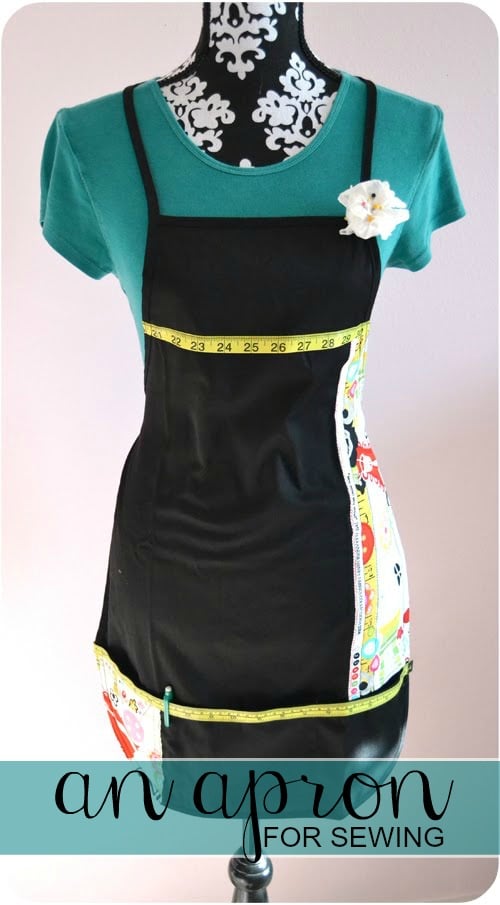 A while back I was reading a homemaking book from the 50's and the author of the book mentioned the use of a sewing apron. It got me thinking about how useful an apron for sewing would actually be, so finally this past week I whipped one up…and it's AWESOME.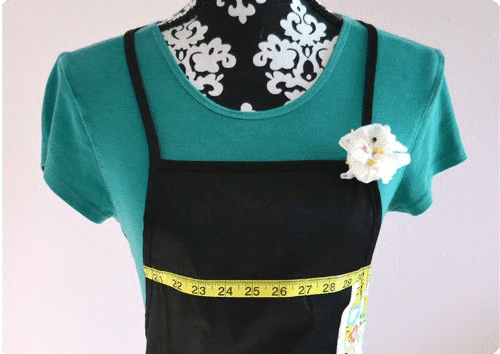 Here's what you'll need to make one:
A utility apron. (I bought mine at Hobby Lobby for $4.99 but you can buy one anywhere and any style would work or you can be ambitious and can make your own from a favorite pattern.)
A measuring tape.
A pin cushion.
A large safety pin or a piece of velcro.
Other fabrics or trims you would like to embellish your apron with.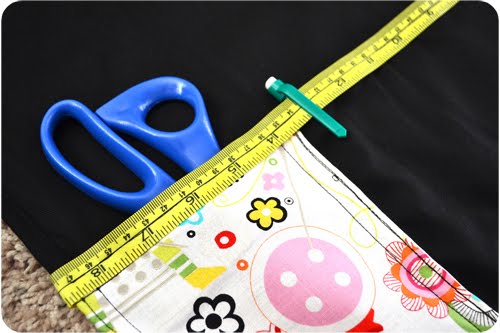 Directions:
The apron I bought had one giant pocket across the bottom so the first thing I did was to make that one giant pocket into several smaller pockets to hold items like my scissors, pencil, seam ripper etc. This was easy to do. I just decided where and how wide I wanted my pocket and then sewed a straight line from the top of the existing pocket to the bottom. Doing that sectioned off the giant pocket into sizes I could use to stash my sewing gear in.
Next I added two pieces of fabric to different areas of the apron. The fabric has no point. It's just there to look cute and to give me an excuse to buy it.
Then I added the measuring tape. You can see from the picture above that the measuring tape has been sewn on upside down. I did this on purpose. That way when I'm sitting down at my sewing machine and I need to see a quick measurement the tape is right there on my lap and facing the right way. I also added another stretch of the measuring tape across the top just for decoration.
And finally I pinned a small pin cushion onto the top left side. My pin cushion is a tiny one I made out of batting and a handkerchief but you can use what ever you'd like. Also, if you don't want to pin it on you can use velcro which would work nicely as well.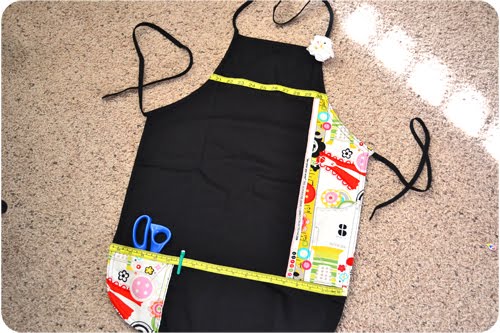 So that's that. My sewing apron. I love it. Everything is where I need it: the scissors on the right hand side so I can just reach down and grab them … my seam ripper in the bottom pocket so I don't have to search through piles of junk on my sewing table looking for it…. the pin cushion on my shoulder so I don't have to jam all the pins in my shirt…it's awesome.) And like I said earlier even though I'd been dying to make one for myself I think they would be a great gift handmade for anyone who likes to sew.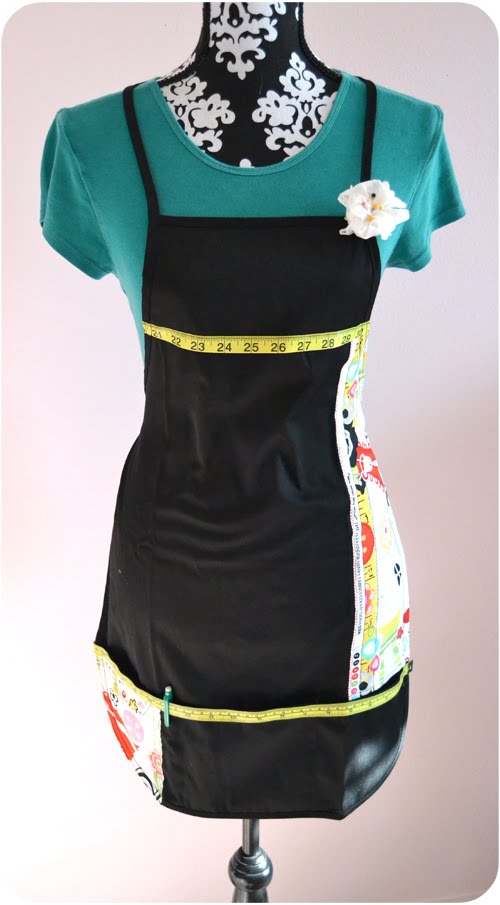 About the Authors: Hi.  We are Elizabeth and Liz at Simple Simon & Co.  We love sewing, especially ruffly and girly things.  We also adore vintage patterns and making classic children's styles from the 50′s, 60′s and 70′s mixed with some modern additions.  Come and visit us sometime, we'd love to meet you!
This post originally published in March 2012

DON'T MISS A THING!
Sign up for our newsletter to receive our FREE Home Organization Binder Printables + weekly updates filled with creative inspiration and exclusive freebies!
---