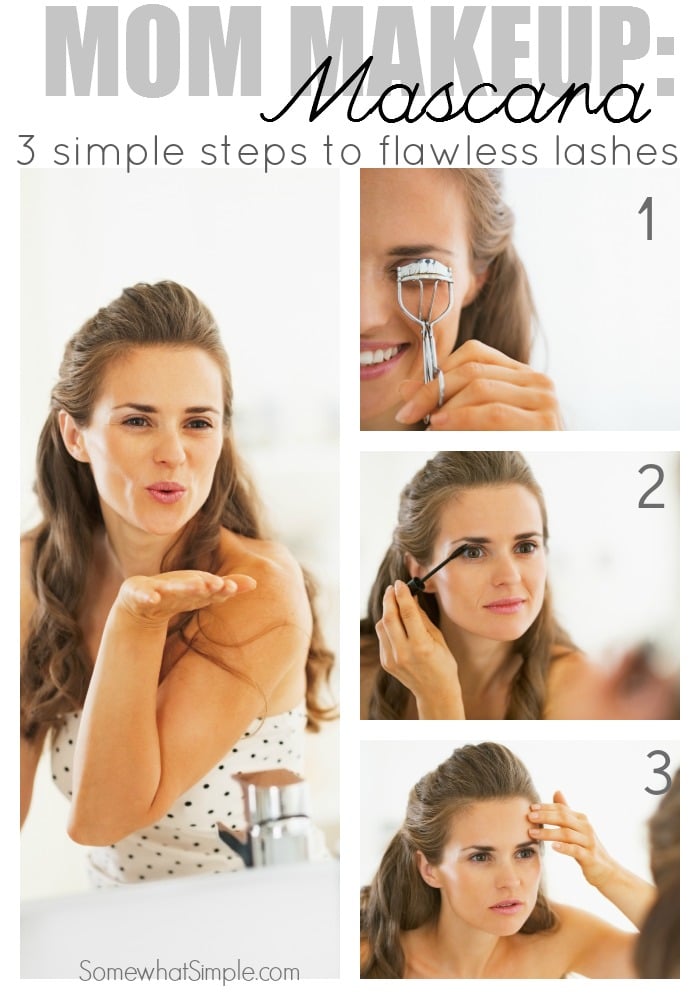 Every day we all want to look our best but unfortunately we rarely have time to spend the necessary time doing our makeup. With these three easy steps you can learn how to apply mascara perfectly every time so you can have longer, thicker and darker eye lashes in just a few minutes.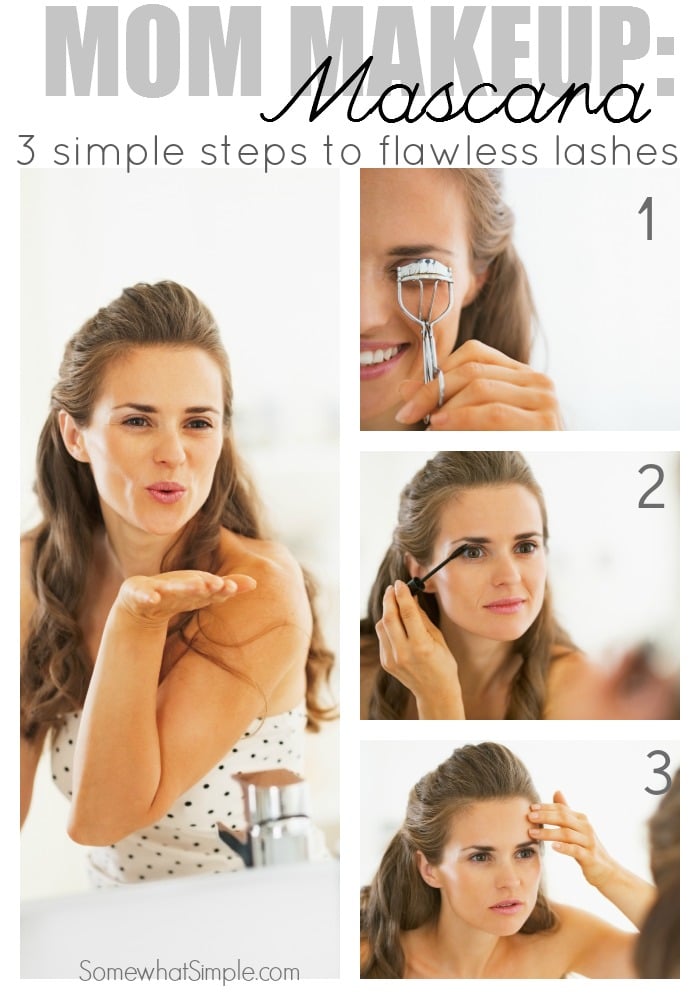 You can make your lashes longer, thicker and darker in just a few extra minutes by applying mascara. It is the best (and EASIEST!) way to draw attention to your eyes- but it can also draw attention to the flaws if not done right- the clumps, smudges, the spider lashes and raccoon eyes. Today we want to share our best tips on how to apply mascara for busy moms.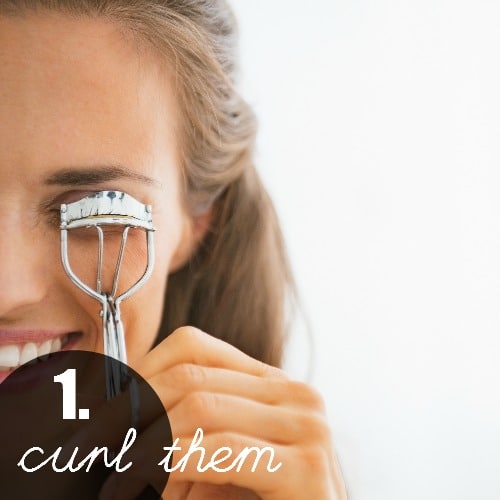 How To Apply Mascara The Easy Way
Step 1: Curl Your Lashes
How To
Place your lash curler close to your eyelid at the base of your upper lashes with lashes in between the curler pads.
Press pads together, making sure your eyelid is not caught in the pads. Hold firmly and count to five, then release.
Repeat on the middle of your lashes and once more near the tips.
Repeat these steps on the other eye.
Curling Tips
Never curl your lower lashes.
Do not curl your eyelashes after you've applied mascara. If they stick to the curler pad they might get pulled out.
Heat your lash curler with a blow-dryer before using. This will help your lashes curl easier and stay curled longer.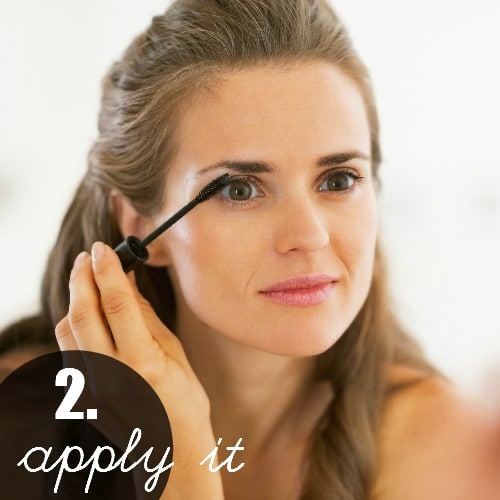 Best Way To Apply Mascara
Step 2: Apply It
How To Apply Mascara
Start at the base of your lashes and move back and forth a few times before moving to the tips in a light, upward motion.
Put a coat of mascara on both sides of your lashes to thicken them, then repeat this process with your other eye.
Optional: Dust translucent baby powder over your eyelashes with an eyebrow brush to make them even thicker.
Repeat steps 1 & 2, adding a second coat to both sides of your lashes.
Mascara Application Tips
Never pump the wand up and down inside the tube. This will add air and dry it out. Instead, use a circular, swirling motion to coat the wand before application.
If you put too much mascara on the tips of your lashes, it will make them straight and look weighed down. Avoid this by applying a thicker coat of mascara at the base and a lighter one toward the tips.
Use little or no mascara on lower lashes.
You can hold the brush at a horizontal angle if you want thick lashes, or turn at a vertical angle for a less dramatic look.
Hold a business card underneath your eye or on your eyelid when applying mascara to avoid getting marks on your skin.
Other Great Beauty Ideas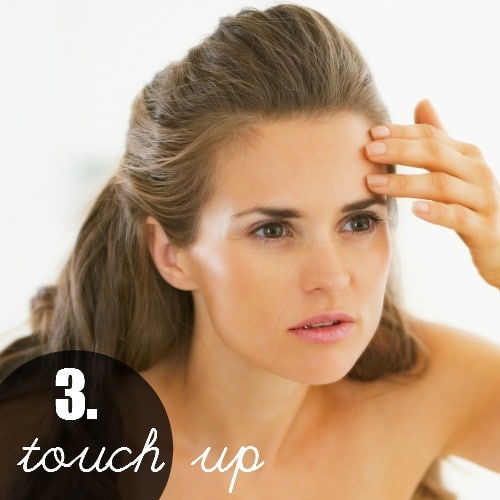 Tips For Applying Mascara
Step 3: Mascara Touch Up
Touch Up Tips
If you happen to still get clumps, use a clean toothbrush to comb through your lashes and remove the extra product and clumps.
If you get mascara on your eyelid, let it dry. Then, use a Q-Tip (wet or dry) and lightly dab the spot until it is gone. Trying to dab the spot while still wet will just smear it and make it worse.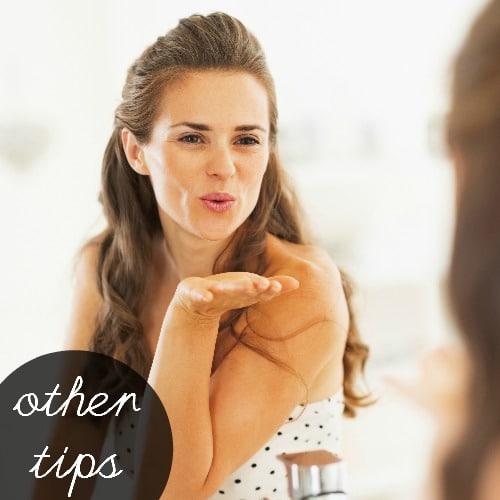 Other Mascara Tips:
If your mascara is thick, clumpy or flaky, try…

Soaking it in a cup of hot water for a minute.
Add a few drops of saline solution to the tube

If your mascara smells funny or is more than three months old, get rid of it.
Flawless eyes are within your reach- just put these tips to use and start practicing!