First off, hello and welcome to all my new friends stopping over from Tidy Mom– it is so nice to have you here! Somewhat Simple has been invited to represent the great state of Arizona in Infarrantly Creative's State Pride Tour. This week, bloggers from all over the USA will be showing off their state pride with a creative project. Want to see the Arizona State Craft I came up with? Take a peek: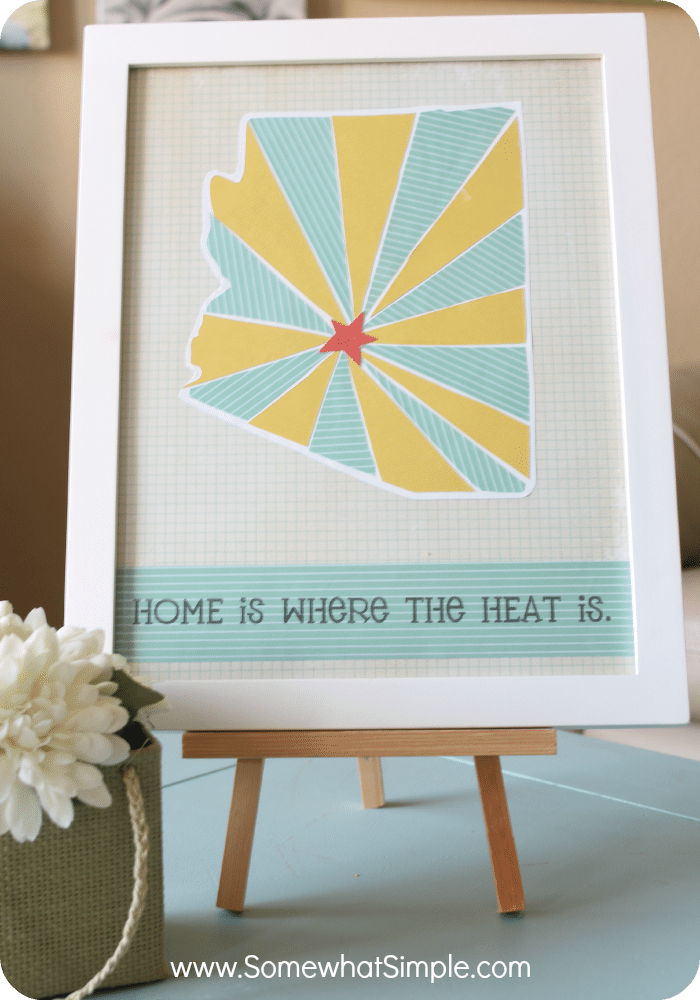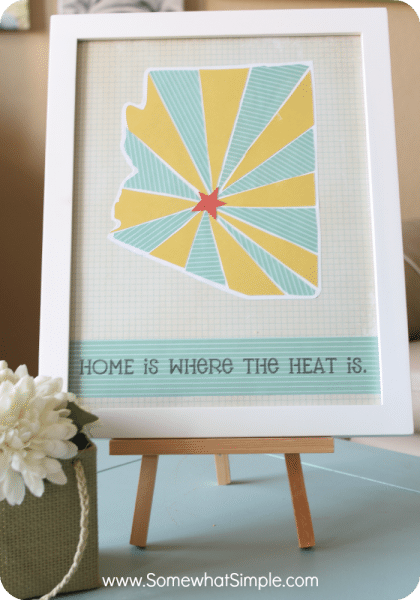 I LOVE the way it turned out!
You can make your own too- even if you don't live in the valley of the sun.
Here is how:
Materials Needed:
3 sheets of colored paper (two for the sunbursts, one for the background)
1 sheet of white printer paper
1 small paper star
a printed map of your state (I found mine HERE)
Xacto knife
a pencil
a ruler
a glue stick
a frame
optional: printout of a quote for your project on a strip of paper
Directions: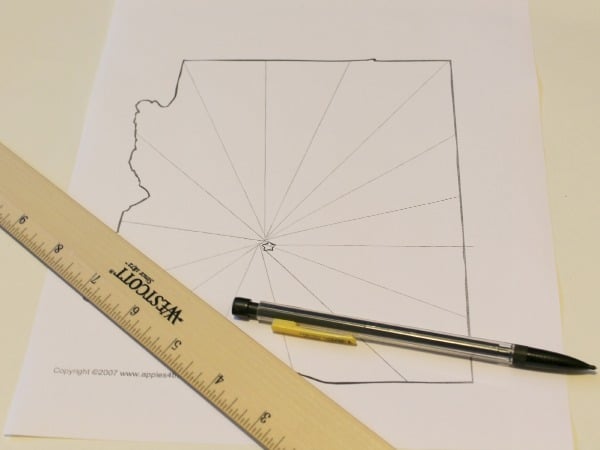 Decide where you'd like your star to go, then using your pencil and a ruler, draw sunbursts from the star to the edge of your state. You might have to play around with this a bit to get it to look how you want, but don't worry- your pencil lines and eraser marks won't be seen!
Number your sun bursts before you cut them out so you won't forget how they fit back together. Then cut each sun burst out and separate them into the odd numbers and the even numbers. Take one pile of your sunburst pattern strips and one at a time place them on a colored piece of paper. Trace around each pattern piece with your Xacto knife. Repeat for the other pile of strips with the other piece of colored paper.
Once all of your sunburst pieces are cut out, assemble them in order onto a piece of plain white paper, gluing as you go. You can glue them close together, or leave a small gap if you want the white to show through like I did. Tip: use a very small amount of glue because chances are you won't get them all lined up perfectly your first go around. It took me 3 tries to get the shape of my sunburst just right. Also, don't worry too much about what the center of your burst looks like because it will be covered up by the star anyway.
You should now have a sunburst that resembles the shape of your state. Add a small dab of glue to the center of your sunburst and place the star on top.
Cut out your state outline and glue it to your background paper.
(Step 6- is optional) The frame I decided to use was a 10 x 13 frame, but my scrapbook paper I was using for the background was only 12 x 12. I cut the excess of my paper off one side and added it to the bottom of my page, then I printed the words "Home is Where the Heat Is" on a colored sheet of paper and glued it right over the top to hide the seam.
Frame it and display it and you're done!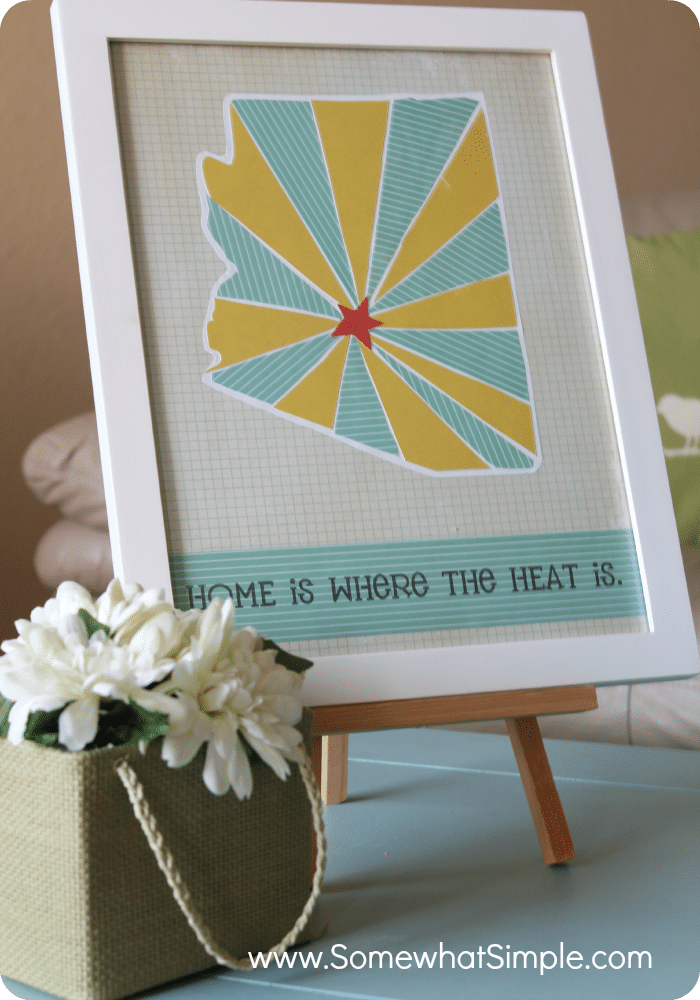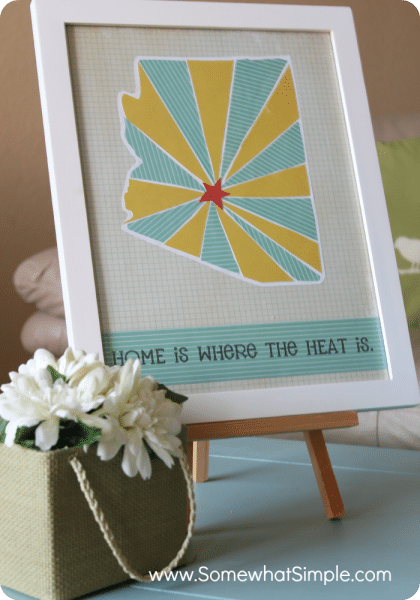 So, what do you think? Anyone want to move to Arizona now? 🙂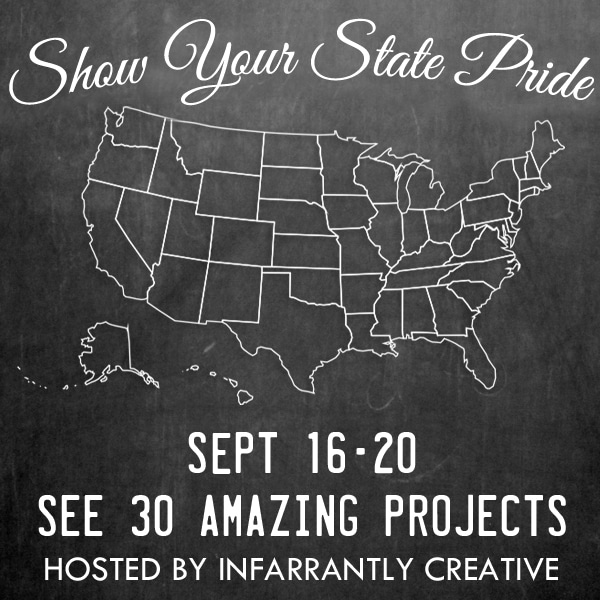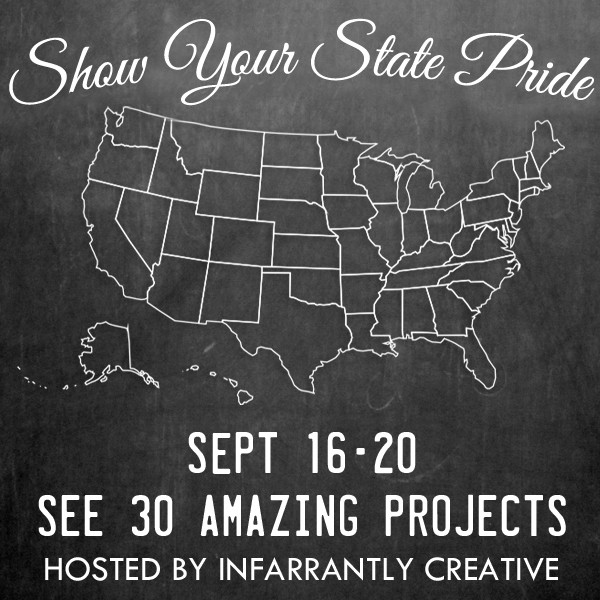 Thanks for stopping by, I hope you're enjoying this fun State Pride Tour. Your next stop on this party train is a trip to my first home state, California- the place I spent the first 20+ years of my life. Sarah M. Dorsey Designs will be showing off a fun project that represents California in all it's glory and give you a glimpse into why I will always miss that place and call it home!
Have fun!
Want to get in on the fun? Infarrantly Creative is hosting a "Show Your State Pride" Link Party on Monday, September 23rd- don't miss it!