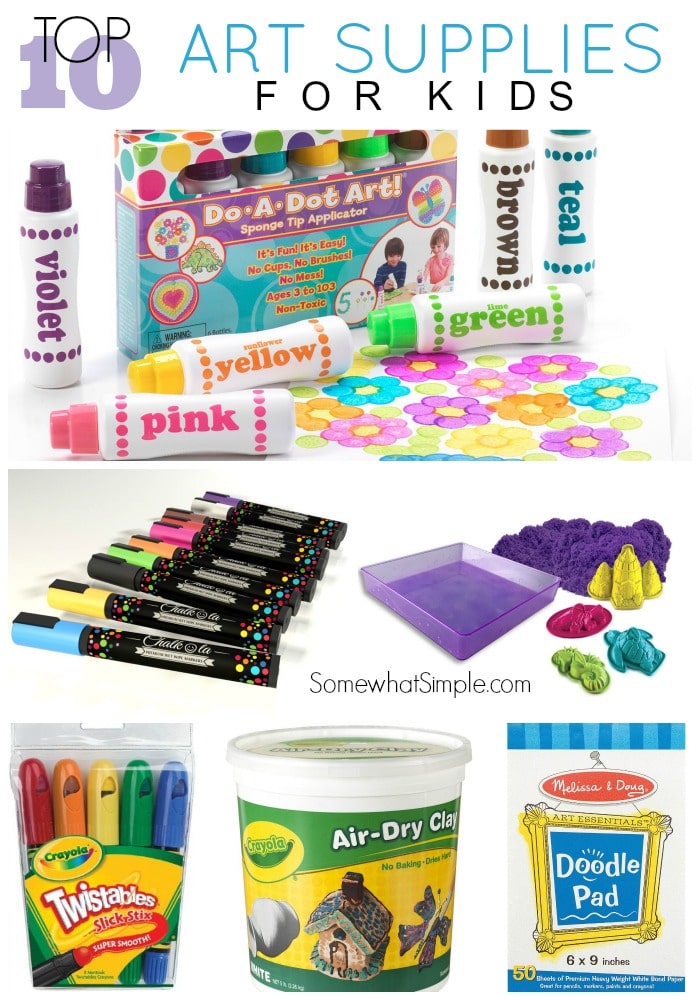 I have 5 kids and all of them LOVE arts and crafts. Even my 1 year old can sit and color with a paper and pencil and be totally content. For my son's 7th birthday 2 months ago, all he wanted was roller blades and art supplies. And that is what got me thinking about this post- what are the best art supplies for kids that are on the market today? I came up with a list of my ten favorites- take a look:
*Amazon affiliate links are included below.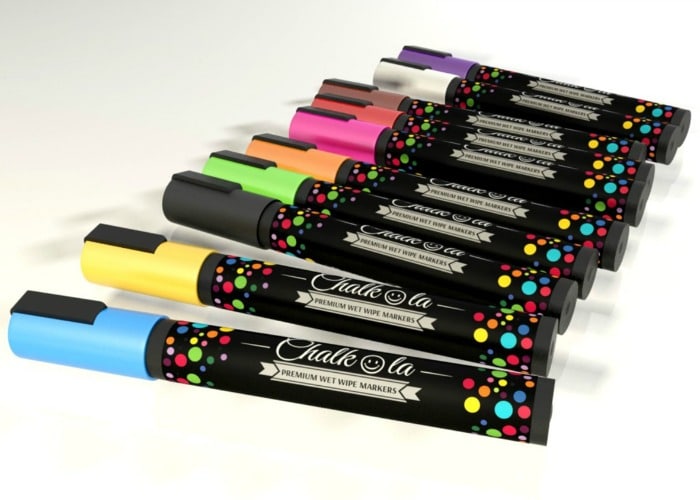 1. Chalk la Chalk Markers || $22 for a set of 10*
My kids LOVE these! These markers are so smooth and the colors are vibrant and fun! You can use them on more than just a chalkboard surface- windows, tiles, whiteboards and more! Write notes to each other on your bathroom mirror or create a piece of artwork on the front of a glass frame. These markers are fine tip, odor free, quick dry and washable! I love them!
*Use code "SWS15OFF" for 15% off when you order Chalk la on Amazon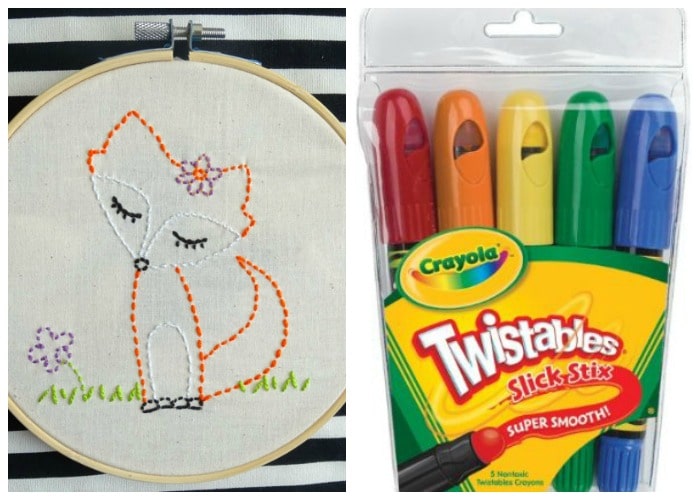 2. Hoop a Loops || $7-$10
These darling embroidery designs are becoming quite popular! My 7 and 8 year old take theirs to church- it is the perfect quiet-time activity! Read my review HERE or order from Blue Cricket Design HERE.
*Use code "SOMEWHATSIMPLE" for A FREE practice pattern with every purchase.

3. Crayola Slick Stix || $4.99
I bought these not really knowing what they were, but they ended up being a hit with all my kids! They are crayons that color like markers, but without the mess. They don't have ink and won't leak or leave marks on your skin. They are so smooth it feels like you are coloring with a stick of butter! Seriously, you won't realize how cool these are until you try them!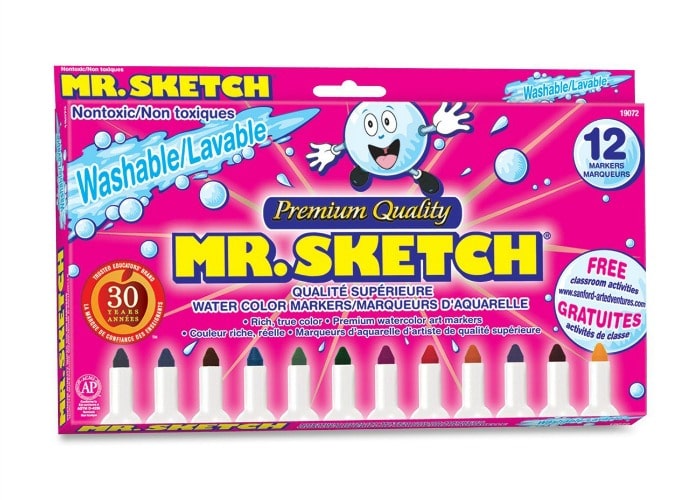 4. Mr. Sketch Markers || $5.42
While we're on the topic of smells, these markers are my favorite. I had them when I was in second grade and I thought I was so cool because all the kids wanted to use my markers. I still love them all these years later and now my kids love them too!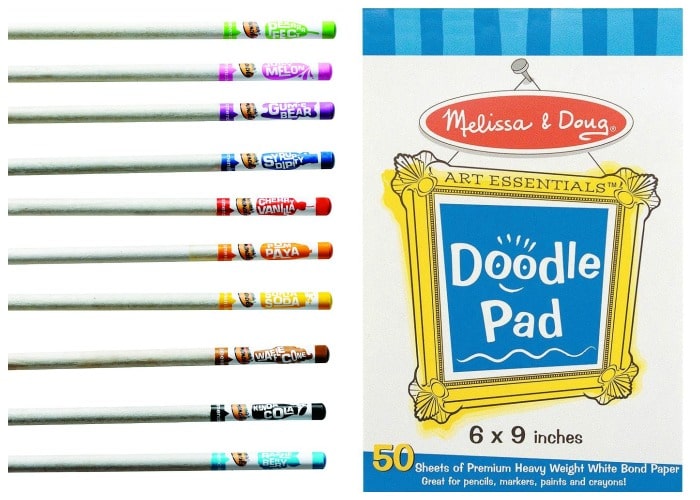 5. Smencils || $24.99 for a pack of 10
Coloring never smelt so good! Bubblegum, Strawberry Cupcake, Jelly Donut, Root Beer… these pencils seriously smell so good! My brother can't stand root beer and one year we gave him a Root Beer Smencil and he was disgusted by how close it smelt to the actual drink!
6. Doodle Pad || $1.99
A simple book of unlined paper is always fun for drawing and doodling!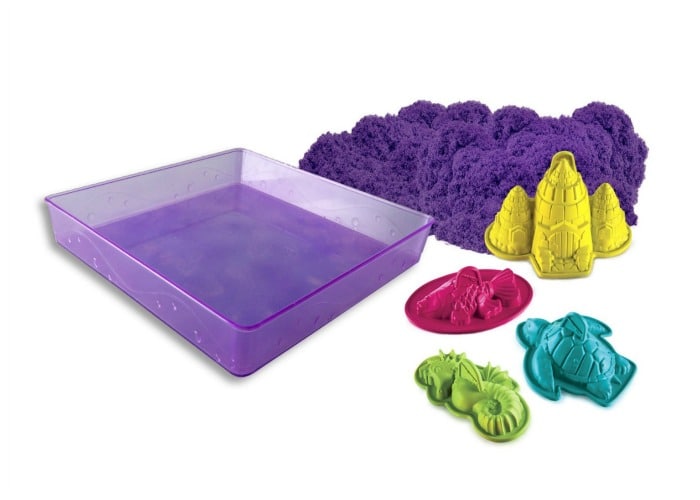 7. Kinetic Sand || $14
I first felt this amazing product inside a toy store that had a display with a large sandbox that was filled with this sand and some sand toys. It was so fun to pay with, but I didn't buy any because I didn't want to deal with the mess. Sand inside my home- no thanks! It wasn't until my cousin invited the kids over to play one day that I got to see just how easy it was to clean up! The sand sticks to itself, so it literally cleans up in clumps as you sweep it in a pile. Easier than Play Dough and way more fun!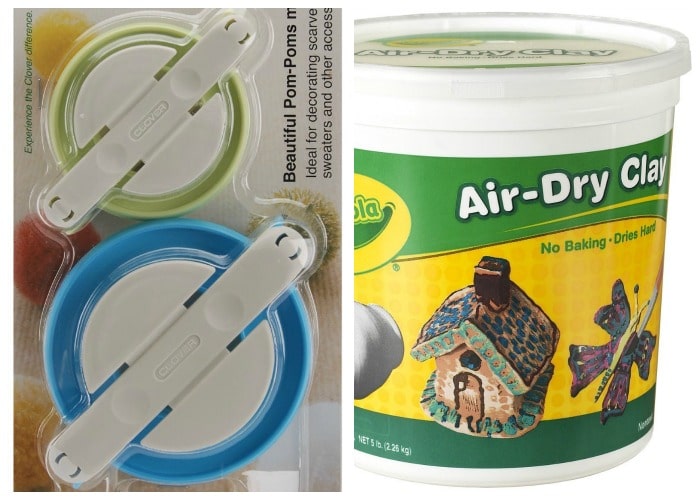 8. Pom Pom Maker || $6.68 for 2
This is something older kids have a blast with! Making pom poms is so easy and fun. Let each child pick a color of yarn and go crazy! Hot glue them to make hair bows, or pencil toppers, or make a garland to hang in your home for birthdays or different seasons and holidays.
9. Air-Dry Clay || $8.50
This is a quick and simple alternative to clay that you need to bake in order to harden. Plus it is smoother and less sticky than traditional clay. It softens easily with water and quickly cleans from hands and surfaces, and you can paint it when it is dry!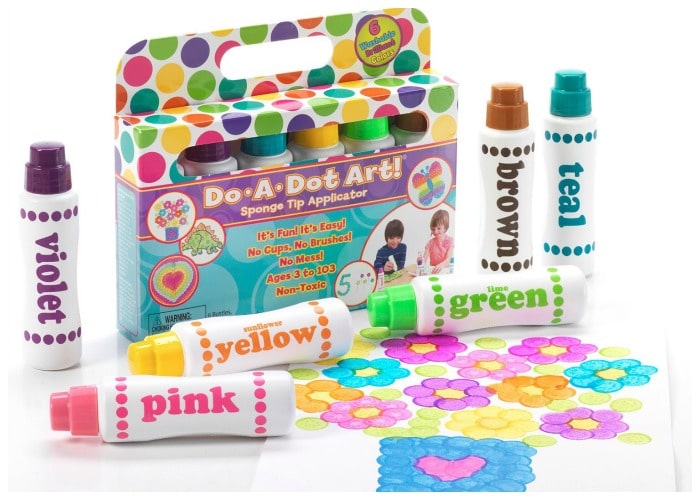 10. Dot Markers || $14.99
These are great for kids of all ages! This is a great way for younger children to have fun with paint, without all the mess!
Do you have any other supplies you love? Leave me a comment below!