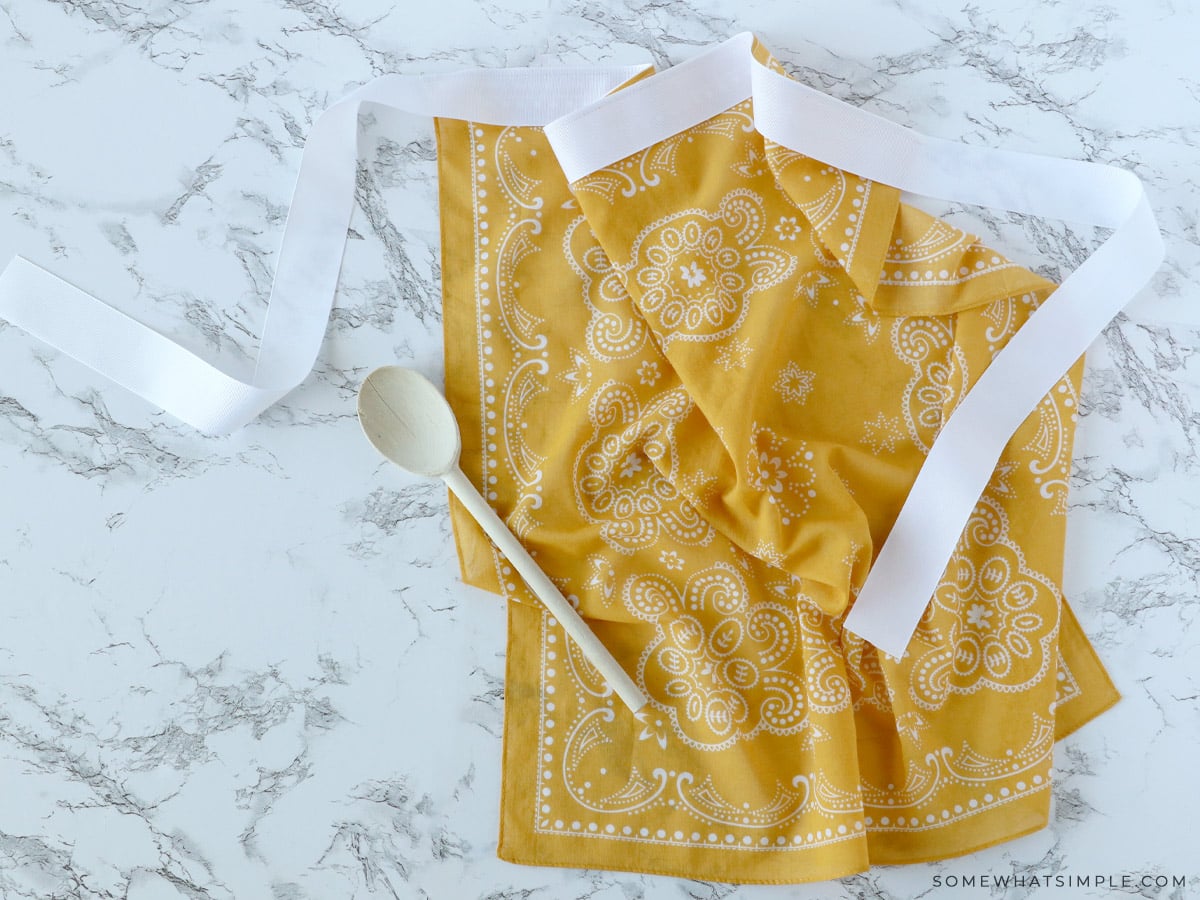 Not only is this Bandana Apron the easiest thing you will ever make, it is super cute and comes in handy!
I wanted something a bit different than the full-body aprons I have hanging in my pantry– something I could wear while entertaining that wouldn't cover up the outfit I chose very carefully to wear to the party. After all, what's the point in looking cute at a party if you have an apron covering your clothes, right?
Enter "half-apron" and better yet, make it coordinating and matching to my party outfit and suddenly it all seems perfect!
I first saw this idea from Martha Stewart. She shows a simple straight-stitch method, which is how I made the one pictured above, but keep reading for an even SIMPLER way of creating this- NO SEWING INVOLVED!!!
Items Needed:

Bandanna- standard size is about 22 inches square
Ribbon- enough to fit around your waist and tie a bow from behind. Make sure you burn the edges of your ribbon to keep them from fraying.
Straight pins- unless you are better than me and can sew a straight line without using them.
Directions: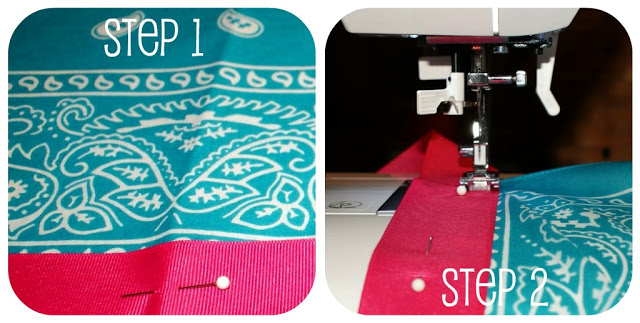 Step 1: Measure to find the center of your ribbon and place it on the center of your bandanna. If your bandanna has any words on it, like "Made in China", you might choose to cover those up with your ribbon. Pin your ribbon to secure, then continue pinning along the length of the bandanna in the center of your ribbon.
Step 2: Sew both the top and bottom of your ribbon in a straight line. If you have a cute color thread, you might want to pick a cute stitch and do this along the ribbon for added detail. My thread was clear, so I just kept it straight since you wont be able to see it anyway.
Step 3: Oh wait, youre done! There is no step 3!!! Maybe step 3 will be "Throw a Dinner Party!" and use your new apron!
The no sew method involves the use of this handy little product: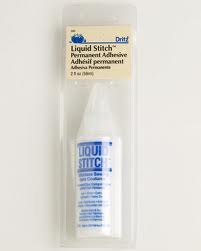 Liquid Stitch! You can find this at JoAnns or on Amazon. It is less than $10 and worth every penny!!!
With the Liquid Stitch, you simply glue your ribbon to the bandana by following the directions on the package. It is AWESOME!!!
I love the idea of making these for each holiday too- bandannas come in every color, so you could make a black one with orange ribbon for Halloween, a brown one for Thanksgiving, a red and green for Christmas… seriously, do you need me to name all the holidays and their coordinating colors? Quit reading and start creating!!!
(This idea was one of the very first projects featured on Somewhat Simple in August of 2009!)