Five simple bathroom cleaning tips to make cleaning the bathroom quicker, easier, and less of a chore. Perfect for spring cleaning!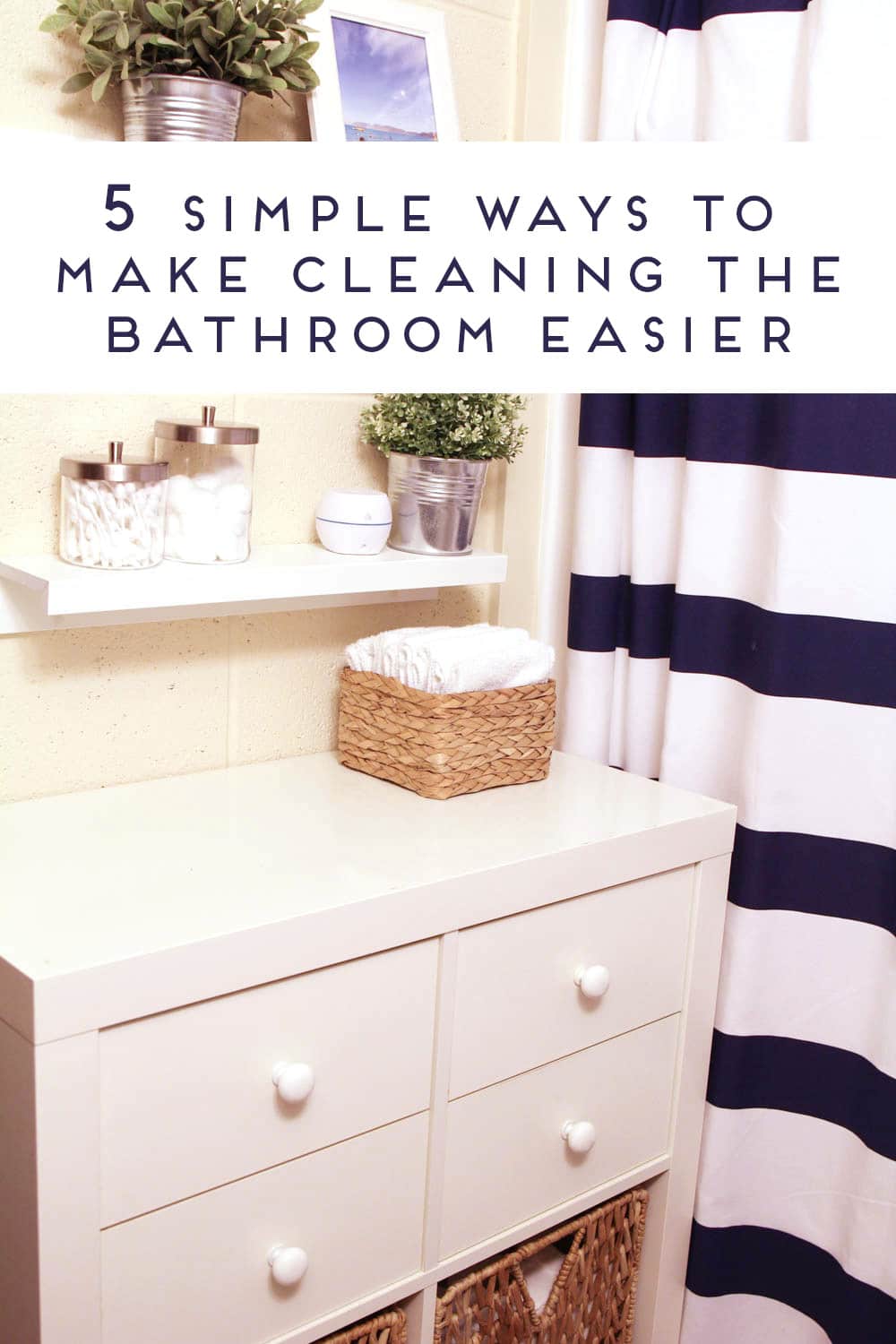 I'll be the first to admit that I HATE cleaning the bathroom. It doesn't help that my bathroom is tiny (seriously, I can stand in the middle and touch all four walls) and has no natural light. It's also the only bathroom in a small apartment shared by four people, so it gets a lot of use, which means it needs to be cleaned often.
I've been working on spring cleaning the rest of my apartment, but I have been putting off cleaning the bathroom because it's totally my least favorite. Finally, I decided I had put it off long enough, and it was time to get started. I stopped at Walmart to pick up a few supplies, rolled up my sleeves, and got started.
After much less time and effort than I had envisioned, I had a sparkling clean bathroom. Here are some of my favorite tips for cleaning the bathroom, and I hope that they'll be as helpful to you as they have been for me!
5 Bathroom Cleaning Tips and Tricks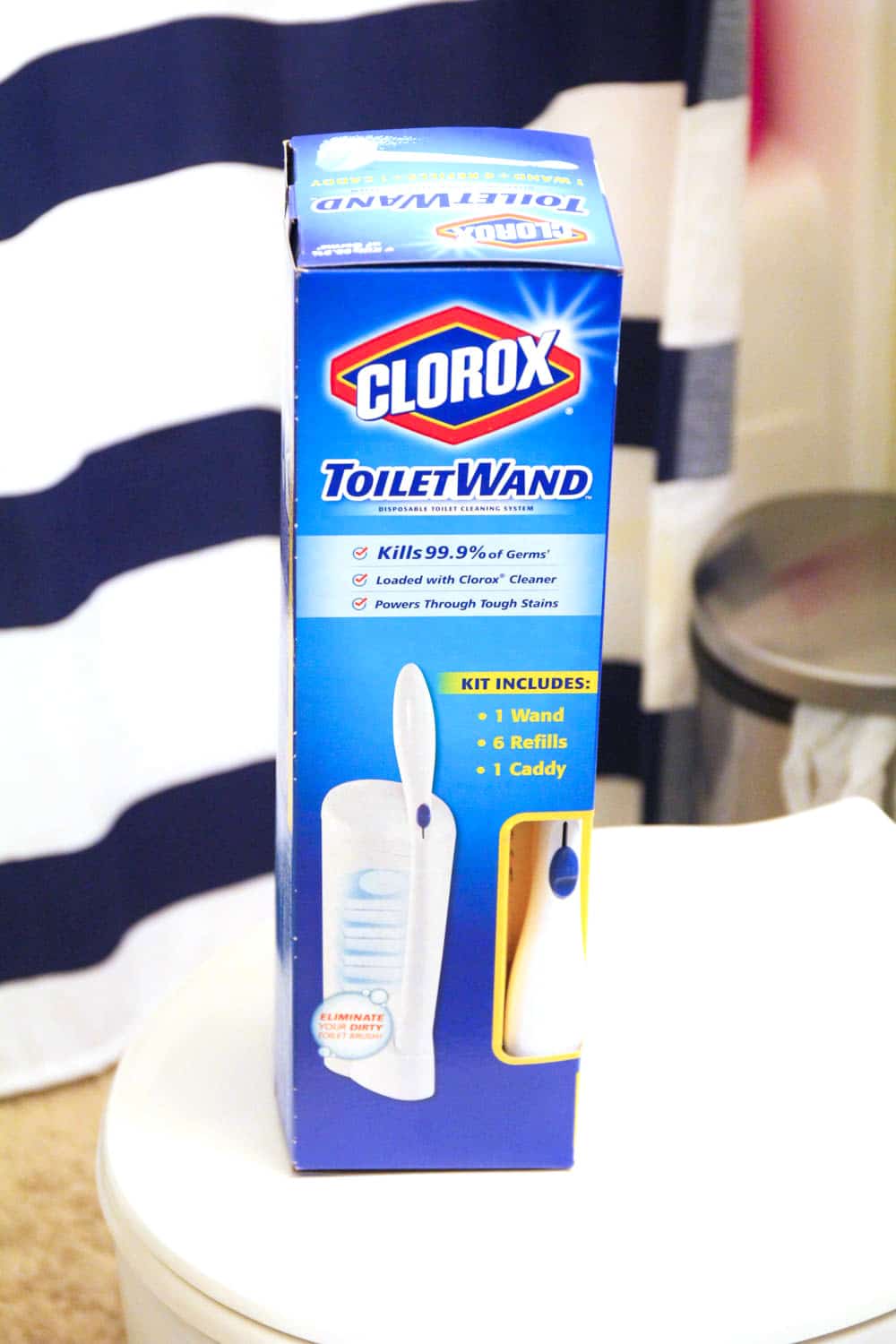 Tip #1: Use the Clorox Toilet Wand!
This thing is seriously genius! It comes with an easy to use wand and some scrubber refills, which come pre-loaded with toilet cleaner. You simply snap on a scrubber, soak it in the toilet water for a minute, and then swish the wand around the toilet to clean it.
I was very impressed by how easy it was to clean the toilet! The toilet wand got the toilet much cleaner than a traditional toilet brush, and with much less effort. Anything that saves me a little elbow grease is fine by me!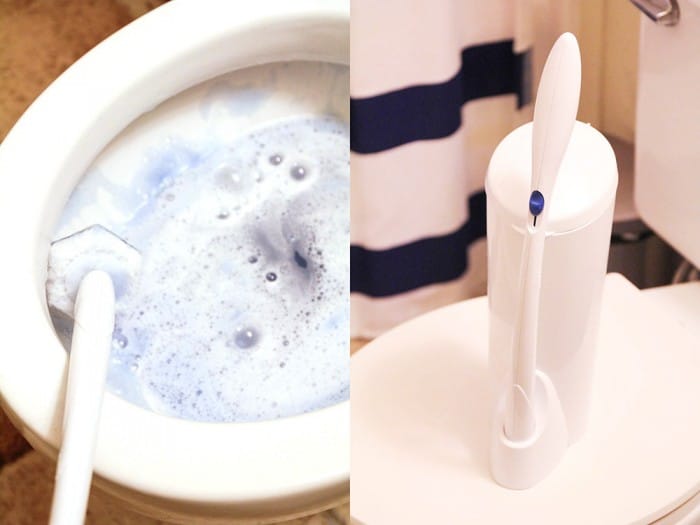 When the toilet's clean, you simply throw away the scrubber and put the wand in the convenient little caddy it comes with. No more storing a smelly and dirty toilet brush. It could not be simpler to use, and is great at cleaning up tough grime!
The Clorox Toilet Wand can be found in the mop & broom aisle at Walmart. 🙂
Tip #2: A place for everything, and everything in its place.
Our tiny little bathroom has almost no storage built in. There is a tiny mirror cabinet above the sink, but beyond that there's nothing (not even a cabinet under the sink!). We bought a little shelving unit and have added some shelves above it for more storage. One thing that has been really helpful has been having cute decorative containers for all our little items. I have bins in the drawers for my daughters' hairbands and bows, glass containers on the shelves for our cotton swabs and cotton balls, and baskets to store extra toilet paper and my blowdryer/curling irons.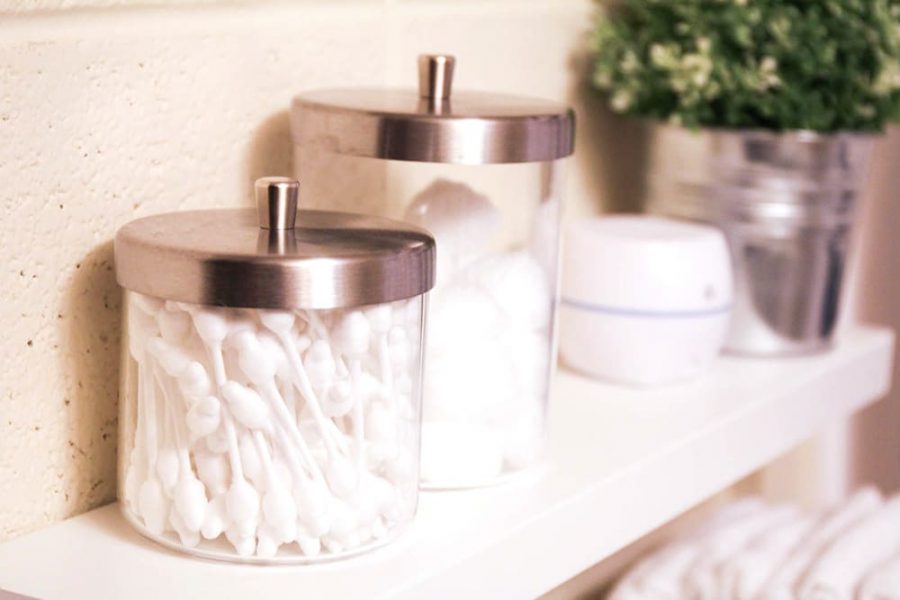 Everything is organized and easy to find, which makes it much easier for the kiddos to put their stuff away in the right place (making less mess for me to clean up!).
Tip #3: Put together a cleaning caddy.
(HERE is a post all about this concept!) This is a new idea for me, and I'm slapping my head wondering why I didn't try it before! I put all the things I use to clean the bathroom into a cute little caddy, and when it's time to clean, I have everything I need. I usually stock it with all purpose cleaning spray, glass cleaner, microfiber towels, and Clorox wipes, and it makes clean up a cinch!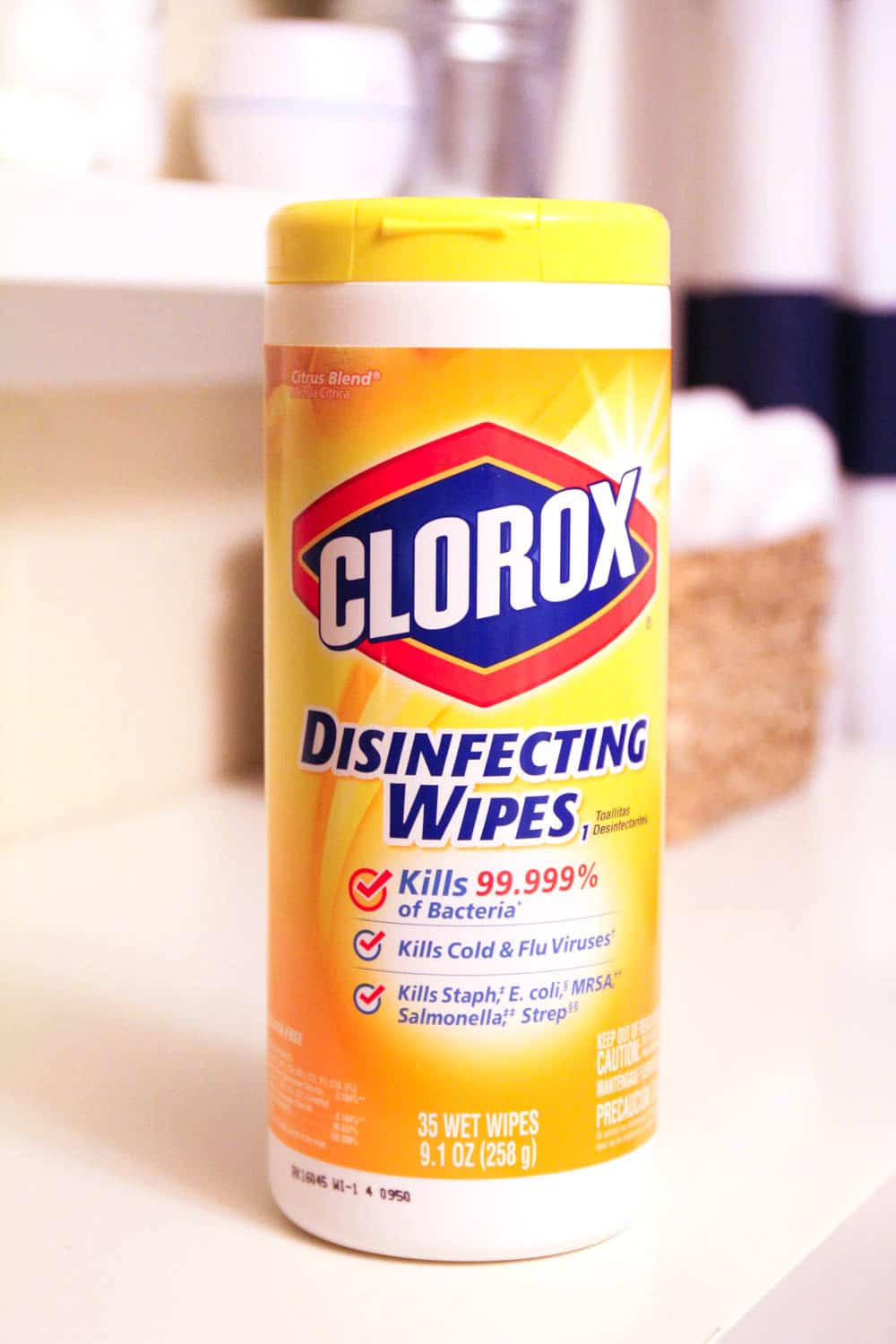 Tip #4: Do small jobs in your spare moments.
This is one my favorite bathroom cleaning tips! Sometimes tackling the whole bathroom feels like a huge task, so I try to break it up into several smaller tasks throughout the day. I keep Clorox disinfecting wipes within reach at all times so I can do a quick wipe down while I'm supervising bath time or even brushing my teeth. My eight year old is great at wiping down the sink every night before bed. Having the materials on hand makes it much easier to do a quick clean up, which means that the dirt doesn't build up over time. Easy peasy!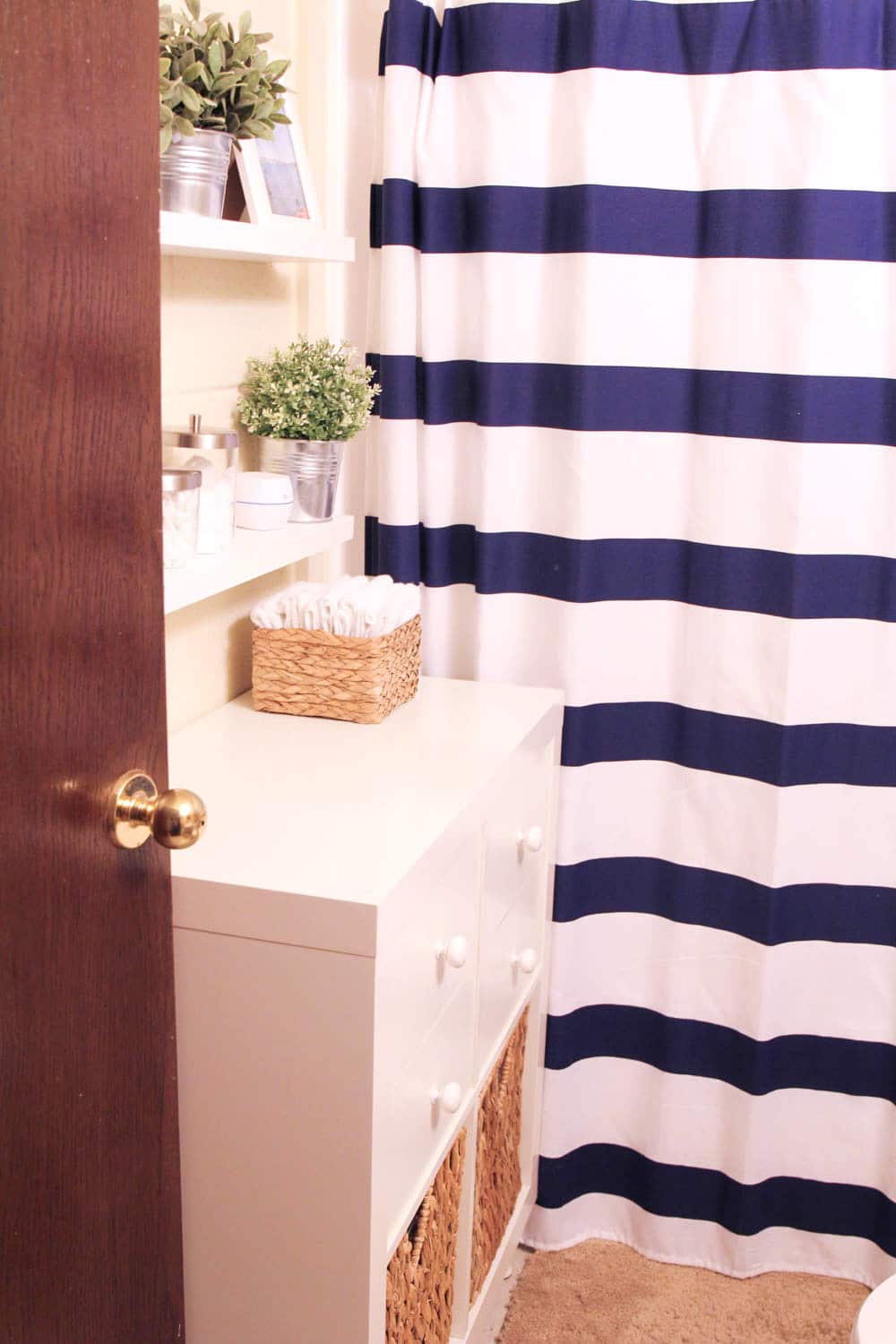 Tip #5: Make it pretty!
I know my bathroom will never win any style awards and is unlikely to be featured in a magazine, but I've added a lot of little touches to it that make me happy! I have a piece of my daughter's artwork and a favorite photo from a trip to the beach hanging up, I have some cute (fake) plants to add a little greenery, and overall I think the space feels calm and happy. Adding some of my favorite touches like the woven baskets and the rugby stripe shower curtain make it feel more like my space, which makes me a little more energized about keeping it clean. Whatever your style, make it your own space!
. . . . .
I hope these bathroom cleaning tips are as helpful to you as they have been to me! There really is nothing better than a sparkling clean bathroom, and it's always nice to figure out an easier way to accomplish a task. I love that I can always find everything I need for spring cleaning at Walmart (and at a great price too!). Happy spring cleaning!
This is a sponsored conversation written by me on behalf of Clorox. The opinions and text are all mine.