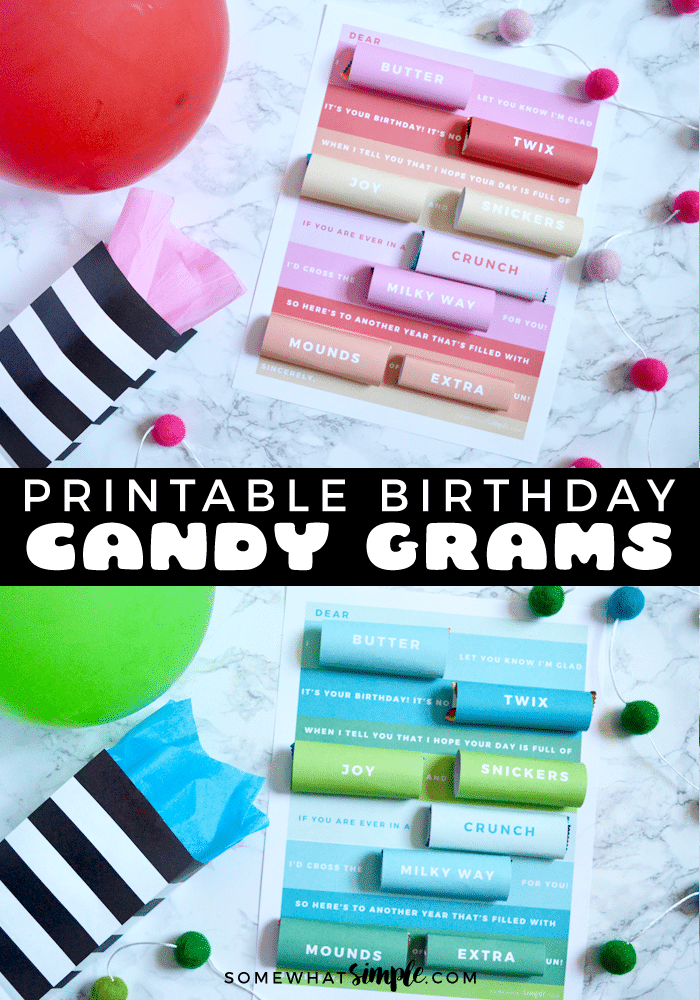 Start sending birthday cards with a little more added fun!
Birthday candy grams are a beloved classic, and with with these printables, they're even simpler to make!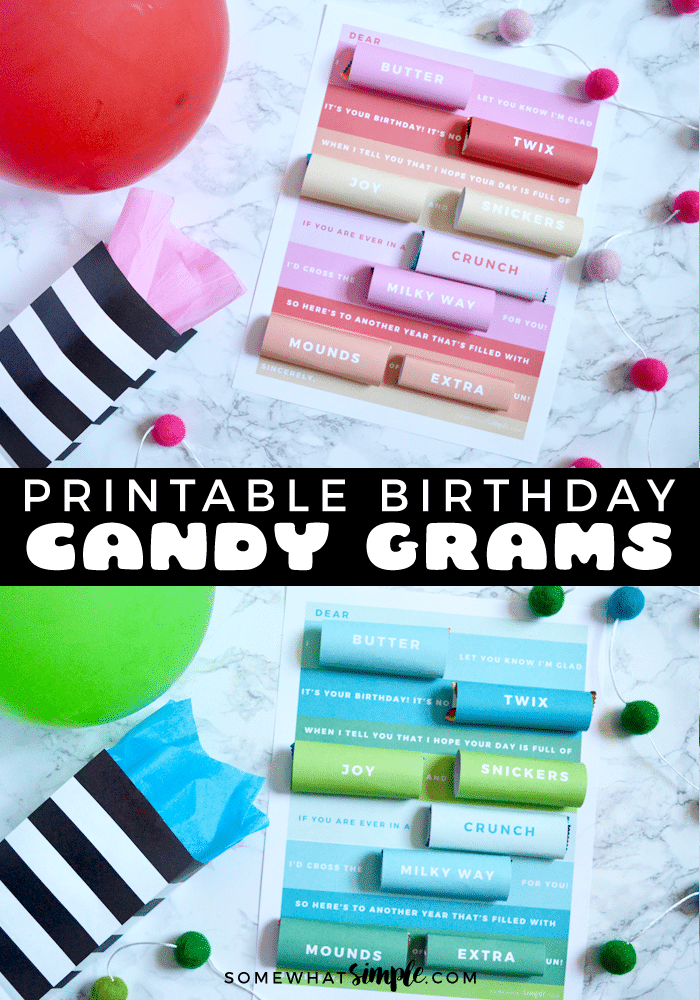 At Somewhat Simple, we love birthdays! Any excuse to eat cake is the best excuse! And since we had such a great response to our Teacher Candy Grams, (thanks to the inspiration from The House That Lars Built's Giant Candygram), we decided to create a smaller version for birthdays as well!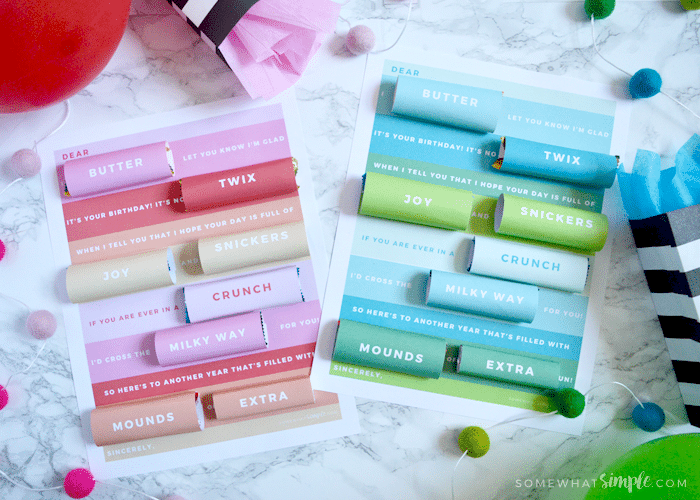 birthday cards – candy grams
supplies
Candygram Kit (link below)
candy: Fun size (NOT mini) Butterfinger, Twix, Almond Joy, Snickers, Crunch, Milky Way, Mounds, sm pack of Extra Gum, or about 5 pieces.
scissors or paper cutter
tape
pen or pencil
directions
First, print off our birthday candy gram kit. (I printed mine off at a local print shop on regular paper, than mounted it on card stock for more stability.)
Cut out the wrappers, and wrap around coordinating candy, trim down if needed, and secure with tape.
Using regular or double-sided tape, secure the candy to it's matching spot.
Fill out with birthday boy or girl's name, sign it, and voila!
Last, but not least, make someone's (birth)day!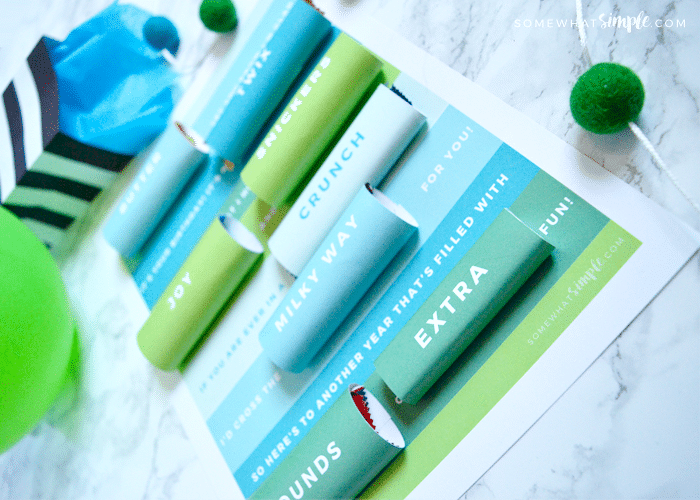 I had a hard time finding the small pack of Extra gum, so I just bought a large one, and wrapped up 5 individual sticks. They have Extra printed on the foil wrappers, so if you have to do the same, you're covered!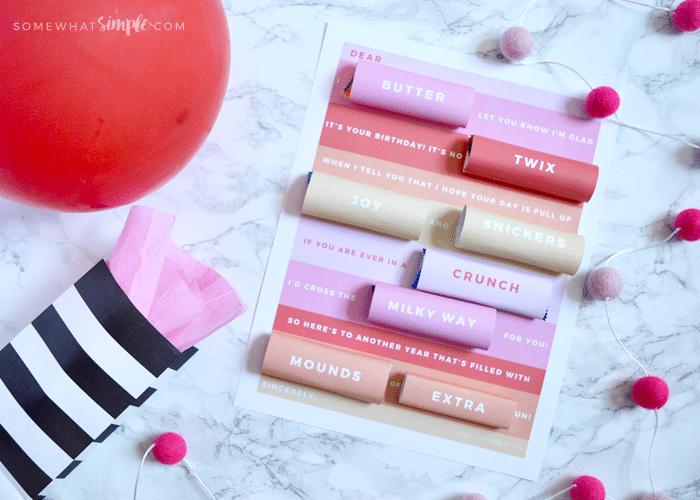 I love how colorful this turned out! I remember loving these as a kid. And now the design and a tad OCD adult in me loves these as well!
Know someone who'd love to receive on of these?
(Includes both the blues and pinks versions)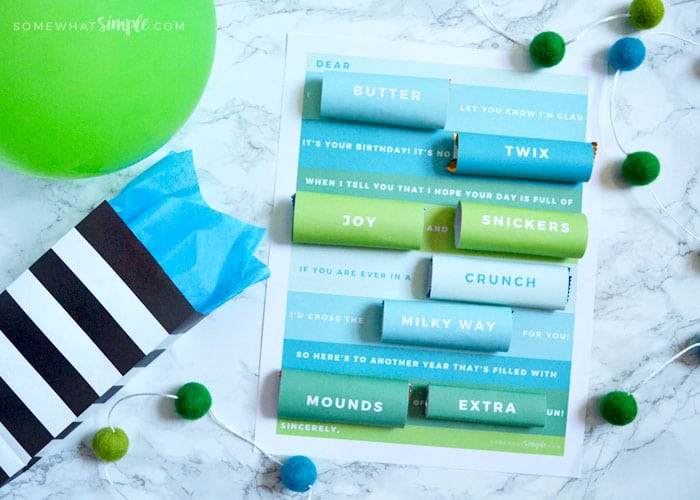 Our readers also enjoyed these posts:

Birthday Party Favors || 15 Fun Birthday Cakes For Kids || Birthday Tic Tac Labels