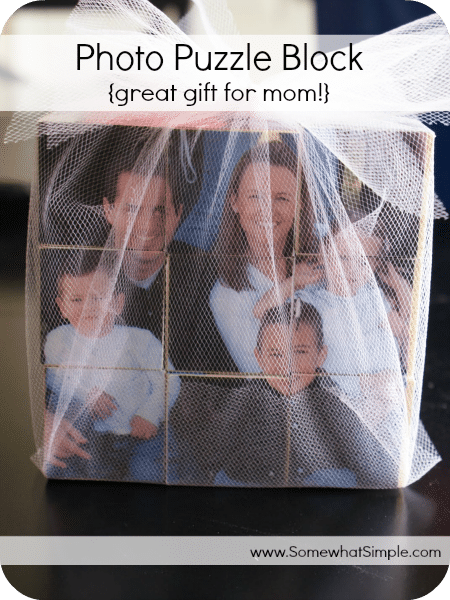 Wooden Photo Blocks are a simple, affordable Mother's Day Gift that can be made in an afternoon!
Here are a few more Mother's Day GIfts we think your mom will LOVE – Popsicle Stick Flower Pots, Breakfast in Bed Printables, and Printable Quote for Grandma.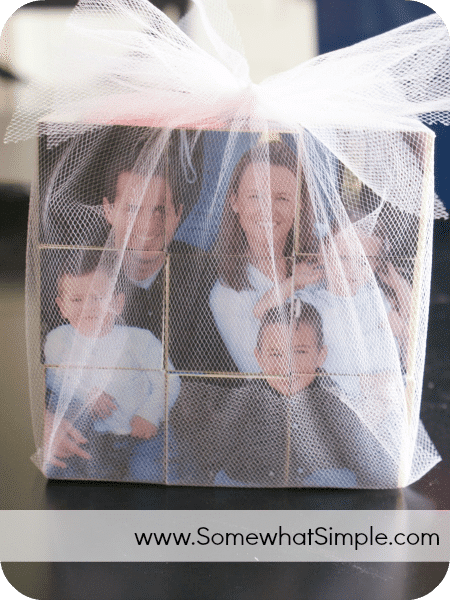 I made these wooden photo blocks for my mother-in-law years and years ago! She has 6 kids, and since there are 6 sides to each block, I was able to designate 1 side for each of her kid's families – it was the perfect gift for Mother's Day! Not only are these blocks cute and thoughtful, but they are also super easy to make! Make a quick run to your craft store and for less than $10, you'll have everything you need to start creating! Here is how to do it-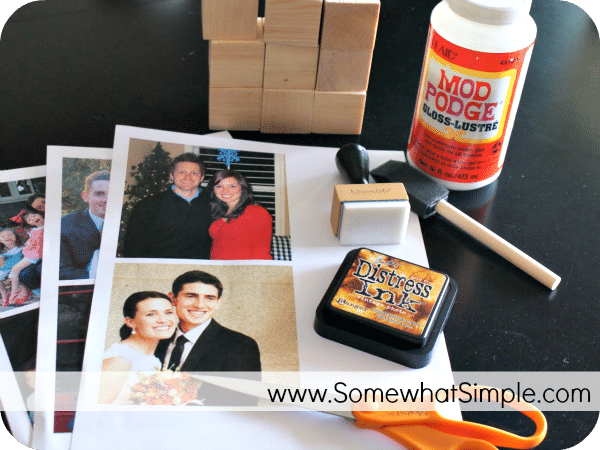 How to Make Wooden Photo Blocks
MATERIALS NEEDED –
9 wooden cubes
Mod Podge
sponge brush
scissors
6 printed pictures that are the size of 9 blocks put together – mine was about 4″ x 4″
distress ink, optional (I ended up not using it)
ruler
pencil
DIRECTIONS –
On the back of your pictures, use a ruler and a pencil to measure and mark the size of each block
Cut each square so your picture is now 9 separate pieces.
Paint a thin layer of Mod Podge on each block, then stick a piece of the picture to it.
Add another thin layer of Mod Podge over the image to seal it to the cube.
Repeat for all other 5 pictures on the 5 other sides of each cube, then let this dry completely.
Once your blocks are dry, you can wrap them up with some tulle or ribbon and give it to your mom!
These photo blocks are also a fun toy for kids – my kids all couldn't keep their hands off of this one!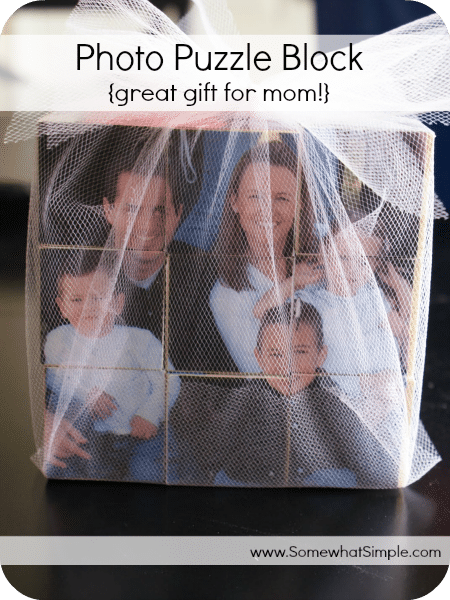 This idea originally published on Somewhat Simple in April 2010