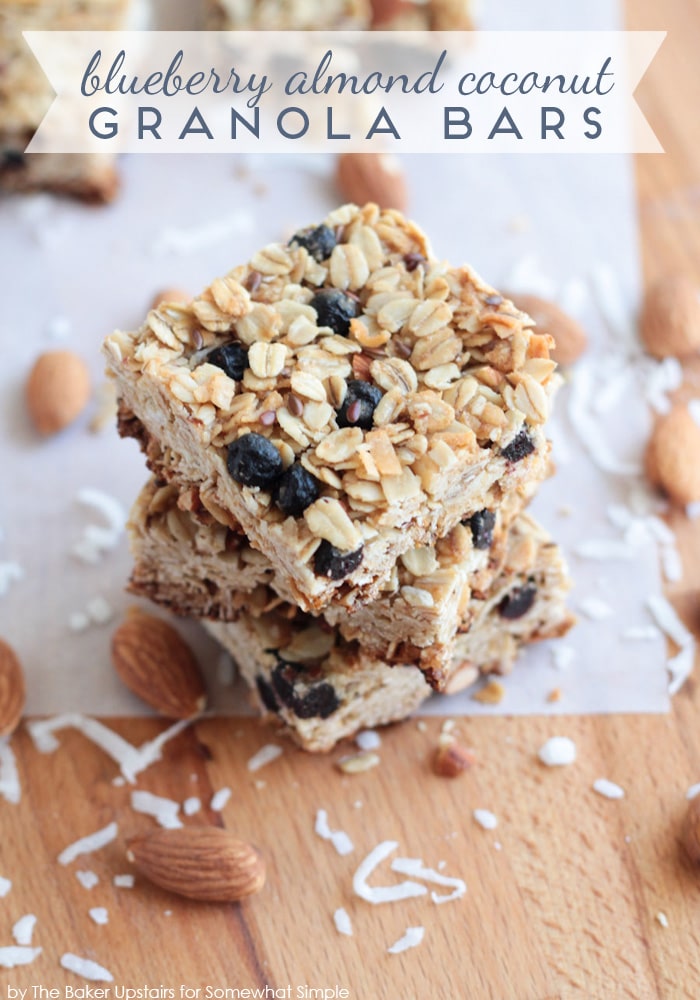 Hello again, Somewhat Simple readers! It's Alicia from The Baker Upstairs, and I am so excited to be back contributing on Somewhat Simple this year! I'm not huge on New Year's resolutions, but I like that January is a good time to think about my priorities and get back on track wherever I have gone astray. My commitment to healthy eating always seems to go off the rails a bit during the holiday season, and January is the perfect time to get energized about healthy eating. I work long days as a nurse, and one of the traps I fall into is forgetting to pack healthy snacks to keep me energized throughout the day. These blueberry granola bars are just the ticket for giving me a little energy boost as I work, and helping me not come home from work ravenous and ready to eat all the junk food in sight.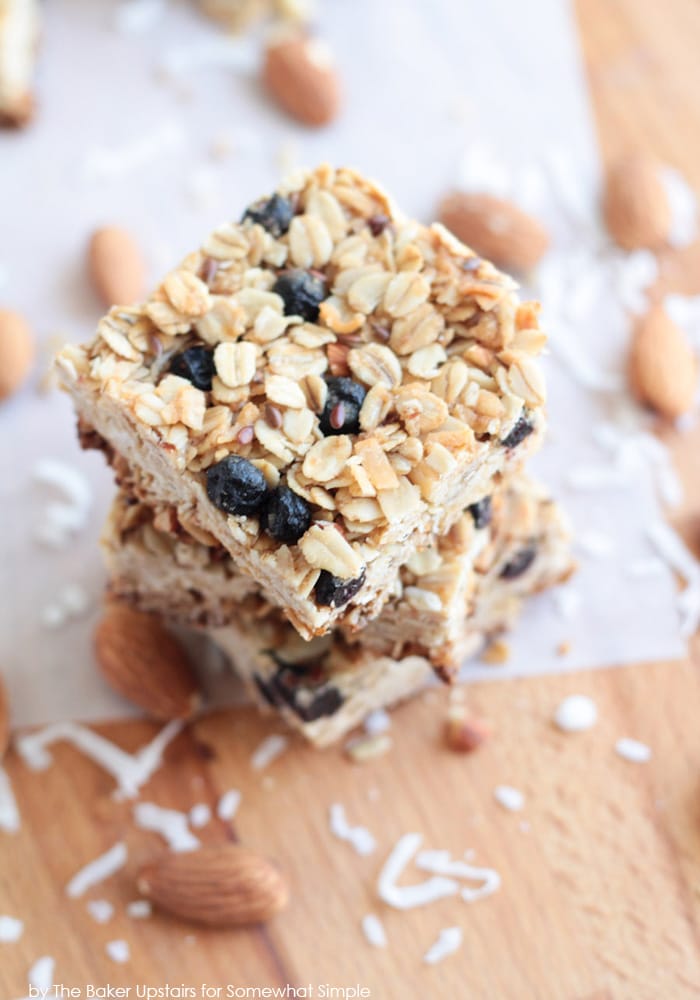 These granola bars are pretty much just packed with goodness! I love the crunchy almonds and flax seeds, the sweet blueberries, and the chewy coconut and oats. They take only a few minutes to mix up, and are incredibly easy to make!
Blueberry Almond Coconut Granola Bars
3 1/2 cups old fashioned oats
1/4 cup whole wheat flour
1/2 cup shredded coconut
1/3 cup brown sugar
1/2 teaspoon salt
1 1/2 tablespoons flax seeds
1/2 cup chopped almonds
1 cup dried blueberries
1/2 cup coconut oil, melted
1/2 cup honey
1 1/2 teaspoons coconut extract
1 teaspoon vanilla
Preheat the oven to 325. Line a 9 x 13 pan with parchment paper. In a large bowl, mix together the oats, flour, coconut, brown sugar, salt, flax seeds, almonds, and blueberries. In a small bowl or measuring cup, mix together the coconut oil, honey, coconut extract, and vanilla. Pour the wet mixture over the dry ingredients and toss to coat. Press the mixture into the prepared pan and bake 25-30 minutes, or until light golden brown. Let cool, then slice into bars.
adapted from Two Peas and Their Pod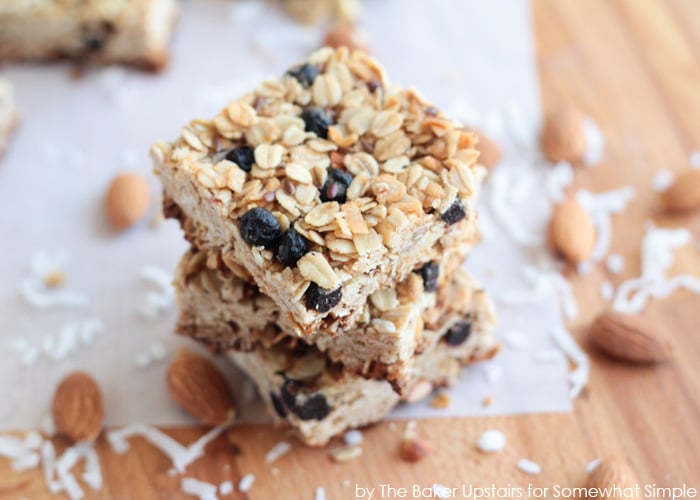 If you liked this post, I would love for you to check out some of my other healthy recipes on my blog!

baked chicken nuggets / chicken caesar salad wraps / chocolate chip cookie granola bars