These tips and tricks for getting rid of the boys bathroom smell is in partnership with Scotch-Brite Brand™. I've spent the last few months evaluating some of the Scotch-Brite™ products and I'm sharing all about my tips and successes on Somewhat Simple, because #CleanFeelsGood! As always, the opinions expressed here are my own and the results you see in the post are 100% accurate.
Any moms of boys in the house?! Then you know exactly what I'm talking about when I say these 3 dreaded words- Boys' Bathroom Smell. It is something we all deal with, but only a select few know how to handle it. Today I'm going to share my secrets to success on how to get rid of the boys bathroom smell. It's a simple process that will change your life. (Or, at least change the way your bathroom smells!)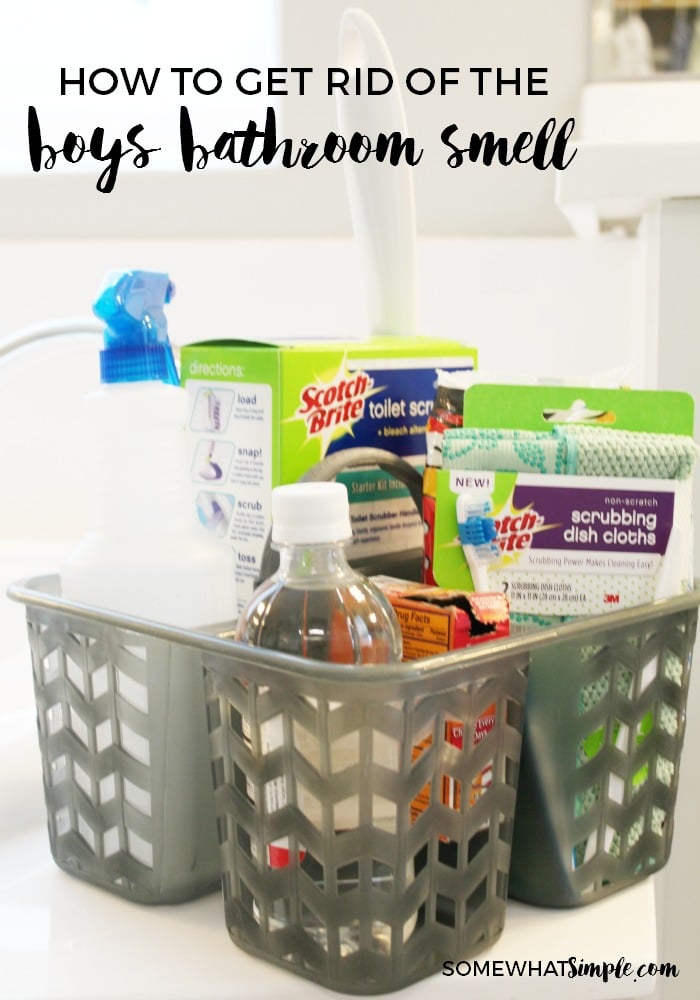 I was recently talking to my sister-in-law about how I keep my boy's bathroom from smelling like urine all the time. (I have 3 boys – ages 13, 8 and 5 – so I've had years of experience with this task!) My sister-in-law raised 3 girls before she had her son. She swears she never had a smelly bathroom with her 3 girls, but the constant smell from even the tiniest of boys has her at her wits end!
I'm not saying that boys are smelly and girls are always fresh and clean, but I am saying there is a definite difference between the two. My two girls have had their fair share of messy moments, but boys have this thing about aiming and accuracy, or inaccuracy, that we females don't have to deal with.
And while I don't claim to have a perfectly cleaned and organized house every day, I can honestly say my bathrooms do not smell. 5 kids – 3 boys. Here is how I do it:
How to Get Rid of the Boys Bathroom Smell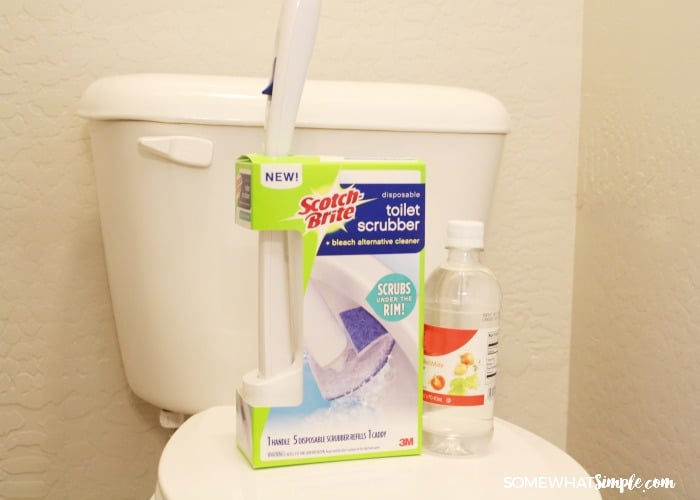 STEP ONE – CLEAN THE TOILET BOWL
Ok, ok, so this might sound obvious, but I have to mention it because the smell starts here! Give that toilet bowl a good scrubbing at least weekly. Here are a few tips –
I keep the Scotch-Brite® Disposable Toilet Scrubber right next to my boy's toilet and I've taught them to scrub the inside of the toilet bowl whenever they go #2. (Of course there are times of laziness, so it doesn't get done

every

time. But it gets done often and that is the key!)
I don't think there is an age where they are too young to clean up after themselves. Have your boys take a piece of toilet paper and wipe where they dribble. Show them how easy it is to rid the mess by using The Scotch-Brite® Disposable Toilet Scrubber. I truly believe that my boys take better care of their bathroom mostly because they know that they will be the ones cleaning up if mom finds it messy.
If you're combating a bathroom that needs some extra TLC, grab 2 cups of vinegar, pour it into your toilet bowl before bedtime and let it soak overnight. Give it a good scrub in the morning and watch the magic of the vinegar happen before your eyes!
(More on the Scotch-Brite® Disposable Toilet Scrubber below, so keep reading!)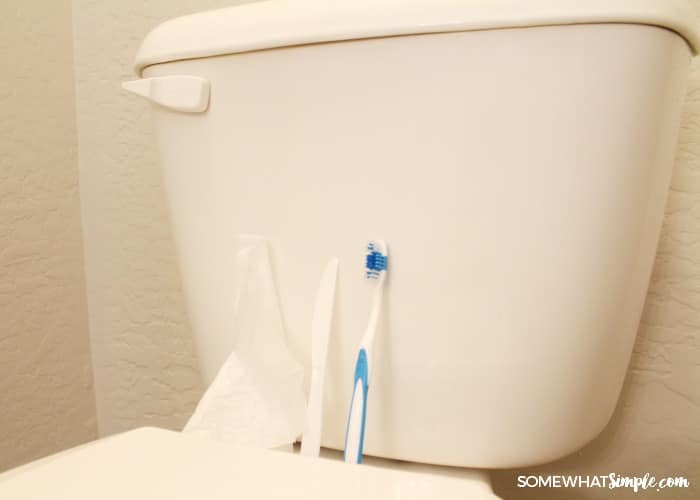 STEP TWO – CLEAN THE NOOKS AND CRANNIES
I do this just whenever I think about it – maybe every other month or so. It is amazingly disgusting how much "gunk" builds up in the cracks and crevices of your toilet! Here are a couple tips:
Grab a toothbrush, wet it with some vinegar and scrub around the seat hinges.
Place a baby wipe over a plastic knife and slide it in between the crack where the tank meets the seat. (Do you see all that?!) Yuck.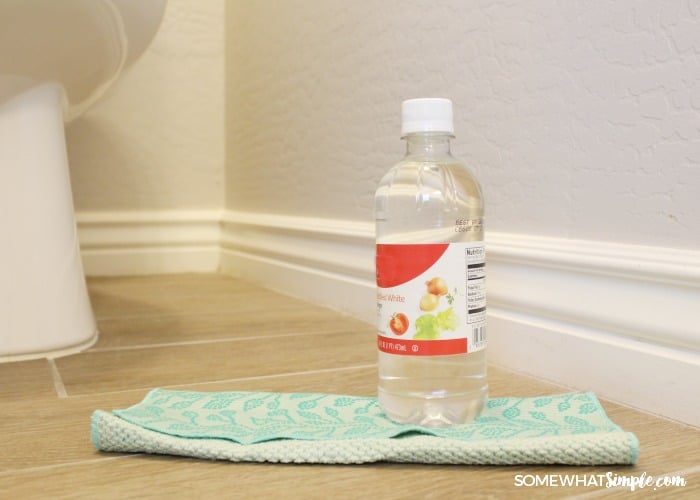 STEP THREE – WIPE UP THE OVER-SPRAY
Take a look at everything surrounding your toilet. There are several things to consider washing-
All around the toilet and the floor. Get behind there as best as you possibly can!
The walls. Every.Single Wall.
Your baseboards.
The rug.
Your shower curtain.
Step stools
Trash cans
Laundry baskets
Your plunger. When was that last time that thing was washed?
I think the less you have out in the open, the less you have to clean. Consider putting the trash under the counter, lose the rug around the toilet etc.
The best way to clean this area that I have found is to grab some vinegar and spray it all over anything that could have urine on it. Let is sit for several minutes, then wipe with a damp cloth. (More info on my cloth of choice HERE.) This deep clean doesn't have to be done weekly – just whenever you think about it.
Want to make sure you get everything? Use a black light. Searching for the mess is so easy in a dark bathroom with a black light. My little sister thought she was being funny when she brought one into my home. Before she left, I got on my hands and knees and started scrubbing that bathroom like it has never been scrubbed before! (There was pee on the wall on the other side of the bathroom!) I seriously had NO IDEA how bad my bathroom was until that light was brought into my home. (Thanks little sister!)
So there you have it – a few simple tricks I've learned over time.
Fellow moms of boys, you're welcome, and good luck! 🙂
If you have any tips or cleaning suggestions, leave them in the comment section below.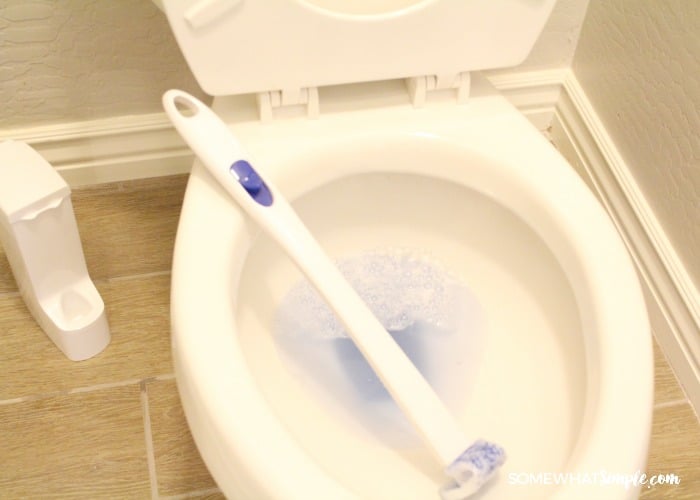 Whether you need to scrub it, wipe it or lift it away, Scotch-Brite™ Brand's broad range of cleaning tools make it quicker and easier to keep your home comfortable, inviting and clean, so you have more time to enjoy the moments that matter.
The Scotch-Brite® Disposable Toilet Scrubber is designed to reach & remove hidden stains under the rim that you didn't even realize you were leaving behind! With one-click assembly and a uniquely shaped disposable head, you can now tackle one of the toughest household chores without ever touching the grime.
What else I love about this toilet scrubber:
The built-in toilet cleaner is one less thing to keep on hand and one less thing to grab when I need to clean the toilet.
No more scrubbing brushes full of germs left by the toilet. Use it and toss the attachment!
Visit Scotch-Brite.com to find a retailer near you and join the conversation using #CleanFeelsGood.
Facebook || Twitter|| Instagram || Pinterest
This is a sponsored post in partnership with Scotch-Brite™ Brand. Thanks for supporting our sponsors so we can continue to provide creative content to Somewhat Simple.