Character dining is the perfect way to meet all of your favorite Disney characters!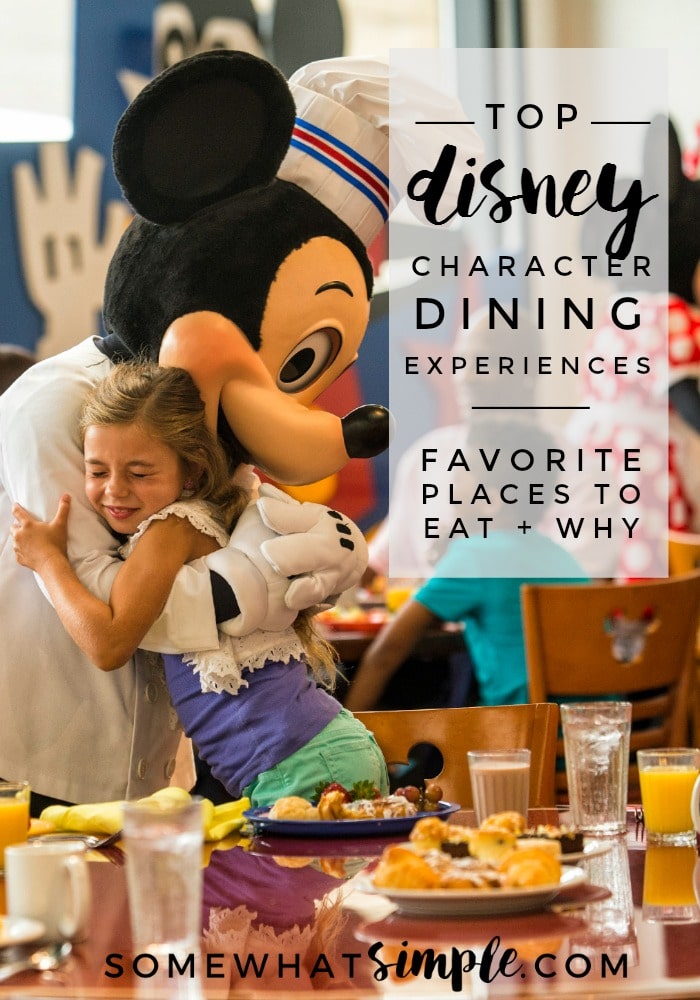 The best way to meet the characters at Disney World is by doing the character dining. You can certainly meet them in the parks, but sometimes that means long wait times with cranky children. At a character dining experience not only will you meet your favorite characters but you get to experience so really good food! That's what we call a win-win!
Today we're talking about the BEST of the best when it comes to character dining – where to eat and why each experience tops our list!
Top Character Dining Experiences at Disney
Cinderella's Royal Table
If you want a spot at the table you better start trying to reserve it 180 days out from your trip because it is super popular. When you arrive you will have a photo opportunity with Cinderella in her beautiful dress. After you get your picture you will be escorted upstairs for a meal with the princesses. Meet and greets could include Ariel, Aurora, Jasmine, and Snow White, but characters are subject to change. Each prince and princess will receive a wand or sword. Breakfast items include traditional fare such as scrambled eggs, potatoes, bacon, sausage and more adventurous fare includes shrimp and grits. Lunch and Dinner include Beef, Pork, and other delicious fare. Don't forget to have The Clock Strikes 12 dessert. It is the best one on the menu!
Chef Mickeys
If you have your heart set on meeting Mickey and his friends the best place to do it is at Chef Mickeys. This is a great experience for the whole family. You can find this AMAZING buffet at the Contemporary Resort. It is really bright and colorful, so be prepared. The food is served buffet style and the characters come around to your table for pictures and fun. Even though characters are subject to change you will most likely meet Mickey, Minnie, Donald, Daisy, and Goofy. Reservations are open for breakfast, brunch, and dinner. It is mostly American style food but the ongoing favorite is the Mickey Waffles! Try them with whipped cream and strawberries. Another great menu item is the build-your-own sundae. You have a lot of toppings to choose from, so go crazy!
Be Our Guest
Be Our Guest is Disney's newest character dining experience. You will have a chance to dine at Belle and Beast's castle in the room of your choice. If you have younger children we highly recommend you do not eat in the West Wing. It has some scary sound effects that might scare younger children. Also, this is one of the only character experiences that you only meet the characters at dinner. And, the Beast is not a guarantee. If you only want the experience of eating in the castle we highly recommend lunch. It has a better menu and is a little less crowded. Don't forget to try the grey stuff! It's delicious and if you don't believe me, just ask the dishes!
Best Friend Breakfast at 'Ohana
This dining experience is located at the Disney Polynesian Resort and looks as such. As you know, 'Ohana means family so here everything is done family style and your servers are your 'cousins' for the morning. Lilo, Stitch, Mickey Mouse and Pluto all come around to greet you. Remember though, they're only there for breakfast. Again, this is the typical food found at any Disney breakfast, but the overall quality is better. Probably because it's brought out fresh instead of sitting under a heat lamp.
1900 Park Fare
Here, breakfast and dinner each have a set of characters. For breakfast you can meet Alice, The Mad Hatter, Mary Poppins, Tigger and Pooh. The food includes the staple Disney breakfast food, but also includes more upscale items such as smoked salmon. For dinner, you can meet Cinderella, her Prince Charming, and her evil stepmother and sisters; Lady Tremaine with Anastasia and Drizella. Now, while most people come to see Cinderella and her Prince, don't be surprised if the step sisters take over the show. That is primarily their goal and they will do anything to meet it. Dinner has 8 different types of salad as well as different kinds of soup. Entrees go on to include sushi, strip loin and create your own pasta. You can find things such as fruit or rice for sides, and the dessert table has a wide selection of individual creations.
Lastly, here are a couple of tips before you go and make your reservations –
Character Dining Experiences can be expensive, but one suggestion we have is to get a Dining Plan. There are several options available from the smallest, which is just snacks, to deluxe which will get you 3 sit down meals a day. It is best to read over all the options and pick the best one for your family. We love the middle one – the Plus Dining – that gives you 1 table service credit, 1 quick service credit, and 2 snacks. It is more than enough food for a family!
Check for free dining. During special dates Disney will sometimes offer free dining packages.
Make your reservations 180 days out. Dining such as Be Our Guest, Cindrella's Royal Table, and the Best Friend Breakfast fill up quick. So you want to be up extra early on 180th day to snag a good reservation!
We hope this helps you plan the perfect Disney trip!
You are going to have so much fun!
For more fun travel posts, check out these fun trips we've taken: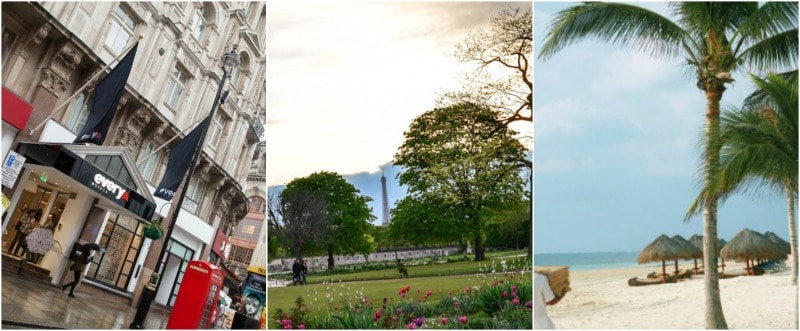 Travel to London // France Travel Tips // All-Inclusive Mexico