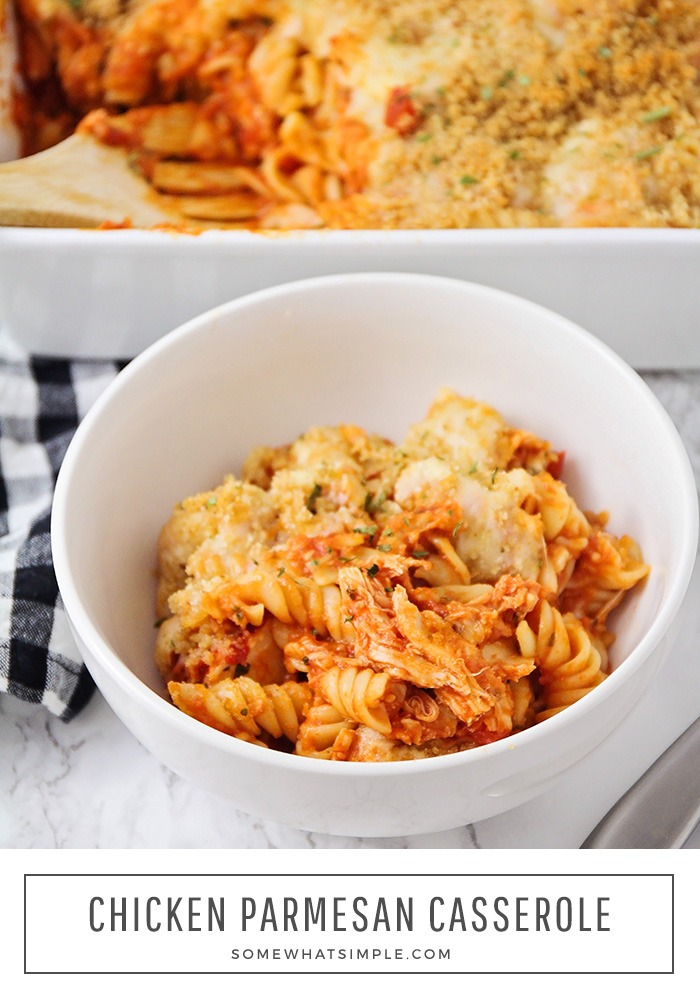 This delicious chicken parmesan casserole has all the flavors of chicken parmesan and it is so easy to make. Made with tender chicken, pasta a homemade sauce and topped with provolone cheese and bread crumbs, it's an easy meal everyone will love!
Growing up, we lived on casseroles! Some of my childhood favorites were Breakfast Casserole, Ham and Potato Casserole, and Chicken Pot Pie Casserole. They are filling, delicious, and they can totally feed a crowd! This Chicken Parmesan Casserole is a new favorite that my kids absolutely love!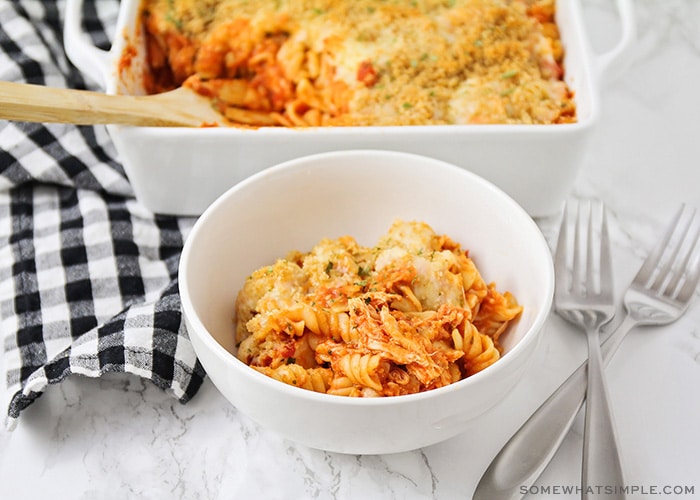 Baked Chicken Parmesan Casserole
Who else gets tired of making the same few dinner recipes day after day? I love to eat a variety of different foods, but sometimes I just get stuck in a rut and find myself making the same thing over and over. If you're looking for a fun new recipe to liven things up at dinner time, this chicken parmesan casserole is it! It has all the delicious flavors of a classic Chicken Parmesan recipe, but in a comfort food casserole form. It's really easy to make, and tastes great. It's a dinner recipe that the whole family will love!
Traditionally, chicken parmesan is made by dredging chicken breasts in a flour or bread crumb mixture, baking or frying them until crispy, then topping them with marinara and cheese. This delicious casserole has all of the same flavors, but with much less work!
How To Make A Chicken Parmesan Casserole
Prepare The Pasta – While your oven is preheating to 350 degrees F, prepare the pasta noodles according to the directions on the box.
Make The Homemade Marinara Sauce – While the pasta is cooking, it's time to prepare the sauce for the casserole. Pour the olive oil into a large skillet and heat it on the stove top. Add in the minced garlic and let it cook for a minute or two until it becomes fragrant. Mix in the diced tomatoes, tomato sauce, chicken broth and tomato paste until everything has fully combined. Then mix the salt, sugar and basil into the sauce.
Assemble The Casserole – Let the sauce simmer for about 15-20 minutes or until it has begun to thicken. Next, stir in the rotisserie chicken and then add the cooked pasta to the skillet and give everything a good stir. Pour the pasta mixture into a 9 x 9 casserole dish. Top the casserole with slices of provolone cheese. Stir the parmesan cheese and bread crumbs into the melted butter and then sprinkle the mixture over the top of the casserole.
Cook – Bake the chicken parmesan casserole for 20-25 minutes or until everything is crispy and the bread crumbs are a delicious golden brown color.
I love the combination of the tender noodles, the savory chicken, and the flavorful marinara sauce. Everyone in my family cleaned their plate and raved about how delicious the casserole was. I think my kids asked me seven different times during dinner if I would make this casserole again, so I'm definitely counting it as a win!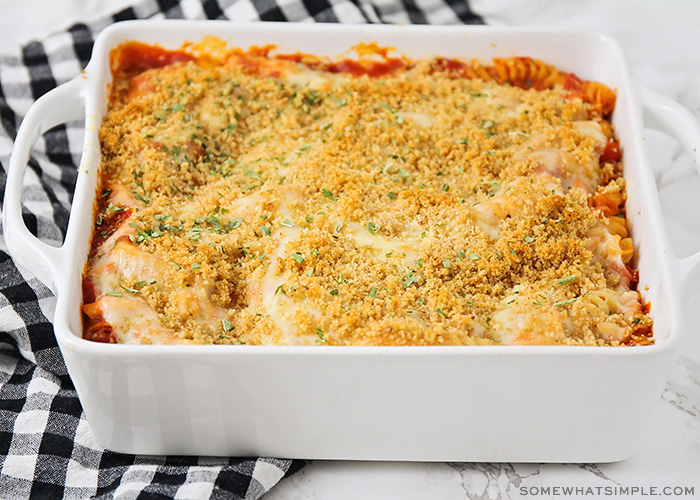 Recipe Tips
I used shredded rotisserie chicken to save time and effort
I made a quick and delicious homemade marinara sauce on the stove top to toss with the chicken and pasta but if you want to make this recipe even easier, you can use your favorite sauce in a jar.
Freezer Meal Prep
Freezer Prep – This recipe is perfect if you want to make it ahead of time and then cook it later. Just follow the directions above but put the casserole into a disposable baking pan for freezing. With the casserole in the pan, first wrap it tightly with plastic wrap and then cover it with aluminum foil. You can keep this meal frozen for about two months before needing to use it.
Reheating If Thawed – Pull the chicken parmesan casserole from the freezer the night before you're ready to use it. Let it thaw overnight in the fridge and then baked it per the directions above or until it is heated throughout.
Reheating If Frozen – If you forgot to thaw the casserole, you can still bake it if it's frozen. You will need to bake it covered and add at least 45 minutes to the cook time. Remove the cover during the last 15 minutes to make the cheese and bread crumbs a beautiful golden brown. Once the middle of the casserole reaches 160 degrees F (you should check it with a kitchen thermometer) it's ready to serve.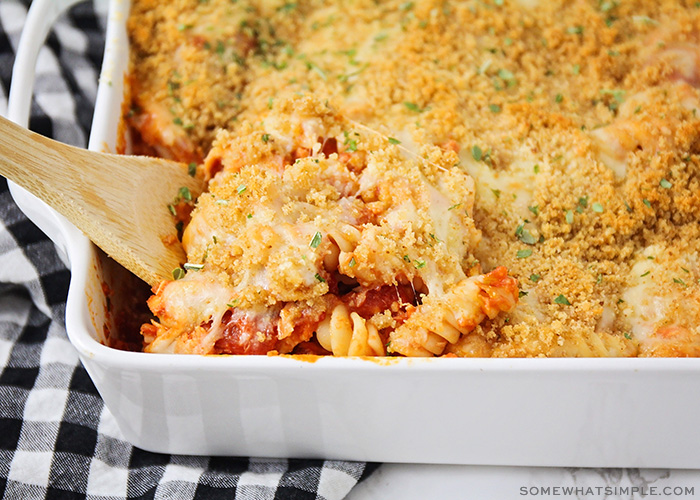 More Easy Chicken Recipes
Chicken Parmesan Casserole Recipe
Let us know if you make this casserole by leaving us a comment below or by tagging us on social media! We always love to see you enjoying one of our delicious recipes!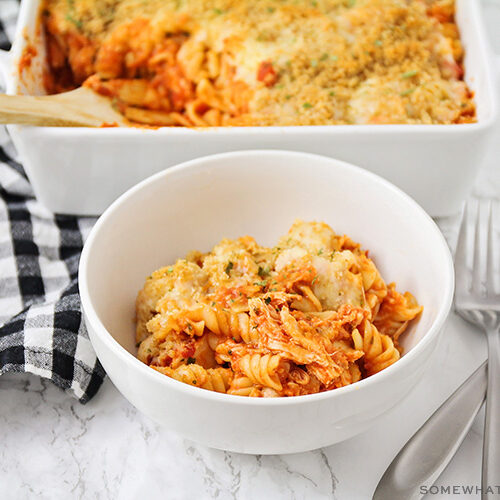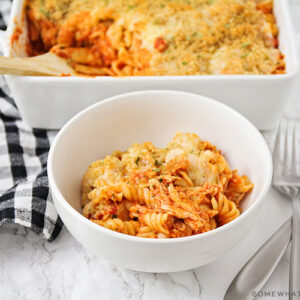 Chicken Parmesan Casserole
This delicious chicken parmesan casserole has all the flavors of chicken parmesan, and it is so easy to make. The perfect dinner for a busy weeknight!
Ingredients
1/2

pound

rotini pasta

uncooked

1

tablespoon

olive oil

2

teaspoons

minced garlic

3/4

cup

chicken broth

1

14.5 ounce can

diced tomatoes

1

14.5 ounce can

tomato sauce

1

tablespoon

tomato paste

2

teaspoons

sugar

1

teaspoon

salt

2

teaspoons

dried basil

2

cups

shredded rotisserie chicken

6

slices

provolone cheese

2

tablespoons

butter

2

tablespoons

grated parmesan cheese

1/2

cup

bread crumbs
Instructions
Preheat the oven to 350. Cook the pasta according to the package directions, then drain.

While the pasta is cooking, in a large skillet, heat the olive oil over medium heat. Add the garlic and cook 1-2 minutes, or until fragrant. Add the chicken broth, diced tomatoes, tomato sauce, and tomato paste, and mix to combine. Add the sugar, salt, and basil, and stir to combine.

Simmer the sauce for 15-20 minutes, until slightly thickened. Stir in the rotisserie chicken. Add the cooked pasta to the skillet, and stir to combine. Pour the pasta into a 9 x 9 baking dish. Top with the slices of provolone cheese.

In a small microwave safe bowl, melt the butter. Stir in the parmesan and bread crumbs. Sprinkle the bread crumb mixture over the top of the pasta. Bake 20-25 minutes, or until the bread crumbs are golden.
Nutrition Facts
Chicken Parmesan Casserole
Amount Per Serving
Calories 470
* Percent Daily Values are based on a 2000 calorie diet.