What to see and where to go + helpful tips to make your Christmas in New York simply magical!

If you want to experience an old world Christmas with fun, modern twists, you need to spend Christmas in New York City! We've gathered our favorite tips + things to see that you DO NOT want to miss! Take a look –
Christmas in New York – Travel Tips
Here are some tips to get the most out of your trip –
What to Pack – It gets really cold, especially at night when you are looking at all the pretty lights. Wear warm comfortable shoes, gloves, a scarf, and even ear muffs if your ears get really cold. A warm jacket is a must!
Be Careful – Crime is just a fact of life in New York, especially the city. Here are a few things to consider –

Keep your bags close to you, and if you can leave your purse at the hotel, even better. I like to get a cross body purse, or a small fanny pack that I can keep under my shirt. If you try to keep your wallet, purse, etc. in the front of you., it is harder to grab for pick-pocketers.
Consider getting a RFID wallet that is designed to help insulate you from electronic pickpocketing. (Since some credit cards, passports, and driver's licenses now come with embedded radio frequency identification chips, it is easier for certain thieves to steal your info. Scary, right?)

Don't keep your phone out. Take pictures and videos when you want to but then put your phone away.

If you find yourself lost, ask a police officer or store clerk for directions. It is way better to admit you are lost than to find yourself wandering around the city late at night. That is just a recipe for bad news.

Transportation – Take public transportation or walk as much as you can. While driving can be done in the City, it is a lot easier to let someone else get you to where you need to be. (And let's not even talk about how expensive parking is!)
Deal with the Crowds – Just accept the fact that you will bumped into, stepped on, etc. Just keep going and don't start a fight. Regardless of their reputation, some of the nicest people live in New York. No one is intentionally trying to knock you down, so just remain calm.
Christmas In New York- Where To Visit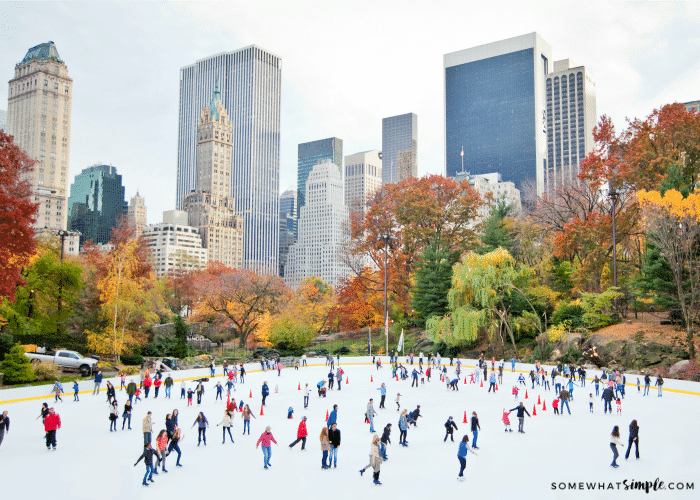 Bryant Park Winter Village
Bryant Park Winter Village has over 150 kiosks, food places, and holiday shops. It is home to the famous 17,000 square-foot FREE ice skating rink that is shown all over TV during the holidays. You can bring your own skates or rent them there for around $20. When you are done skating you can visit shops where you can eat local fare, holiday shop, or even pick up some nice things for yourself!
Skating hours: Daily 8am–10pm, through Mar 4.
Holiday Shops: Daily 10 or 11am–8pm, through January 2. Many shops are open on major holidays.
New York Christmas Window Displays
Nothing is more fun than seeing the city while looking at elaborate holiday scenes is some of the most famous stores! Just make sure to grab some hot chocolate! Stores to visit –
Lord and Taylor

Barneys

Bergdorf Goodman

Bloomingdales

Henri Bendel

Macys
Macy's Thanksgiving Parade
One of the biggest highlights of Christmas in New York (besides the famous tree we are going to talk about in a few minutes) is the Macy's Thanksgiving day parade! It features some iconic balloons, celebrities, the best marching bands in the world! It is a whole lot of fun for the family – but be there early for a good spot and wear warm, comfortable clothes!
Rockefeller Christmas Tree
If you want to do Christmas in New York, you need to see the tree lighting! It is the nexus of the holiday season. The 78-foot, 10 Ton Norway Spruce will be illuminated with over 45,000 LED lights. There is a rumor that this years will be the best year yet! The first lighting will be November 29th at 7PM, so make sure you get there early!
Radio City Music Hall Christmas Spectacular
Featuring Santa, Wooden Men, and long, leggy Rockettes, the Radio Music Spectacular is a must-see. It is an incredible show that will get you in the holiday spirit. The Radio City Christmas Spectacular takes place from November 10, 2017 through January 1, 2018. Get tickets HERE.
A Christmas Carol at the Merchant's House
19th century holiday decorations, flickering candles, and richly appointed period furnishings will transport you back 150 years in this captivating one-hour performance created from Dickens' own script. It is amazing to see and a must do!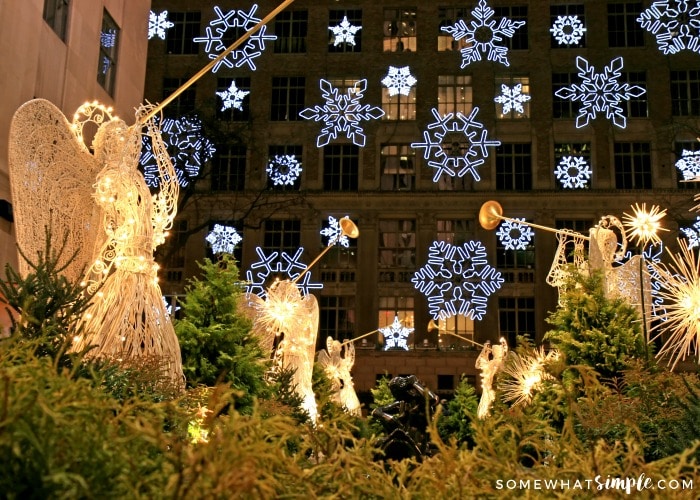 . . . . .
There are so many things to do in New York City – we hope you have so much fun!!
Merry Christmas!