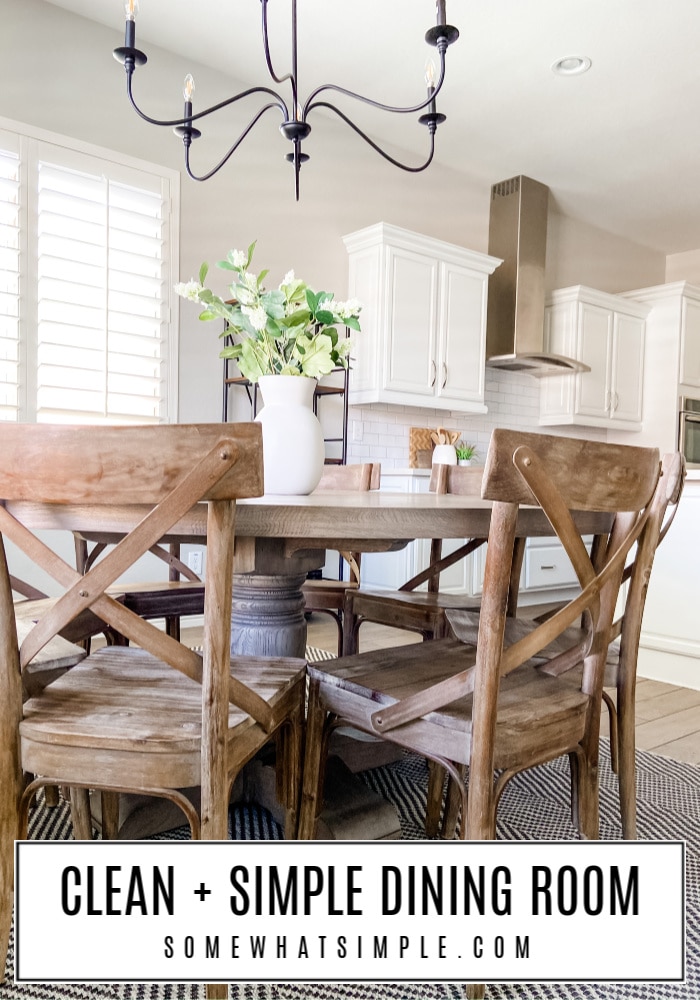 Our plain and simple dining room gets a deep-clean and update for a much-needed spring refresh! Classic design and easy upkeep is the name of the game, making this space absolutely perfect for our family of 7!
This post is in partnership with Hoover. All opinions are 100% my own.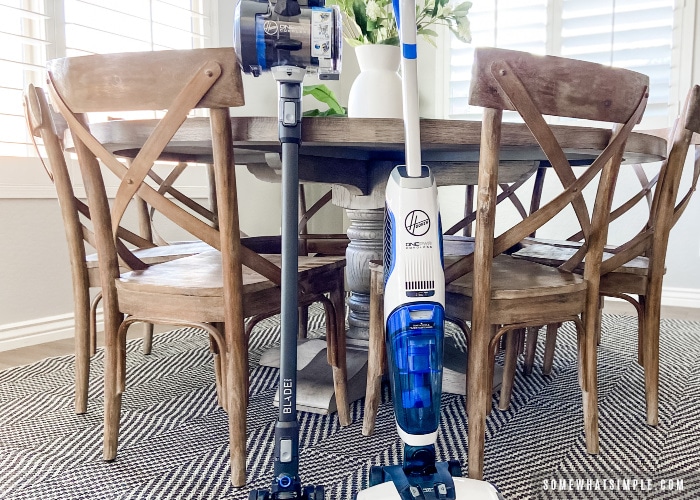 Our dining room table was the very first piece of furniture I bought for our home when we moved in almost 4 years ago. I am still in LOVE with this table, and the memories our family has made around it during dinner, game nights, and study sessions are truly priceless!
BUT even a pretty table needs a few "things" to complement it and show off its full potential. Case and point – here is what our dining room looked like just a week ago –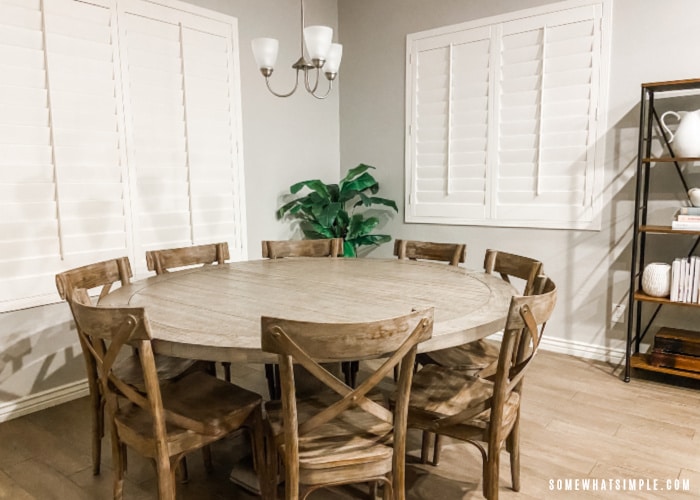 Very drab. The table matched the floors in color almost perfectly, so it was just brown on top of brown and so blah. The light fixture that hung over it was this tiny little thing that our builder installed, and there was very little color or dimension in this space at all.
My Plan
To make this space look amazing, I set some goals and made my project list –
#1: Find the perfect rug. A rug will help break up all the brown, but because this space gets used a TON every day, I had some very strict criteria for finding the perfect rug –
Our backyard access is a large sliding door to the left of the table, so the rug needs to be an indoor/outdoor rug that will hold up to dirty shoes from the kids and their friends, as well as wet feet from our pool.
The perfect rug has a simple pattern that adds dimension without being overwhelming. Nothing too geometric or floral, but no solid colors either.
It needs to have dark colors to hide dirt and spills until I can wash it with our ONEPWR FloorMate Jet Cordless Hard Floor Cleaner Kit.

I only mop our floors once every 1-2 weeks, so to keep everything looking nice between washes, a dark-colored rug is a must!

I wanted a rug that is easy to vacuum with our ONEPWR Blade Max Cordless Vacuum.

I don't own a broom because this vacuum does it ALL so much better. We often use it multiple times a day, but for sure it is used to sweep crumbs after dinner every night.
#2: Get a new light fixture. I wanted something bigger (obviously) and I wanted it to be black so it stood out against the gray walls and brown table. Swapping the light fixture has been on my project list since we first moved in, but chandeliers can be expensive, and I was sure I would need to hire an electrician to install it because I had never done it before. All of this seemed overwhelming to me, so I kept putting it off.
#3: Add a simple centerpiece. Because we use this table every day, I didn't want to go crazy with an arrangement that would have to be removed and replaced each time we sat down to eat. But a simple vase with flowers or greenery that could change with each season would be a great way to add some color!
Ready to see how it all looks now???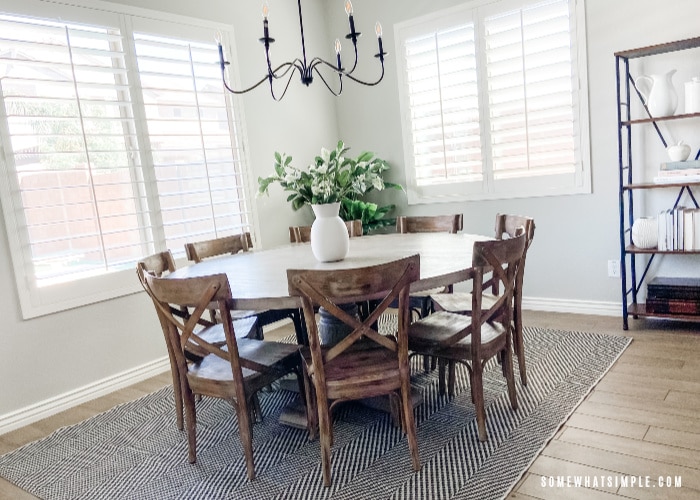 Ahhhhhh! So.much.better! And my entire project list was completed in only 3 days! Take a closer look –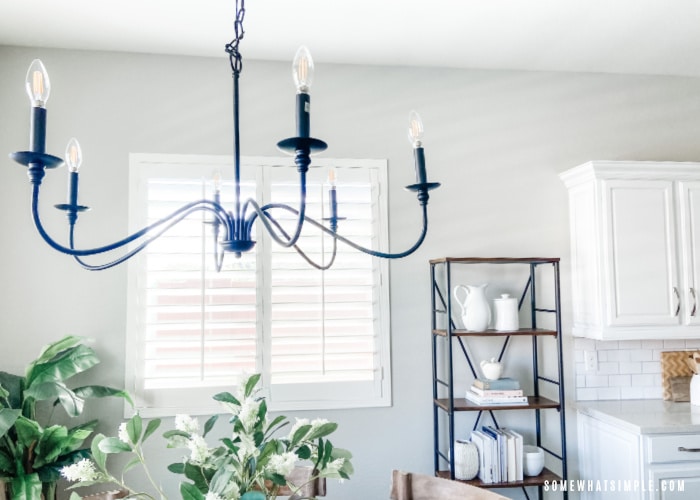 Not only was this HUGE chandelier a steal in price, but I actually INSTALLED IT MYSELF!!! Me! I've never done anything like this before, but so many handy friends told me it was easy to do, so I watch a few YouTube videos and I did it!!!! And it really was easy to do! Doesn't it look amazing?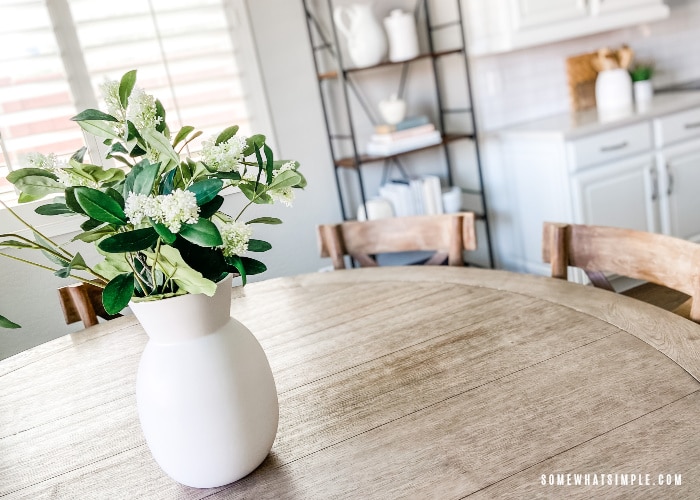 I added this simple vase with faux greenery that is totally perfect for spring! I love the way it looks, and I love that I can swap out the stems with seasonal items for an easy update.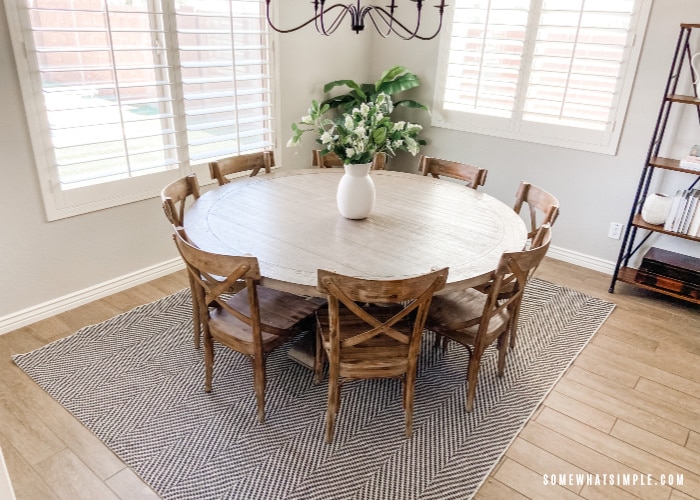 Guys, I found the perfect rug!!!!! This rug meets alllllllllllll my criteria, and it was super affordable! It breaks up all the brown in this dining room, it adds dimension without being overwhelming, and it is SO EASY to clean!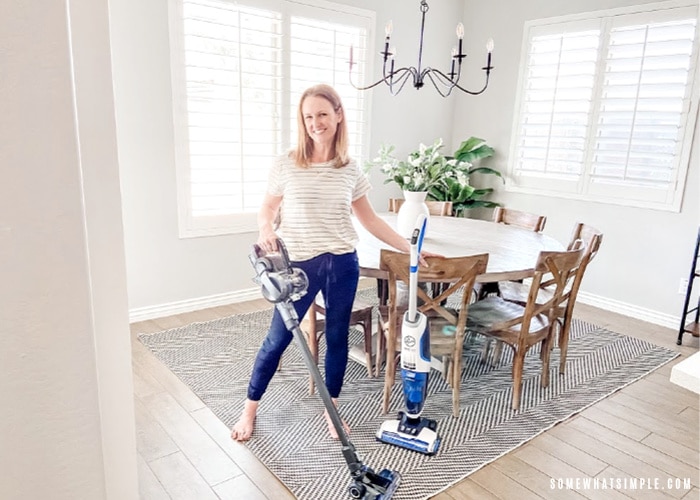 As a family of 7, our dining room sure sees a lot of use, but keeping our floors looking nice and clean doesn't have to take all day and it certainly doesn't require the help of hired professionals! I am so happy to have the help of some amazing Hoover products to keep my home looking fantastic!
From deep cleaning carpets with the SmartWash Automatic Carpet Cleaner to vacuuming hard floors, stairs and under your kitchen table with the ONEPWR Blade Cordless Vacuum – HOOVER has a wide range of tools to help simplify your cleaning routine all year round!
HOOVER products are available at www.Hoover.com, www.Amazon.com and select retailers nationwide… and I GET TO GIVE ONE AWAY TODAY!!!!!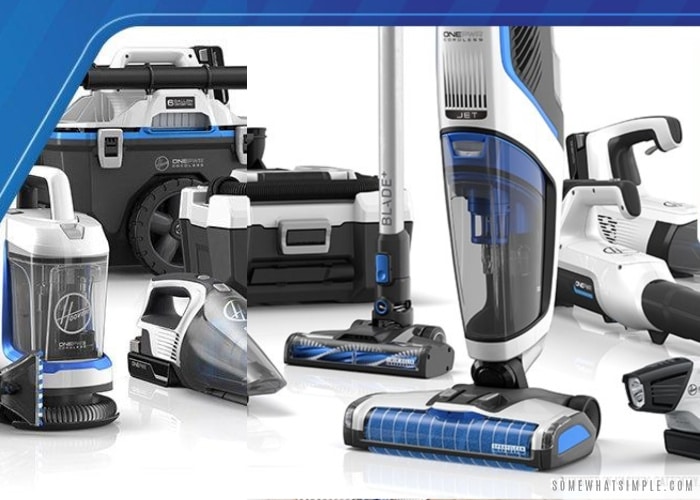 A SPECIAL GIVEAWAY
The HOOVER ONEPWR products are my very favorite! (I own 3 of the 9 products in the HOOVER ONEPWR family!) You can use them to clean from floor to ceiling, upholstery to drapes, inside and outside, and even your garage and car. They share the same powerful, rechargeable battery, so when one battery runs out, you can replace it with a second battery and complete your cleaning routine.
WHO WANTS TO WIN A ONEPWR Blade Max Cordless Vacuum
-or-
ONEPWR FloorMate Jet Cordless Hard Floor Cleaner Kit ($299)?!?!?!?!?!
The ONEPWR Blade Max Cordless Vacuum Kit retails for $369. It is my very favorite of all vacuums + floor cleaners. I use it multiple times a day to "sweep" my kitchen floors and vacuum my family room carpet – the suction is better than any small vacuum I've ever owned! I keep mine in my pantry to use at a moment's notice when I need a quick cleanup. It is light enough that my 6-year-old can use it, which means everyone in the house can pick up after themselves! It is versatile and easy to use in all spaces, with attachments to vacuum carpets to hard floors, upholstery, drapes, and your car!
The ONEPWR FloorMate Jet Cordless Hard Floor Cleaner Kit retails for $299. It completely replaced my mop! It is easy to use for hard floor cleaning – no mop and bucket needed. It cuts cleaning time down to one step because it vacuums and washes at the same time. Perfect for tile, wood, and laminate floors.
To be eligible to win, readers/viewers must live in the USA and follow @Hoover and @SomewhatSimpleBlog on Instagram. Click HERE to enter and follow the directions in the caption. Giveaway ends 4/10/20 at midnight PST. GOOD LUCK!!!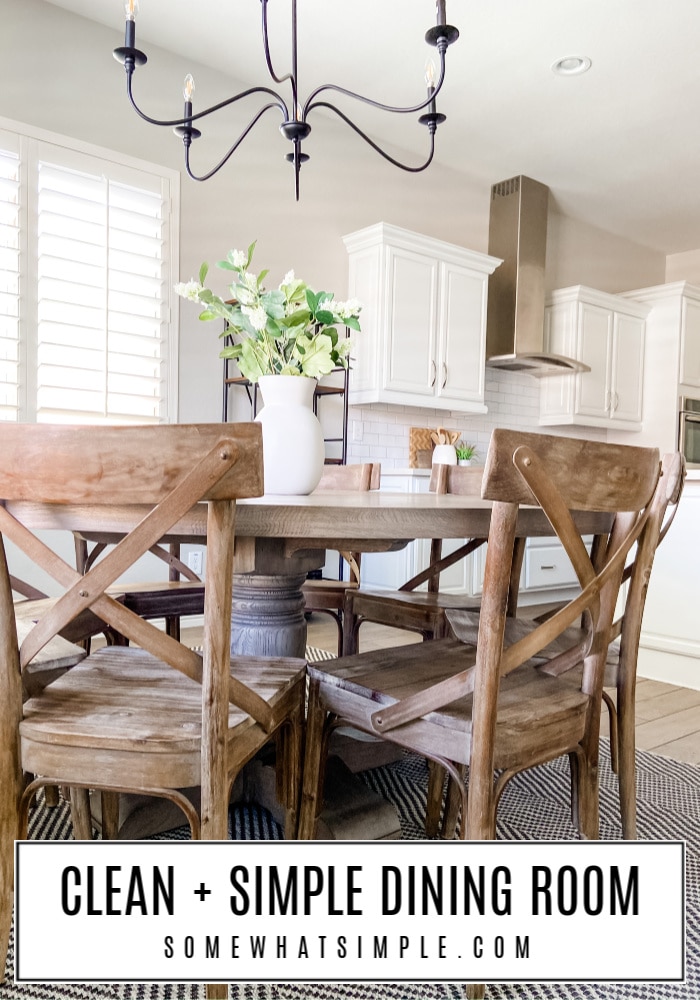 This post is in partnership with Hoover. All opinions are 100% my own. Thank you for supporting our sponsors.