You're only one hour away from having your kitchen appliances sparkling like new! Here is our step-by-step method + a Quick Clean Printable to help along the way!
We're all short on time and big on things to do, why not try to figure out a way to quick clean four jobs done in a hurry? Today I'm sharing my method for deep cleaning your kitchen appliances in a hurry, and there's a freebie printable checklist to go with it! Just make sure you have an hour to dedicate to this job – it's suuuuuuper frustrating to be mid-project and have to stop.
Are you ready?
Let's do it!
How to Quick Clean Your Kitchen Appliances
MATERIALS NEEDED:
Quick Clean Printable (Download Below)
vinegar
baking soda
scrub brush / old toothbrush
all-purpose, non-toxic cleaner
dish soap
microfiber cloth
cleaning rags or paper towels
bowl of water with lemon juice, optional
DIRECTIONS:
Download and print our FREE Quick Cleaning printable.

Fill your sink with hot, soapy water.

The oven – If you have a self-cleaning oven, you can use it. If you don't have this option or don't want to stink up the house, heavily spray an all-purpose cleaner inside the oven and shut the door, letting the cleaner work on the grease.

The microwave – Take out the glass plate and put it in your sink. Spray the interior of your microwave with the all-purpose cleaner OR put a bowl of lemon water inside and run it for 3-5 minutes. Let the cleaner or steam do its job.
The Dishwasher – Remove the racks, spray the edges with cleaner and wipe clean. Check the trap at the bottom for any food or blockages. Put a cup or two of white vinegar in the bottom of the dishwasher and run a normal wash cycle.
The Refrigerator – Take everything out of the fridge. Throw away anything old or expired. Take out all removable drawers and shelves and put them in the sink and let them soak. Spray down the inside of the refrigerator with a non-toxic cleaner (because food will come in contact with this) and wipe clean. Wash drawers, bins, shelves in warm, soapy water – dry completely
Finish What you Started. Go back and rinse and dry the microwave tray and the refrigerator drawers and shelves. Wipe the interior of your oven. Use a non-toxic scrubbing cleaner or baking soda to clean and polish.
Don't Forget the Outside. Spray and wipe the fronts of your appliances with a microfiber cloth.
… and that's it!
In an hour of active time* your appliances will be cleaned and organized!
*If you run the self-clean option on your oven and/or run your dishwasher, it will obviously take a little longer.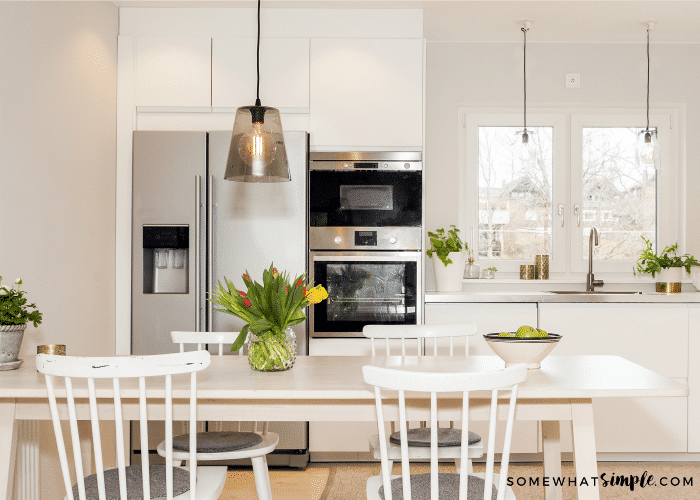 We hope this checklist will keep you on track and motivated!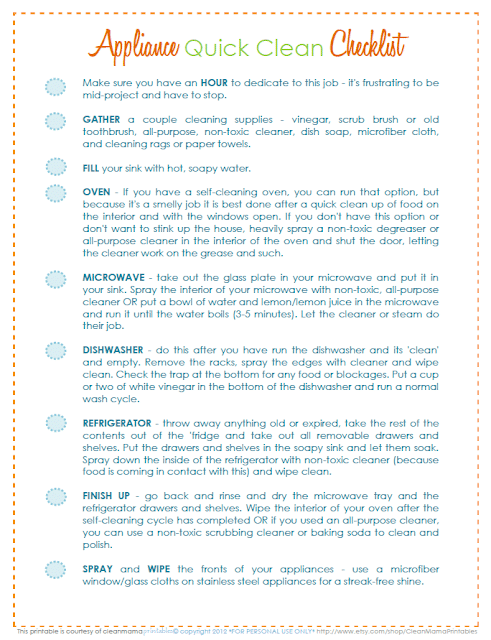 About the Author: Hi there! My name is Becky – Clean Mama – I blog about all things clean, organized and domestic at Clean Mama. I am a former art teacher, turned work-at-home mom that keeps it "all" together with a good list and a cup of coffee.
This post originally published in April 2012.