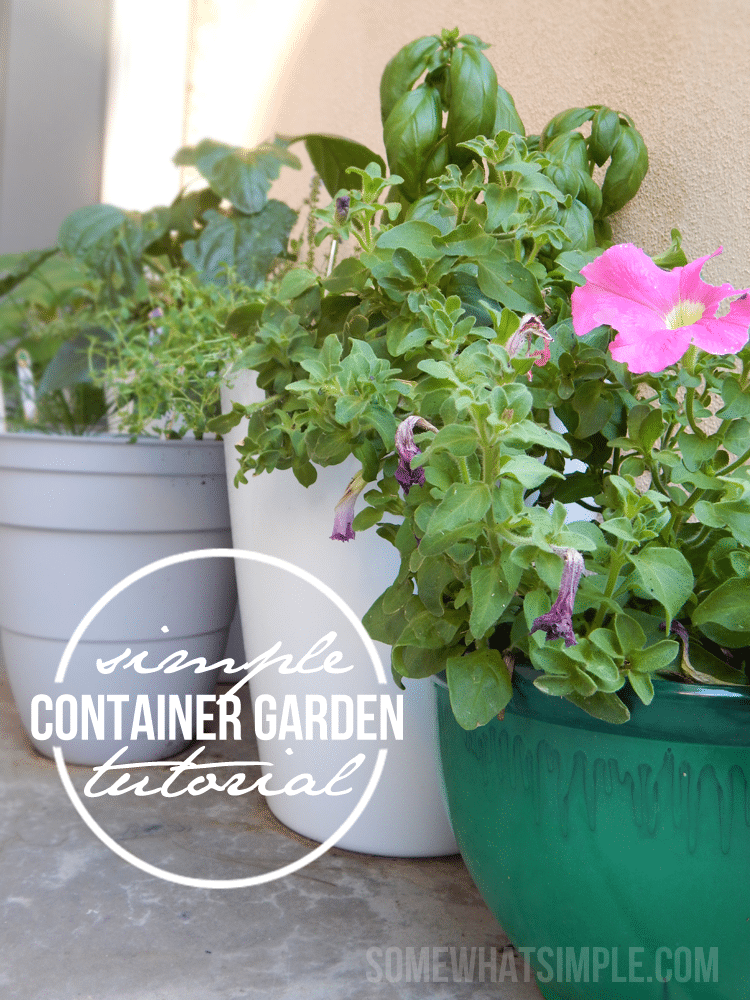 I never thought I would have a garden while living in our town house. There's no yard and for some reason the HOA frowns upon digging up the gravel on the side of our home. 😉 However, they do allow potted plants on the porch, so that got me thinking: How can I create a container garden that was both easy and inexpensive?

First, you need a plan. Don't be afraid to draw out, write down, etc. everything you want to do. Trust me. A little time on paper, no matter how small the garden, will help tremendously. (Just be sure to write it down NOT on the back your child's artwork. Trust me.) Figure out what plants are best in your area, when and how you should plant, water, harvest, problem shooting, etc.

Once you've got your plants in mind, it's time to get the pots/planters/containers. I found that most planting containers can get expensive. So while perusing my local dollar store, I just happened to pass…. the garbage cans. They were the same size + shape of the legit planters I wanted. So I grabbed 3 garbage cans, 2 medium cheap-o planters, and a smaller one that was a little more, but I loved it, so….
I ran home, and spray painted (only) the outside of the medium planters grey (because my daughter asked why I wanted planters the color of scabs, so they obviously needed a makeover). Once dry, I drilled 4 small drainage holes in the bottom of each container, turned them back over and put a small layer of gravel on the bottom.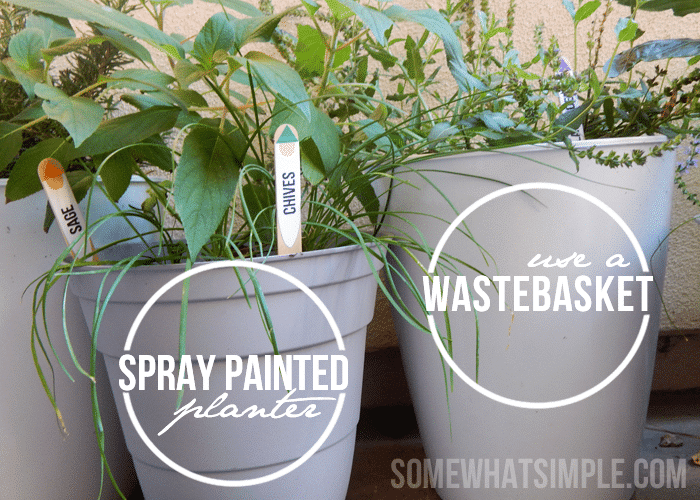 Next came the plants. I bought some starters, grabbed some potting mix, and started planting. My kids loved this part. Get them involved! They helped pick out, plant, and water our little front porch garden. We're all pros now.

Now that I have a beautiful container garden on my front porch, I needed plant markers to match. So I created these darling gnome plant markers to add a little whimsy to the pots.
CLICK HERE TO GRAB YOURS- THEY ARE FREE!!!
With a little planning, prepping, adorable plant markers, you're on your way to the best container garden of your life! 😉 Happy planting! -xoxo