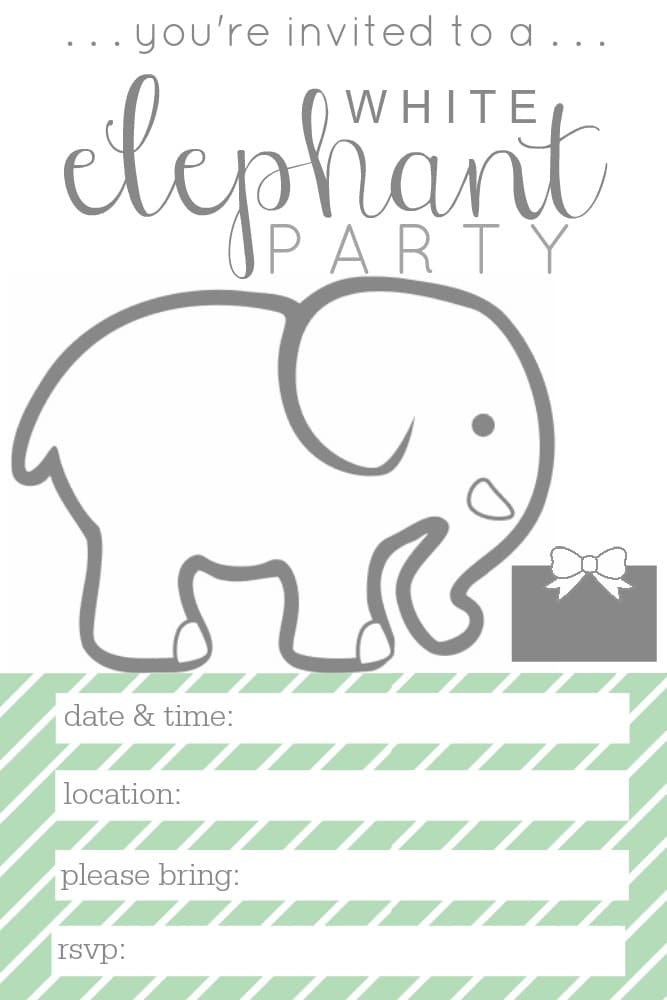 Ever since we moved to Phoenix, Rob and I have been hosting an annual party for couples. This White Elephant Party still tops the chart as one of the funniest nights we've spent with our friends- here is what we did:
***If you have never heard of a white elephant party, read all about what it is HERE***
INVITES:
Our invitations told guests to bring 2 wrapped white elephant gifts per couple (something that cost around $1) and their favorite dessert or appetizer. We provided the drinks & eating utensils. This was an awesome way to save some money, and there was great variety of food. You don't need to do a big, formal meal to make it a fun party!
Please feel free to use the invitation I made above if you'd like. Right click and save it to your computer. Personal use only, thank you!
PARTY TIME:
As our guests arrived, they mingled and ate the delicious food. They were also given a card and pen and were asked to secretly write down something about their spouse that not too many people knew-a hidden secret or a talent. They dropped their papers into a basket and once we had an answer from everyone, the real fun was ready to get started!
We took the basket of "hidden secrets" and put all the white elephant presents in the center of the room. I drew one "secret" from the bowl and read it. The room then would try to guess who's secret I just read and when it was confirmed that "Sally" was the one who "made animal noises in her sleep", Sally would then get to pick a present from the pile, or steal one that had already been opened.
It was a pretty unique way of exchanging the gifts and the laughter was non stop!!! People were laughing at the secrets being told, then laughing even more when the random gifts were opened.
We got a whole spectrum of "hidden secrets"- from "My wife drove a bus as an occupation in college," to "My husband does the same naked dance each time he gets out of the shower!" It was fun to see what some people came up with, and since you were telling a "secret" about your spouse and not yourself, people gave info up more freely and it was a whole lot funnier!
Since we had a large group of people, (about 20 couples) this took quite a bit of time and was the only activity needed the entire night.
. . . . .
This party of ours took place YEARS ago, but it is still a topic of conversation and a laughable way to "poke fun" at our friends even today!
This post originally published in November 2009
Elephant clipart from Clipart Panda