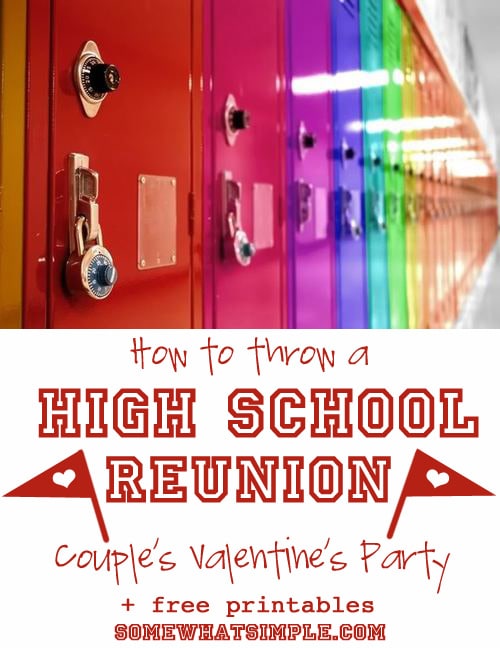 Years ago, my husband decided to do away with planning our annual Christmas party and instead do a couple's Valentines Party instead. One of our favorite we planned was a High School Reunion theme where all our friends dressed in the era of the year they graduated, or they wore something they still had hanging in their closets that they owned in high school. The night was super fun, here is what we did:
INVITATIONS: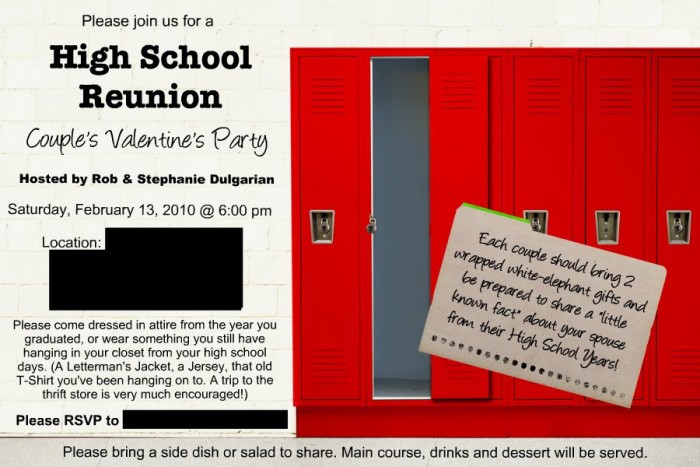 MY LATEST VIDEOS
THE SET UP:
We held our party at a small banquet room and we kept the decor simple. We stacked yearbooks and popular school novels and school supplies in the center of the table. We also had a vase of markers for the game we were playing in the center of each table.
DINNER:
Guests were treated to a casual dinner- cafeteria style! It was a buffet line with rectangular Styrofoam plates (from the dollar store) and everyone's favorite school lunch- Pizza! We had a variety of side dishes from what everyone brought and the drinks were cartons of milk and juice (we did have some soda too). For dessert- ice cream cups with wooden spoons!
ENTERTAINMENT:
The entertainment for the night was our White Elephant Gift Exchange.We did this 2 years ago and people have been asking us to do another one since that crazy night! Here is how we did it:
Everyone wrote down their spouses "little known secret" and all papers went into the bowl. (Remember, since these are secrets coming from their spouses mouths, people got really creative and dug deep since it wasn't revealing anything about themselves!)
One at a time, I pulled out a secret from the bowl and gave everyone a chance to

laugh at

guess who's secret it was.
Whoever's secret it was got to pick a gift from the white elephant pile. Each gift could be stolen 3x's before it became "frozen". We literally laughed all night long- first at the secrets, then at the funny gifts people brought for the exchange!
CLASS FAVORITES:
The last thing we did for the night was chose our "class favorites." I had ballots on the table for all guests to write down who at the party should get the titles for "Best Smile, Best Dressed, Most Athletic" etc. We tallied up the votes and gave some awards to the winners. Here are the prizes we gave, all purchased at the dollar store.
Best Smile- Toothpaste
Best Eyes- Giant Sunglasses
Class Clowns- Laffy Taffy
Cutest Couple- Sweethearts
Most Athletic- Foam Baseball
Most Likely to Succeed- Calculator
Best Hair- Comb
Best Dressed- Plastic Hangers
The cutest couple winners weren't even a couple, they just both happened to wear their prom clothes so it fit! They were shocked when their names were read!
Here are the ballots and papers I printed for the "little known secrets" and class favorites prizes. Feel free to use them for your own party!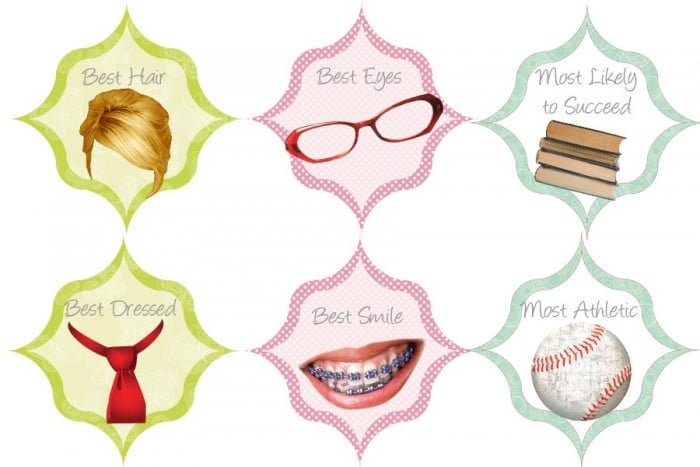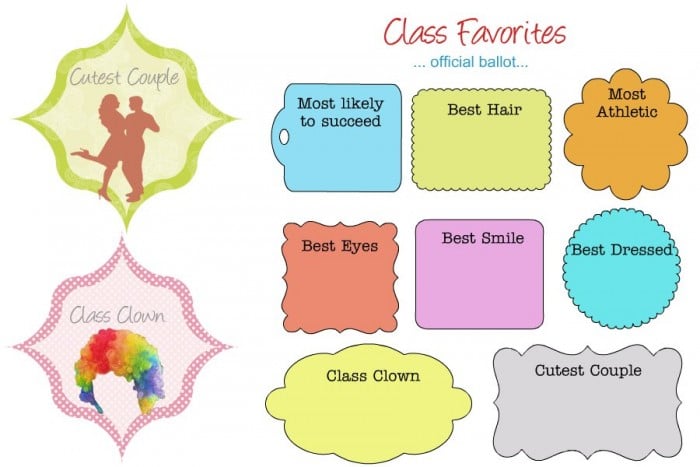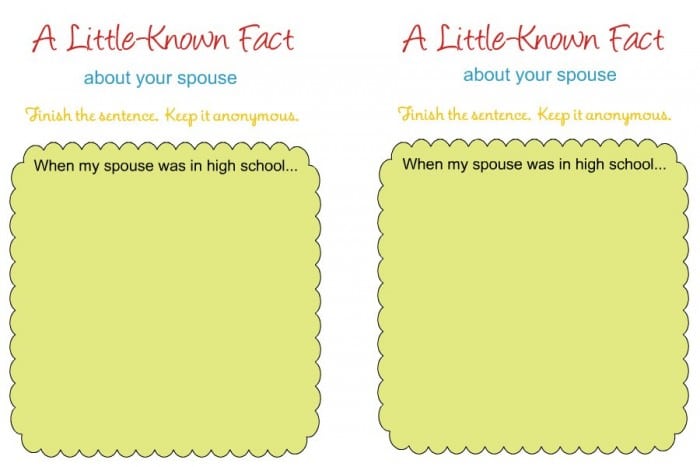 (Right-click on the images above to save it to your computer, then print as needed. Personal use only, please!)
…and that is it!
Pizza, ice cream and a white elephant party- this really can't get any easier to plan!
This post originally published on Somewhat Simple in February 2011