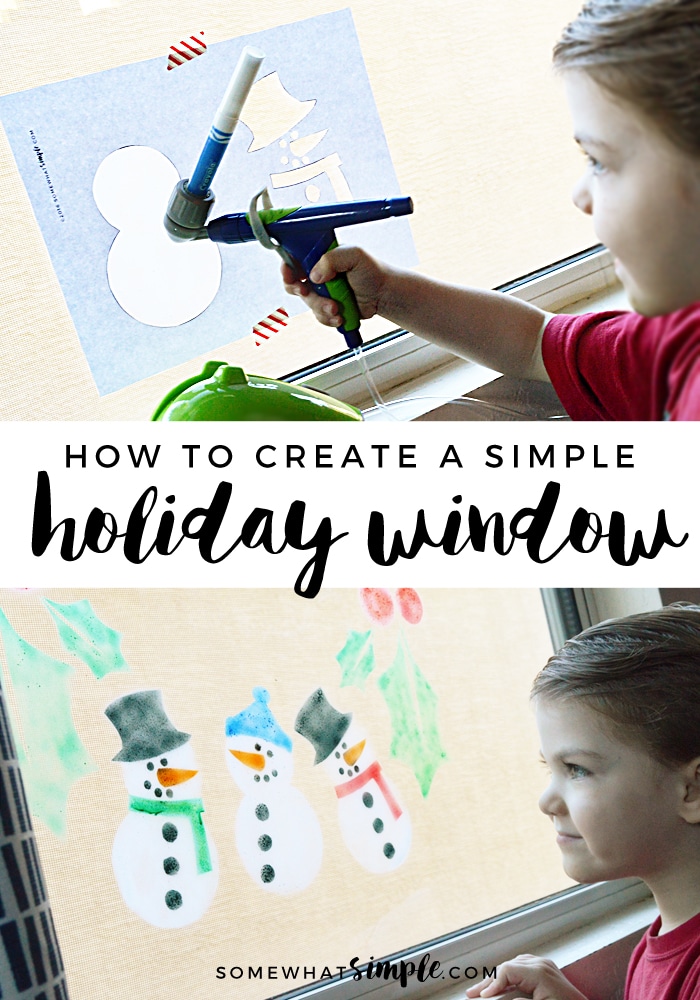 We've teamed up with Crayola to show you how easy it is to create a darling Holiday Window that the whole family can do!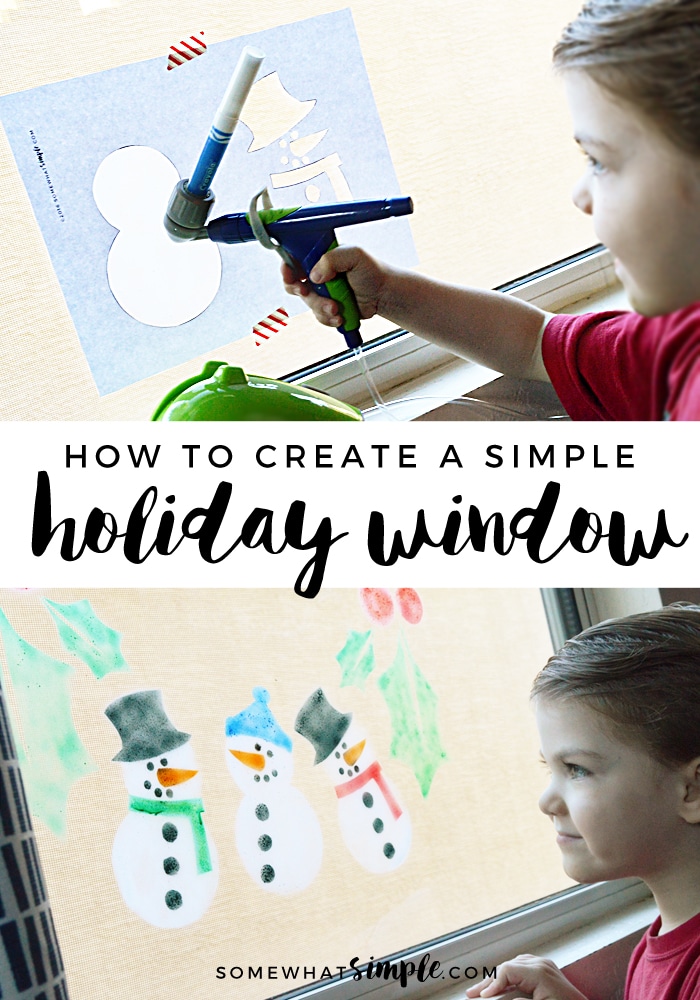 This year, forget wreaths, ornaments and fake snow, and use Crayola's Air Marker Sprayer to decorate a festive holiday window! This is the perfect tool to create festive window displays that will add holiday cheer to any room!
SIMPLE & FESTIVE HOLIDAY WINDOW
SUPPLIES
Crayola Window Markers (please make sure they are the window kind)
Stencils (download below)
Circle punches (optional)
DIRECTIONS
Download our stencils by clicking here: HOLIDAY WINDOW STENCILS
Print off any or all of our festive stencils, or simply find a page out of a coloring book to use. You can just print off on regular paper – the Air Sprayer is conveniently light so it won't soak through your paper.
Cut out your stencil. And yes, despite the efforts of my elementary school teachers, I still cannot seem to cut a circle. In which I used a hole punch for the eyes and mouths of the snowmen. The rest are just super sad. 😉
Tape your stencil onto any window.
Insert your Crayola Window Marker into the Air Marker Sprayer, plug it in, and start creating!
I love how soft this machine sprays – the colors are still vibrant, but there's virtually no mess! Designed with kids in mind, it is so easy to use. My 4 yr old even got the hang of it and loved it!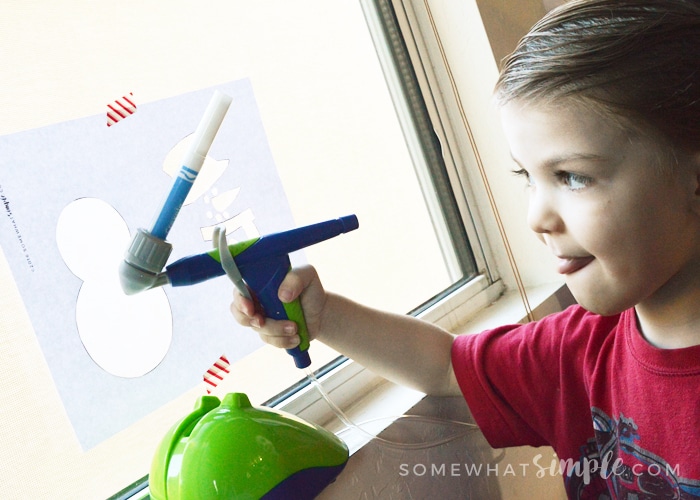 We started with the lighter colors, then moved our way to the darker ones. But I made sure to wipe out the sprayer in between colors just in case. We didn't see any bleeding when we did this.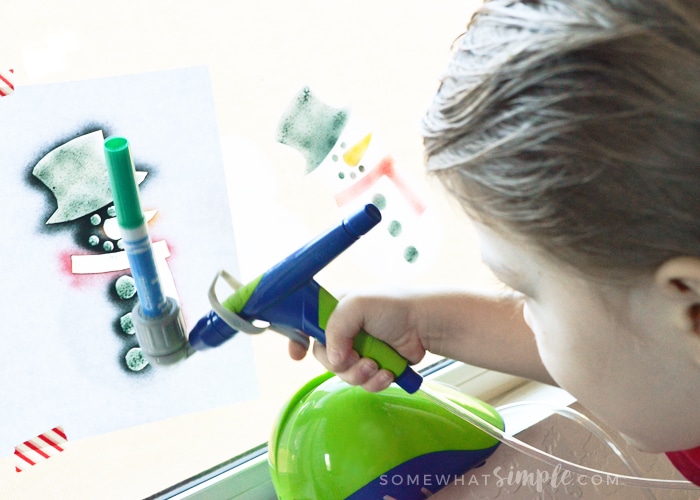 My kids have been scouring Christmas coloring books to see what other 'scenes' they can create. 🙂 And when the holidays are over, they can still use the Air Marker Sprayer to create masterpieces on paper.
Also, if you mess up, a little window cleaner (or a water/vinegar mixture) cleaned it right off!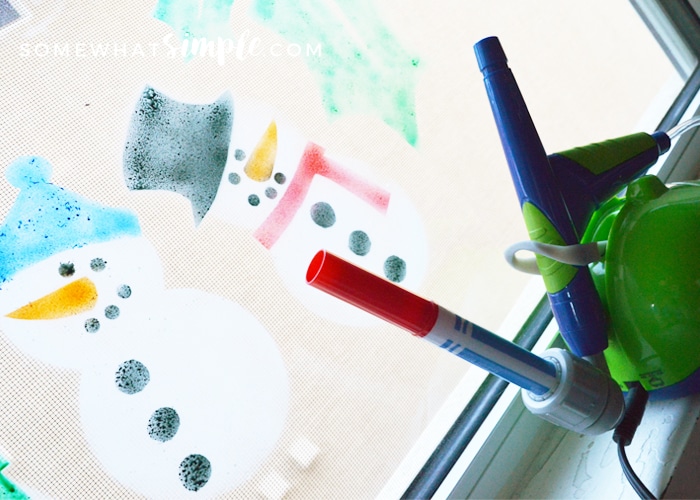 Now it's YOUR turn! Somewhat Simple and Crayola are challenging YOU to create your own festive holiday windows using the Crayola Air Marker Sprayer and tag your creations with #AirMarkerSprayer for a chance to be featured on Crayola.com! We can't wait to see what you come up with! xoxo
A huge thanks to Crayola for sending me these: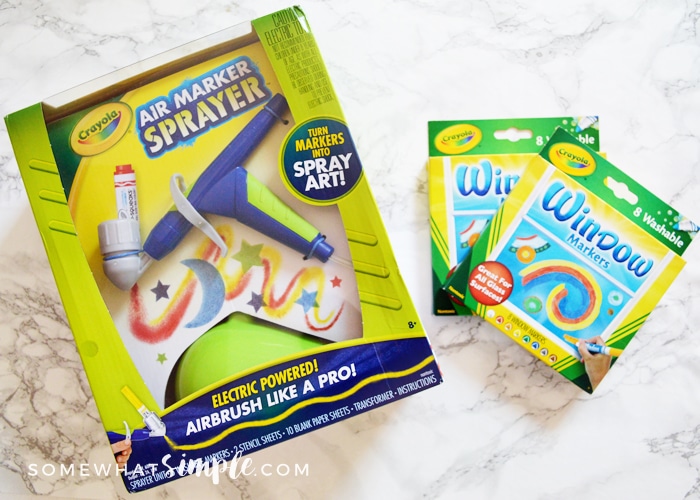 So I could enjoy this: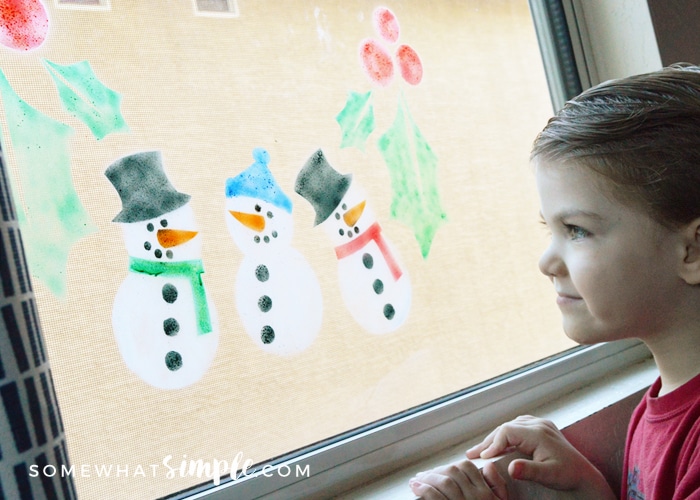 This is a sponsored post written on behalf of Crayola.com. All opinions and text are 100% my own.