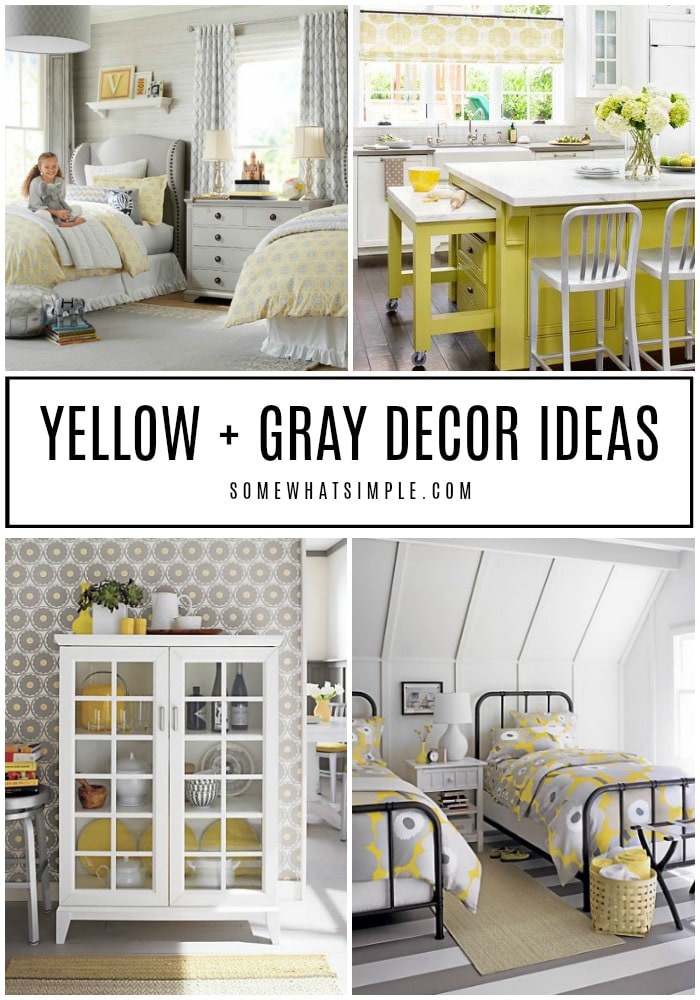 Switch up your decor with a little color refresh! The combo of yellow and gray is fun, relaxing, and inviting! (Plus it looks good in any room of the house!)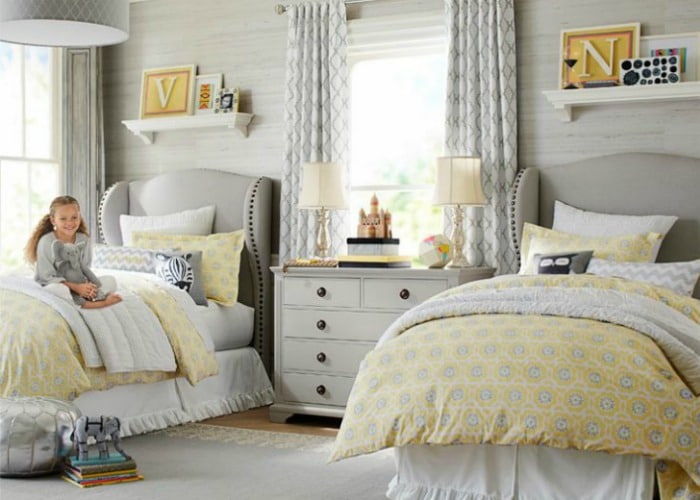 Yellow and Gray Decor
I thrive on changing up the decor in my house, so I do it as often as I can! Whether it's rearranging furniture, moving around accessories, adding color… you get the picture.
One of my favorite decorating color schemes is the combo of Yellow and Gray. I'm more of a fan of the muted yellows, but any shade of gray will do! I think the soft yellow goes great with a light gray all the way to a dark charcoal. Here are 20 beautiful spaces that use yellow and gray –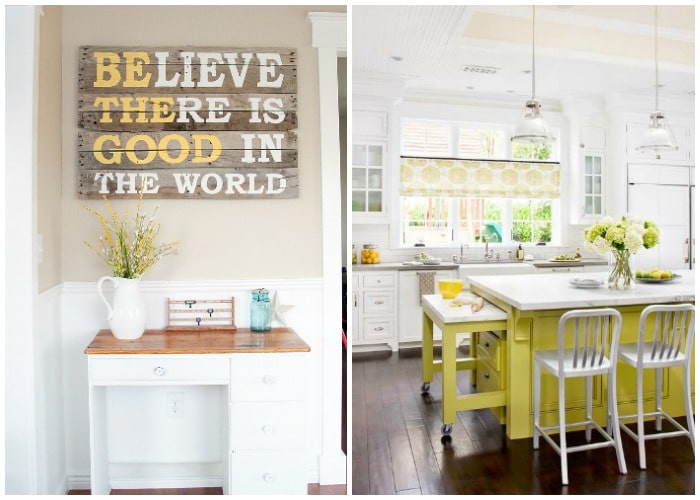 1. Starting off our list is a project that was linked to our link party YEARS ago, and it is still one of my favorites! This yellow and gray wall art from Blooming Homestead is so simple, but so pretty!
2. Add a little color to your kitchen by painting your island yellow, as seen on BHG.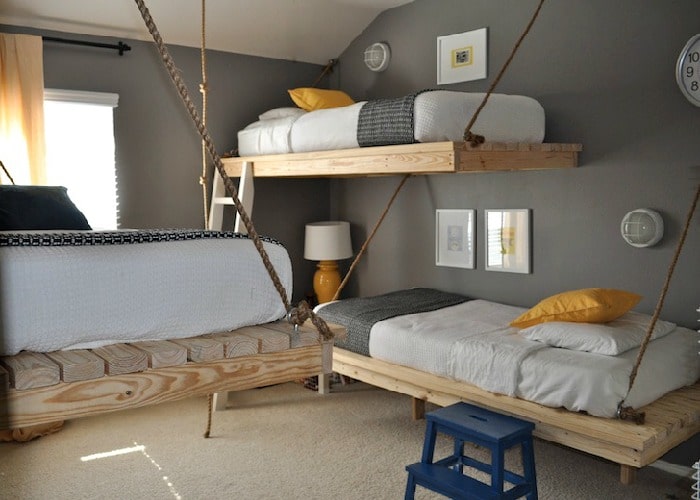 3. Isn't this boy's bedroom amazing?? What little guy wouldn't love one of these darling bunk beds??? From The Bumper Crop.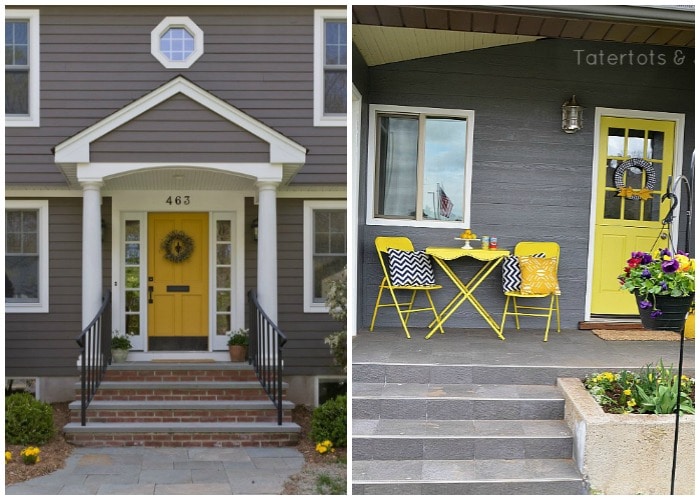 4. I absolutely LOVE the colors and shade of this yellow and gray exterior! From Home and Heart Magazine.
5. A brighter yellow makes Jen's 1905 Cottage absolutely darling! From Tatertot's and Jello.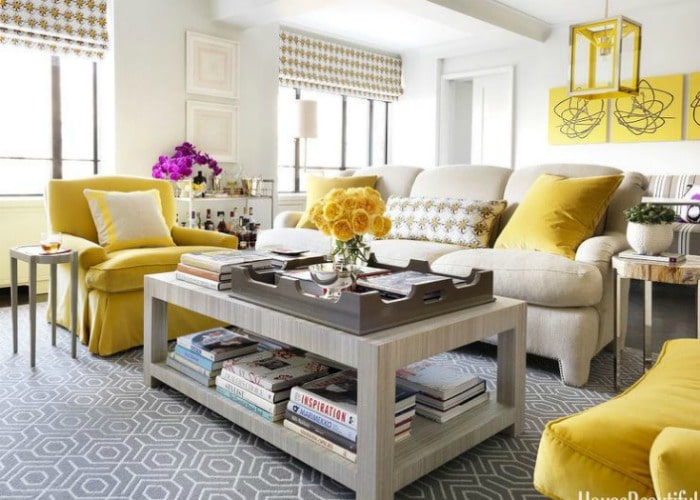 6. This gray and yellow living room is contemporary and cozy, all wrapped up in one! From Decor Pad.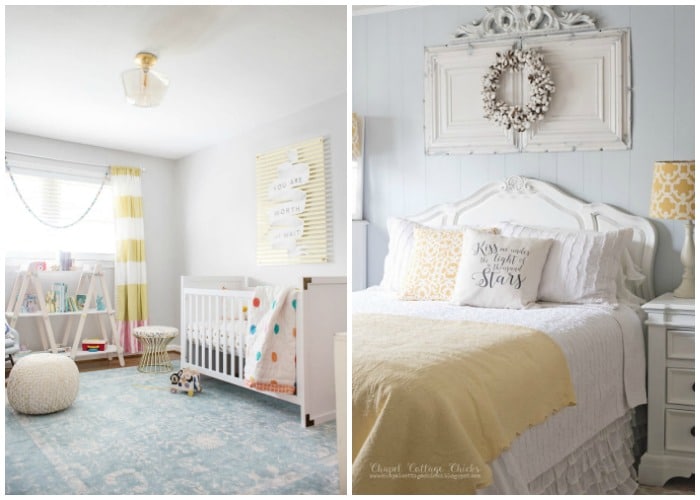 7. This darling unisex nursery is perfectly sweet, from Lay Baby Lay.
8. I LOVE this gray and yellow bedroom refresh, from Chapel Cottage Chicks. It looks so inviting!
9. This crisp clean gray and yellow bedroom is gorgeous! And I would never have thought to use mismatched side tables! It looks great! From Tracery Interiors on DecorPad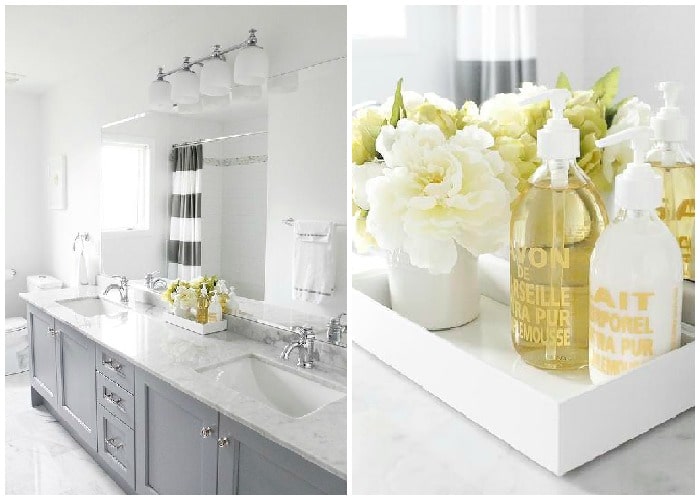 10. This yellow and gray bathroom might be my favorite space on this entire list! Michelle from AM Dolce Vita has amazing taste!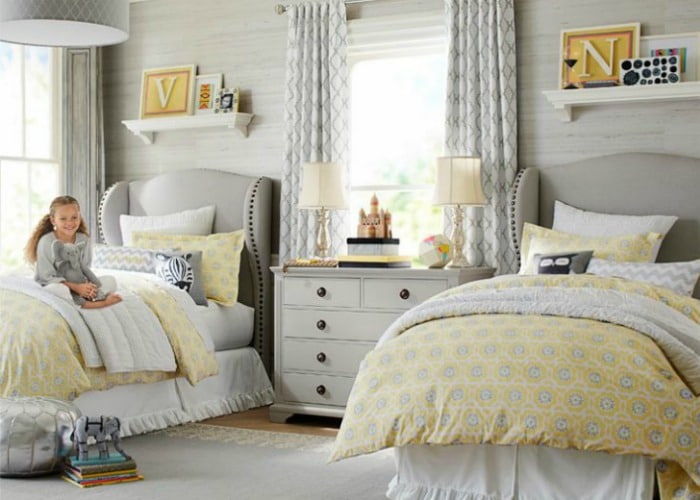 11. This girls shared bedroom has the cutest gray and yellow bedding! Don't you think? From Pottery Barn Kids.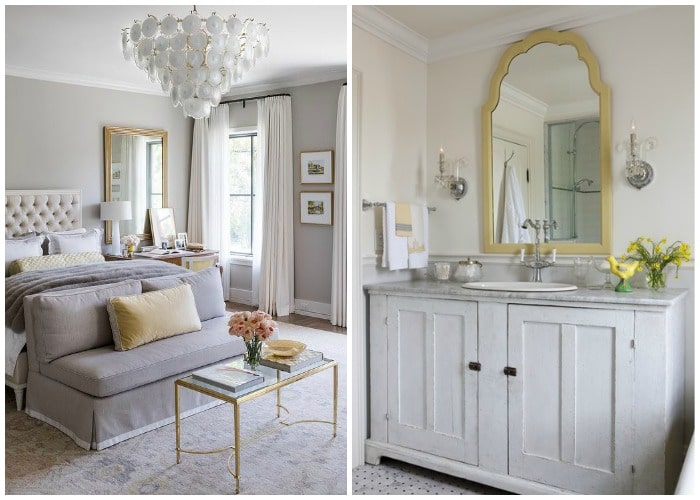 12. I wish my master bedroom had space for a gray french settee at the foot of my bed. From Jan Jones on Decor Pad.
13. Proof that there is such a thing as an elegant farmhouse bathroom! From HGTV.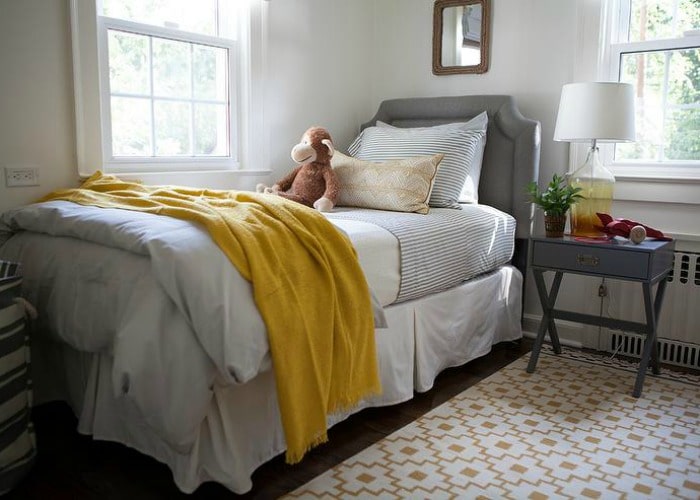 14. This little boys bedroom features yellow accents that make it absolutely darling! (I LOVE that rug!) From BHDM Designs on Decor Pad.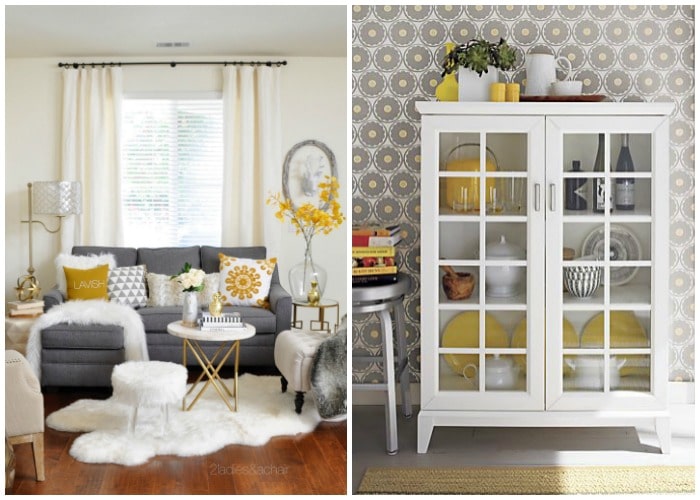 15. I love all the different lines and textures in this gray and yellow living room, from 2 Ladies and a Chair.
16. I think the yellow and gray combo make the best kitchen accents. Isn't this china hutch from Crate and Barrel perfect?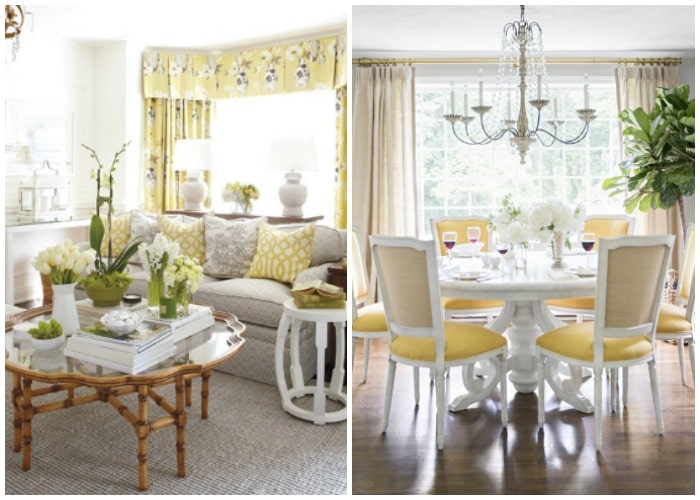 17. I picture afternoon chats with great friends in this cozy fresh living room, from Style at Home.
18. This dining room looks so warm and friendly, and I LOVE the table! From Decor Pad.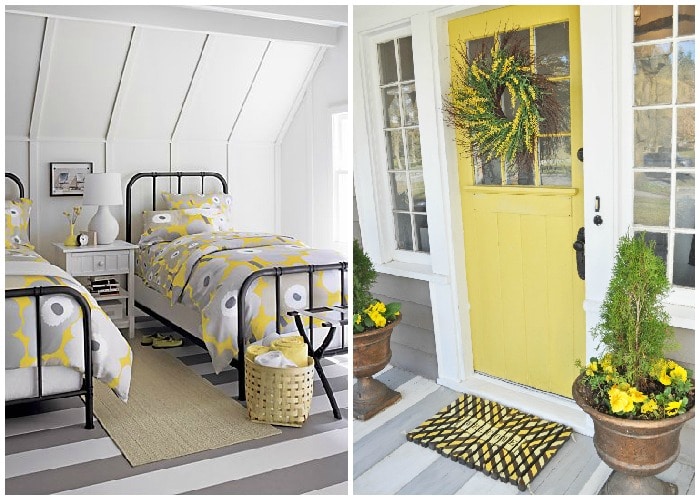 19. This farmhouse style bedroom is so bright and cheery, what a perfect way to start your day! From Crate & Barrel.
20. Last, but not least – this yellow and gray front porch is beautiful! From Creatively Living.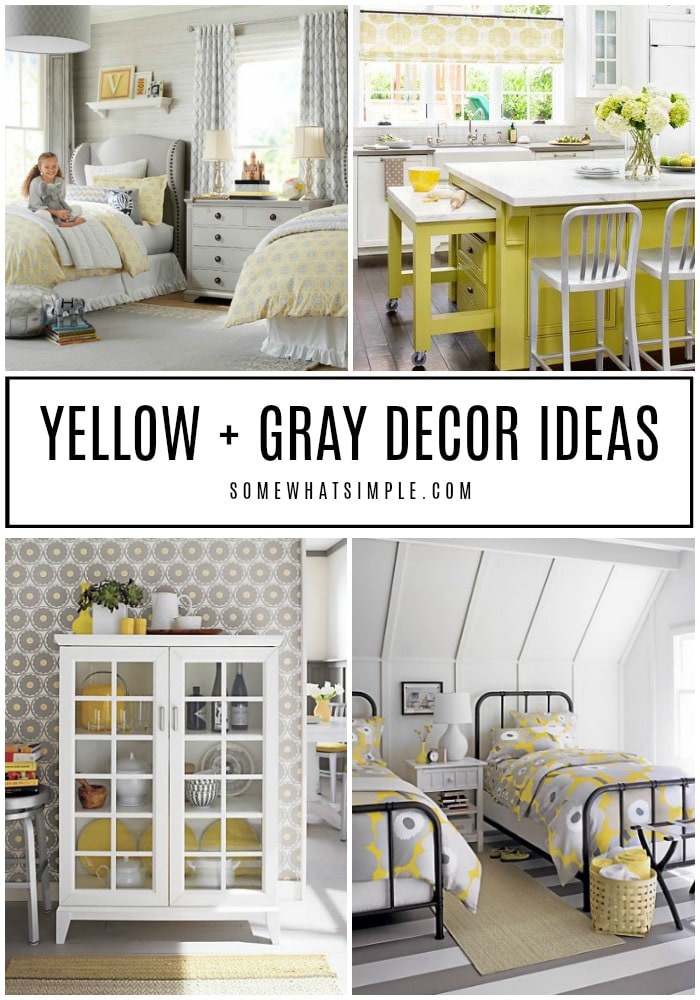 What are your favorite color combos for decorating? I'd love to hear and get some more ideas!
For more decor ideas, you might like –
This post originally published on Crazy Domestic in June of 2010. It was updated with some fresh ideas in 2018.