Use an old pair of jeans to make this darling denim corsage!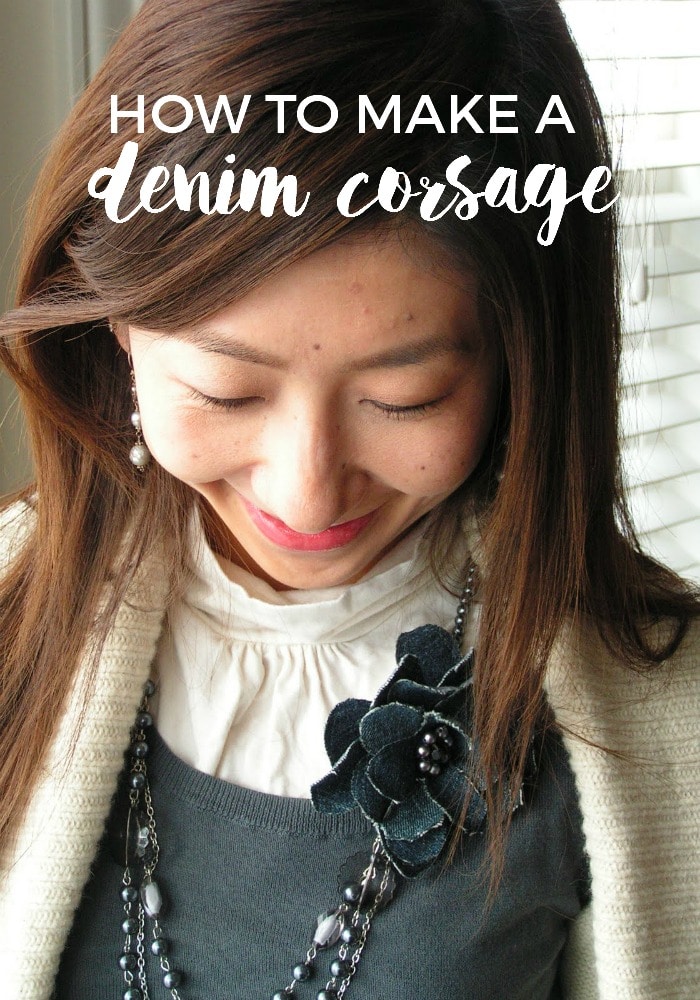 I saw a denim corsage at an expensive department store once. If I remember correctly, it was around $38.00. It was pretty, but not $38.00 pretty… so I decided to make my own with some old jeans!
The jeans I used for this project were once pretty dark, but some of the parts had faded- knee, rear…you know how that goes! In less than an hour, I turned those faded jeans in a denim corsage that actually goes with quite a few outfits. It is not over the top, but it adds little more dimension to your look.
Here is how I made it: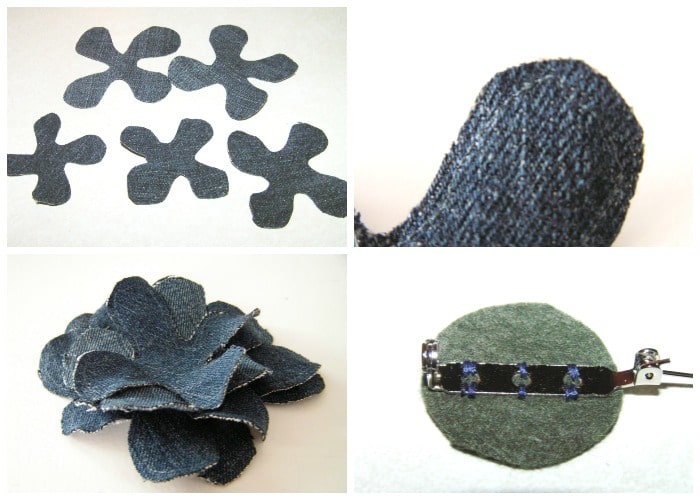 How to Make a Denim Corsage
MATERIALS NEEDED:
old pair of jeans
scissors
sewing machine
needle and thread
beads
small piece of felt
corsage pin
DIRECTIONS:
1. Cut 5 squares from your jeans –
2 – 3 1/2″
1 – 3″
1 – 2 3/4″
and 1 – 2 1/2″
2. Cut out flower shapes. It is easier to cut by using the corners as a guide. Remember, it doesn't need to be perfect! That gives the corsage character.
3. Sew along the edges of the flowers to prevent fraying. (It will fray a little, but not as much, and this step will also give some body to each of the petals.)
4. Stack the flowers together, large flower behind the small. Make sure the petals don't overlap each other.
5. Sew a large bead in the middle. I had a rhinestone in the center, then I sewed 7-8 pearls around it. I sew at least a couple times for each bead to make sure they are secure. For the color of the beads, I originally wanted to do a cream color, but I ended up picking darker colors. I like that the beads don't stand out too much.
6. Cut your felt into a 1 2/2″ circle, then sew the corsage pin to the circle. Using the slip stitch, sew the felt onto the back of the flower.
… and that's it!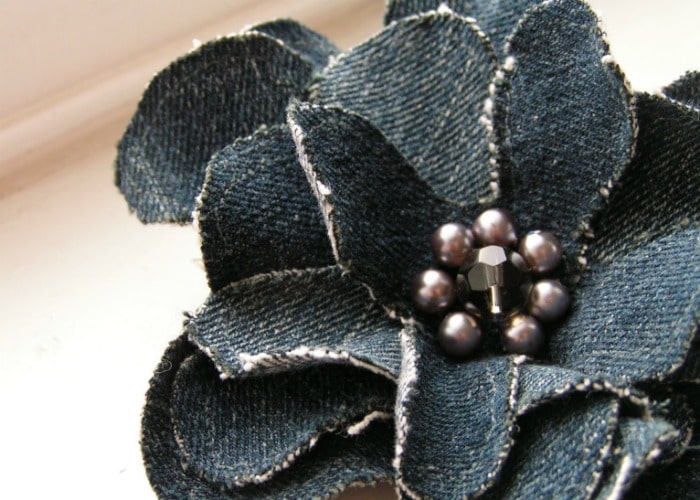 I didn't want my flower to lay flat, so I squeezed it a bit so it stands up. (But that is totally a personal preference!)
I love this corsage! It also makes a fun hair accessory, or something cute to clip onto a bag.
ENJOY!
. . . . .
ABOUT THE AUTHOR: Hi everyone! I am Sachiko from Tea Rose Home and I am excited to be guest posting on Somewhat Simple today! I'm happily married with three beautiful children. I love to design, sew, work with beads, and restore old items. My blog is where I share a slice of my life and things that are close to my heart. Stop by and say hello, I would love to have you there!
This post originally published on Somewhat Simple in August 2011.