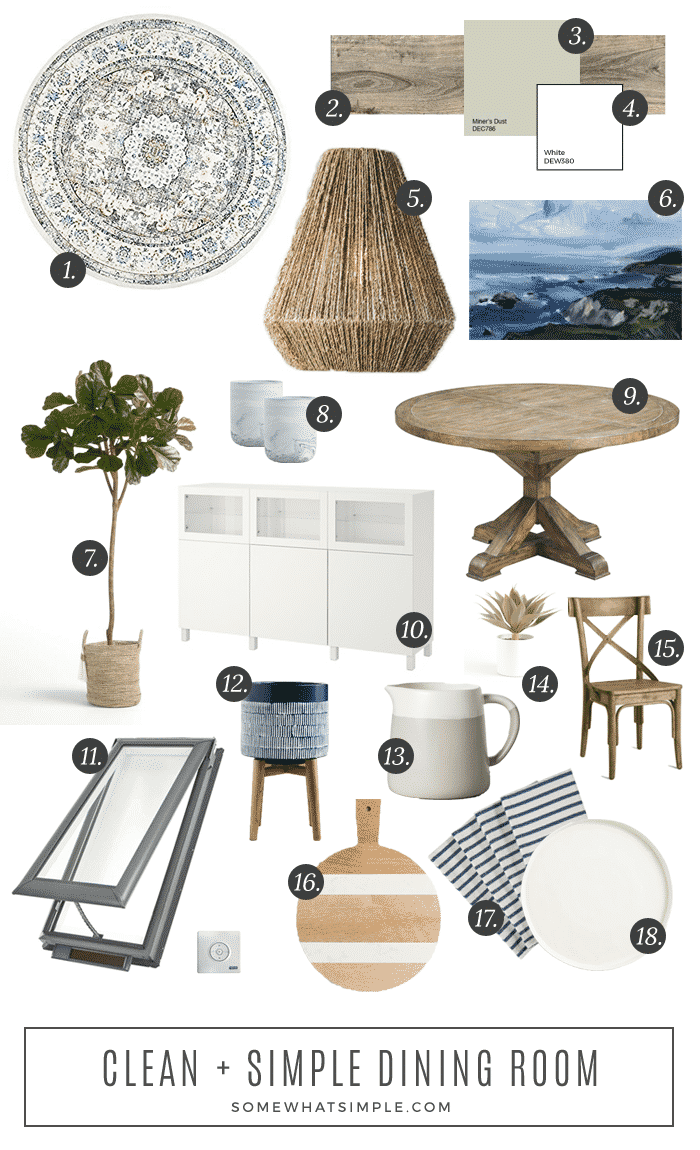 This is a sponsored post written by me on behalf of VELUX Skylights. All opinions are 100% mine.
We're wanting to refresh our dining room decor a bit, so we've put together an awesome mood board that is giving us all kinds of inspiration! Take a look –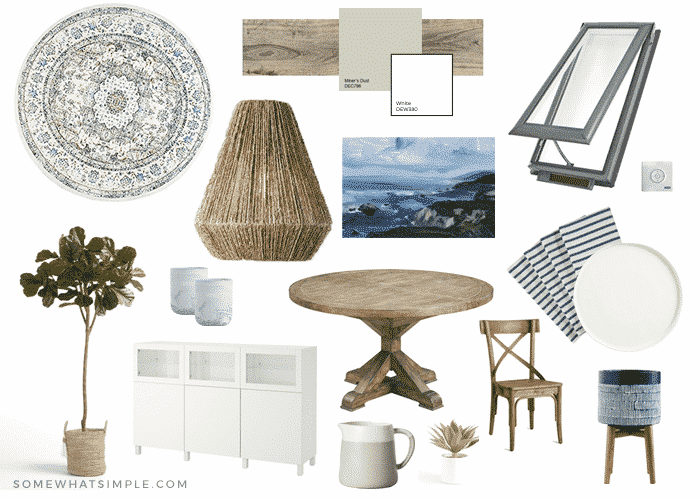 Dining Room Decor
When you're faced with a home decor project, no matter the size, it isn't always easy to envision what you'll need to complete it, nor is it easy to stay motivated from start to finish. So before you get overwhelmed or bite off more than you can chew, we have a few tips on what you might want to consider to create a stylish space!
When it came to the design of our dining room, we started with the blank slate of wood tile flooring and gray wall paint that we chose when we built this home 2 years ago. We then chose a table and 8 chairs that fit the space well, but after that, we were stuck. We didn't have an end game and we had no idea where to go from there.
I knew I wanted something calming, clean, and simple, and after a little bit of online browsing, here's I absolutely LOVE the mood board I came up with! Have you ever made a mood board before?
How to Create a Mood Board
It's easier than you may think to create a mood board- and you don't need fancy software to do it!
Cut out pictures from magazines, use Picmonkey for all things digital, or create a Pinterest board where you can see everything together. (Seeing everything laid by each other is crucial!)
You can create a board around one or two things- start with a rug, a piece of art, paint color, curtains, etc. then build everything around that one/two things!
Make sure you have different textures and patterns. My neutral-loving heart always adds color with wood tones and faux plants, but I've been on a navy kick lately and decided to pull in some blues with a rug, artwork and striped linens.
Next, think about your problem areas.

If your space is small, consider smaller furniture with straight lines to maximize the space.
When you have a dark room, add more light with bigger fixtures and lamps, OR add extra natural light with VELUX No Leak Solar Powered Fresh Air Skylights.
Natural light will make everything (paint color, rug pattern, finishes) look even better! Plus, skylights open to release warm air that rises to the ceiling so you can create a breeze that cools your home without having to use the AC. Check out this gorgeous bathroom and all the natural light that's coming in with that amazing skylight –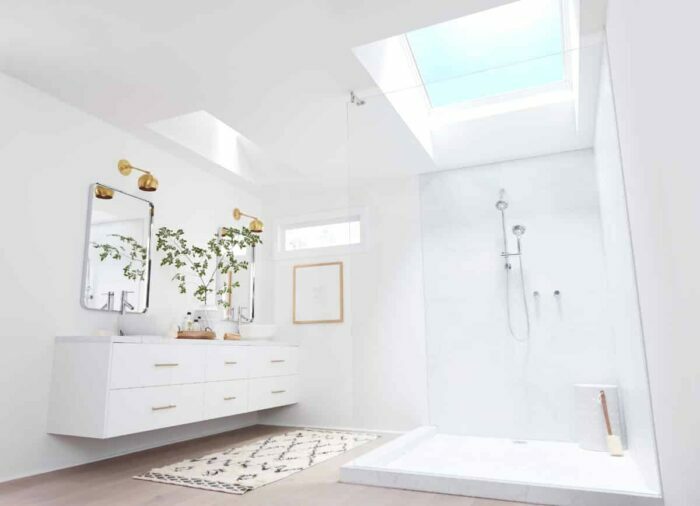 It seriously makes our clean + simple hearts burst! The natural light from above provides a balanced light throughout the room. Velux also offers over 80 colors and patterns of Solar Powered skylight blinds, so you can block the light when needed with blinds that have a fun design or provide a pop of color. When retracted you can't even tell the skylight has blinds, which is a totally cool design feature, if you ask me!
Find a skylight installer in your area to help answer all your skylight questions! Show them your mood board, and they'll help create the perfect feel to your next home improvement project!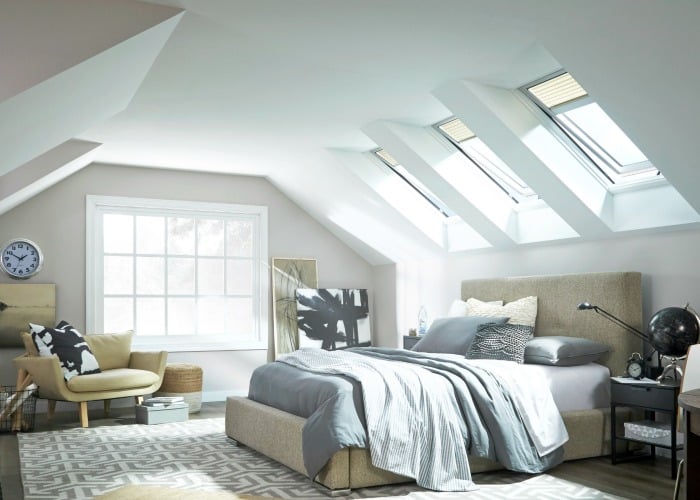 Once you have your mood board created and your budget set, have fun shopping, decorating, and bringing everything to life!
We can't wait to show you our finished dining room – stay tuned!!!
SHOP THIS SPACE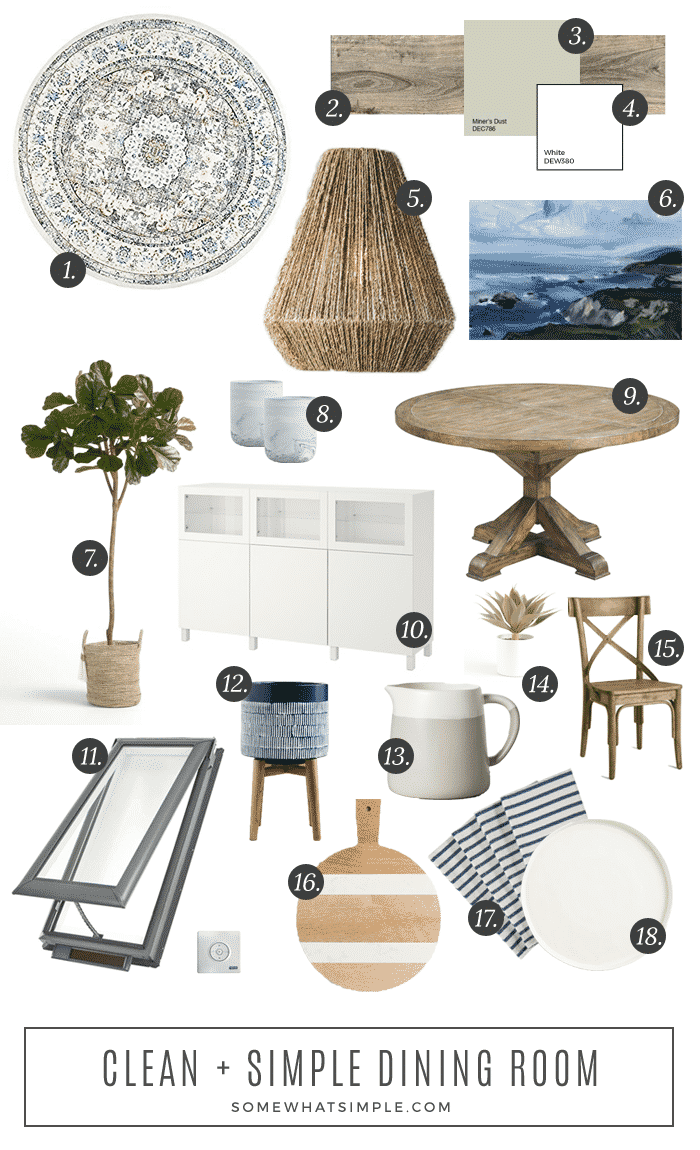 Here is our mood board with links for your shopping convenience. Some of the products we pictured are no longer being sold since we put this space together. In those cases, I tried to link to a similar product that will give you the same look and feel. Have fun!
5. Seagrass Pendant Lamp Shade
8. Marbled Glass Jars
18. Plate Chargers
This post is sponsored by Velux Skylights. All text and opinions are 100% our own.