Turn "Being the Easter Bunny" into a fun Easter date night!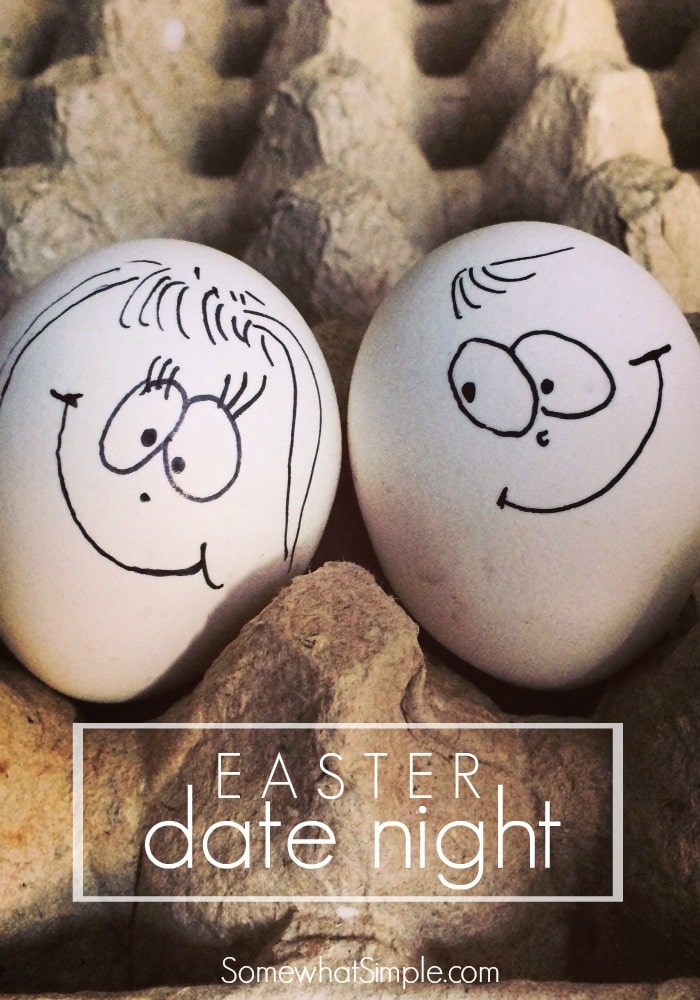 A few years ago I told my husband I was going to plan a date that was out-of-the-ordinary. He was less than thrilled when I told him it involved crafting with hot glue and rhinestones! We were going to spend the evening at home, making dinner together and decorating/filling our kids Easter baskets! Here is how it all went down:
Easter Date Night
Supplies Needed:
Easter baskets & fillers- candies, eggs, plastic grass etc.
Craft embellishments- rhinestones, hot glue gun, ribbon, stickers etc.
All the ingredients to make dinner together
Music
Directions:
Get rid of the kiddos!


Drop them off at grandma's house, find a babysitter who will take them, swap with a friend… do what you need to do to get the kids out of the house!

Head to the store


If you don't have all the ingredients for dinner and for your kiddos Easter baskets that you need, run out together and pick them up. (Can I just say how fun it is to go grocery shopping without kids?!)
Go home & turn on some music!
Set the mood of your choice- romantic, flirty, fun… you decide what music you want for the occasional dance breakout session during the night!

Start making dinner together.


This is something we don't do very often and it is so fun! On this particular night we made Grilled Pastrami Sandwiches with salad & chips! Easy, but delish!

Personalize the Baskets.


Feel free to embellish the heck out of your Easter baskets and watch your husband's craft skills come to life! He might have a talent you never would have otherwise discovered!

Fill the baskets & set aside


Put the candy in the eggs, the eggs in the baskets and then hide somewhere until Easter morning.
This date night is super fun- even my husband agreed. Sometimes it's nice to have a relaxing night in. I think I will make this an annual tradition.
This post originally published in March 2012