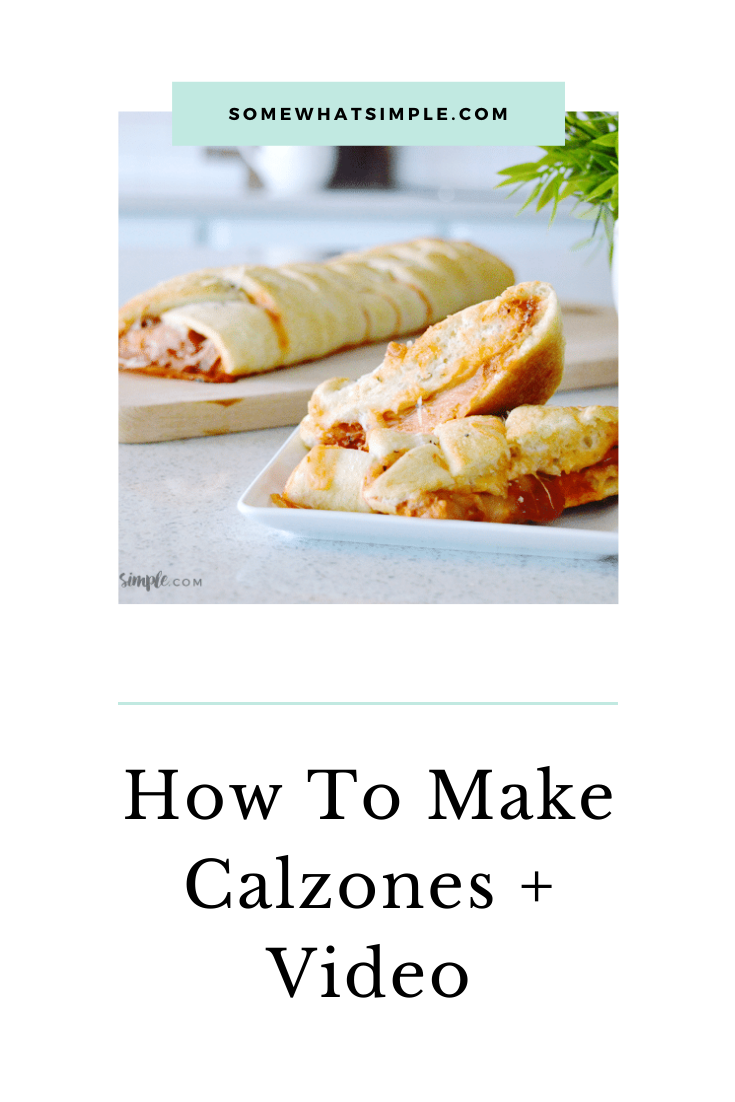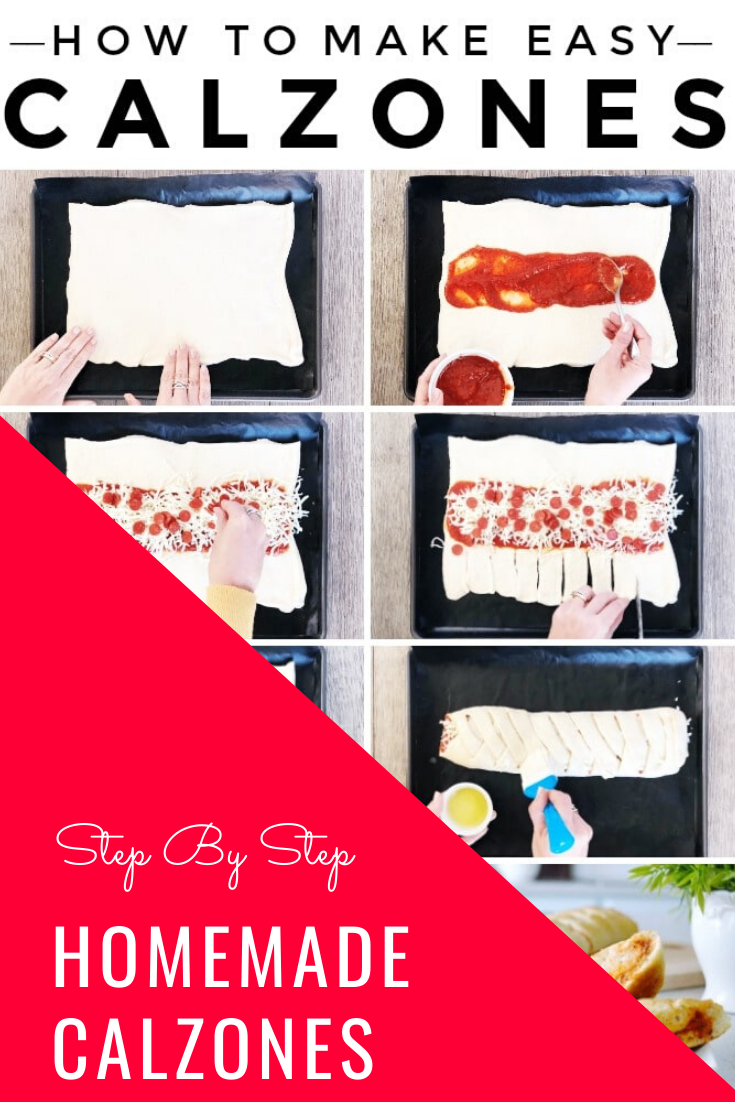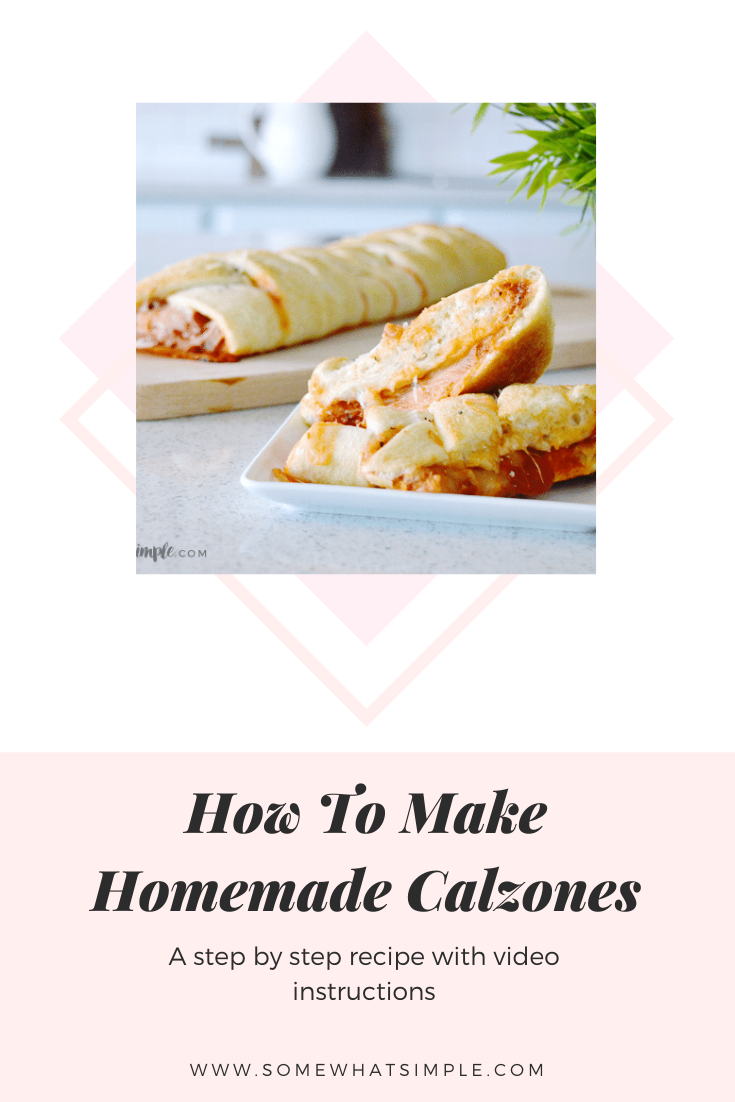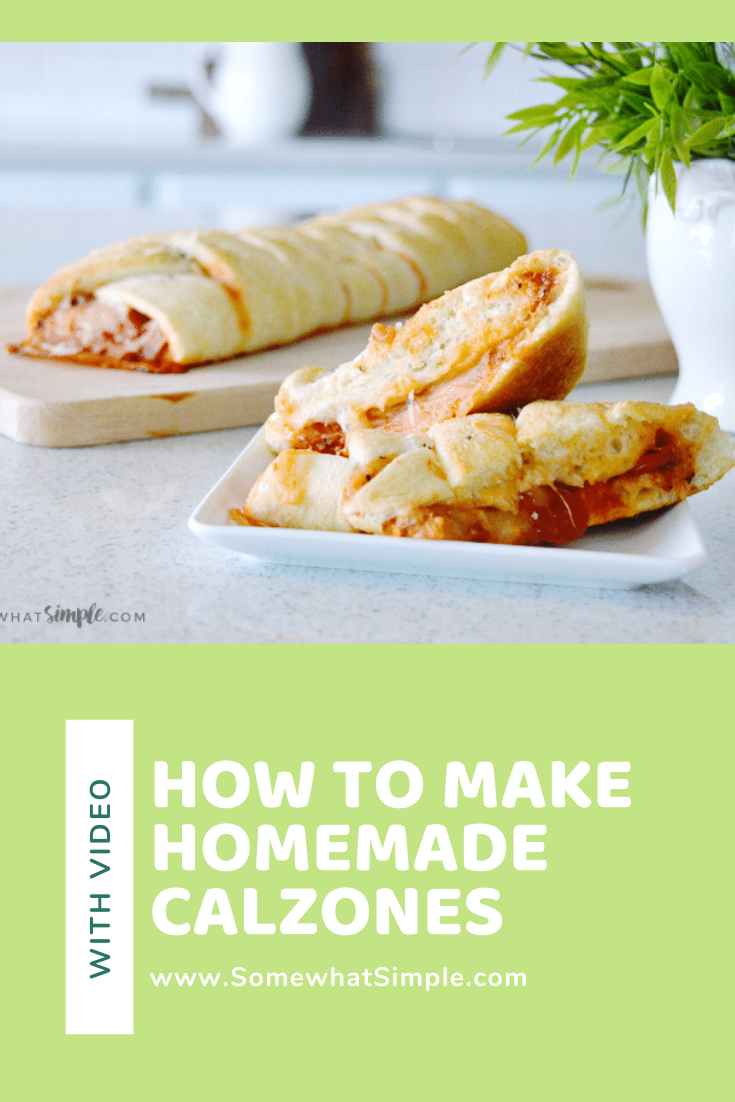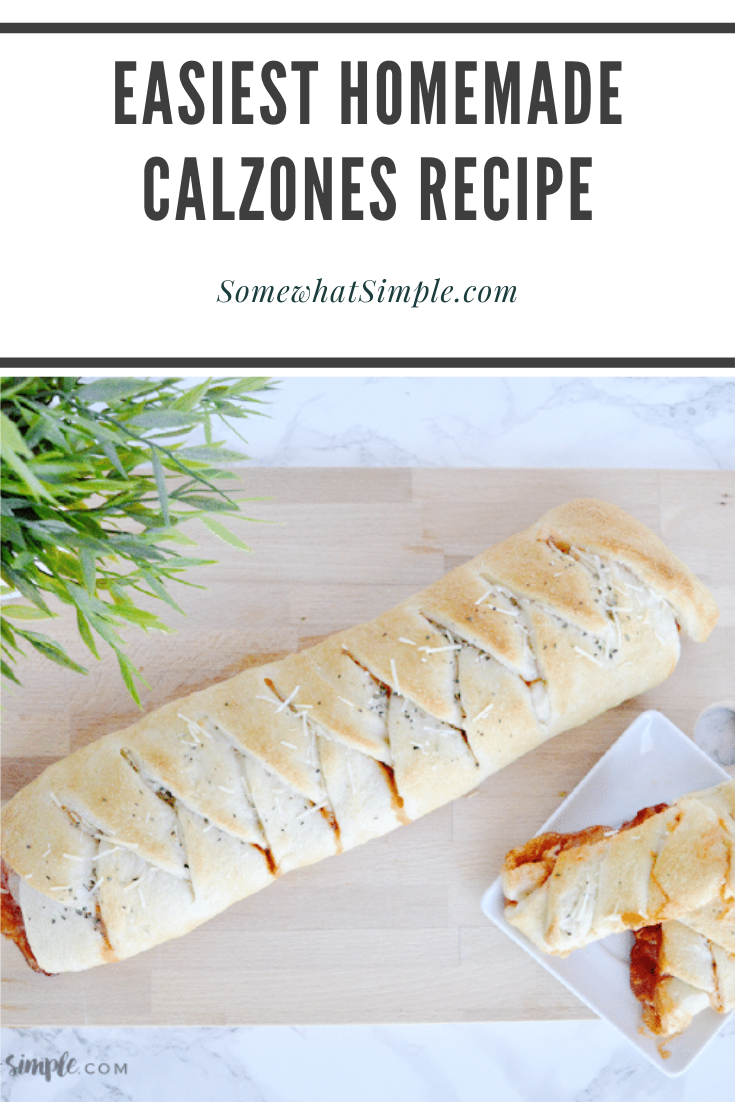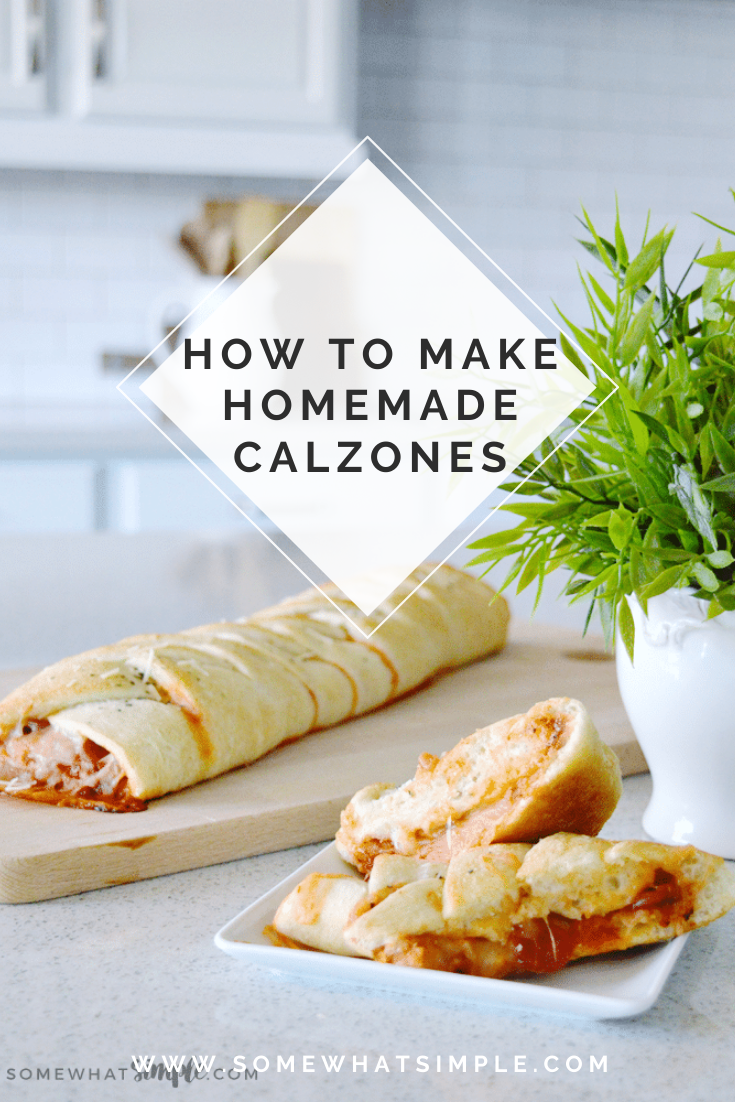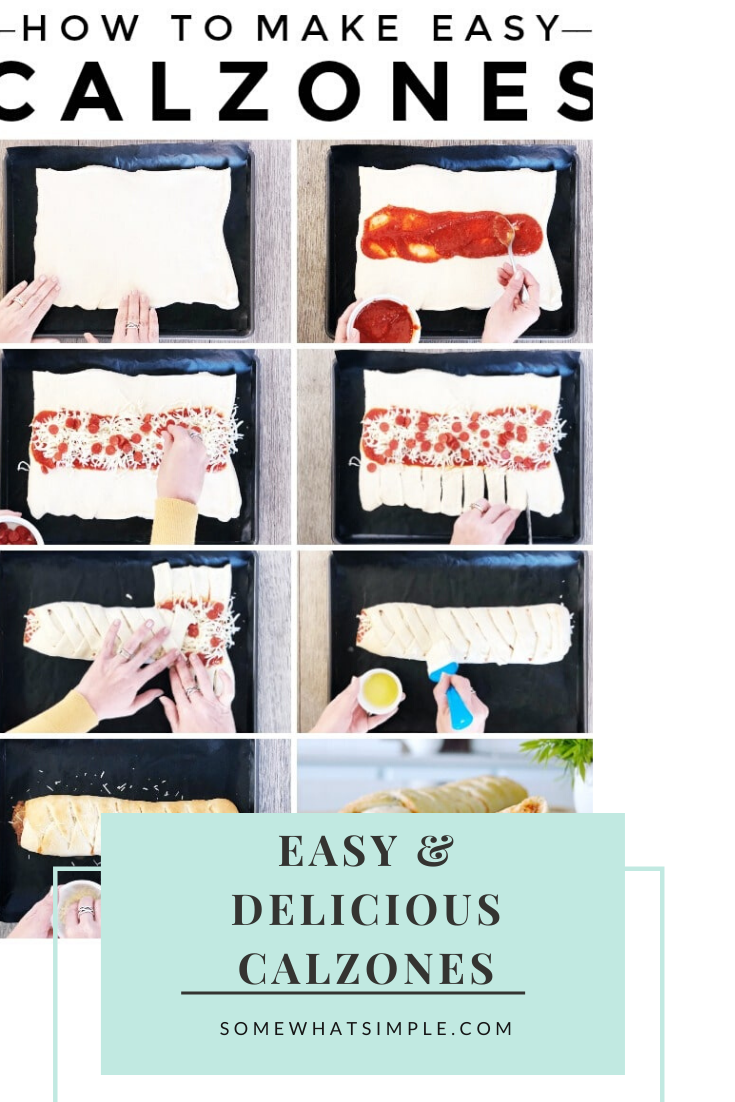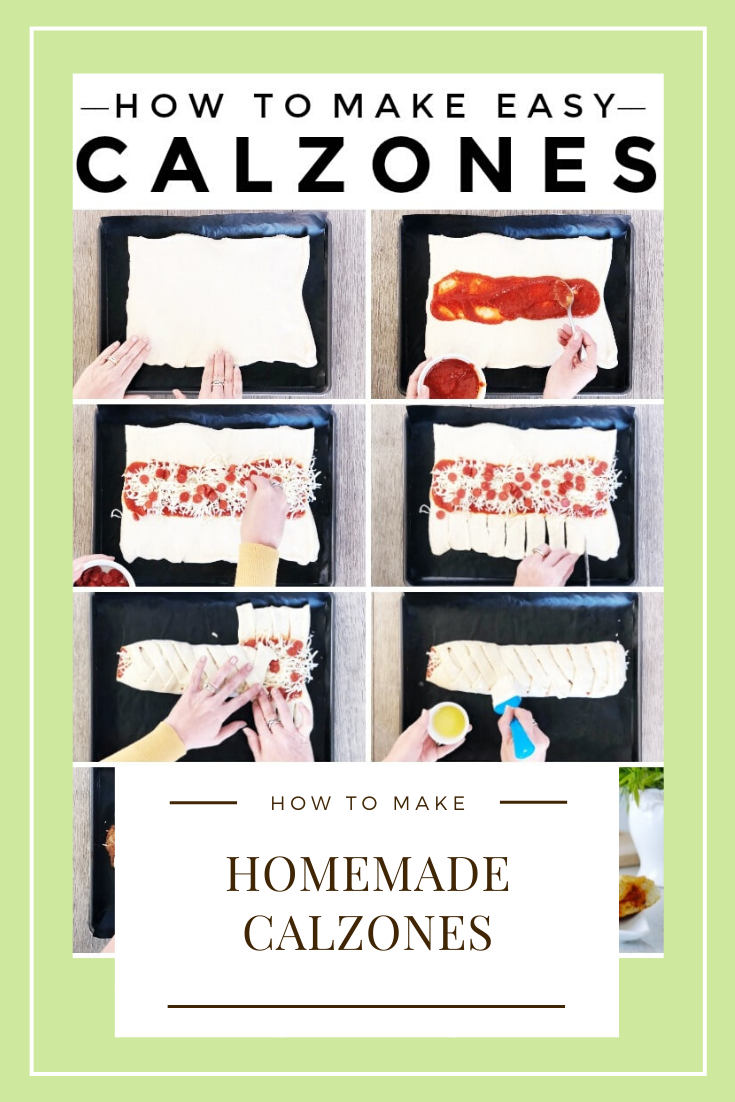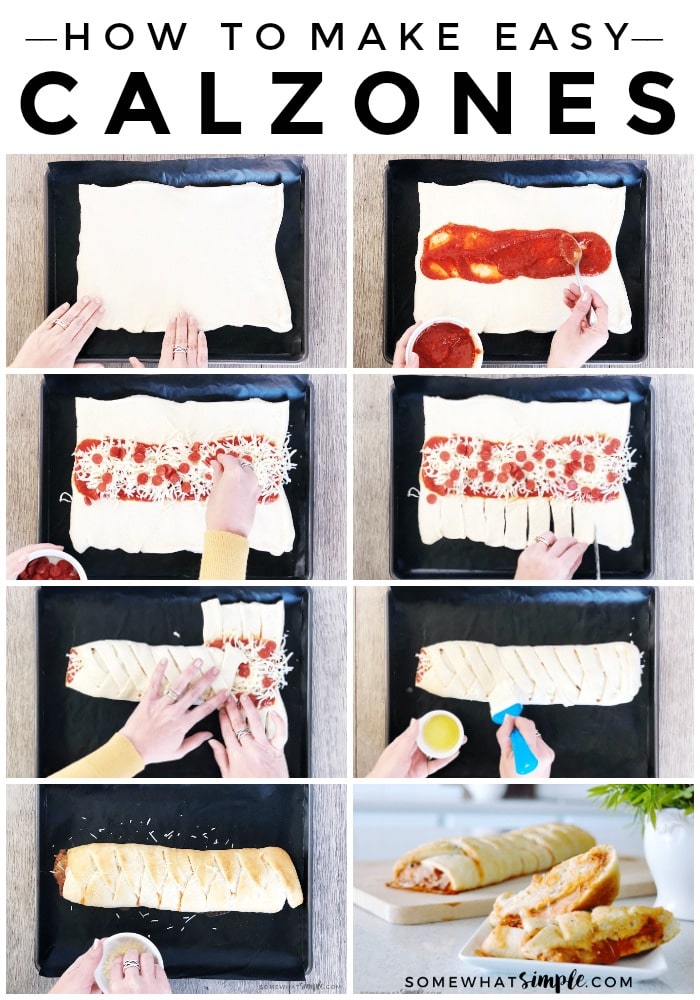 This easy homemade calzone recipe is a fun way to eat your favorite pizza toppings! Filled with melted cheese, your favorite meats, like pepperoni, or fresh vegetables, there's a calzone for everyone. Making these has never been so simple!
Serve these with a fresh Spinach Salad, Garlic Mashed Potatoes or a batch of healthy Roasted Vegetables and you'll have a delicious dinner served in no time.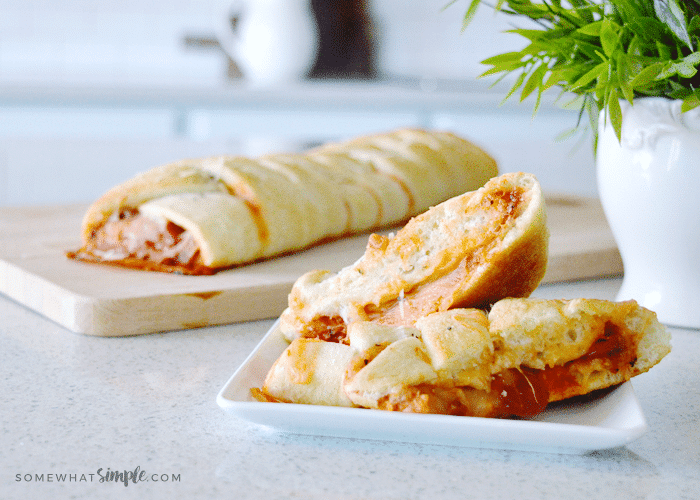 Easy Calzones Recipe
My family LOVES making homemade pizza, so we make a different variation almost weekly. The kids are always at my side when we make our pizzas because they like to control the ingredients. And that's a beautiful thing with homemade pizza recipes – you add what you want and skip what you don't!
This homemade calzone recipe is a fun twist on a classic pizza. It starts with your favorite pizza dough (homemade or store-bought) and then you add the toppings of your choosing. But the difference comes in the presentation – the dough get braided before you bake it and the end result looks impressive!
You can fool your family and dinner guests into thinking you're some gourmet chef, but the reality is that these calzones are SO EASY to make! (But that can stay our little secret!)
Items I Used To Make Calzones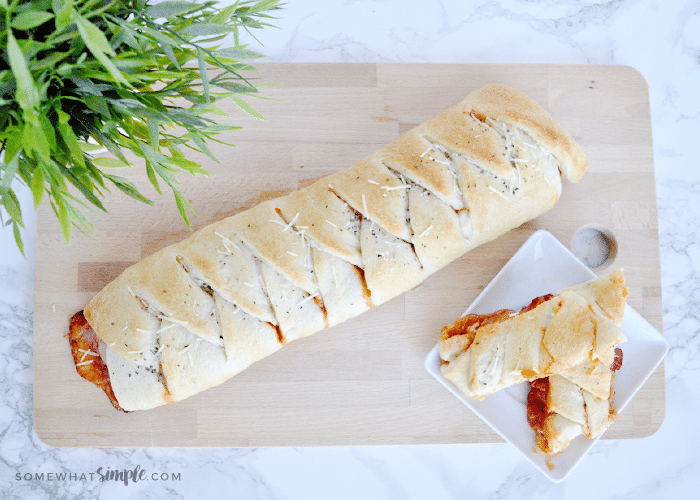 Best Homemade Calzone Ingredients
What I love about this recipe is that you can mix and match your favorite pizza toppings and it will always come out delicious! In this recipe we chose to use pepperonis but those can easily be substituted with something else. Here are some of our favorite things to put inside:
Multiple cheeses – mozzarella, provolone and a little bit of cheddar. I definitely prefer to use cheese that I grate myself instead of the prepackaged shredded cheese.
My husband loves multiple types of meat – pepperoni, salami, sausage, bacon and chicken
I prefer more fresh vegetables – onions, bell peppers, garlic and olives
More Pizza Recipes You'll Love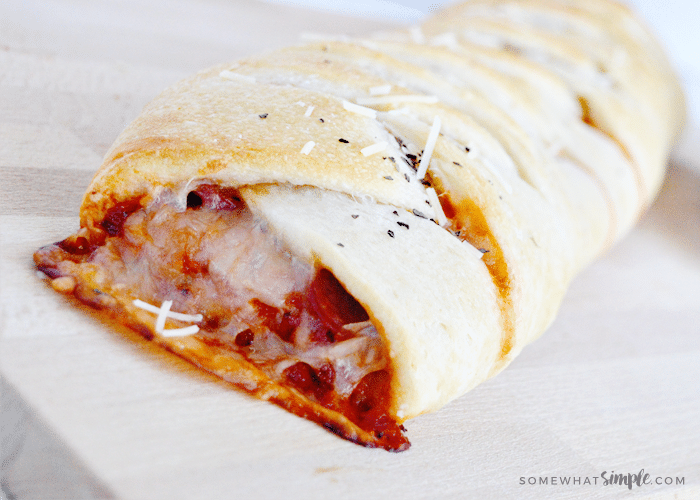 Can You Freeze Homemade Calzones?
Yes, I always make extra calzones and freeze some for later. Wait until the calzones have completely cooled and then place the extras in a freezer bag. You can store these for about 3 months in the freezer. When you're ready to eat them, place them in refrigerator for several hours to thaw before heating them. To warm them, place them in the microwave or back in the oven and warm them throughout. I prefer to use our toaster oven because I don't have to wait a long time for it to heat up.
How To Make A Homemade Calzone
Here is a classic pepperoni pizza calzone, but the flavor options are totally endless, so you can get as fancy with this homemade calzone recipe as you'd like!
Prep – Start by preheating your oven to 350 degrees F. While the oven is heating, roll out your pizza dough onto the baking sheet.
Filling – Spread out the pizza sauce down the center of the dough and then sprinkle the cheese and other toppings over the top.
Cut – Cut strips that are about an inch wide from the edge of the dough to where the filling is. Do this the full length of the dough on both sides.
Braid – Cross each strip over the center, alternating from each side, until you braid the dough the full length of the calzone. when you get to the top, tuck the last braid under the calzone.
Cook – Brush the top of the dough with melted butter so that it has that beautiful golden-brown color when it's done. Place it in the oven and bake for about 10-15 minutes. The cooking time could vary based up the dough you use, so be sure to check the package/recipe for the exact baking time.
Final Touches – Sprinkle Parmesan cheese and basil flakes over the calzone and then cut diagonally and serve.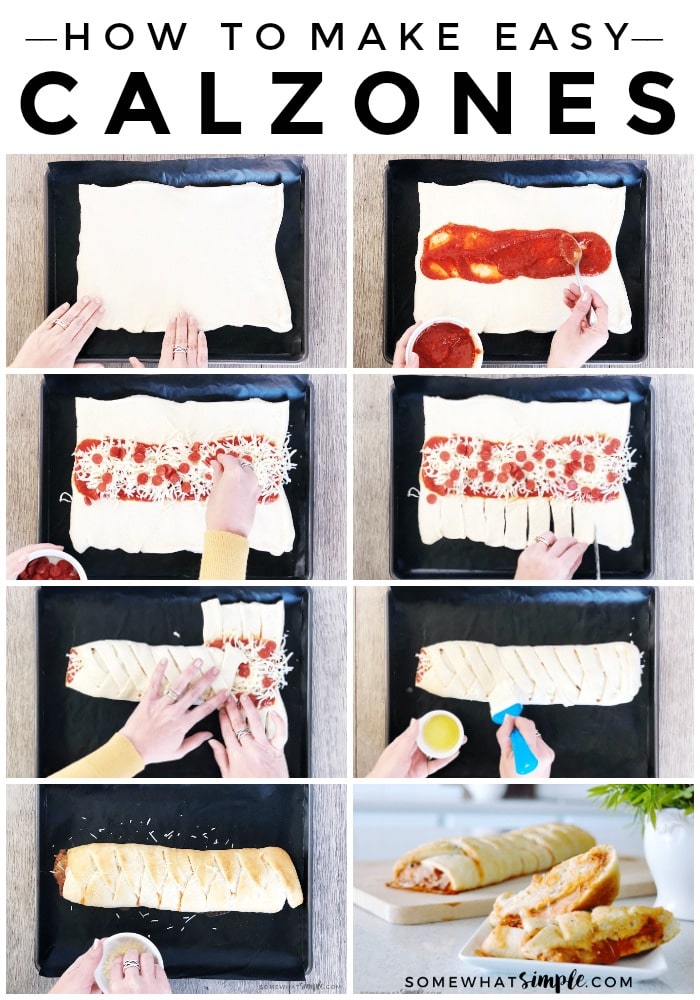 More Easy Dinner Ideas
Easy Calzone Recipe
This Easy Calzones Recipe will take your favorite pizza and wrap it into something super tasty and impressive! Making calzones has never been so simple!
Ingredients
1

pkg refrigerated pizza dough

1-2

cups

sauce - marinara

,

Alfredo, BBQ etc.

1-2

cups

cheese - mozzarella

,

cheddar, pepper jack etc.

1 -2

cups

toppings - pepperoni

,

sausage, bacon, pineapple, bell peppers, olives, onions etc.

3

tbsp.

melted butter

1/2

cup

shredded Parmesan cheese

3

tbsp.

dried basil
Instructions
Preheat oven to 350. Roll out pizza dough on a baking sheet.

In the center of the dough, spread sauce,  cheese, then desired toppings.

Cut 1″ strips all the way down each long side of dough from the edge of the filling to the outer edge of the dough to weave with.

"Braid" the bread by starting with the strips in each top corner, laying them over the filling and criss crossing over each other. Continue braiding and tuck the last braid under when you get to the end.

Brush the braided dough with melted butter, then bake for 10-15 minutes or until golden brown. (Some dough will take longer or should be baked at a higher temperature. Please check your the directions on your pizza dough for temperature and cook times.)

Sprinkle with Parmesan cheese and basil flakes, cut diagonally and ENJOY!
Notes
All ingredients (except pizza dough) are approx. measurements. You can use as much or as little as you'd like!
Nutrition
Other Notes