An easy cream puff recipe is the base for these beautiful strawberry-filled cream puffs. Dip them in chocolate for an impressive, yet easy dessert.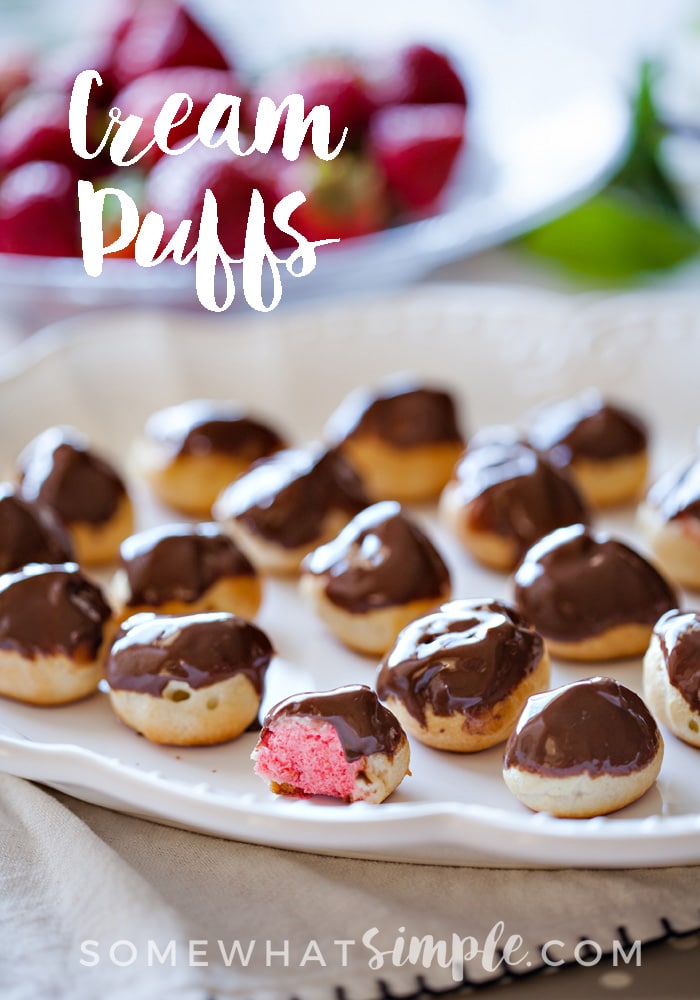 Cream puffs are one of those fancy desserts that seem like they would be hard to make, but they're actually way easier than you think!
I always wondered how they got the puffs to be hollow in the middle so they could add the filling. It turns out that the batter just naturally cooks up that way! It's like magic! The batter is a really simple combination of mostly butter, flour, and eggs.
Typically, cream puffs are filled with a chocolate or vanilla mousse, but I decided to have a little fun with these and fill them with some strawberry cream. Then I simply dipped the tops into chocolate to make them prettier and even more delicious! (They taste FANTASTIC!)
If you're looking for a more traditional filling, here is a recipe for Chocolate Mousse and here is one for a Vanilla Mousse.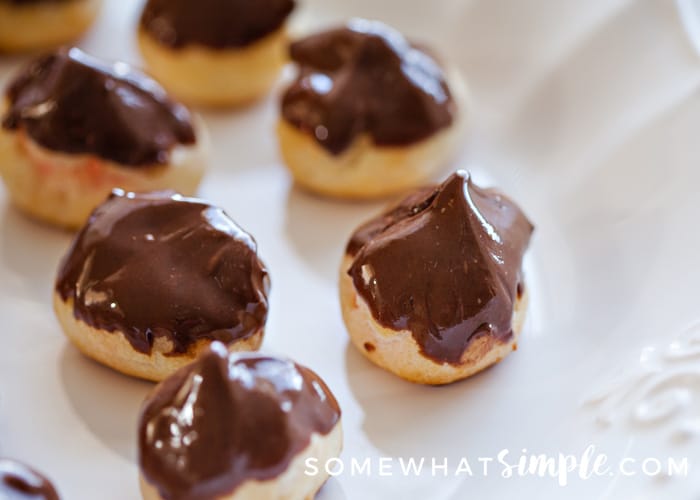 To insert the filling, you will need a decorator tip with a fairly wide opening. I didn't have any frosting or cake decorating bags, so I cut a hole in the corner of a 1 quart plastic Ziploc bag and set the tip through there. A quart-sized bag is made out of thicker plastic than sandwich bags, so they are less likely to break.
These are not only perfect for weddings, but also baby showers and bridal showers. If you want to make them beforehand, they can also be frozen and brought out just in time for your party! Just wait to dip them in the chocolate until after you take them out of the freezer.
Easy Cream Puff Recipe
INGREDIENTS: 
for the cream puffs – 
1/2 water
1/4 cup butter
1/8 tsp. salt
1/2 tsp. sugar
1/2 cup flour
2 eggs
for the strawberry cream – 
1 (3 oz.) package strawberry Jello
1 cup heavy whipping cream
DIRECTIONS:
for the cream puffs- 
Put the water, butter, salt and sugar into a small saucepan and bring to a boil.
Remove from the heat and add all the four at once and stir until completely incorporated.
Add the eggs one at a time and stir in completely. Batter should look silky and soft
Spoon 1 tsp. of batter 2 inches apart on an ungreased cookie sheet. Batter will not hold its shape perfectly. That is o.k.
Bake at 400° for 16-18 minutes
Remove from oven and let cool on the cookie sheet for about ten minutes. Then remove and let cool completely on wire racks.
for the strawberry cream – 
Add the strawberry Jello and whipping cream to a medium-sized bowl. Whip with a hand mixer until stiff peaks form.
TO ASSEMBLE:
Spoon a portion of the strawberry cream into a decorator's bag (or plastic bag with a corner cut off) fitted with a large round decorator's tip.
With the tip, poke a hole in the bottom of each cream puff and squeeze the filling in until cream puff is full.
Dip tops in melted chocolate, if desired.
Chill until ready to eat.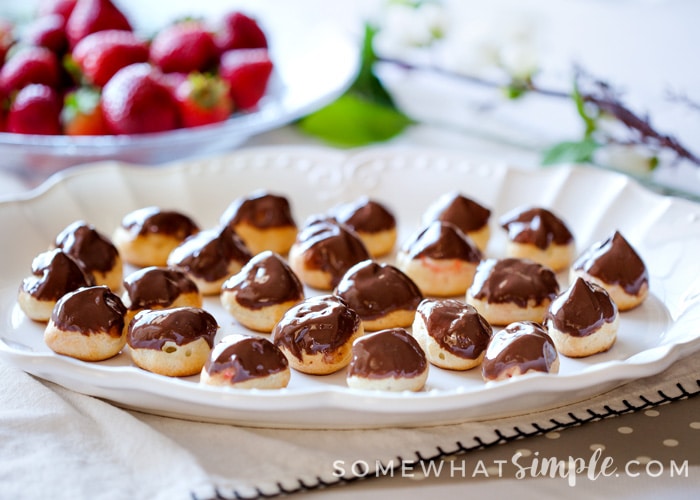 Here are a few more decadent desserts your party guests might enjoy: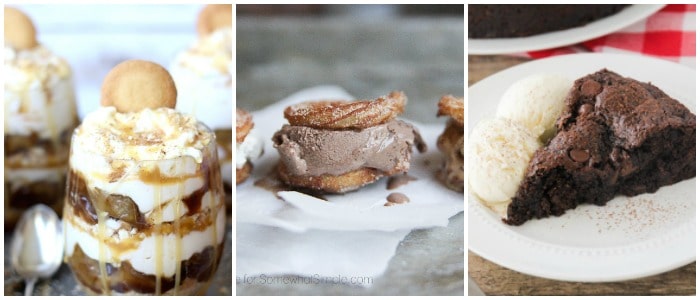 Caramel Apple Cheesecake Trifle || Churro Ice Cream Sandwiches || Chocolate Gingerbread Cake