Getting a fresh clean without any harsh chemicals is simple with these easy vinegar cleaning hacks. You'll be amazed what a little vinegar can do!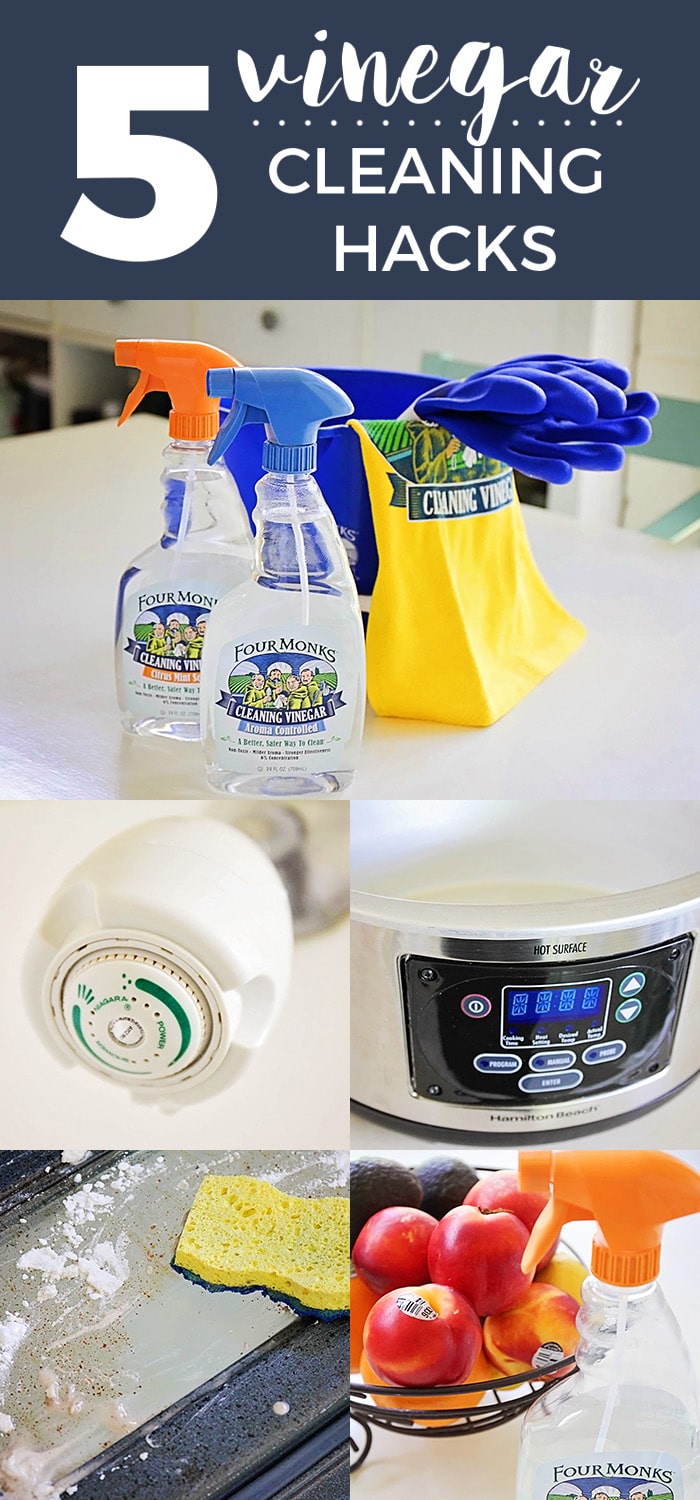 Growing up, my mom did most of her cleaning using either vinegar, baking soda, or a combination of the two. As a kid, I always thought she was a little weird. Now as a mom, though, I totally get it! With kids and pets in the house, I hate using harsh chemicals for cleaning. Vinegar is a natural cleanser that's gentle on the environment, and provides a powerful clean without harsh fumes or potentially dangerous chemicals.
I was invited to try Four Monks Cleaning Vinegar to do a little cleaning around the house this week, and I was really impressed by how well it cleans! Unlike regular cleaning vinegar, it doesn't have a strong vinegar scent, and instead just smells fresh and clean. I really like that it's safe for the whole family and inexpensive too! Here are some of the easy vinegar cleaning hacks I tried this week.
5 Easy Vinegar Cleaning Hacks
Cleaning the Microwave
My microwave is used multiple times every day, and it seems like there is always some sort of food explosion happening in there, especially because some of the members of my family don't remember to use lids while microwaving (I'm not naming names). Cleaning the microwave has always been such a pain, with all the crusted on food and yucky smells. Since I've started cleaning it with vinegar, though, it is a breeze! The vinegar softens up all the gross splatters, and leaves a fresh clean smell.
Seriously, look how dirty my microwave was!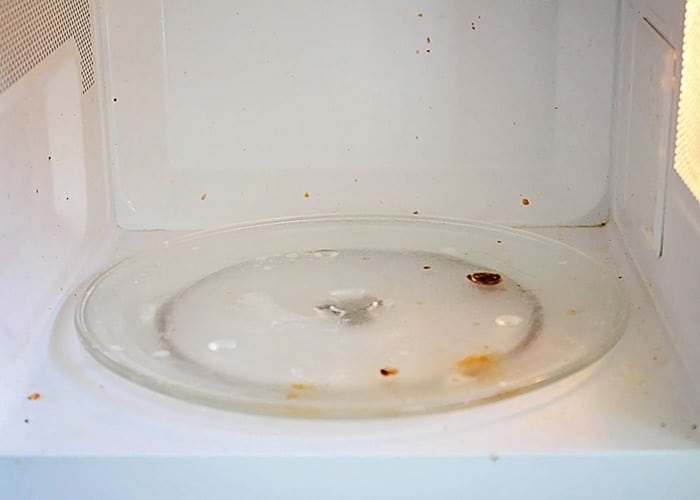 I added about 3/4 cup of vinegar to a small microwave safe bowl, heated it on high for about 2 minutes (until it was boiling), then stopped the microwave and let it sit for a few minutes. Afterwards, I used a damp cloth to wipe out the inside, and it was so easy to clean. No scrubbing, no using my fingernails to scrape out gunk, just a quick wipe and it was all clean. Look at the difference!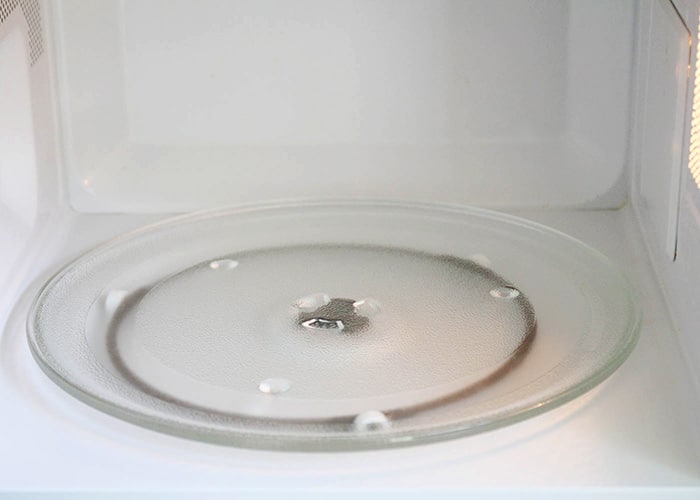 Faucets and Shower Heads
If you have hard water like I do, mineral build up can be a real problem. Our shower head had gotten so bad that the water was spraying out unevenly. Plus it looked disgusting!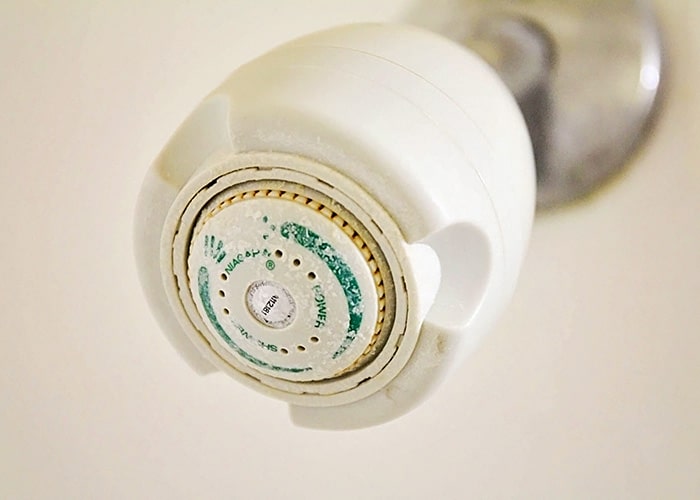 It was a super quick fix to pour about 1/2 cup of vinegar into a baggie, attach it around the shower head with a rubber band, and let it work its magic. Depending on the level of buildup, you may want to let it soak as long as 3-4 hours to dissolve everything.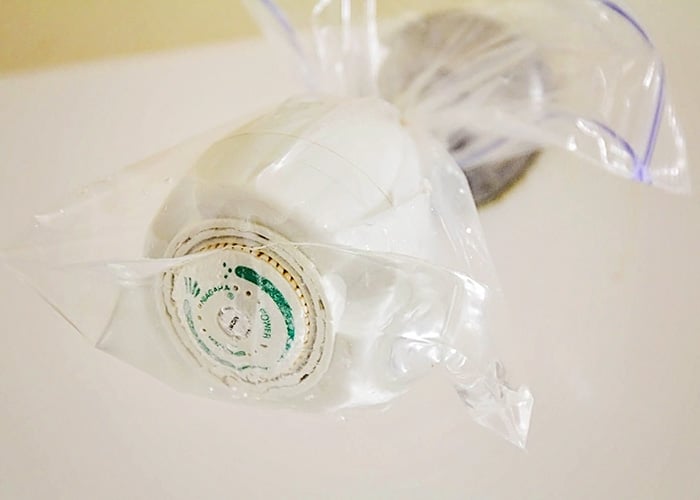 Afterwards, so much cleaner!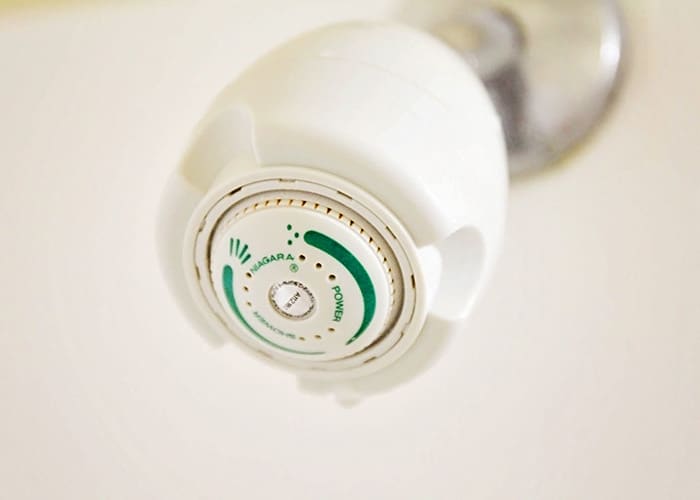 It's also definitely spraying much better, too!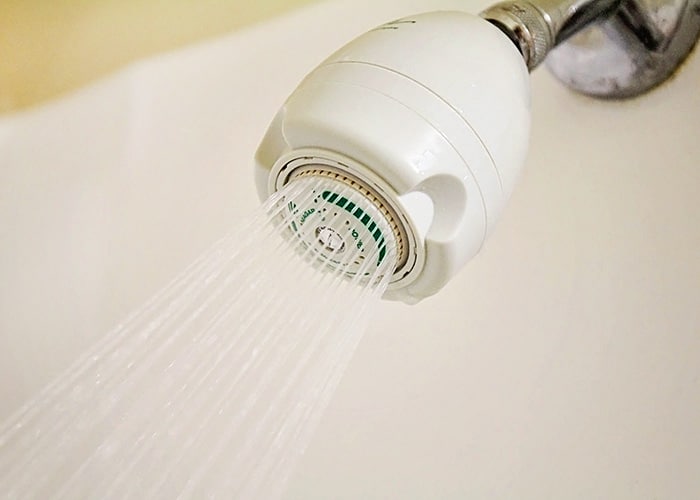 Cleaning Oven Doors and Baked On Grime
Here's my confession: I hate hate hate cleaning the oven. Which is why I pretty much never do it. We've never had a self-cleaning oven, and the thought of trying to scrub it out while breathing in a bunch of harsh fumes just doesn't appeal to me. Consequently, it has gotten pretty awful! There was so much grime baked onto the oven door that I couldn't even see through it to see if my food was burning.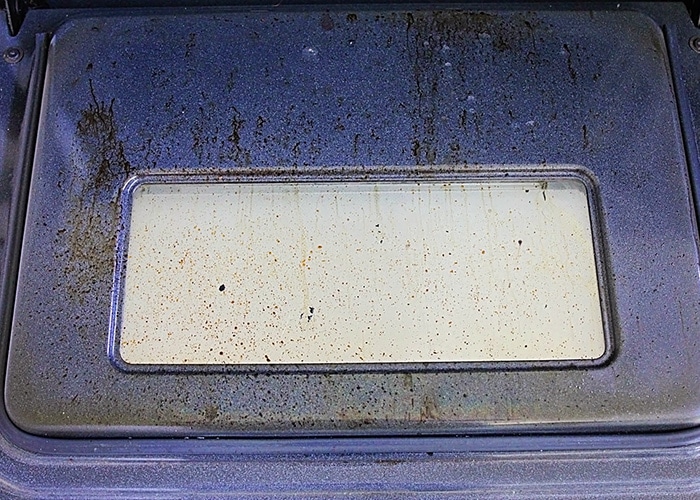 Cleaning the oven with vinegar makes tons of sense. It's food safe, so there are no worries about harmful chemicals getting into your food next time you bake. Plus there are no harsh fumes to breathe in and it's not harmful to your skin like other oven cleaners. Best of all, it actually works! I sprayed my oven door down with vinegar and let it sit for a few minutes, then sprinkled it with baking soda. Using the rough side of a sponge, I gently but firmly scrubbed all the grime off. It took a little elbow grease, but it worked really well.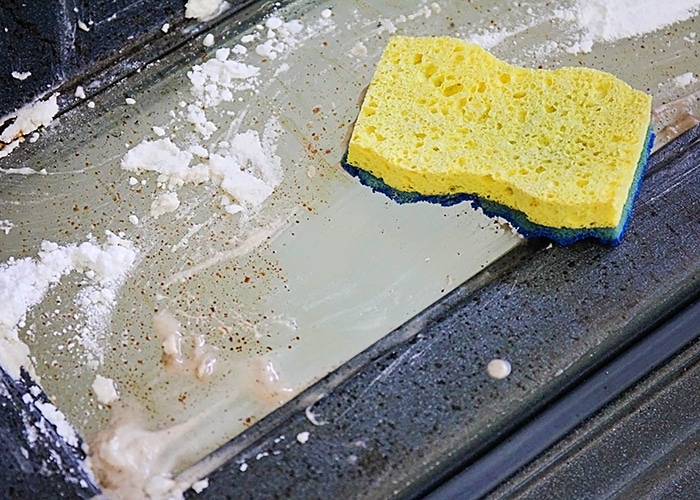 Look what a difference it made! Now I can actually see my food cooking… 🙂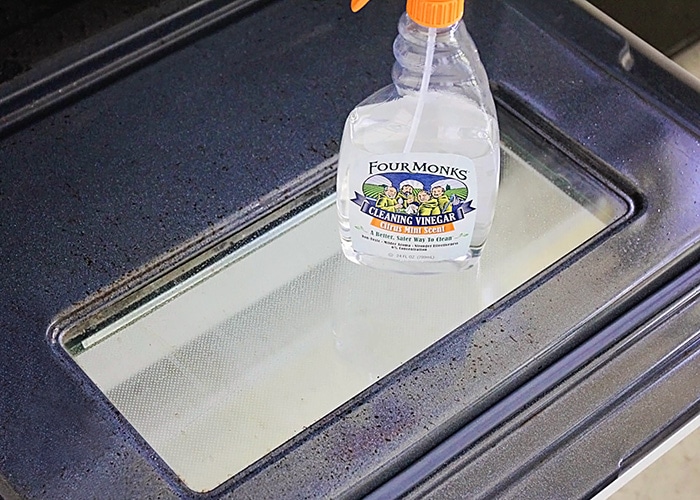 Small Appliances
My slow cooker gets a lot of use. We have a pretty busy schedule as a family, and it's a lifesaver to be able to come home to a hot meal on a busy day! Because I use it several times a week, though, it gets splattered and gross. Just like with the oven, the food gets baked on and doesn't come off easily. My slow cooker was definitely needing a clean up!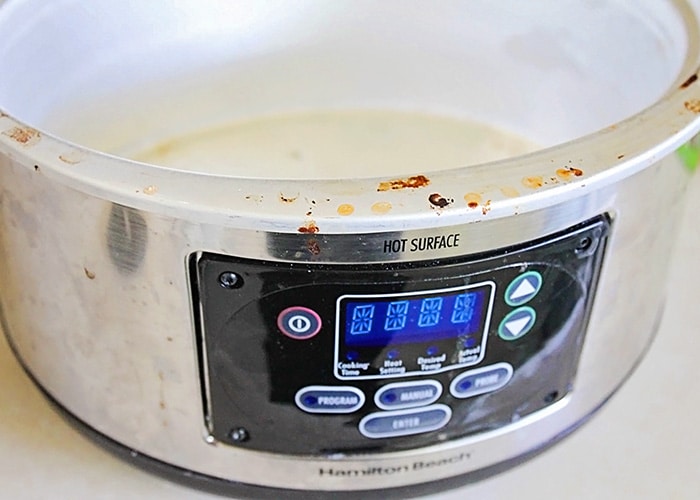 I sprayed the outside with vinegar and let it sit for a while, then sprinkled some baking soda on a sponge and used it to scrub it clean. I was actually surprised how easily everything came off!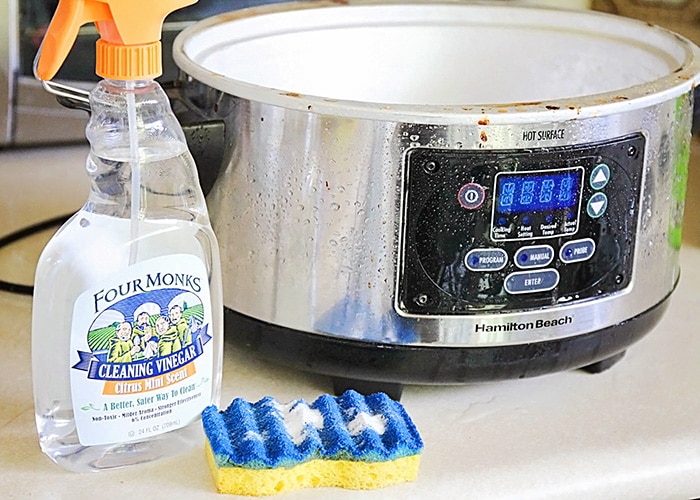 And look how much nicer it looks now! No baked on food, no finger prints or smudges, just fresh and clean!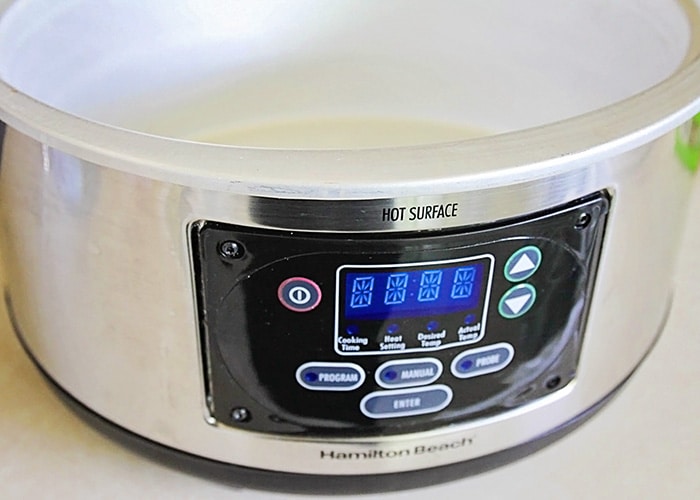 Fruits and Vegetables
This surprised me a little, but not only is Four Monks vinegar excellent at cleaning, it's also food grade and safe to use for washing fruits and vegetables! It's gentle on foods and doesn't leave a vinegary residue. I've been using it to wash fresh berries, and I have been really impressed by how much longer they stay fresh using the vinegar wash. It's actually kind of amazing to me that a natural product can be so versatile!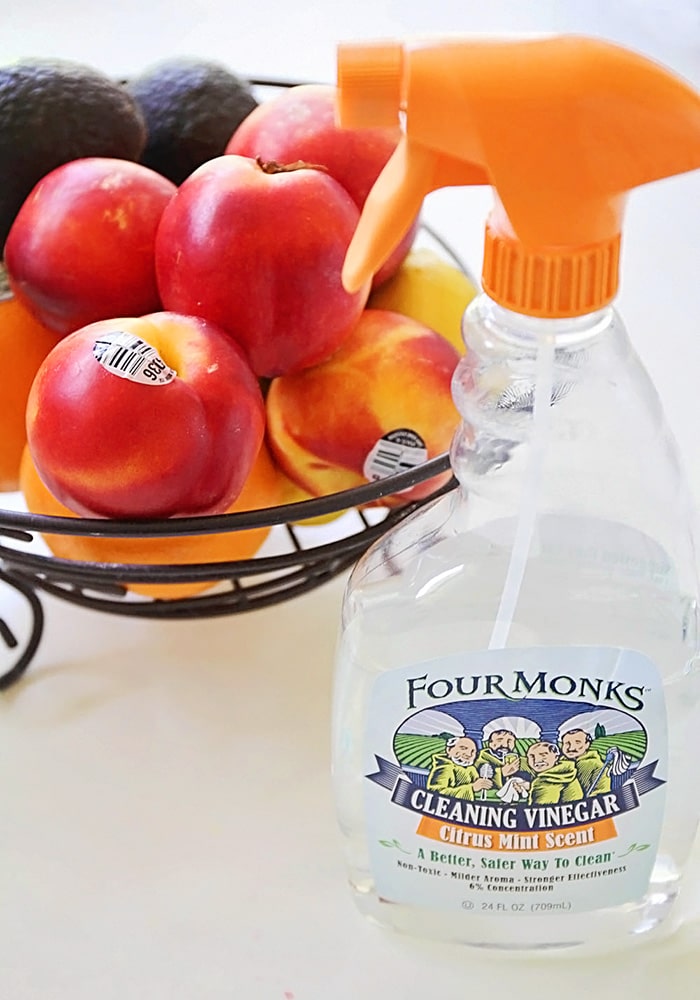 You can find Four Monks products in the vinegar aisle at Walmart Supercenters, or in the natural cleaning section at HEB stores. I love that it comes in the convenient spray bottle, making it super easy to use.
For even more easy vinegar cleaning hacks, visit www.vinegartips.com, and visit Four Monks on Facebook and Pinterest. You can also get a coupon to save money on Four Monks by visiting FourMonksClean.com.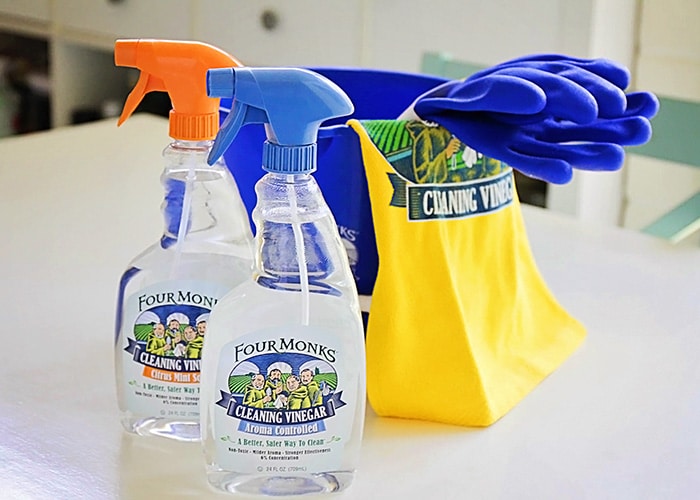 To win a Four Monks cleaning kit of your own, leave a comment below sharing one of your favorite cleaning tips, or the tip from this post that you are most excited to try!
This is a sponsored conversation written by me on behalf of Four Monks. As always, all opinions are my own.