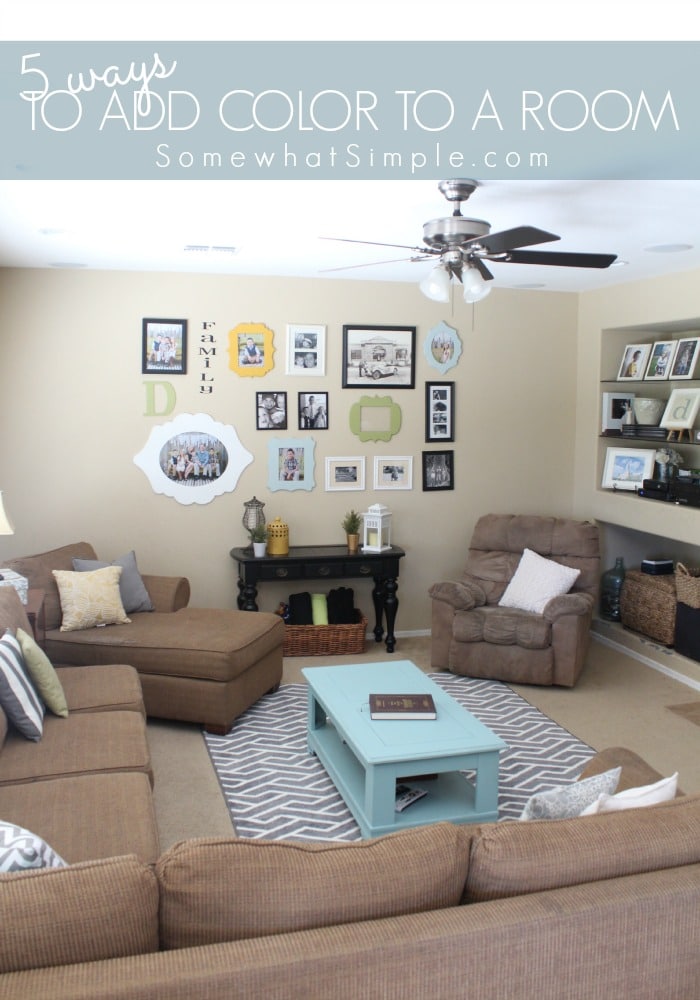 This is a sponsored post on behalf of Better Homes and Gardens products at Walmart. 
I LOVE color, but I have commitment issues. I go through phases where I love blue or green and then a few short months later I am on a yellow kick. Painting walls with the current trend or purchasing decor to match a color scheme gets expensive, not to mention how much time it can take. I learned years ago that for people like me, it is best to have neutral statement pieces and then change things up with non-permanent accessories. I'll share my tips with you for 5 Easy Ways to Add Color to a Room without breaking the bank.
But first, let's take a look at my family room before the color was added: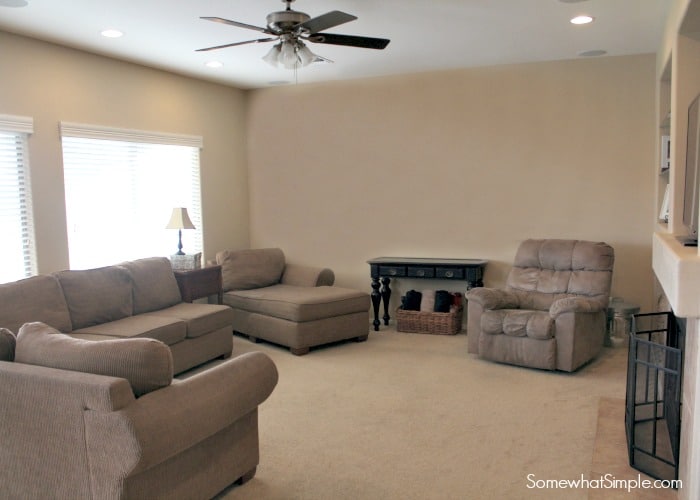 Brown, brown and more brown! The couches, the walls, the carpet…. it is all blah. But that's ok, because I have a clean canvas to work with!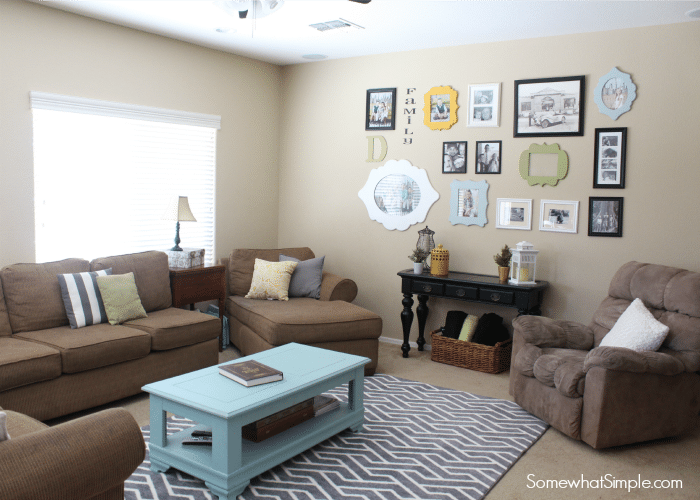 Rug, pictures and pillows- what a difference some color makes! Let me break this down and show you just how easy it can be. I will include details on products with links at the end of the post:
1. Add pictures to your walls.
I've had this collage for quite some time and I am actually ready for a change, but one thing is certain- a big wall needs a focal point and it provides a great opportunity to add some color. Colorful frames and/or colorful pictures are an easy, affordable way to achieve this.
(Yes, that is an empty green frame on my wall. The picture I had planned for that space didn't work out and I haven't gotten around to fix it!)
2. Add a rug.
Even a gray and white rug adds such a fun pop of color and texture and dimension!
3. Add throw pillows.
My husband hates pillows. I love them. This is the easiest way to add color to ANY room. (Except your kitchen, I guess. And bathroom.)
4. Add nick-knacks.
I don't like a lot of clutter, and there is a fine line between decorative accents and clutter. But grab a few colorful focal points and make a simple vignette. With nick-knacks, my general rule of thumb is "less is more".
5. Paint your furniture.
I wish I had a before picture of this coffee table. It was brown, nothing special. My sister in law came to visit one weekend and she said, "You should paint your coffee table." And my neutral-loving self said "White?" and she said "Blue." It quickly became one of my favorite pieces of furniture. I've tried it in a couple different rooms in my house. I love it in my living room, but it is currently in my family room 'cause it fits nicely there too! Point of this rant is- don't be afraid of the power of paint.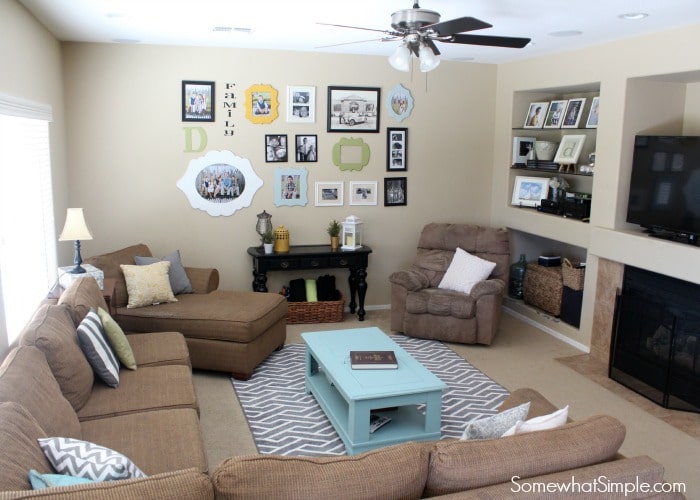 What do you think???
PRODUCT LIST-
Scrolling Frames|| $12.99 & Up
Black & White Wood Frames, various sizes || $8 & Up
BHG Rowan Print Rug, Gray || $149
Throw Pillows, ONE, TWO, THREE, FOUR, FIVE, SIX, SEVEN   || $10 & Up
White Lantern || $12.97
Blue Paint on Coffee Table || Evening Stroll by Valspar @Lowes
Follow Better Homes and Gardens at Walmart to see what's coming out soon!
Facebook // Twitter //Pinterest //Instagram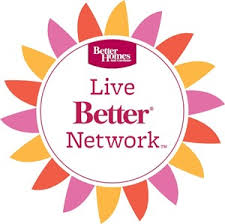 This post is in support of BHG at Walmart. I am part of the BHG Live Better Blogger Network.
Thank you for supporting our sponsors so we can continue to provide creative content on Somewhat Simple.
Hack Your Routine!
FREE E-COURSE
5 Time-Saving Tips for Crazy Busy Moms