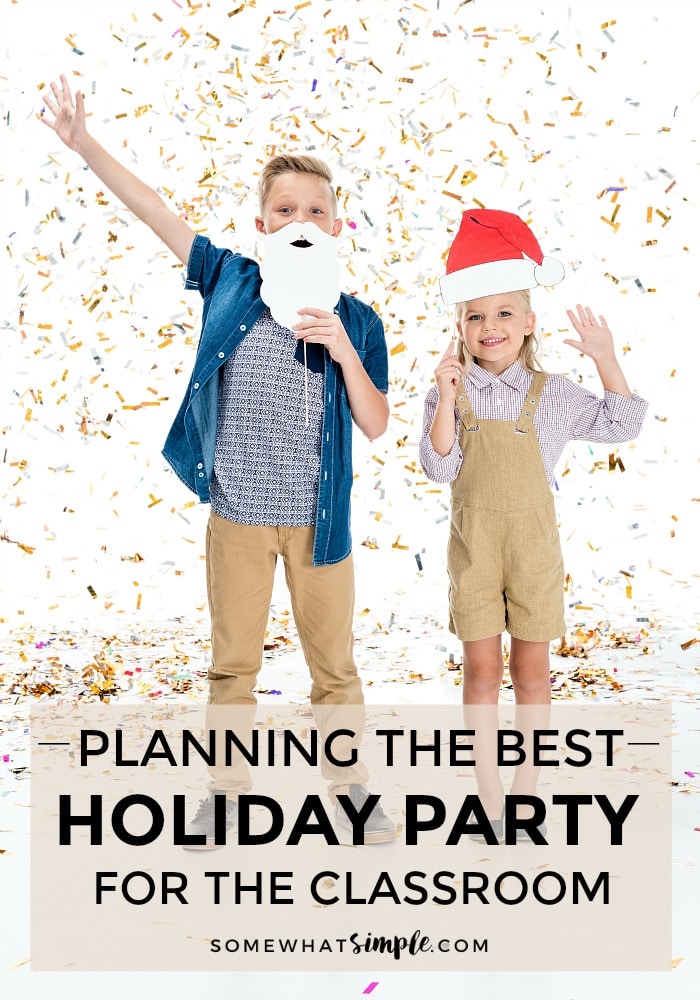 Hi room moms! Time to plan a fun holiday party that is simple to put together and totally fun! Here is a fun school Christmas party idea that I did for my son's class last year and the kids had a blast!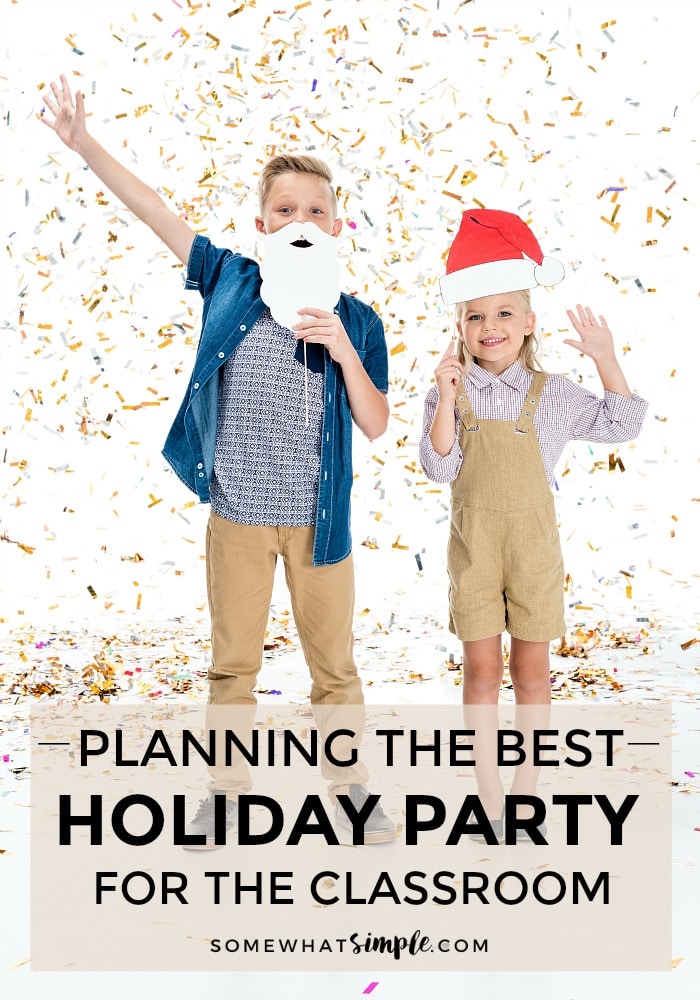 I was asked to organize the winter holiday party for my son's second grade class. We couldn't call it a "Christmas Party", since not all the kids were celebrating Christmas, but I came up with an idea that highlighted ALL the winter holidays -Christmas, Hanukkah, Kwanzaa and New Years- and it was tons of fun! Here is what we did:
Easy School Holiday Party Idea
The Set Up –
The class was divided in 5 small groups. 5 stations were set up around the classroom, each dedicated to a different holiday.
How It Works –
Classmates traveled with their groups to each station and participated in a fun activity highlighting a different holiday at each station. We allowed 10 – 15 minutes or so at each table and then rotated clockwise.
The Christmas Craft and Activity Stations –
Here is a detailed list about the stations we had.
Holiday Lessons –
Depending on how much time you have at each station, it might be fun and helpful to discuss each holiday and why or how we celebrate it. Here are some notes you can use in your little mini lessons –
*Excerpts adapted from information on Wikipedia.
Hanukkah
Hanukkah (also known as Chanukah) is the Jewish Festival of Lights and lasts eight days. Jews celebrate Hanukkah to commemorate the Miracle of the Oil. Over 2000 years ago, the Jews rebelled against their ruler because he insisted that all Jewish people must worship Greek Gods. After three hard years of fighting, the Jews won and, to celebrate, they restored the Temple of Jerusalem – which had been taken over by the enemies – and rededicated it to their God.
As part of the celebrations, they lit an oil lamp with only enough oil to burn for one night. But a miracle occurred, and the oil lamp stayed lit for eight days, which was the time it took to make new oil for the lamp. This was the Miracle of the Oil. It was then declared that every year, Jews would remember the day with an eight-day Festival of Lights and celebrate the miracle of the oil by placing eight candles in a Menorah (a special candlestick) and lighting one candle for each evening of the celebration.
The Hanukkah lights are meant to remind those walking by the home about the holiday's miracle, so the Menorah is displayed at a prominent window or near the front door. During Hanukkah, people exchange gifts, give to the poor and needy and celebrate by playing games, such as the Dreidle.
Some say the dreidel game was devised by the Jews to camouflage the fact that they were studying their Jewish religion, which was outlawed by Greeks. The Jews would gather in caves to study. If soldiers were spotted, the Jews would hide their scrolls and spin tops, so the Greeks thought they were gambling, not learning.
Christmas
Christmas is an annual holiday celebrating the birth of Jesus Christ, observed on December 25. Celebrations include gift giving, completing an Advent calendar, Christmas music and caroling, viewing a Nativity play, an exchange of Christmas cards, church services, a special meal, and the display of various Christmas decorations – Christmas trees, Christmas lights, nativity scenes, garlands, wreaths, mistletoe, and holly.
In addition, several closely related figures, known as Santa Claus, Father Christmas and Saint Nicholas, are associated with bringing gifts to children during the Christmas season.
Kwanzaa
Kwanzaa is a weeklong celebration from December 26 until January 1 each year. Families celebrating Kwanzaa decorate their households with objects of art; they dress in colorful African clothes and they have a Kwanzaa ceremony that may include drumming and dancing, gift giving and feasting. Each of the seven days of Kwanzaa is dedicated to one of the following principles, as follows:
 Umoja (Unity): To strive for and to maintain unity in the family, community, nation, and race.
 Kujichagulia (Self-Determination): To define ourselves, create for ourselves, and speak for ourselves.
 Ujima (Collective Work and Responsibility): To build and maintain our community together
 Ujamaa (Cooperative Economics): To build and maintain our own stores, shops, and other businesses
 Nia (Purpose): To educate our community and restore them to their traditional greatness.
 Kuumba (Creativity): To do always as much as we can, in order to leave our community more beautiful
 Imani (Faith): To believe with all our heart in our people, our parents, our teachers, and our leaders.
New Year's
New Year's Day is the first day of the year. This day used to be a day of religious feast, but since the early 1900's it has become an occasion to celebrate the night of December 31, called New Year's Eve. It is also customary to make New Year's resolutions, which individuals hope to fulfill in the coming year. Some popular resolutions are to get in shape, learn something new, do something adventurous that you have never done before and save money.
New Year's Eve Celebrations
In Sydney, Australia, they have the world's largest fireworks displays
The huge Times Square Ball in New York City located high above Times Square is lowered starting at 11:59:00 p.m., or the last minute of the year, and reaches the bottom of its tower at the stroke of midnight with fireworks & flashing lights.
In the Philippines, people light fireworks, loud firecrackers, booming sound system, bamboo canons as well as make a lot of noise with the belief that the noises would scare evil spirits away and prevent them from bringing bad luck to the coming new year. Coins are also jumbled in tin cans to make noise with the belief that this will bring them more money. Children are encouraged to jump about as there was an old belief that this was supposed to make you taller.
It is popular to kiss loved ones on New Year's Eve.
New Year's Day Celebrations
Polar Bear Plunges: People gather on beaches and run into the cold and sometimes freezing water.
In Pasadena, California, the Tournament of Roses is held- a parade of floats all decorated with flowers.
Hindus celebrate the New Year by paying respects to their parents and other elders.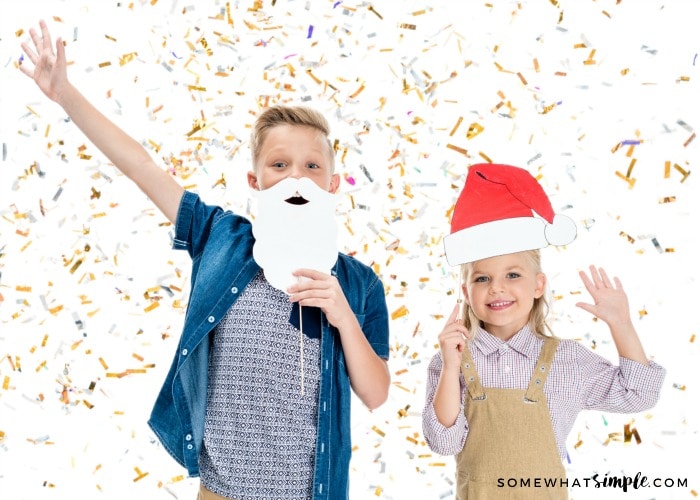 I hope your school Christmas party goes off without a hitch and that everyone involved has so much fun!!