Our printable motherhood quote will help spread a little happiness and faith all across the world and hopefully inspire all those who stop by!
Here are a few more inspirational quotes we think you'll love – Be Believing, Be Happy, Calm the Storm, and Live in the Moment.
Last fall I went with my mom and sisters to Time Out for Women, an inspirational conference designed to uplift and inspire women of all ages. Emily Watts was one of the speakers at the conference, and her talk about enjoying motherhood was exactly what I needed to hear! Here is one of my favorite quotes from her talk –
There is no light at the end of the mom tunnel. The only light inside is the one you carry with you.

Emily Watts
I went to this conference with a heavy heart, looking to be spiritually fed and inspired- to shake the funky mood I had been in and refocus on the things that mattered most in life. What I took away from the conference was a renewed excitement about motherhood and the realization that even though life is hard, I can make it happy!
A mother's work is never done- there really is no "light at the end of the mom tunnel." But that doesn't mean the tunnel has to be dark and scary. As with most things in life, you will get out of it what you put into it.
Printable Motherhood Quote
If you need a little reminder to smile more and enjoy motherhood, feel free to print a free copy of this motherhood quote. Simply enter your name and email address in the form below and a new screen will load with the PDF file.
Please remember that all printables on Somewhat Simple are for personal use only. Do not mass-distribute them, sell them, or claim them to be your own. Thanks for understanding!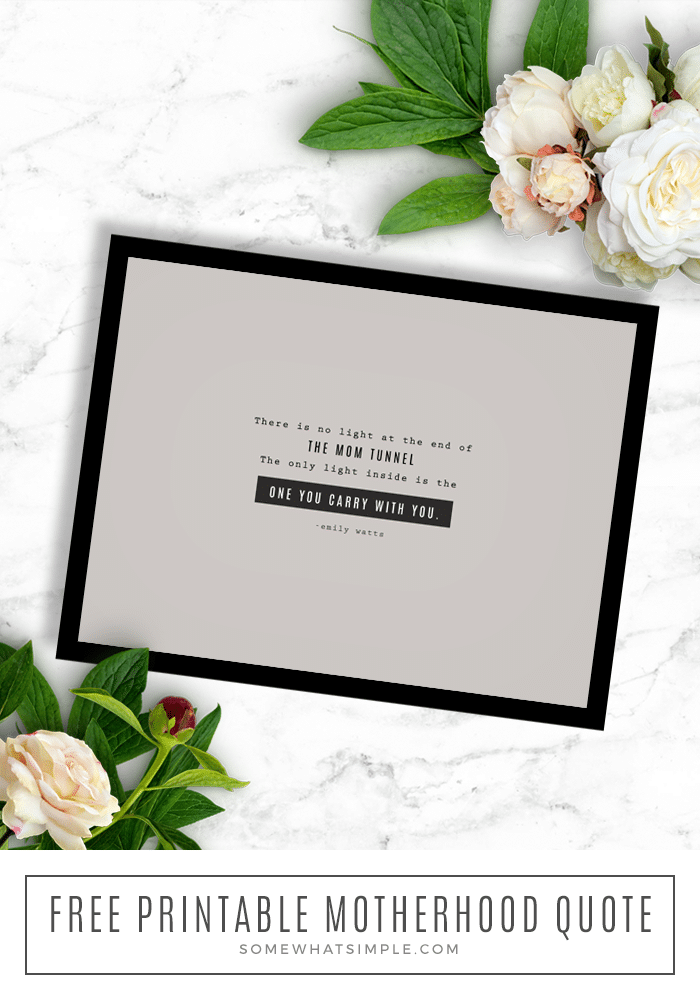 To learn more about my faith and why I believe what I do, click HERE.