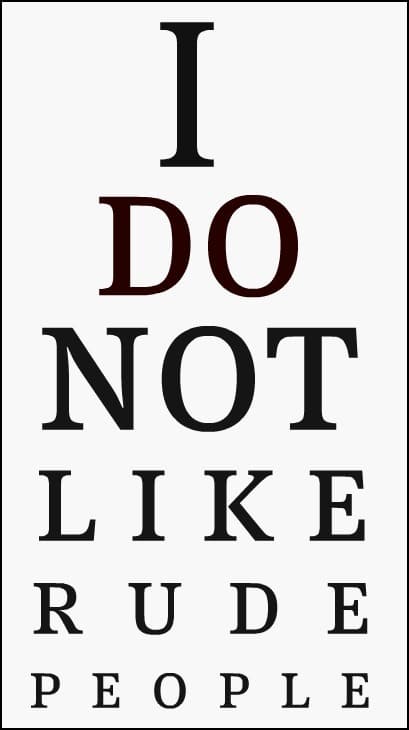 This is the mood I am in.
I just got an email from someone with a simple question.
A simple question that put me on the defensive because it was asked in a very demanding way.
Why didn't this person (who I don't even know) ask nicely?
Why do people feel like they can hide behind a computer screen and get all up in my face?
I have a logical answer to this lady's question, but quite frankly, it isn't any of her business.
I shouldn't have to explain myself.
I haven't emailed her back.
I'm trying to think of a nice way to say, "ITS NONE OF YOUR FREAKING BUSINESS!!!"
… but the words haven't come to mind yet.
And she doesn't deserve a response from me anyway.
I'm just so sick of cyber bullies. They think they can get away with being disrespectful.
They are cowards who have more guts online than they do in real-life. It's pathetic, really.
So I made this eye chart printable and I want to tape it to my front door.
Feel free to print one for your home or office, and let's rally against all those rude people out there.
Ok, I am done. Thanks for letting me vent….