"If you can't be kind, be quiet" and 4 more Eye Chart Quote about kindness for you to download for your home, office or classroom for FREE!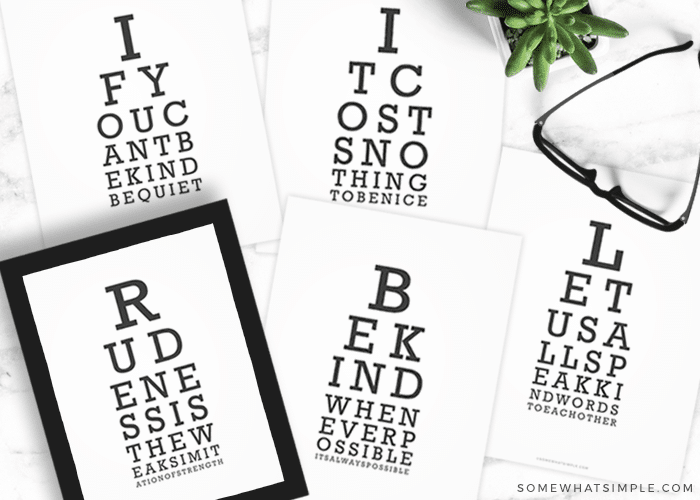 Anyone else growing increasingly annoyed, concerned, and frankly a little disgusted with all the rudeness we encounter each and every day? Maybe it's the political climate, maybe it's the easy access of social media constantly bringing it to our attention, or maybe it's how brazen and hard people are becoming because they can hide behind their computer screens and say whatever they feel?
Here's a thought – How about we NOT act like jerks online?
Here's a thought – Instead of leaving a heated comment on someone's social post that you don't agree with, just unfollow them or walk away.
Here's a thought – Instead of looking for reasons to be offended, look for content that makes you feel good. Then send the person who made you feel good a nice message, thanking them for the inspiration.
I firmly believe we will get out of life what we put into it. Negative comments add more and more negativity and don't do you (or anyone else) any good.
Here are a few eye chart quotes on kindness to use as a reminder that kindess is always the answer! Feel free to print one (or 5) for your home or office, and let's rally against all those rude people out there!
Eye Chart Quotes
Here is what each one says:
It costs nothing to be nice.

Rudeness is the weak's imitation of strength.

Let us all speak kind words to each other.

If you can't be kind, be quiet.

Be kind whenever possible. (It's always possible.)
Kindness Printables
Enter your name and email address below for immediate access to these free printables.