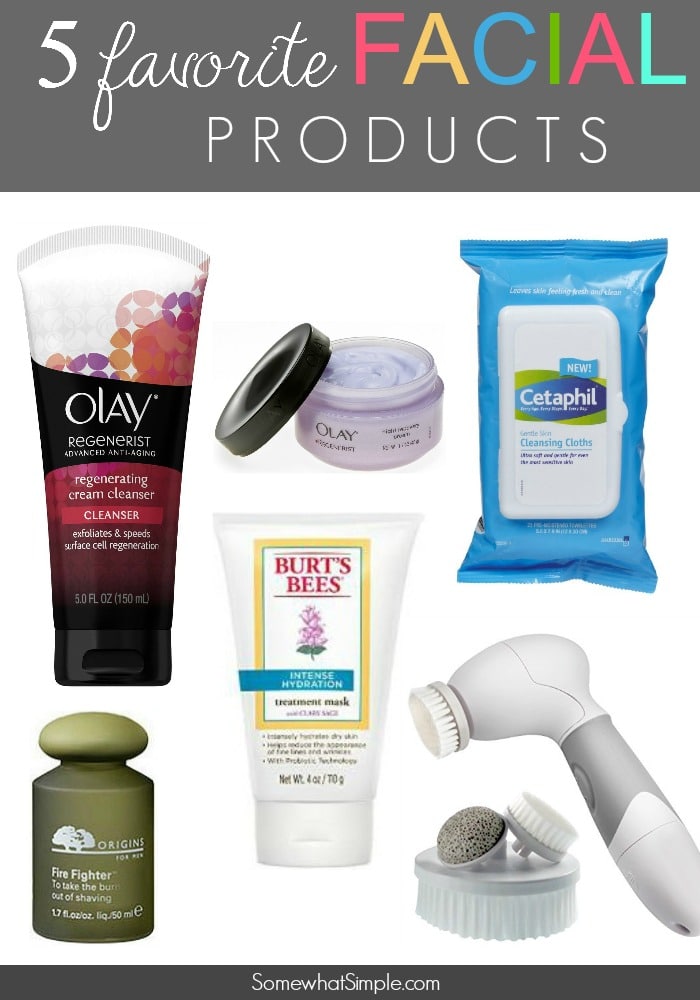 Today we're sharing five favorite facial products that we absolutely LOVE. Take a look:
*Please note, our Amazon affiliate links are in the product descriptions below.
1. Olay Regenerist Cleanser & Lotion|| $12.85- $18.88 – I don't usually spend a lot of money on expensive cleansers and creams, but last fall I was sent the entire line of Regenerist products from Olay to review for a blog post and I was completely sold! (I should note that I am not getting paid for this post today- this is 100% on me!) I have been using these products for months now and have since purchased more of the products as I run out of them. My 2 favorite items are the cleanser and the night time lotion. If you only want to invest $20 in facial products, grab one of these! The cleanser leaves my skin feeling fresh and clean- it is gentle but effective. The lotion is something I put on after every shower and before bed. My skin feels so soft and not greasy at all. Best of all, they smell delicious! I will admit, I am not a fan of other Olay lotions- they smell like an expired beauty product to me. This line is different. In fact, my husband compliments me on the smell of my skin almost every night- he loves it! Product Links: Regenerating Cream Cleanser // Night Recovery Cream
2. The Spin for Perfect Skin|| $30 (usually $100!) – I've used another exfoliating brush in the past, but this one is my new favorite! The head of this brush spins to thoroughly cleanse, exfoliate, and lift dirt & oil trapped in pores. It comes with four attachments so you can get a deep clean or gentle exfoliate- depending on what your skin needs. This brush usually retails for $100, but if you use the code SPINMAY, you can get it for $30! So hurry- grab it now!!!
3. Burts Bees Intense Hydration Mask || $12.49 – My sister in law introduced me to this stuff and I love it! You clean your face and then apply a thick layer of the mask and leave it on for 5 to 10 minutes. Wipe off the mask with a tissue and massage any remaining cream into your face. It can be used once or twice a week or whenever you need it! My skin always feels so smooth after I use it!!
4. Gentle Skin Cleansing Cloths || $10.63- I have a 12 year old son who needs to start washing his face regularly. Problem is, the kid won't wash his hands or brush his teeth without me reminding him, so adding "wash your face" to his night time schedule is not going to happen… UNLESS it is super easy! I bought some Cetaphil facial cleanser that is kept in our shower, and then I bought these cleansing cloths for easy "before bed" face washing. They are gentle on his skin and leave your face feeling fresh. I also brought these on our last family vacation in place of my other facial products. They travel well and are perfect for those nights when you're too tired to stand in front of the sink for 5 minutes to wash and moisturize. Wipe your face as you're getting into bed and you're done!
5. Origins Fire Fighter|| $31.99 – Last, but not least, is a product I love for MEN! If you have a guy like I do who suffers from razor burn after they shave their face- this product is the solution! My husband has been using this stuff for over a decade- it is awesome! He just puts a teeny bit of this lotion on his face after shaving and it soothes and softens. Plus, it smells great- BONUS!
So there you have it!
Have you tried any of my favorite products listed above? I'd love to hear what you think of them!? Share in the comment section below!