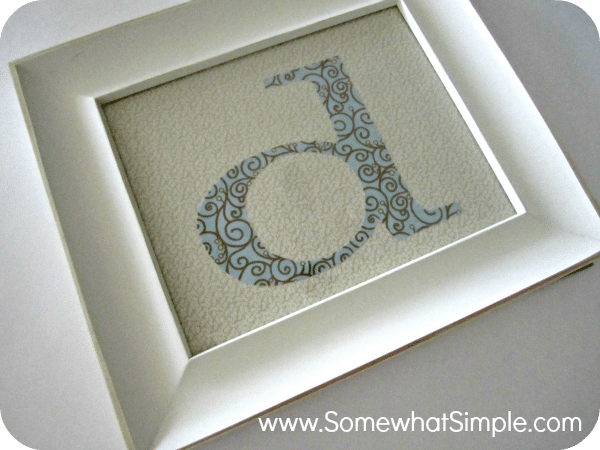 Here is an easy easy tutorial for a pretty fantastic and simple piece of home decor and it makes a great homemade house-warming or wedding gift – a Fabric Monogram. I have seen some of around the blogging world, but if you're not clever with your sewing machine ('cause I am not!) then you'll love my "No Sew" take on it!
I made this in 10 minutes using supplies I had on-hand:
. 2 coordinating pieces of fabric (from my scrap pile)
. Double-Sided fusible webbing
. Initial template (any letter printed on regular computer paper)
. Scissors
. Frame
. Pencil (if you need to trace your letter. If you can hold the stencil still and cut around it, no tracing needed!)
. Hot Glue Gun
Here is how:
1. Using your stencil, cut out your initial from 1 piece of fabric.
2. Cut your background fabric to be about 1 inch bigger on each side from the cardboard your frame comes with. If your frame doesn't have any cardboard (as mine didn't) use a cereal box cut to the size of the back of your frame.
3. Fold the fabric around the cardboard and glue the edges on the backside with some hot glue to hold it in place.
4. Iron the double sided fusible webbing to attach your monogram to the background fabric.
5. Place the cardboard inside the frame, display it and you are D.O.N.E.!!!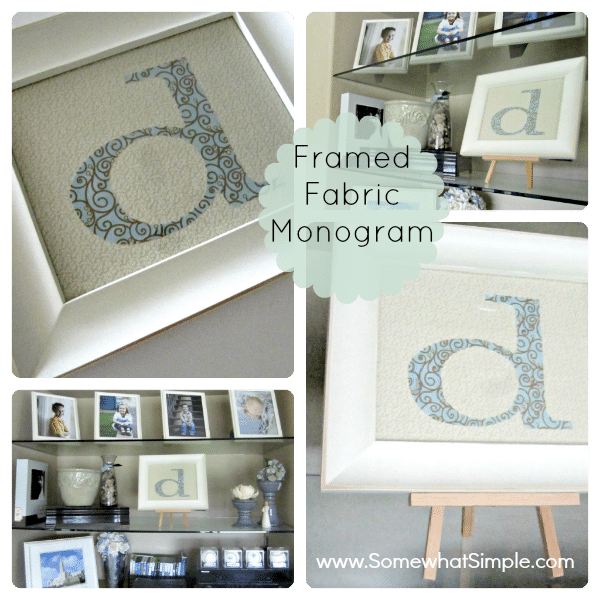 I chose to go with a lowercase d because I liked the look of it more than an uppercase D… but now I hear about how grammatically incorrect it is from my 7 year old, so choose wisely!
Easy and simple, just the way I like it!
(This post originally published on Somewhat Simple in July 2010)
DON'T MISS A THING!
Sign up for our newsletter to receive our FREE Home Organization Binder Printables + weekly updates filled with creative inspiration and exclusive freebies!
---