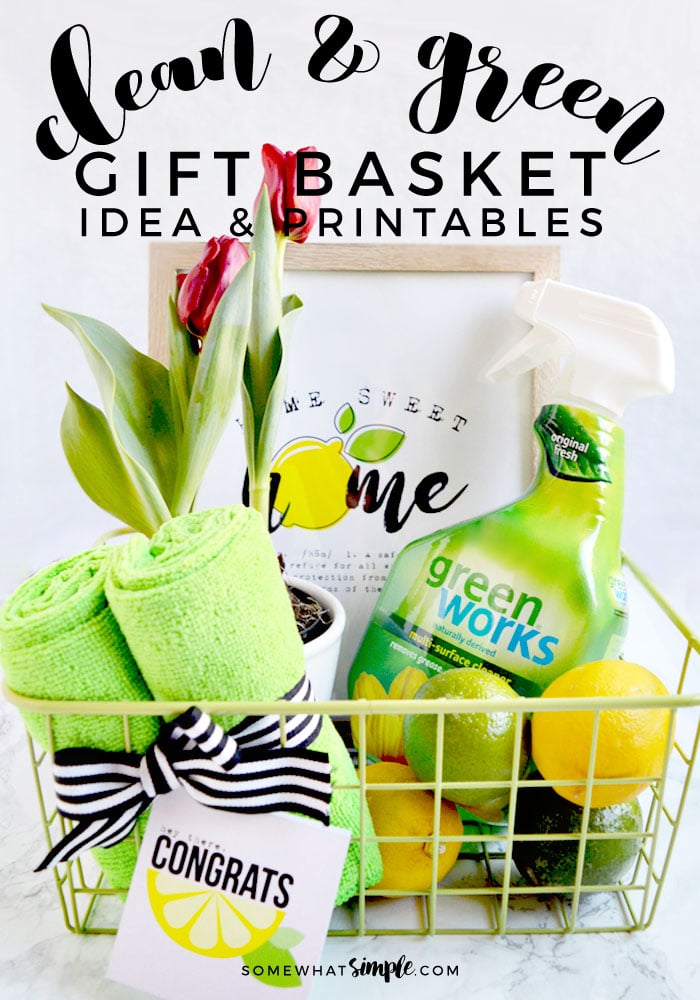 Know someone who just moved into a new house? Have a bridal shower coming up? Our Clean and Green Gift Basket Idea would make the perfect gift!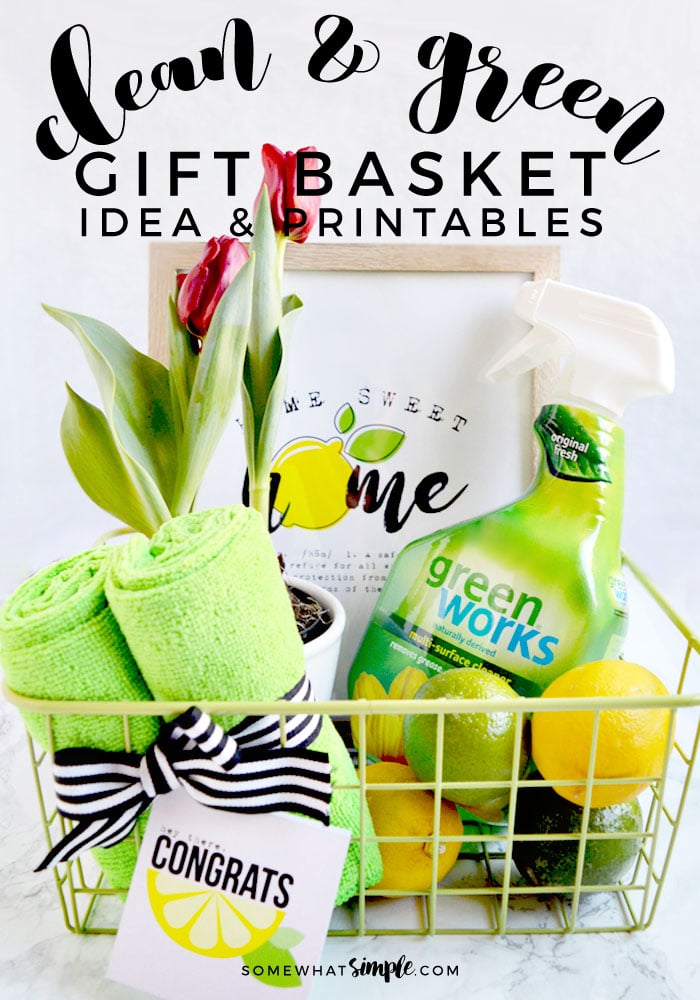 I love me a clever gift. Something that's versatile. Something that can fit any budget.
You guys. I'm pretty sure this idea just made my life easier. And I don't mind being known as the lady who always gives the natural cleaning gifts and darling Home Sweet Home print to everyone. I'm so ok with that. Wanna join me?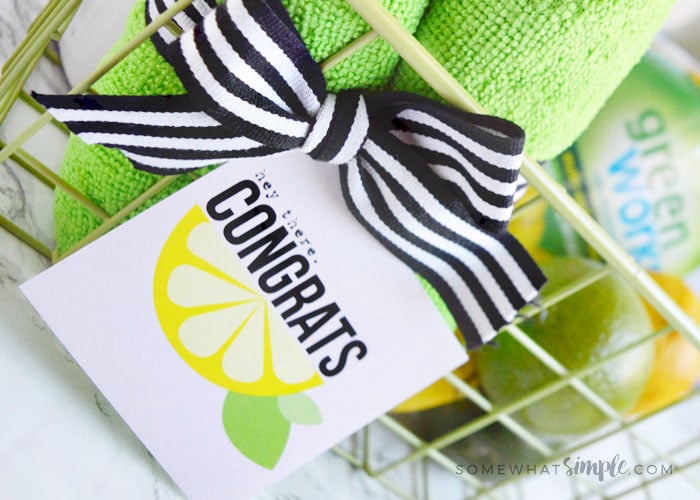 Clean and Green Gift Basket Idea
You can go as elaborate or simple as you like. Grab a bunch of green or all natural items and a basket, and you're set! But if the creative juices aren't flowing, here's how I made mine:
supplies –
Basket
Any type of plant (I love bulbs, but herbs would be beautiful, too!)
Green microfiber cloths
Lemons + limes
Green Works® Multi-Surface Cleaner (available at Target)
Ribbon
8.5 x 11 picture frame
Home Sweet Home print (download below)
Congrats gift card (download below)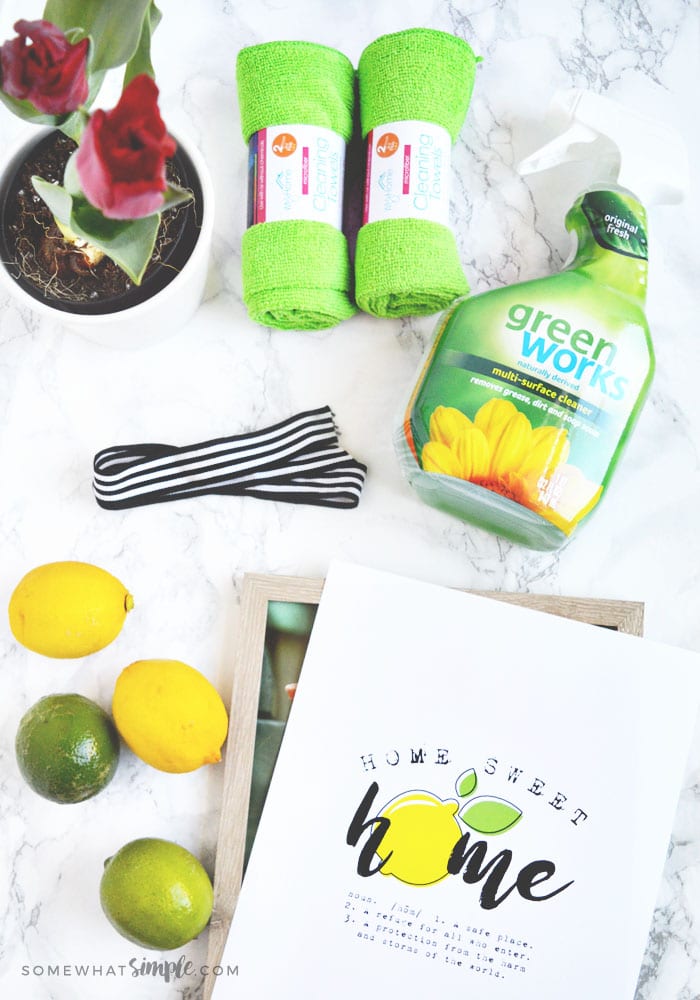 Place all your items in the basket, write out a sentence or two in the card, and attach with ribbon! I took off the unsightly wrapper from the microfiber cloths, and tied them together with super cute black + white ribbon. Just to up the cute factor. As one does.

Inspiration for this post
Let's talk cleaners. If you're a mom, teacher, pet owner, etc. I'm sure you've thought once or twice about the importance of non-toxic cleaning supplies. I don't know any child that hasn't eaten something off the floor, or dog that hasn't licked up a spill, or desks that have never had germs.
Which is why I love Green Works products! They are 95-99% naturally derived, meaning that all those active cleaning ingredients in these products are derived from mother nature: plant-based cleaning agents, essential oils, etc. so they're completely safe for your home, family, and work place! No worrying over here when it comes time for me to wash the toys, or if my niece eats something that dropped on the floor, or when the dog licks up those milk drips.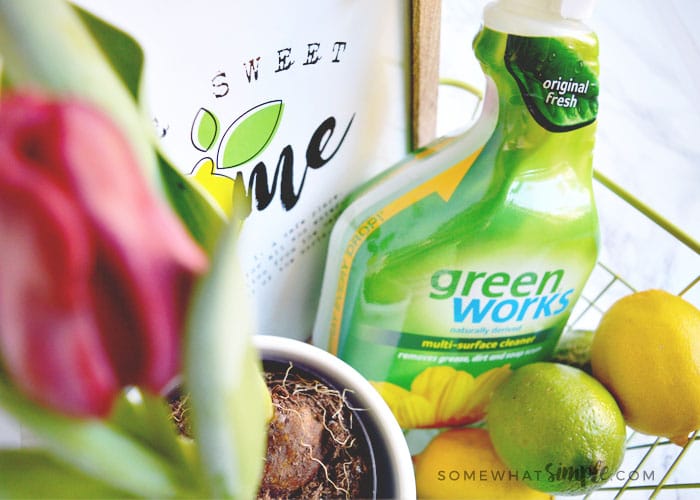 It's this natural, plant-based idea that led me to create this gift basket. What a great way to start the next chapter in life than with a non-toxic, "clean" slate. I love this powerful, natural cleaner and thought why shouldn't I share the love? And the bright colors of the bottle just added to the inspiration! The fact that Green Works is safe for everyone ties perfectly into our Home Sweet Home Print: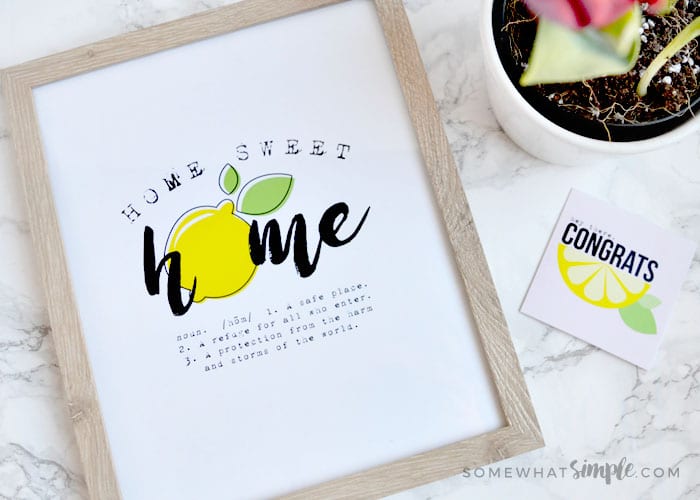 I wanted to create a dictionary definition from a Sally Clarkson quote that I just adore: "Home is to be a safe place, a refuge for all who enter, a protection from the harm and storms of the world."
Isn't that beautiful?
(includes the Home Sweet Home Print and gift tags)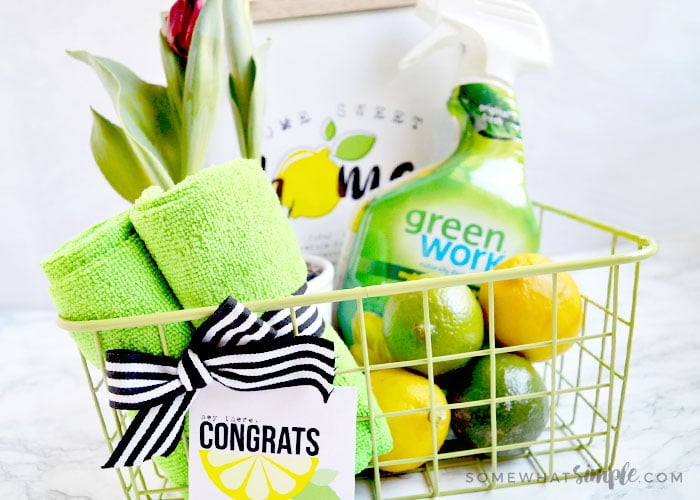 And let me tell you one more thing that I adore about this multi-surface cleaner. The smart tube technology. I'm serious. Go grab a bottle and take a look for yourself. Genius. Nothing irritates me more that not being able to spray that last bit of cleaner without holding the bottle in a completely ridiculous angle, hoping your calculations are right so the cleaner will land somewhat close to what you're trying to clean. So you're going to want to share that life-changing love as well. 😉
Happy Clean and Green gift-giving!
This is a sponsored post written by me on behalf of Green Works. All opinions are 100% mine.