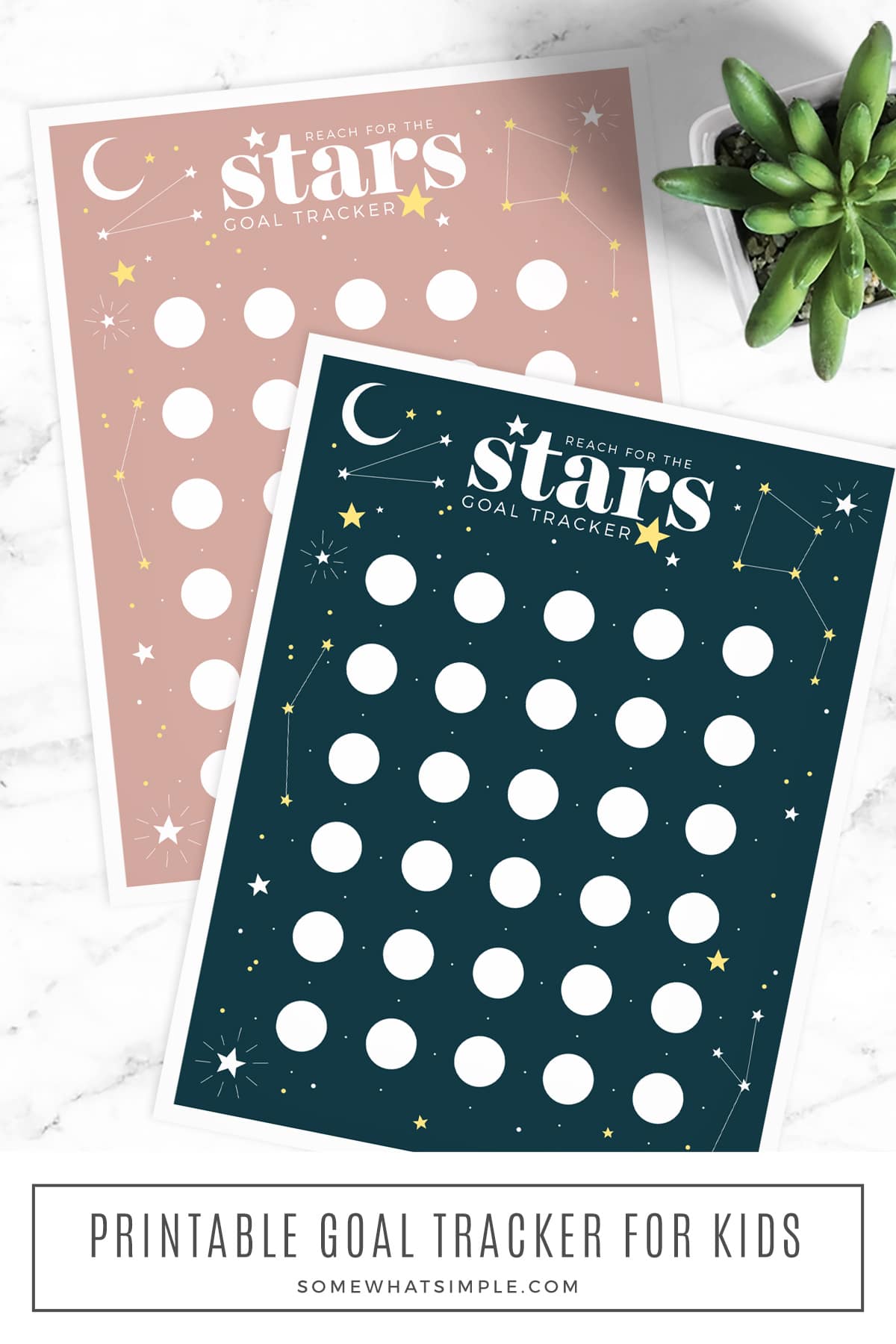 Looking to create some new habits with your kids? This printable goal chart is a great way to set goals and it helps make tracking progress fun!
Here are a few more goal-setting ideas you might enjoy: Printable Goal Journal, Family Goal Charts, and Bedtime Goal Chart for Kids.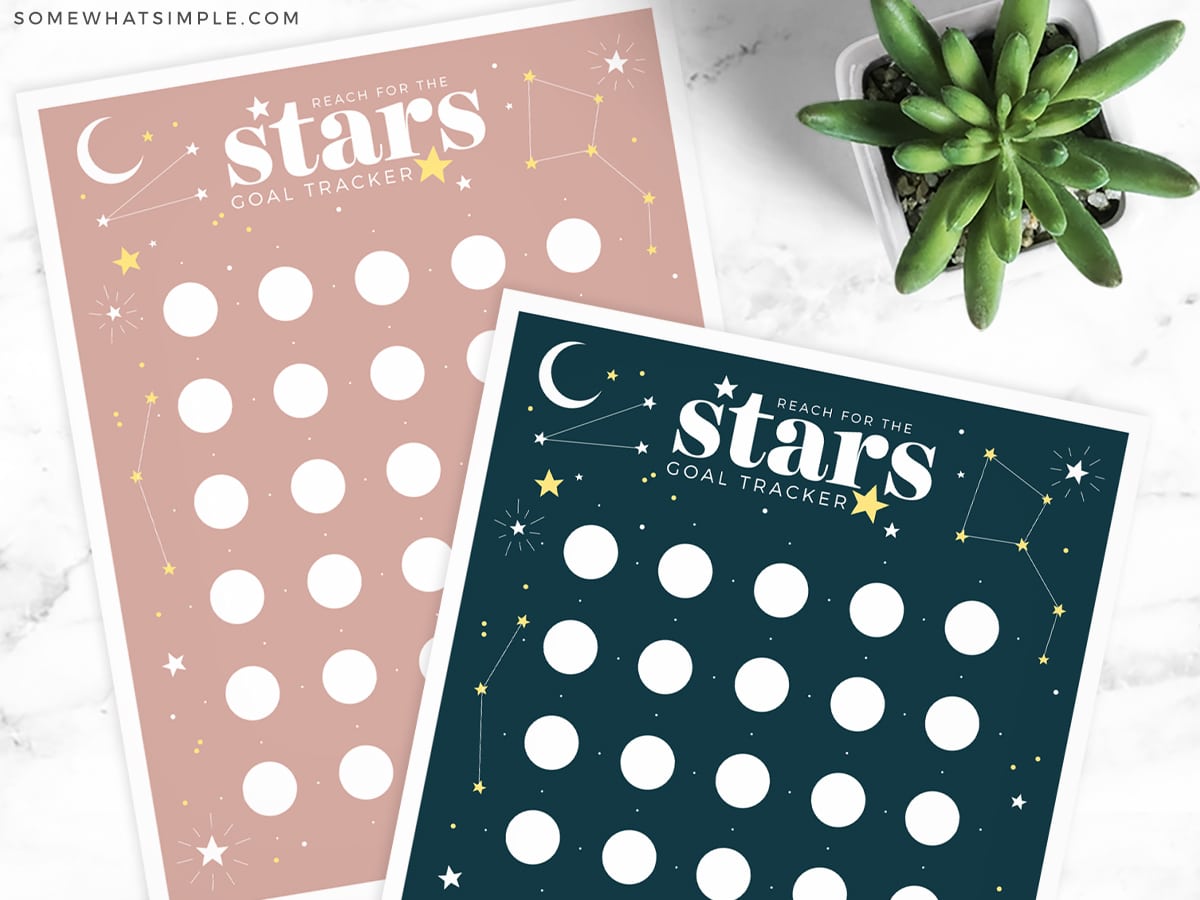 Setting Goals with Kids
I've found that things are a lot more enjoyable around our home if we have some goals in place. Our goals can be simple tasks – like picking up our living spaces at the end of the day, getting all their homework done, etc. – or they can also be bigger life skills – like getting dressed on your own, potty training, or helping to plan and make dinner.
When we start working on forming a new habit or accomplishing a big goal we do three things:
Establish understanding through the positives. We highlight why we do certain things and what the positive outcomes are that come with each task – ie. "We have more time to play" or "We can more easily find what we're looking for".
Allow the child to help choose the reward. Sometimes my kids will choose a special treat or new clothes, sometimes they'll choose an experience or outing, or a pass to get out of doing their least favorite chores. Goals that we complete as a family get rewarded with something we can do together, such as day trips or fun evening activities.
Track their progress. Without a visual form for tracking progress, achieving goals is hard for kids. They do better when they can see improvement, and it's fun to recognize them for their efforts. We hang our goal charts in the kitchen so it doesn't get forgotten, and we often talk about how things are going during our mealtimes.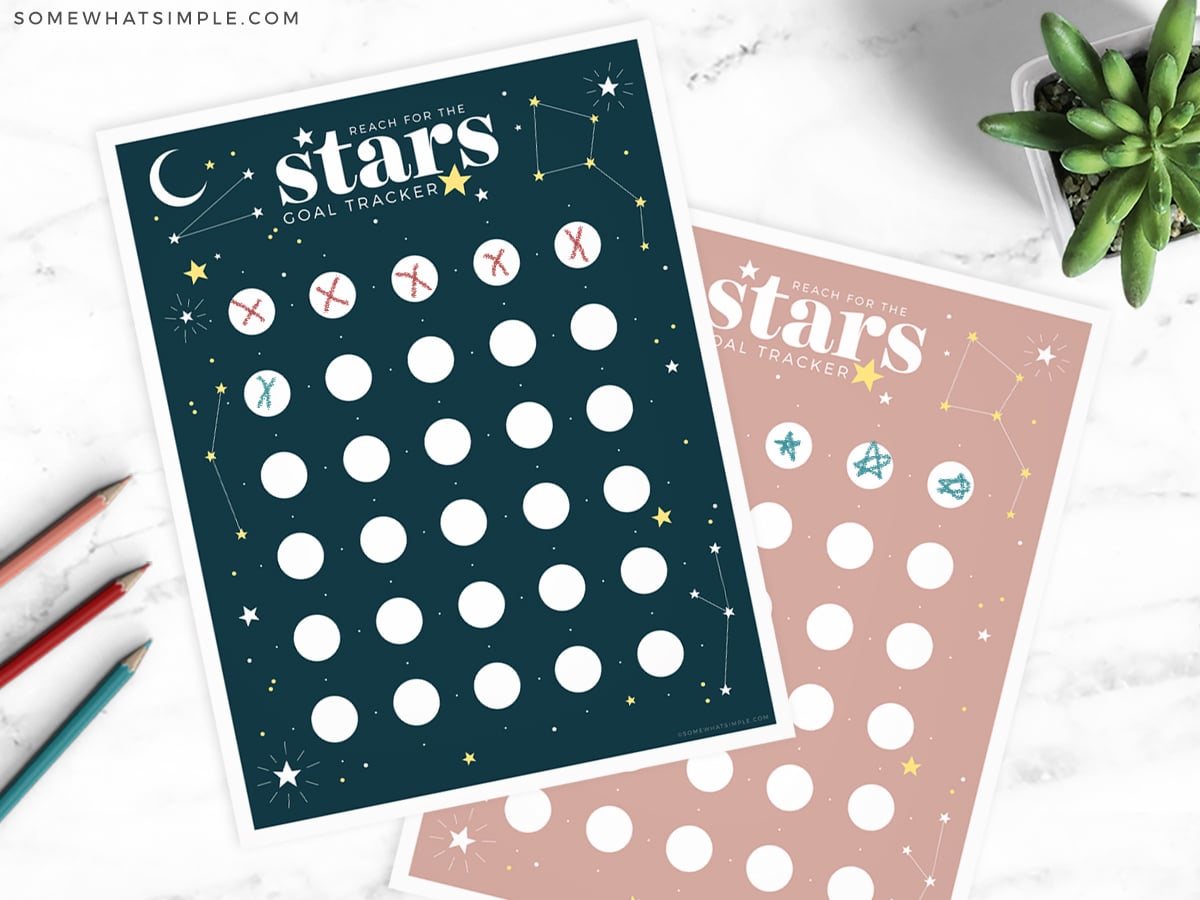 Goal Tracker Charts
These Goal Tracker Reward Charts are a simplified visual approach to goal setting. I've been using them for my younger children AND older children for several months now! Yes, even my teens are setting their own goals and using this goal sheet… and it's working great! Here's how to use them –
SUPPLIES –
goal tracker incentive chart (download below)
stickers or pencil
laminator & dry or wet erase marker (optional)
INSTRUCTIONS –
Download and print the goal tracker reward chart files. I prefer to print them on cardstock and laminate them so they last longer and I can reuse them.
Spend time together setting specific goals and planning motivators/ incentives for completing those goals.
Hang the goal worksheets in a high-traffic area in your home so they're not forgotten.
Each time a task is done, add a sticker or mark it off with a pencil or marker.
Ideas for Setting Goals
Physical Goals –
exercise 3x's a week
practice (soccer, piano, tennis, etc.) 5x's a week
learn a new skill
Spiritual Goals –
say your prayers everyday
do a random act of kindness each week
Intellectual Goals-
finish all your homework
read 20 books during summer break
raise your grades to all A's and B's
Good luck setting (and achieving!) some awesome goals!!!