Looking to create some new habits with your kiddos? This goal tracker chart is a great project to kick off your goals and helps make tracking their progress fun.
I've found that things are a lot more enjoyable around our home if we have some goals in place. They often are simple things like picking up our living spaces at the end of the day, or they can also be life skills, such as getting dressed on your own or helping to plan and make dinner.
But without a visual form for tracking progress, achieving goals is hard for the kids. They do better when they can see improvement, and it's fun to recognize them for their efforts. These Goal Tracker Reward Charts are a simplified and visual approach to goal setting that I use with my kids. Now, when we start work on forming a new habit or accomplishing a big goal we do three things:
First, establish understanding through the positives. We focus on why we do certain things, and the positive outcomes that comes with each task – "we have more time to play" or "we can find what we're looking for".
Then, allow our child to help choose the reward. Sometimes it's a special treat or favorite food, but more often it's experiences, new clothes or a break from doing their least favorite chore. Any goal we complete as a family means we get to do something together as a family and usually involves more time. Hikes in the mountains or a trip to the museum are some of our favorites.
Finally, make it exciting by creating a fun way to track their progress with a goal tracker chart. We hang ours in a central spot in our home so it's top of mind, and we often talk about how things are going during our meal times.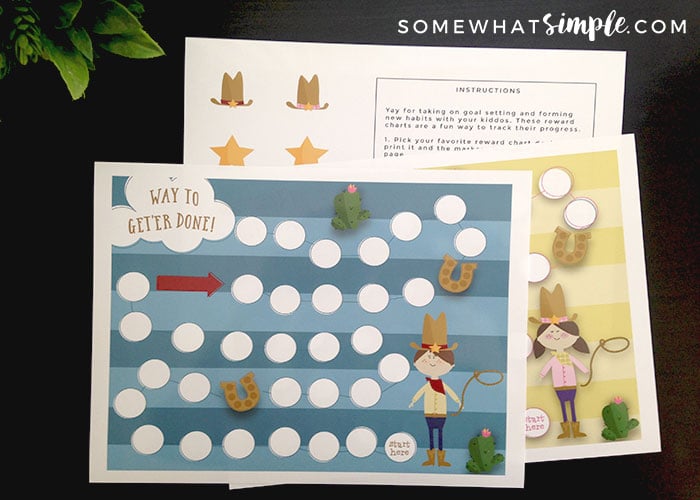 Goal Tracker Charts
SUPPLIES –
DIRECTIONS –
Download and print the goal tracker reward chart files and instructions on a color printer.
Tip: Print the charts on photo paper to really make the colors pop. If you're printing on plain cardstock, the colors might seem a little dull, but they brighten back up when laminated. You can use the marker pieces to track your progress or simply draw a star or initial each space with a wet erase marker.
Trim white edges and cut out marker piece.
Laminate chart and marker piece; trim.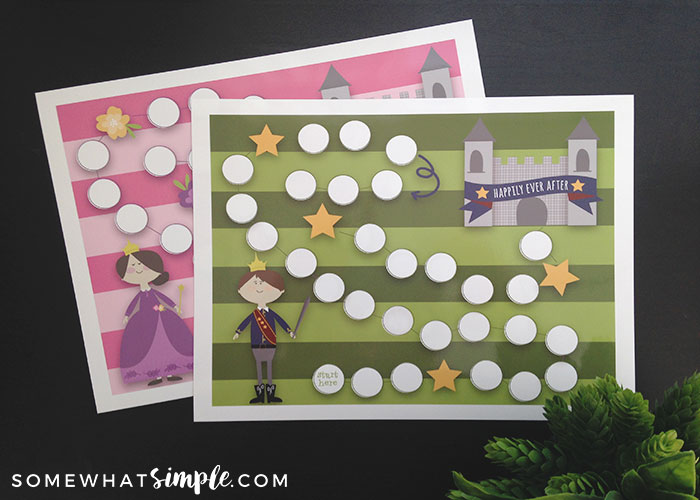 Good luck setting (and achieving!) some awesome goals!!!
. . . . .
Here are a few more goal setting ideas you might enjoy: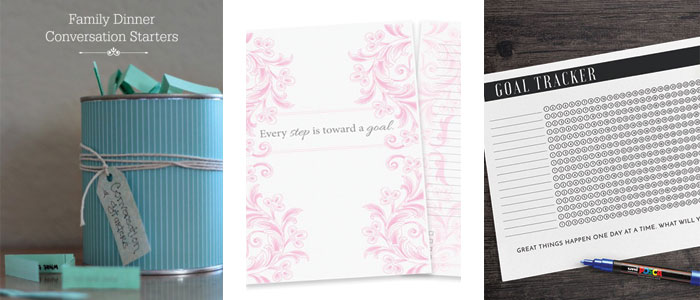 Family Dinner Conversation Starters //Printable Goal Journal // Goal & Habit Tracker Printable