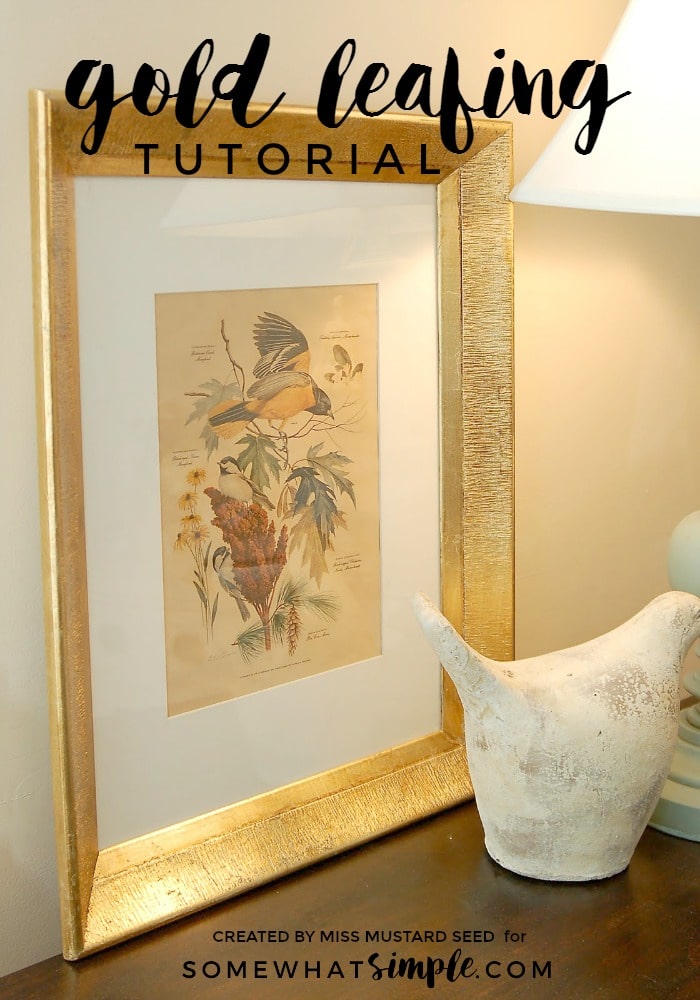 Gold leafing is such an easy treatment that has fantastic effects on your home decor project!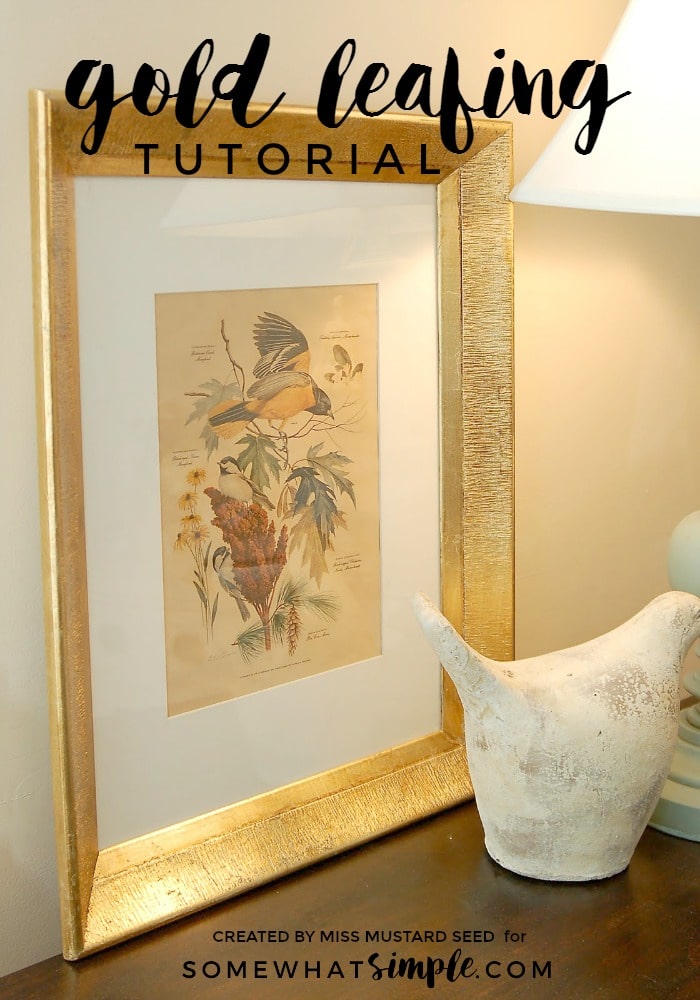 I've done quite a few home decor projects, but one idea that I don't see a lot of information on is gold leafing. Today I'll show you exactly how to get this look in a super simple way. I'm going to give a much-needed face lift to a frame I bought for a quarter at an estate sale. The frame is not my style at all, but it has an interesting texture that seemed like a great candidate for gold leafing. Keep in mind you can leaf almost anything, and in addition to gold, there's copper and silver, so you use any kind of leaf that suits your project!
Gold Leafing Tutorial
SUPPLIES –
I will link all of the supplies I used to Amazon so you can see what they look like, but you can get all of these supplies at Michael's and Hobby Lobby too.
a frame or other object, cleaned and completely dry
Minwax Dark Walnut Stain + soft cloth, optional
NOTES –
What's underneath the leafing may peak through, so make sure it's a color that you don't mind seeing.
Imitation gold leaf is available at most craft stores for about $9.00 for 25 sheets. You can also purchase silver and copper leaf. One package is easily enough to cover at least 2 large frames.
The frame I am working on is about 3 inches wide, but if I was working on a narrower frame, I would cut the gold leaf sheets in half while they were still in the book. That would greatly reduce any waste.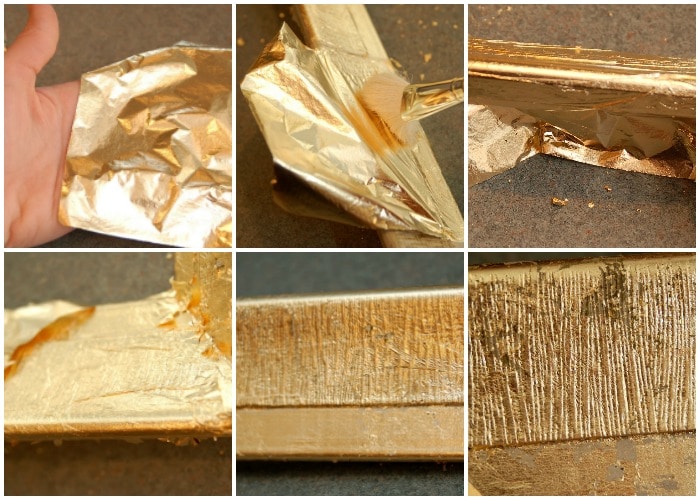 DIRECTIONS –
Brush a metal leaf adhesive onto your surface. And allow it to dry for 30-60 minutes or until it's clear and tacky.
There are all sorts of methods out there for getting your gold leaf out of the book and onto your surface. You can use the static cling on your brush to pull the sheet off and lots of other things. I just slip it off onto my hand and gently transfer it to the frame. I feel like I have more control over it this way.
Once the gold leaf is on your surface, take your brush and light smooth the sheet down. You're going to have all kinds of little wrinkles and if you're working on a textured surface, you'll have a lot of cracks in the leaf. This is normal and you're not doing anything wrong. If you're working on a flat surface, this won't be as much of a problem. (Leafing always looks like a mess when you first put it on.)
Once the surface is fully covered, gently rub your brush over the leaf, removing all of the pieces that are not glued down. I like to pull off larger "scraps" and stick them onto bare spots. (At this point, your work area will look like Tinker Bell exploded all over the place. Leafing is very messy, so have a vacuum at the ready.)
You might notice some spots where the leaf didn't stick. I'm not worried about these, since I'm going to antique this frame, but if you want your surface to be perfect, brush more adhesive on the bare spots and repeat the process.
Once the gold leaf was fully dry, I brushed on some Minwax stain and wiped it off with a soft cloth. This calms down the "brassiness" of the gold leaf and makes it look softer and older.
…and you're done!!!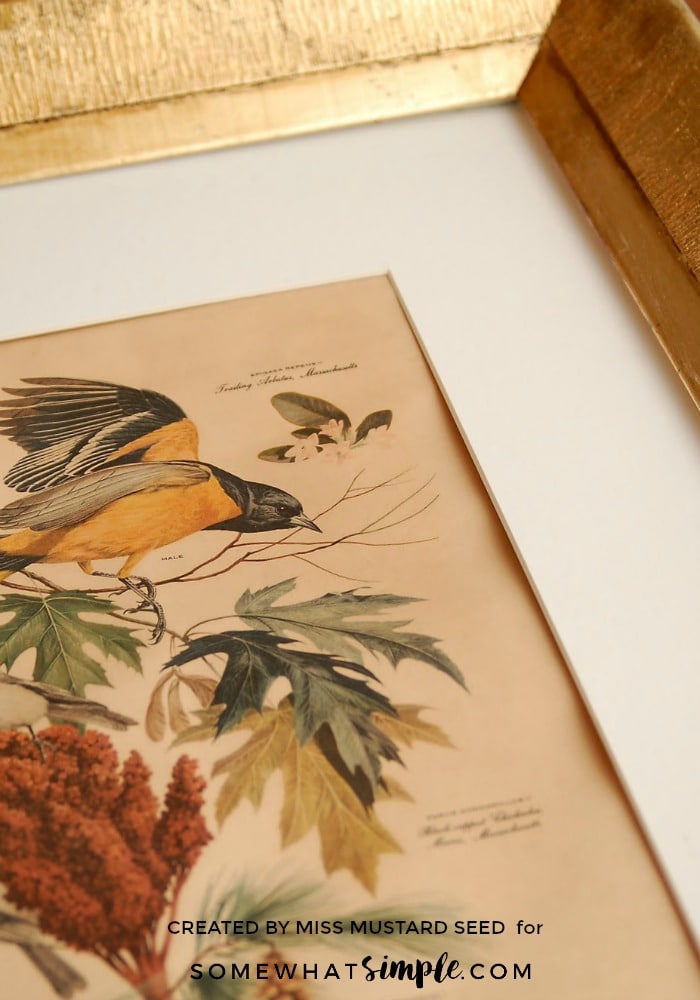 Fun, right?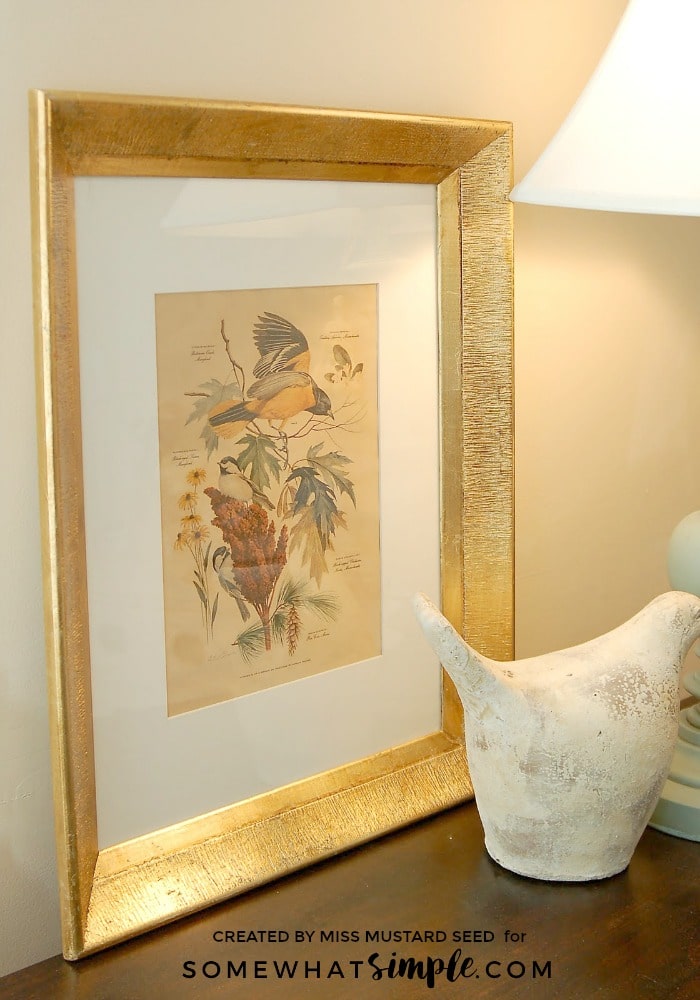 . . . . .
ABOUT THE AUTHOR: Hi! I'm Marian, aka Miss Mustard Seed, a wife, mother, lover of all things home and an accidental entrepreneur, author, freelance writer & photographer. READ MORE to learn more about me, my blog and my business.
This guest post first published on Somewhat Simple in May 2010.