Tips for working with brands – How to get noticed, the good, the bad, and how to navigate it all with professionalism.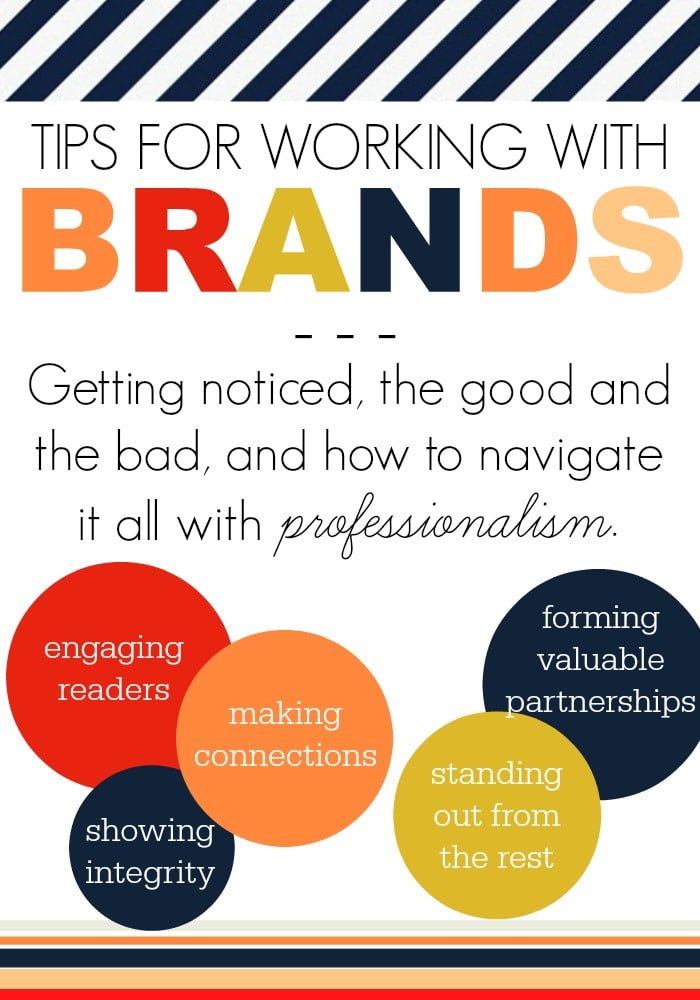 Once you decide to turn your blog from a business to a hobby, it's essential to learn how to make connections with brands. Today we're going to share some tips on forming and cultivating valuable brand partnerships.
Tips for Bloggers Working with Brands
(If you're a brand looking to work with Bloggers, you might find THIS post helpful.) 
1. Build an Engaged Audience
This is the very first step because it is definitely the most important. Brands want to work with bloggers who have an audience – duh! That doesn't mean you have to have a large readership. In fact, a lot of content campaigns we work on typically have a variety of blogs with audiences both big and small.
The key is to get your audience to be as engaged as possible. How often do they comment on, like, or share your content? Do they trust you enough to purchase items or services you recommend?
The best way we have found to build engagement is to be yourself. There are plenty of people who can create the content that you create and publish it online, but the personality of the blog author is what will make readers come back and engage with you. Readers want to know the person behind the blog, and the more connected they feel with you, the more likely they are to be engaged.
… and this brings me right to my next tip: 
2. Standing Out From The Rest
There is one thing that will make your blog different than any other blog in your niche – your personality.
Standing out in a crowd can be an overwhelming task, but the easiest way to do this is to create a blog that fits your style. If a brand likes your blog, they must like your style, which means they must like you too! Trying to be someone you're not or writing about something you don't have a genuine passion for will not only burn you out, it will also attract brands who you might not enjoy working with.
3. Making Connections
As nice as it is to have a brand stumble on your site and ask you to partner with them, you can (and you must) take an active role in getting noticed. Whatever you can do to get in front of them is a good thing…how else will they know how awesome you are? Here are some ways on how to do this:
Sign up for TapInfluence. If you're not a TapInfluence Influencer, you are missing out! Nearly 50% of all the sponsored posts we write on SomewhatSimple come from TapInfluence. Sign up, fill out your profile, and brands will connect with you if they think you'll be a good fit for their campaign. It really doesn't get any easier than that!
Use Social Media. Anytime you make or do something using the product of a particular brand, tag them on social media and let them know. Add your link, post it, and someone there will see it. They may retweet it, pin it, or share it to their Facebook page. And even if they don't take action right away, doing this often enough will ensure someone at the company will eventually notice you – and that could lead to a partnership opportunity.
Send an Email. Take a look at the company's website and look for a PR, media or marketing contact. Send an email and introduce yourself and your blog and then ask them if they would be interested in working with you on a specific blog promotion. My husband and I do this with brands we love who have products or services that we plan to use in the near future. The worst they can say is "no", right?  So send that email and keep your fingers crossed!
4. Forming Valuable Partnerships.
When you're first starting to form professional partnerships, it's okay to try and connect with as many brands as possible.  That way, you'll see who responds, who's good to work with, and who's a good fit for your blog.  But eventually, you need to make sure you have a plan.  What I mean is this; you can't work closely with both Home Depot and Lowes. (Know what I mean?) 
If one day you swear by Silhouette and the next day you're using a Cricut, your influence loses value and you become less of an asset to both companies.
I recently had a large company contact me with an invitation to join a sponsored-post campaign. While this company was the manufacturer of several products that I love, they have one product that directly competes with another brand that I prefer. One mention on social media about this new company could raise a question for anyone who knows of my brand loyalty. Would my readers think I was selling out? Would the preferred brand ever reach out or take me seriously if I asked to work with them?
I responded to this company by telling them that while I was willing to try out some of their other products, they needed to know about my preference to their competitor's product, and that I could not, in good conscience, promote that part of their product line. Turns out, they wanted me to promote a totally different product and we were able to form a mutually beneficial partnership. As a result, the new company now knows that I will be loyal and honest with them too!
It doesn't always happen this way, but even if the campaign doesn't work out, rest assured you are better off with the trust of your readers and loyalty to the brands you love. Integrity takes a lifetime to build, but can fall to pieces with one bad decision. Think carefully about the way you're interacting with brands and remember that you're responsible for what you do and say.
5. The Ugly
Now that you have some ideas on how to connect with brands, let's chat about the hard aspects of brand partnerships.
Compensation. 
There is a lot of discussion about how much you should charge for sponsored posts, but there is no equation or set price that puts a monetary value on your work. Here are some things to consider –
Talk with other bloggers in your niche and get an idea of what they are charging so you can set competitive rates.
When you set your rate on the TapInfluence platform, be prepared to raise or lower your rates based on the demand.
When an advertiser contacts you, ask them their budget before you tell them your rates. You might be surprised at how much the brand is willing to pay you.
If you really have no idea how much you should be charging, consider this: If you are getting 100k pageviews each month, you should not ask for less than $100 per post. If you get 15k pageviews a month, do not ask for less than $15. One million pageviews = $1,000. Keep in mind this is the LOWEST rate you should ask for- you could get for 2-3 times this rate.
Read the Contract. 
I'm horrible at this, but I am learning that there are things that I need to definitely watch for. Here are just a few-
The scope of work.

They might have only asked for 1 blog post in the initial email, but the contract says 1 blog post and 18 social shares. (Kind of extreme!)

Brand exclusivity.

Are they asking you not to write for any of their competitors for a certain period of time? If so, you should get paid more. And make sure you are aware of how long you are to be exclusive. You don't want to sign on with a competitor too soon.

Payment terms.

When are they planning to pay you? Are they expecting you to send them an invoice? I've waited months for payment from several companies who were simply waiting on me to invoice them. (oops!)

Reasonable payment time.

One piece of a contract that I recently overlooked called for a summer recipe and a winter recipe, but both payments would be sent out the following spring. (WHAT?!?!?) So nearly a year after we first discussed this partnership is when I can expect to get payment. HUGE oversight on my part!

Ownership of Content.

I don't like when a brand says in the contract that they own whatever content I produce. This allows them to repost that same project or recipe where ever and whenever they feel like it. And they don't usually think about how duplicate content online can have a negative effect on both of our sites. I certainly don't mind them sharing the content on their social channels or including a snippet on their sites, but I try to remain the owner whenever possible so I can keep control. If the brand wants full ownership, I make sure I am compensated accordingly. And I make sure I don't get mad when they ask for it. 🙂

Pictures.

If a brand comes back to you after your post is published and they want hi-res copies of any pictures you produced, you can expect additional payment UNLESS it is written in the contract that they have the right to these images without further compensation. Even if they said they want to own your content (as mentioned above) – they own the blog images, not the hi-res files. Keep that in mind. 🙂
Keep A Record
I used to be horrible at tracking payments for sponsored posts. One day my husband (a CPA) intervened and decided I needed to start keeping a list. Quite often I have to check-up and remind companies I've worked with that their invoice is still outstanding. And sometimes it is a long process that takes several weeks or months before I see payment. So keep a list and stay on top of this… unless you're ok working for free. 🙂
. . . . .
Do you create and share content like this? Are you interested in working with brands on sponsored content opportunities? If you answered yes to either of these questions, join the TapInfluence marketplace and connect with hundreds of brands and agencies who power their influencer marketing campaigns through TapInfluence.
I hope these tips help you to get some awesome brand partnerships!
 Good luck!
This is a sponsored conversation written by me on behalf of TapInfluence. The opinions and text are all mine.