Make your out-of-town guests feel extra comfortable with this fun Welcome Basket filled with toiletries and treats!
Here are a few crowd-pleasing recipes we love making when we have company over – Breakfast Casserole, Crock Pot Chicken Tacos, and Bacon-Wrapped Hot Dogs.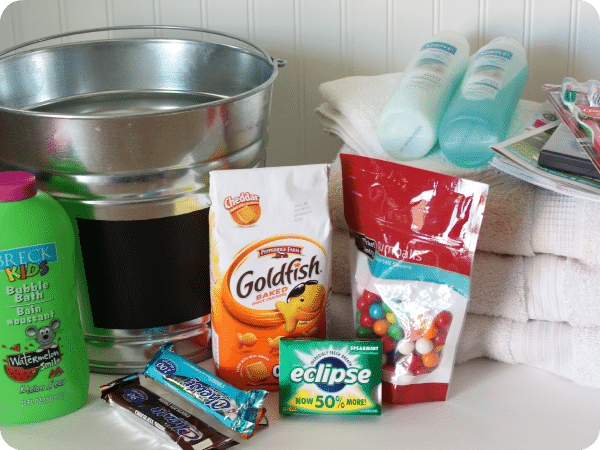 Creating a Welcome Basket is such an easy way to be prepared for any overnight guests that come your way. Even if the house isn't spotless or your pantry isn't stocked, a welcome basket is one way that you can show your guests they are welcome at any time.
Even if you don't have an official guest room (I don't either!) you can still do things to make visitors feel more at home.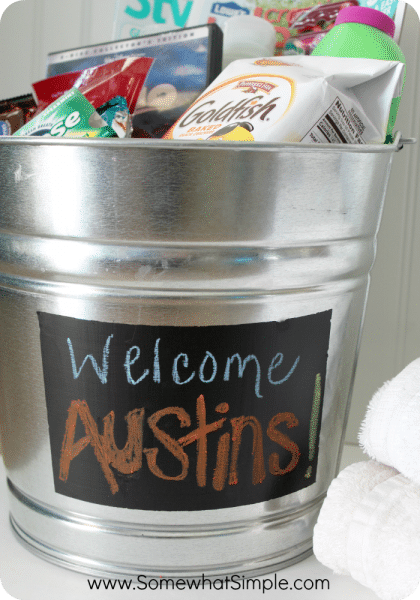 I like to keep a fully stocked welcome basket at all times. This way I can be ready in a moments notice and not worry about rounding up toiletries at the very last minute. I replenish the basket when my guests leave so it's ready for the next time. It doesn't take a lot of time and effort, but I think it really is special for our friends and family.
Items to Put in a Welcome Basket –
Fill your welcome bucket with some simple items that would come in handy just in case they forgot their own, as well as some fun stuff they'll love –
a small note with a welcome message + the WiFi password
shampoo + conditioner
body wash + washcloth or loofa
toothbrush + toothpaste
face-wipes/makeup remover
pain reliever packet (such as Tylenol)
snacks – granola bars, fruit snacks, goldfish crackers, favorite candies
water bottle
chewing gum
Other fun ideas to include –
magazines
fun for kids – small toys, DVDs, card games
a few stamped local postcards
small locally made gift ($10.00 or less) – a t-shirt, maple syrup, coffee mug, etc.
disposable camera
Arrange all the goodies in a basket and place it in your guest room. Such and easy and thoughtful way to greet them when they arrive!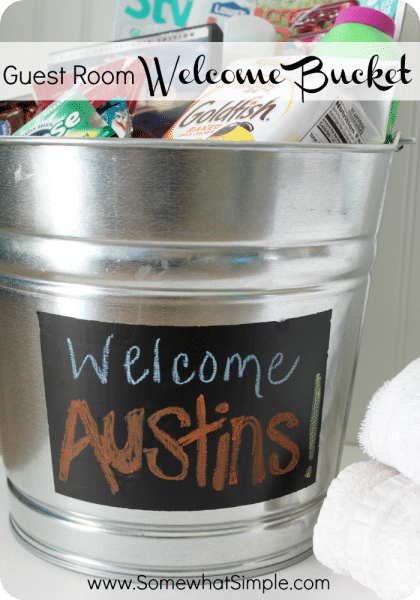 Do you have any special way to prepare for guests?
Have you ever a recipient of a welcome basket with some special items? I'd love to hear all about it!