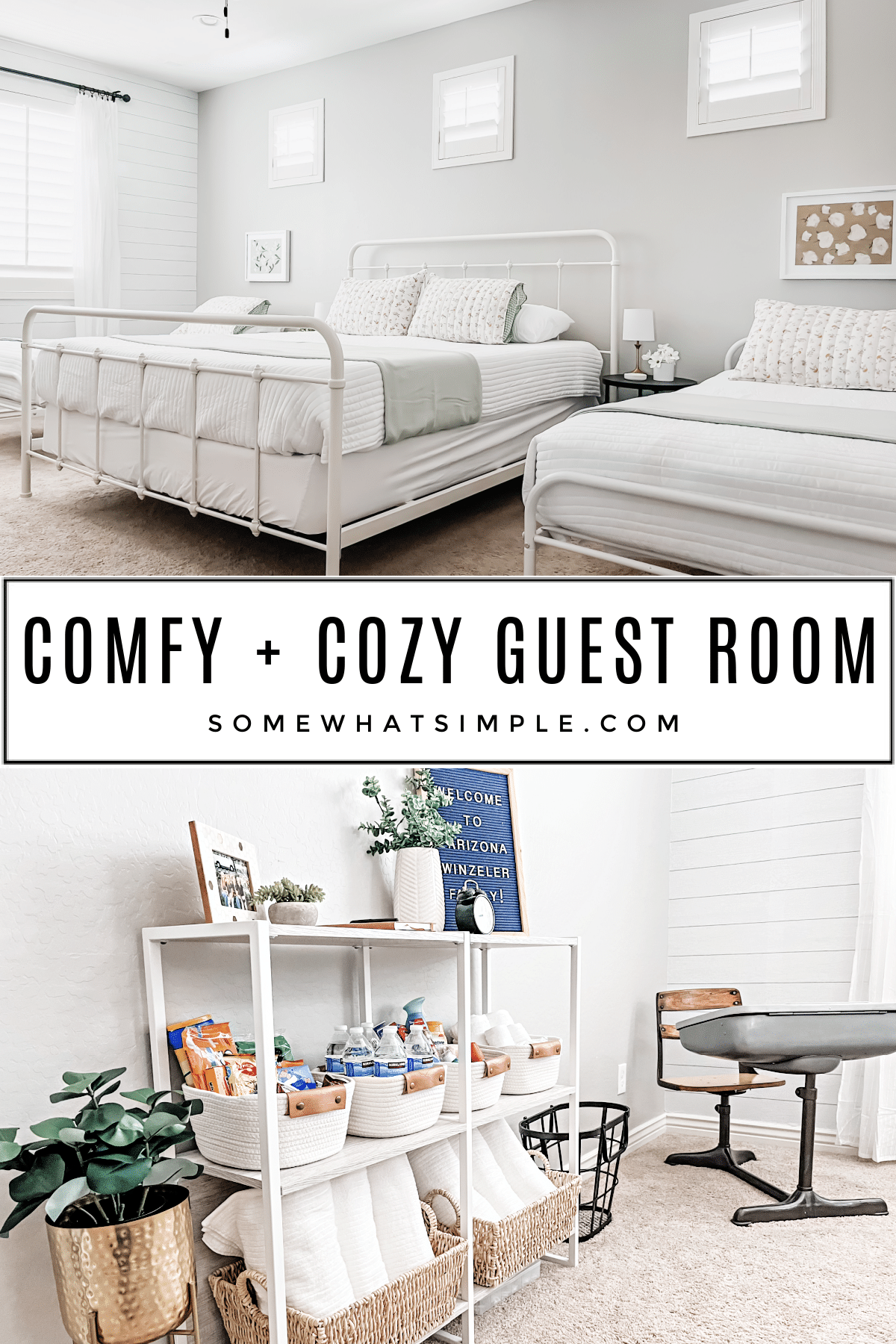 Designing a welcoming and restful guest room for friends and family doesn't have to cost a fortune! Help your guests relax and enjoy their visit without breaking the bank!
EXTRA TIP: Make your guests feel extra comfortable with a special guest welcome basket, filled with toiletries and treats!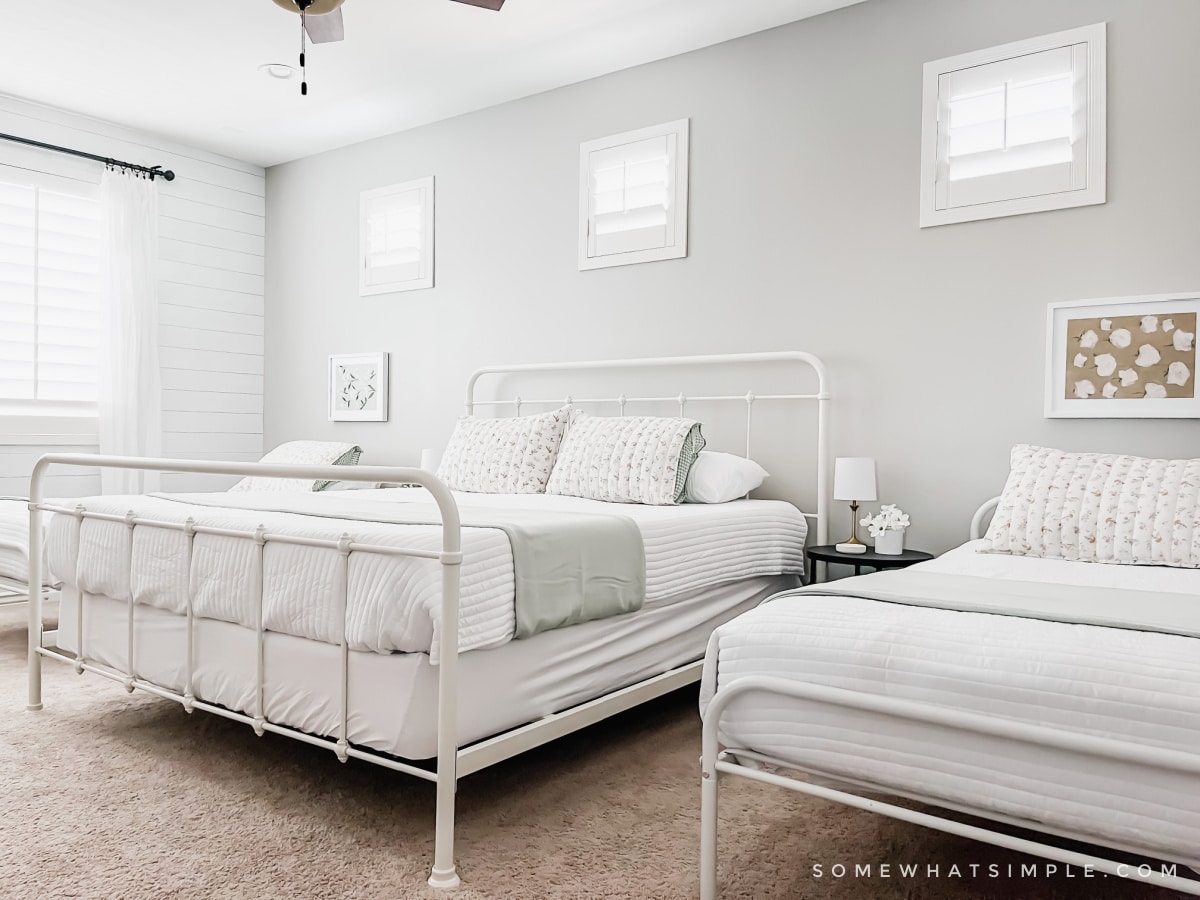 Since all of our kids are back in school full-time, it was time to take down our homeschool room and create a space for our out-of-town family + friends when they visit us in Arizona. Having a guest room for the first time since we bought this house is going to be amazing!
Take a look at our guest room –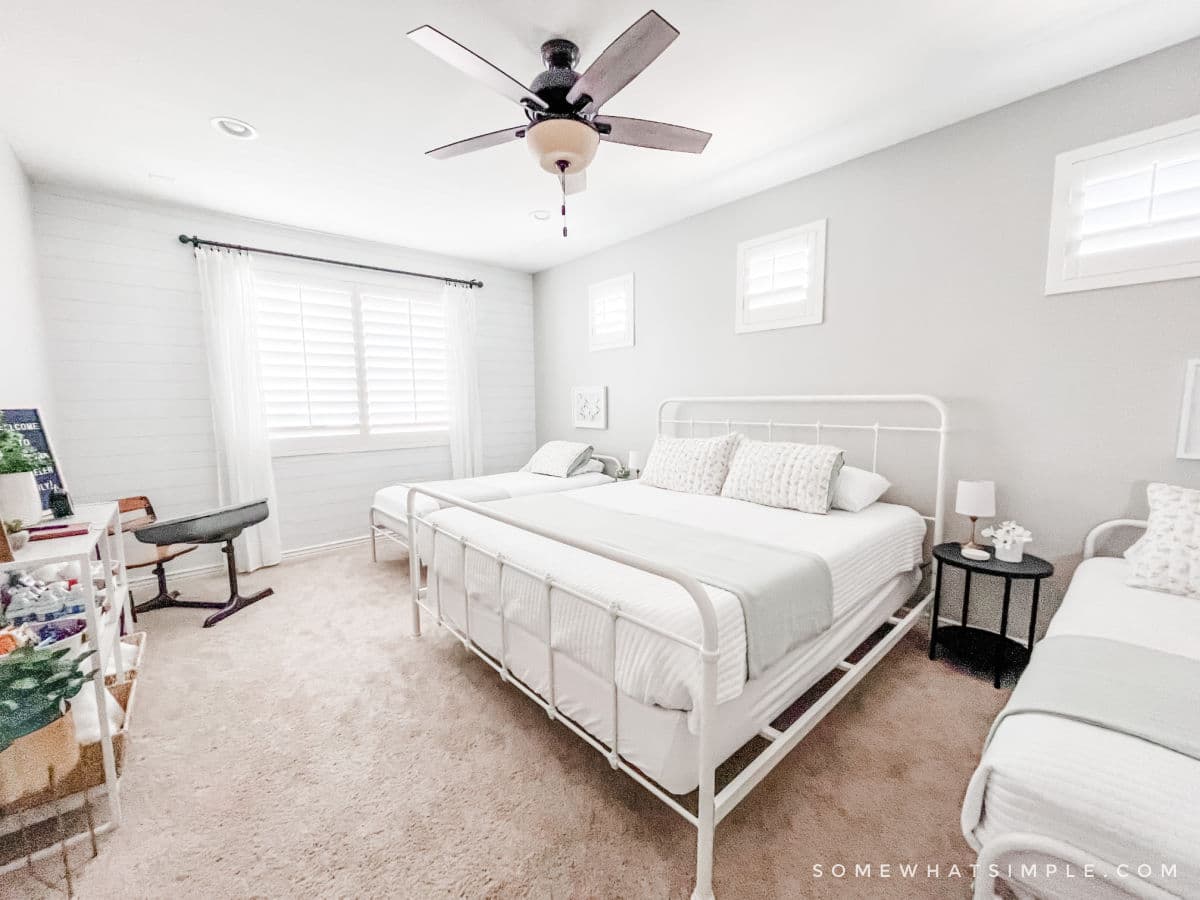 Guest Bedroom Decor
Links to all the products I used in the space are included at the end of this post. If you want to see the entire project from start to finish, I saved the process on an Instagram story highlight.
Since this room is pretty long, I decided to fill it with as many beds as I could! I added two twin beds on either side of a big king bed. The twin beds were less than $80 on Amazon, and the King bed was only $350 from Home Depot! (And they had other sizes, too!)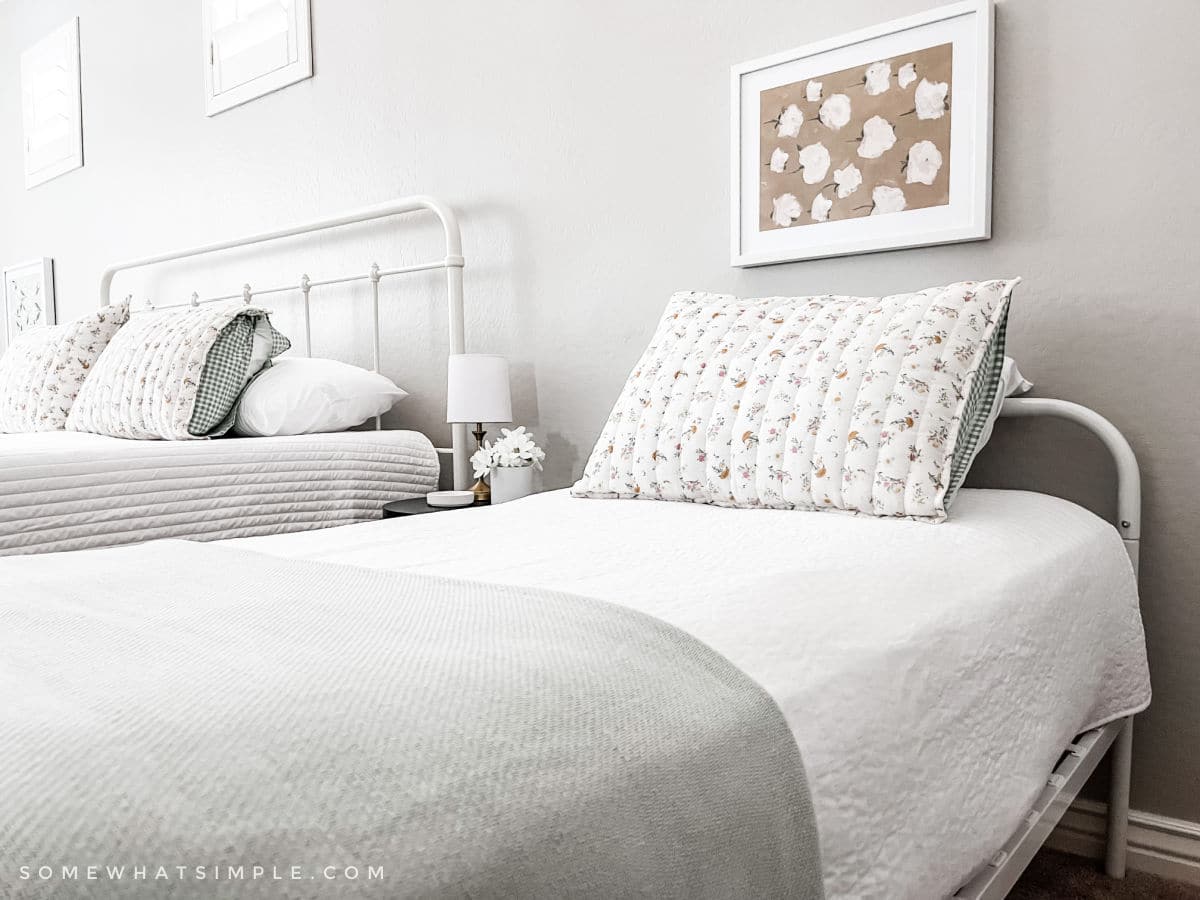 The perfect bedding.
I went really simple with the bedding – a crisp white quilt and white bed linens are always my favorite foundation!
It's always good to have extra blankets and extra pillows for your guests, so I added a floral pillow in a darling fabric, and a green blanket at the foot for color, texture, and comfort!
Rug vs. No Rug
I opted out of adding any rugs to the floors in this space, which is unusual for me as I love a good rug in a bedroom. I just felt like the 3 beds were enough of a statement, and I didn't want to overwhelm the space with a giant rug under all three beds, or 3 smaller rugs under each individual bed. In this instance, less is definitely more!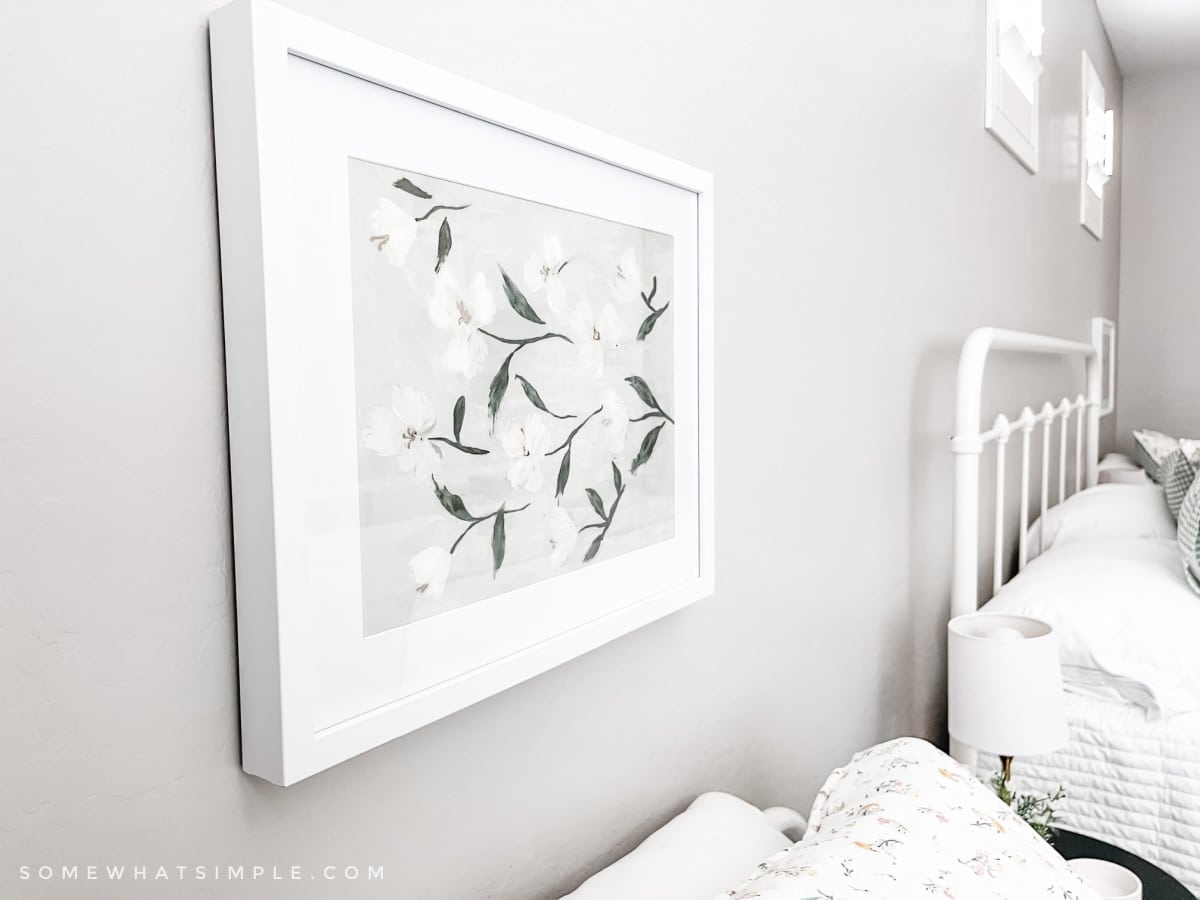 Art for the Walls
Above the twin headboards, I added some simple artwork in soft hues that compliments the bedding.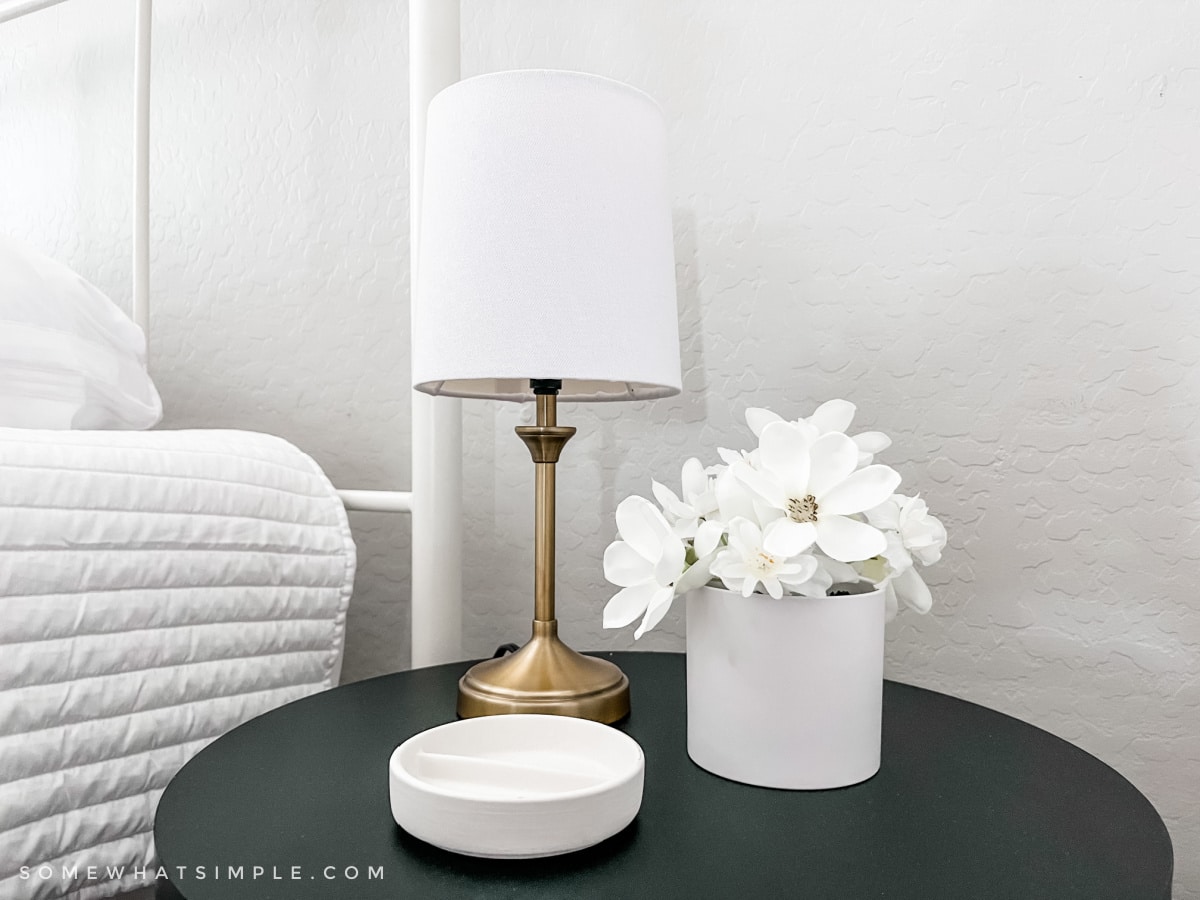 Nightstands
I purchased a small side table to go in between each of the beds. On top of each nightstand, I placed a small table lamp and a small tray for guests to use as storage for their jewelry or pocket change.
A vase of fresh flowers will be a nice touch when guests arrive, but for now, a small faux plant looks perfect!
I also put an extension cord next to the lamp so overnight guests can plug in their phone charger, too.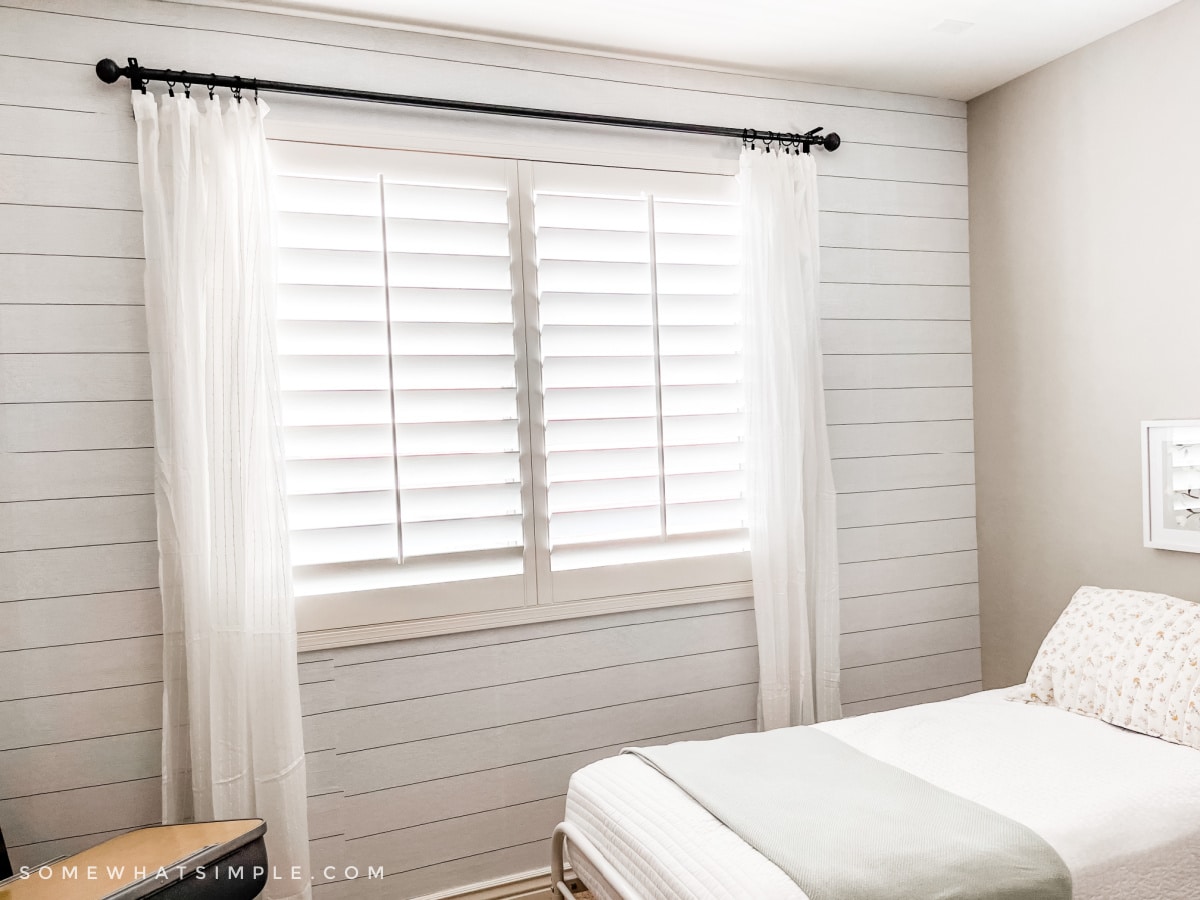 Window Treatment
Since we have shutters on the windows, I didn't need curtains that aided in privacy. Instead, I opted for white curtains that were fresh and flowy. I think curtains are a great way to draw your eyes up towards the ceilings and make the room not feel"bottom heavy".
I kept the shiplap wallpaper accent wall to add a little more dimension.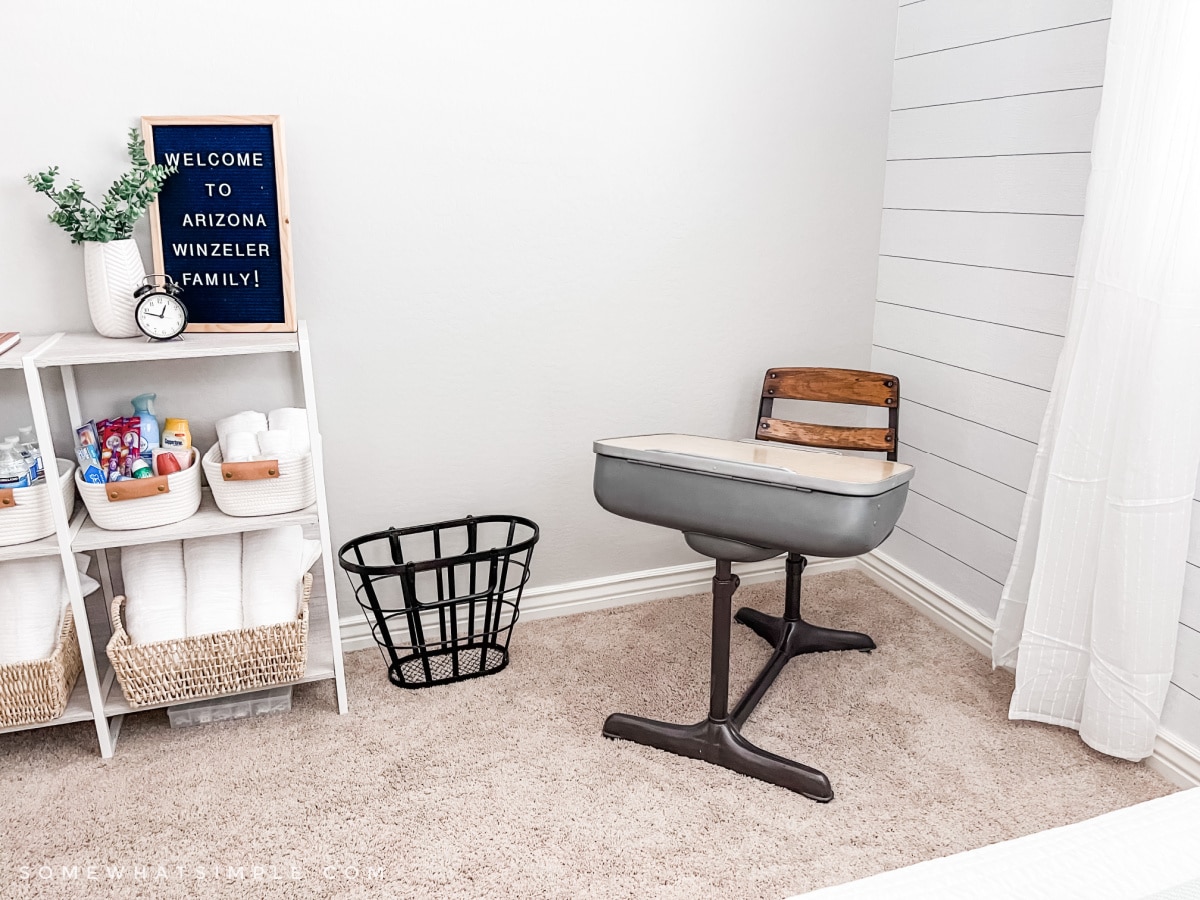 Vintage Desk
I had originally planned to put a tall floor lamp + armchair or a big standing mirror in the corner, but I couldn't bring myself to part with our old school desk, and I think it actually fits this space quite nicely!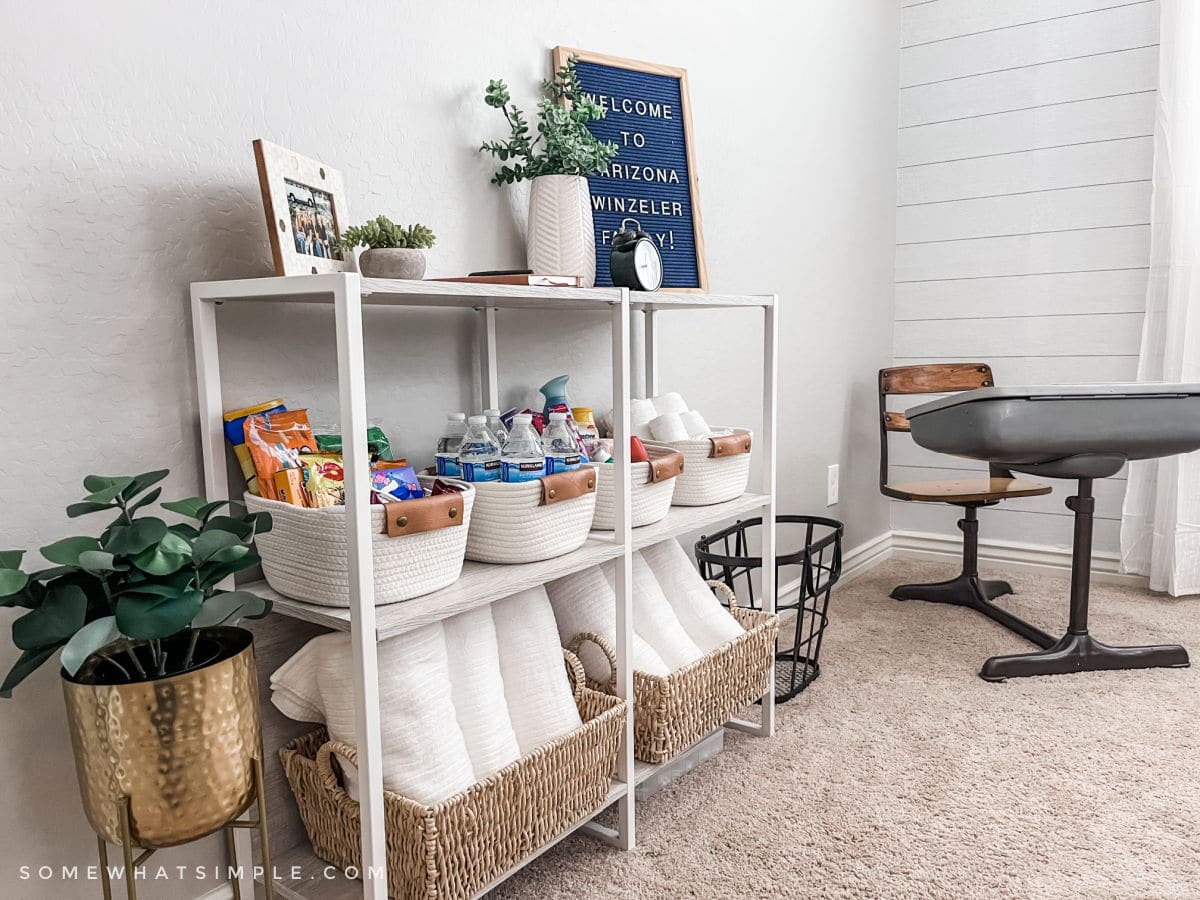 Guest Room Essentials
I didn't have enough room to include a full dresser or chest of drawers, so instead, I put a small shelving unit with some baskets on this empty wall with just enough space to put fresh towels, snacks, and travel essentials that might have been forgotten – toothbrush, toothpaste, sunscreen, etc.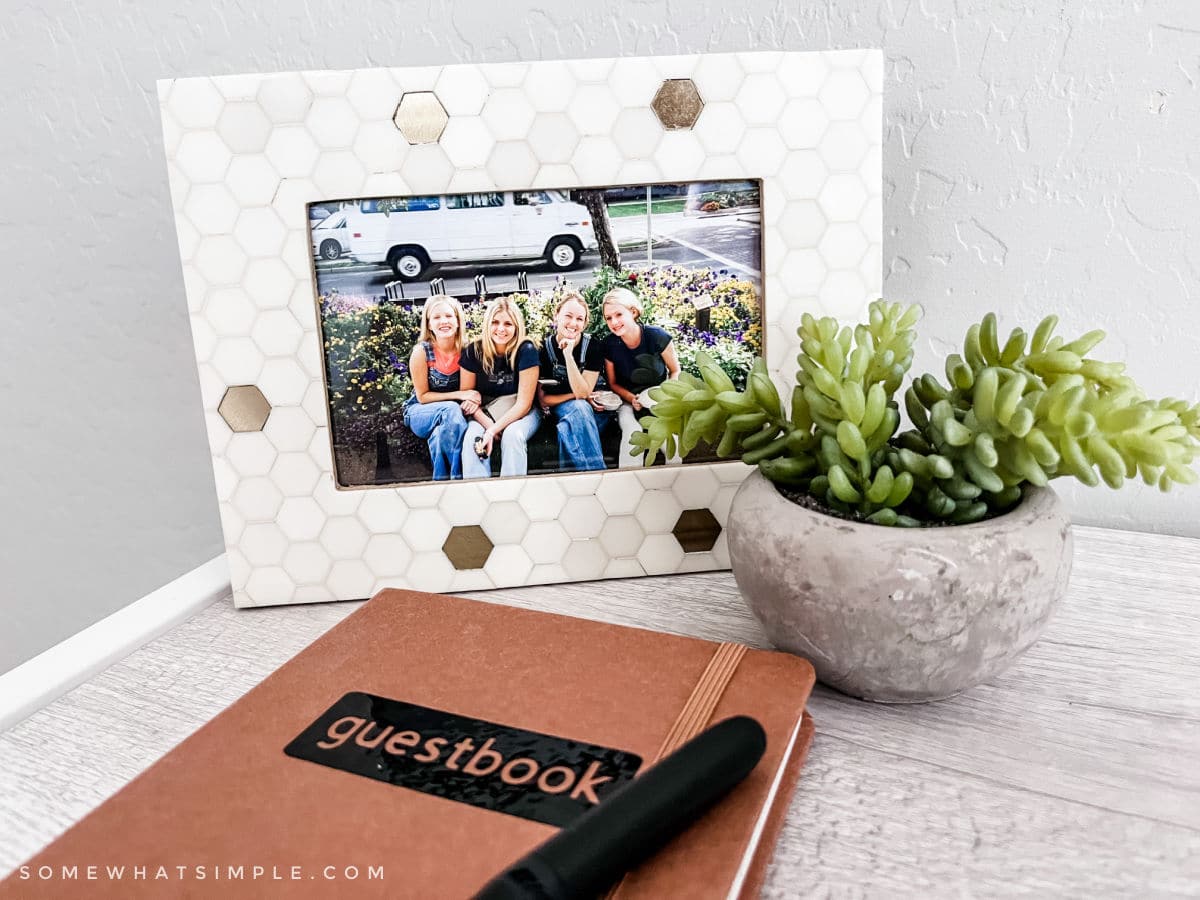 Sweet Sentiments
I always like to personalize our guest room with a welcome sign and their favorite snacks, but this time around I added a fun guestbook and a frame where I can swap out pictures of our guests from past visits or time spent together. (My college roommate's family is coming next week, so I put a picture of us during our freshman year in college – 20 years ago!!)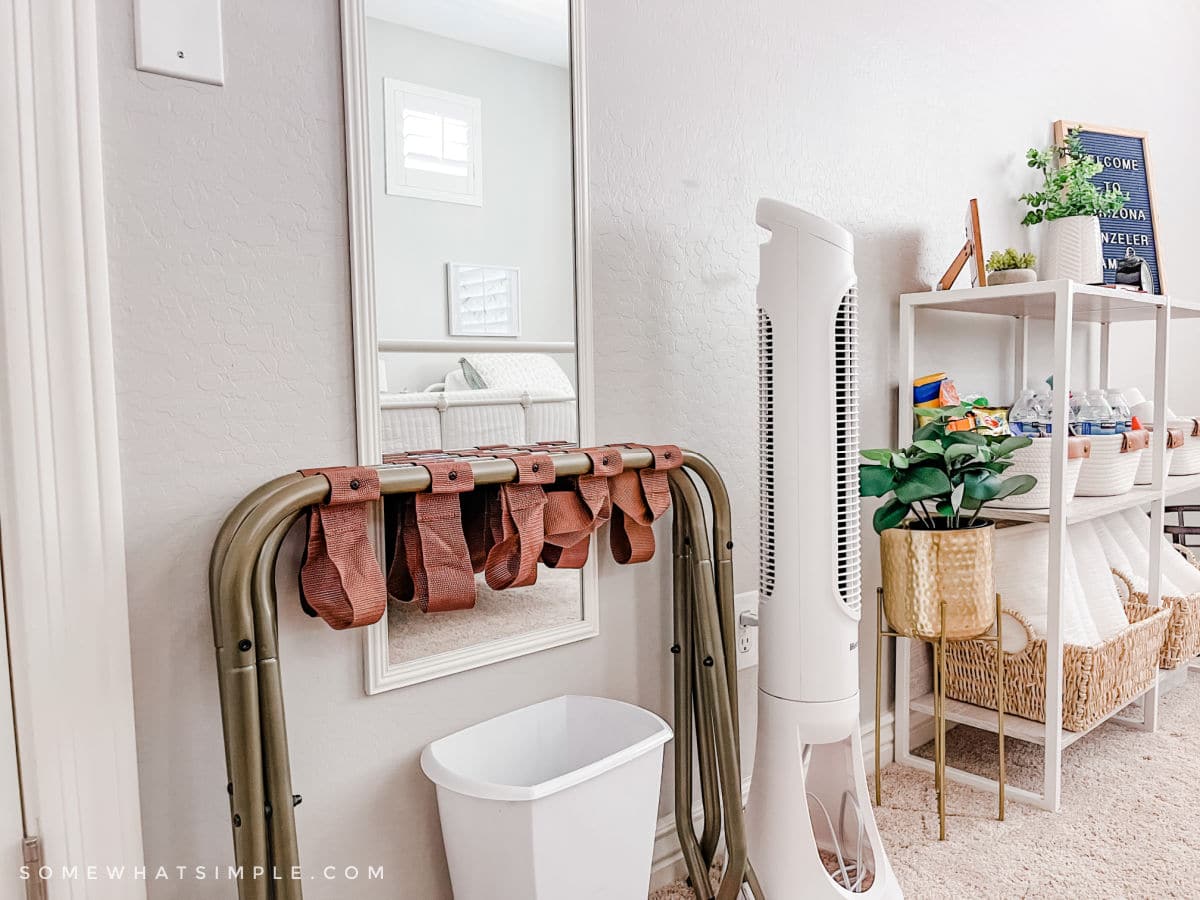 Not pretty, but helpful!
I included a laundry basket for dirty linens and towels on one side of the shelving unit, and then behind the door, I put a few things that will help our guests feel more at home – a full-length mirror, two luggage racks, a standing fan (we are in Arizona, after all), and a trashcan.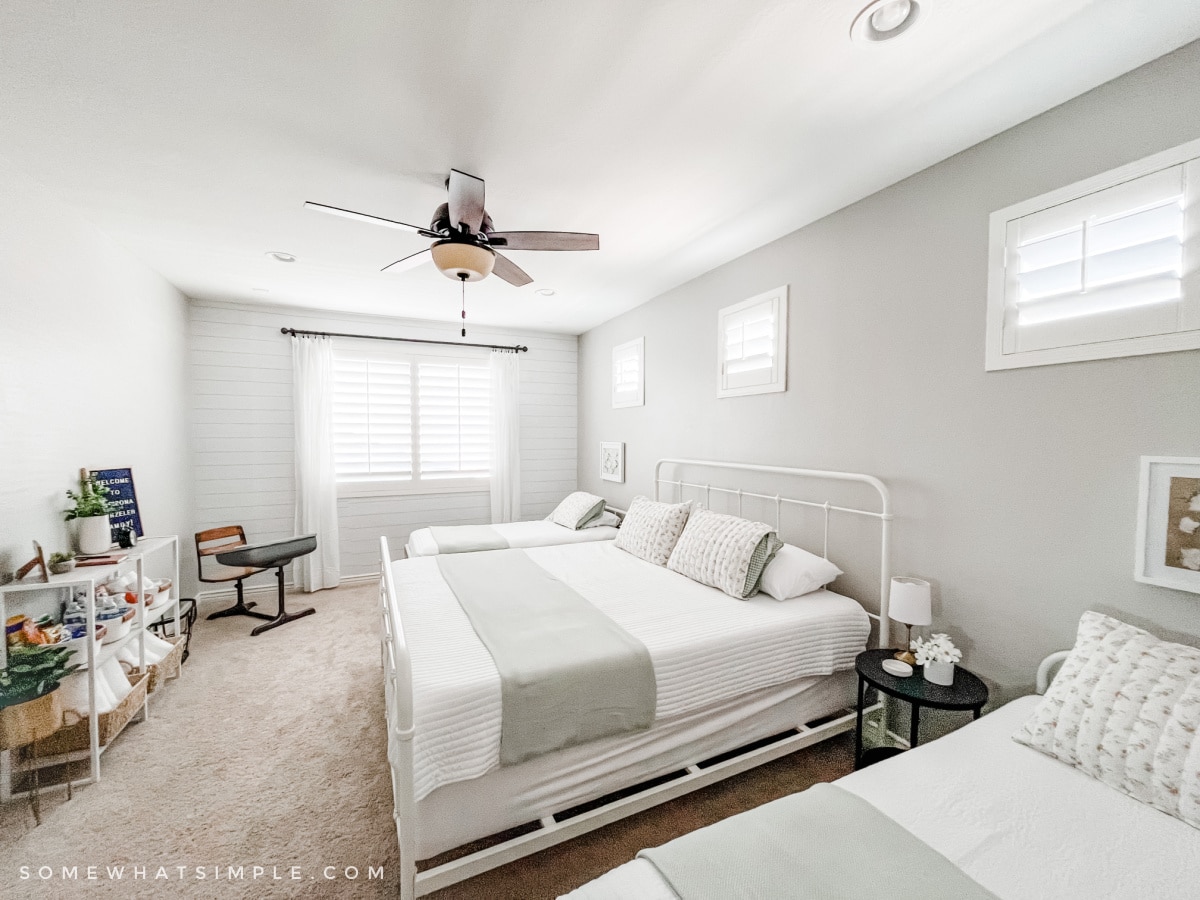 I just love how everything came together, and I can't wait to make memories with our out-of-state family and friends!
Shop Our Guestroom
School Desk (vintage)
Small Shelving Unit (bought at Target years ago)
Letterboard (similar)
Guestbook (I made this! Details on IG)
Metal Laundry Basket (local store)
Gold Plant Stand (from HomeGoods years ago)