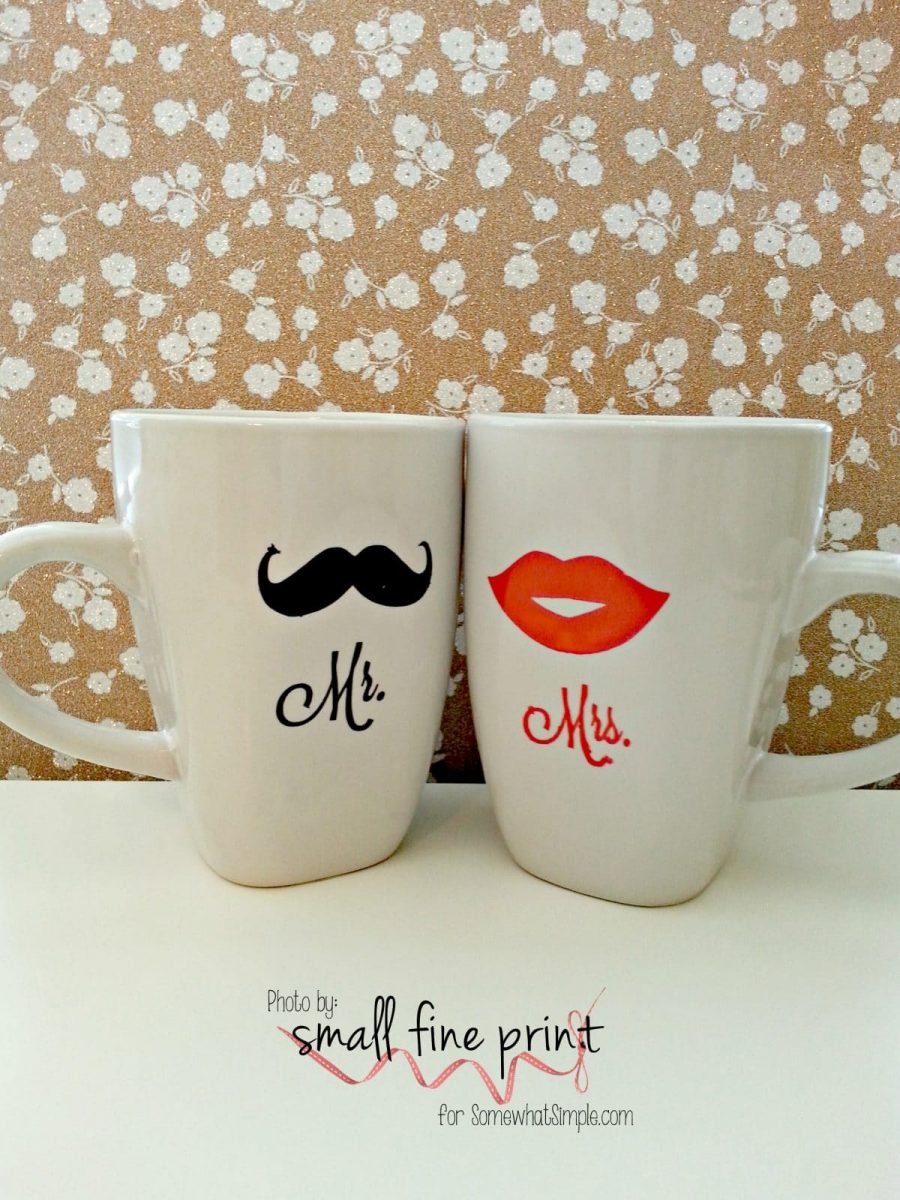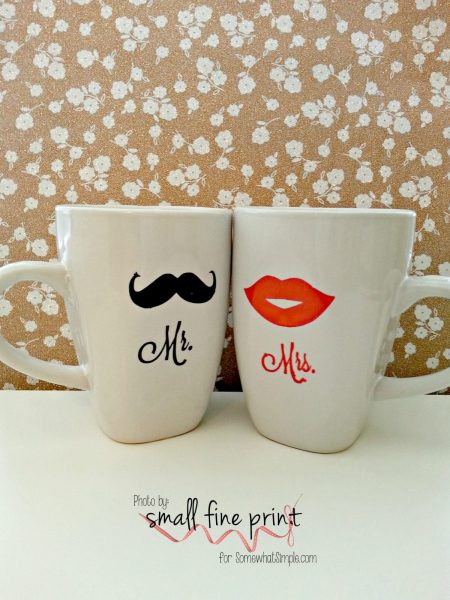 This is a fun and trendy gift idea for under $5! A mustache for the Mr. and a kiss for the Mrs.- darling, right? These His & Hers mugs require 3 supplies; 2 mugs (I purchased mine at the dollar store), Oil-based Sharpie pen (about $2 at your arts & crafts store), and premium vinyl for stencil (save money- use your scraps!).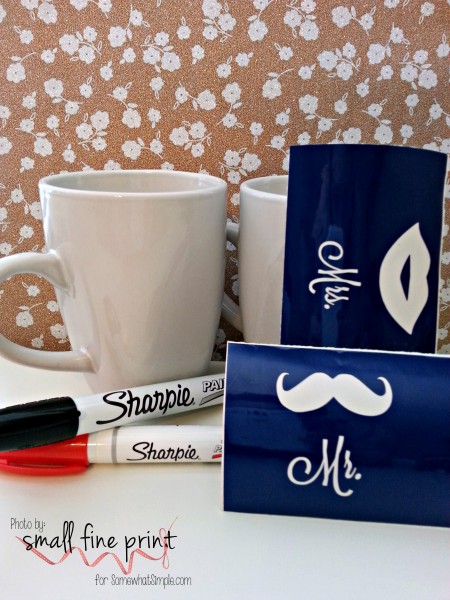 How-to use a vinyl stencil:
Using my Silhouette Designer Edition software, I created the mustache for 'his' and lips for 'hers' images to cut. Using the font Lavanderia, I put "Mr." and "Mrs." under the each image. I cut it out in premium vinyl scraps, and weeded the opposite- creating the stencil. Apply it to your mug with transfer tape, just as you would any other vinyl project. Press firmly, you really don't want any bleeding when you are using a stencil.
Using Oil-based Sharpie:
Get your Sharpie pen started as the directions read. Once your ink is flowing, trace your stencil. The ink flows very quickly, be prepared for it to come out fast and drippy. It also starts to dry very quickly, so if you make any mistakes outside the stencil, be quick to wipe it up with a q-tip or napkin.
You will want to peel the vinyl stencil off before the ink sets too long, or else the stencil may peel some of the ink off with it.
Setting the ink on the mug:
Place your mug in the cooled oven. You are going to want your mug heating up with the oven. Set your oven at 350°, then set your timer for 30 minutes. When the timer is up, turn your oven off and leave your mug in the oven to cool. Do not touch your mug until the oven is completely cooled down, and then carefully touch your mug to check if it is cooled before taking it out of the oven. Please don't burn yourself.
Let it sit for 24 hours before you expose it to moisture, especially a dishwasher.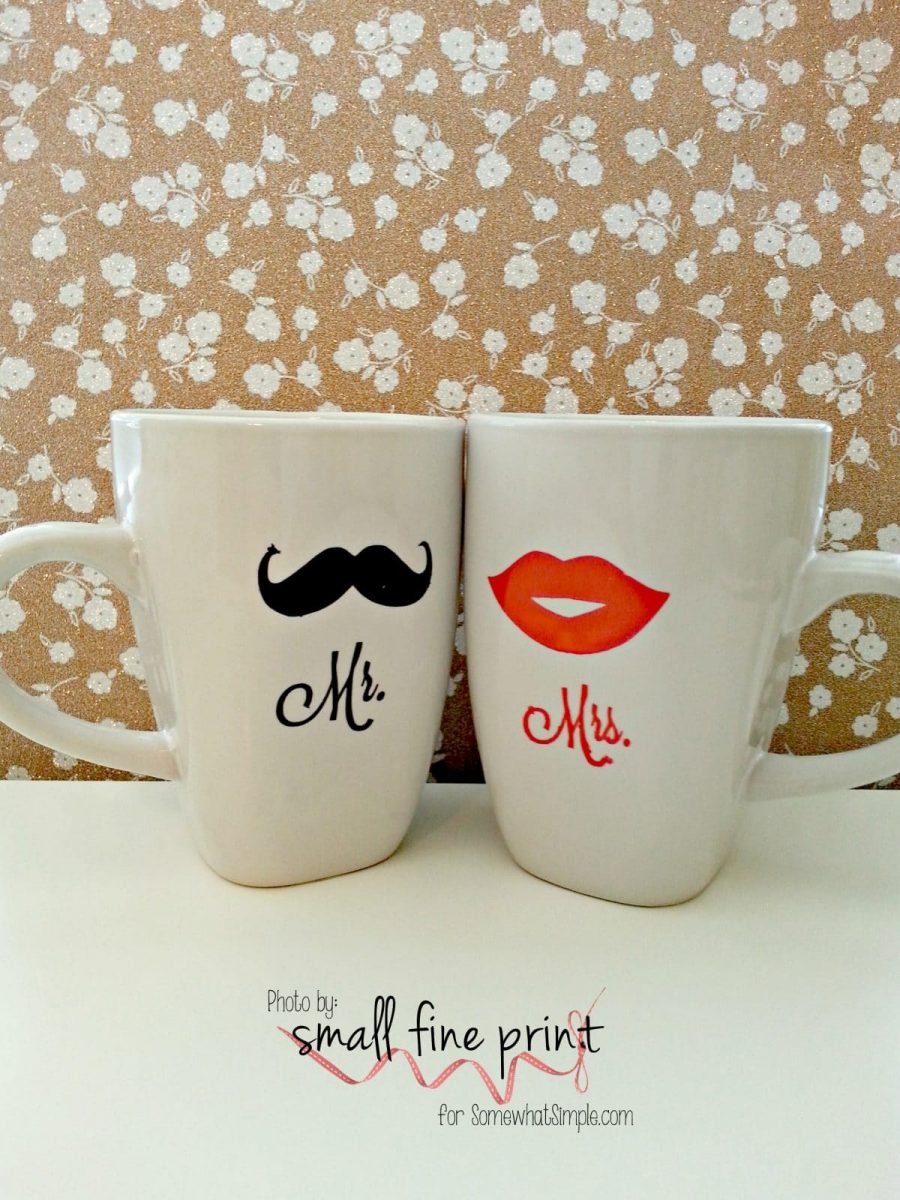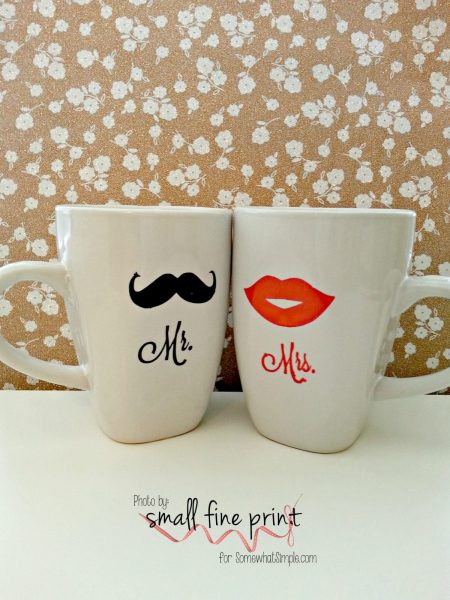 Aren't they so cute? They make such great couples gifts. It is a quick and cheap gift to make as well! Need to stock up on some vinyl for stencil?
Now until August 14th you can get your hands on this great Silhouette Promotion:
A Silhouette CAMEO®, 2 rolls of vinyl (chalkboard and white) and 1 roll of transfer paper: $269.99
or
Buy one get one free deals on all Silhouette vinyl (including transfer paper and stencil vinyl!)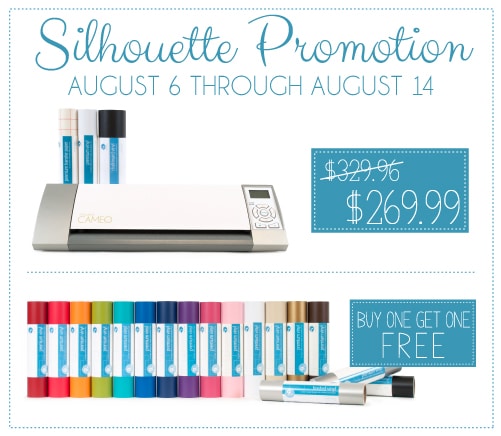 To order yours, click HERE and use SOMEWHAT at check out. Hurry! Offer ends August 16th.