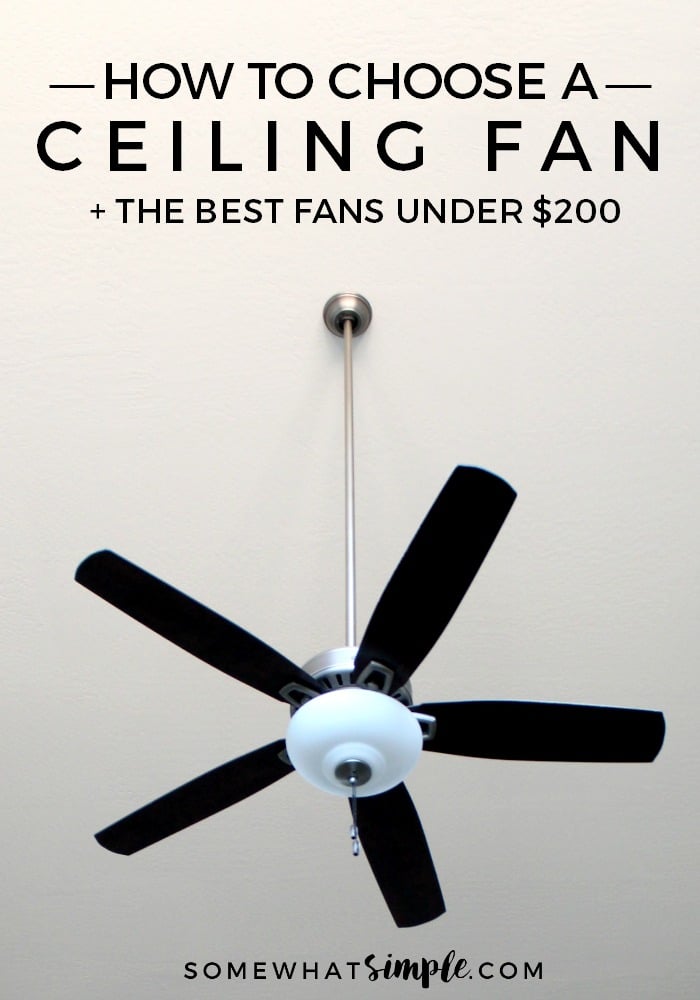 Today we are talking about how to choose a ceiling fan PLUS we'll show you our favorite fans for under $200!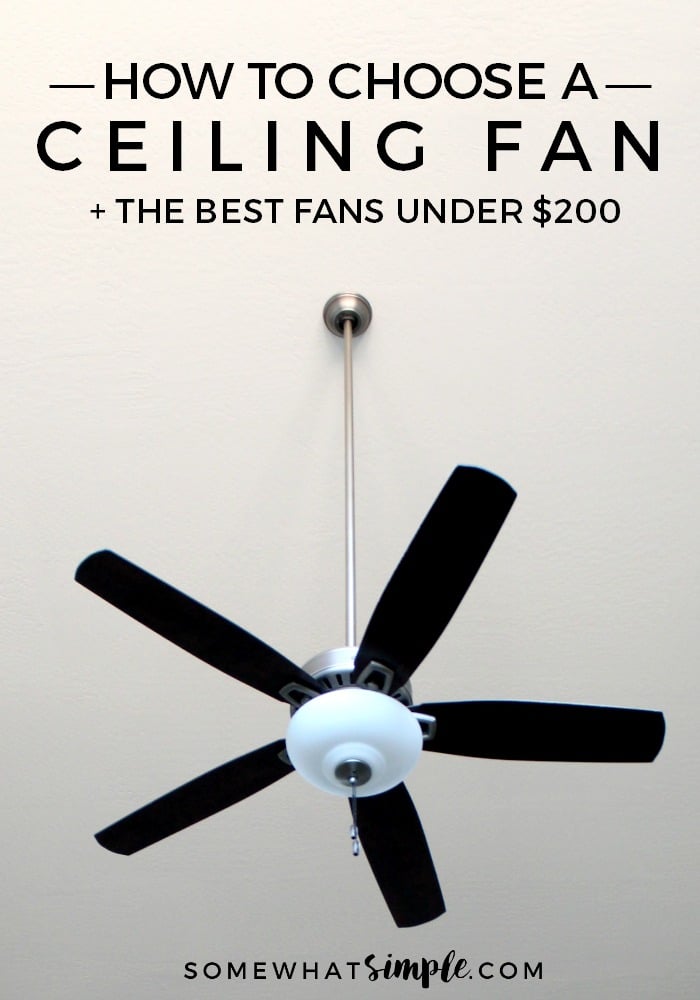 Living in Arizona, ceiling fans aren't just an optional piece of decor for your home, they are an absolute must! We experience triple-digit heat for multiple months in a row, so unless you want the a/c running all day long, a ceiling fan is a great, affordable way to help keep your home cool in the summer time.
Since we moved to our new home at the very beginning of summer, installing fans in the bedrooms, office, loft and family room was top on our project list! And while I don't call myself a ceiling fan expert, I have chosen (and re-chosen!) fans enough times over the years that I definitely have some tips to share about the process.
How to Choose a Ceiling Fan
First, choose a trusted brand.
This sounds so simple, I know. But consider the following –
In our last home, we walked into the hardware store, spotted a fan we liked the look of, brought it home and used it just a handful of times over several months. No matter how much we adjusted or tried to balance it, that thing was wobbly and it felt dangerous!
After much frustration, we even hired a handyman to help us out. He basically said, "I haven't had much luck with this brand – they tend to shake much more than they should."
Well shoot. That was money down the drain. (Not to mention a total hassle!)
We decided to replace those fans, but only after doing more research. We read several reviews on multiple websites and finally decided Hunter fans was who we'd try next.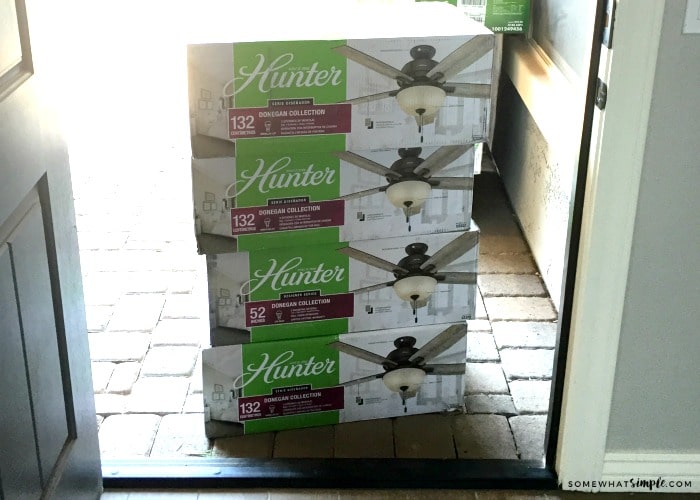 Not only does Hunter have a HUGE variety of fans (keep reading to see some of my favorites) – they offer amazing customer support and a Lifetime Limited Warranty – meaning they stand behind their product and if something goes wrong, they will work with you to remedy the situation. It only took me one bad ceiling fan experience to value this concept so SO much!
Our experience with our second set of fans was much different than the first, and Hunter will have my loyalty from now until forever!
Second, choose the right size.
When choosing a ceiling fan, keep in mind that size definitely does matter. A ceiling fan that is too small for your room won't offer enough air circulation, while a ceiling fan that is too big could create an excessive amount of air movement. In order to determine the proper blade span or diameter of a potential fan, it is important to know the square footage of your room. For very large rooms with high ceilings, it is a good idea to get a fan with a large blade span – 60 inches or bigger. Another helpful tip is to choose a fan that has 18-24″ of clearance on all sides of the fan. Here are some helpful sizing guidelines: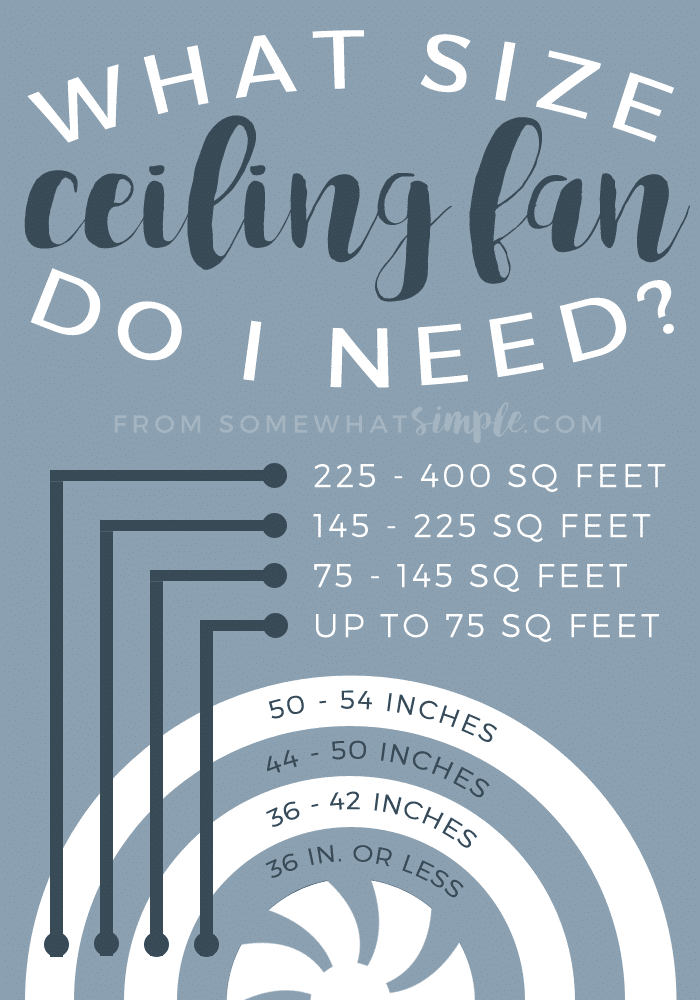 Third, choose the right style.
Because a ceiling fan could become a focal point in your decor, it is best to pick one that matches the overall look and feel of your home.
While I do love the look of a very modern and industrial ceiling fan, my new home is decorated more classic and traditional. The fans we ultimately ended up choosing are these: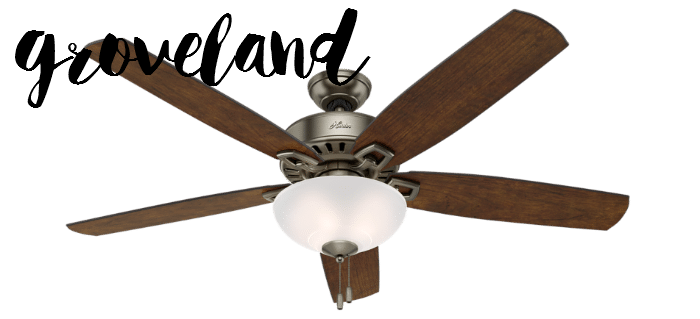 Groveland for our family room. I like this fan because it is very simple and very pretty. Our family room is nice and open and has 20-foot ceilings, so I needed a pretty substantial fan that helped keep that room as cool as possible.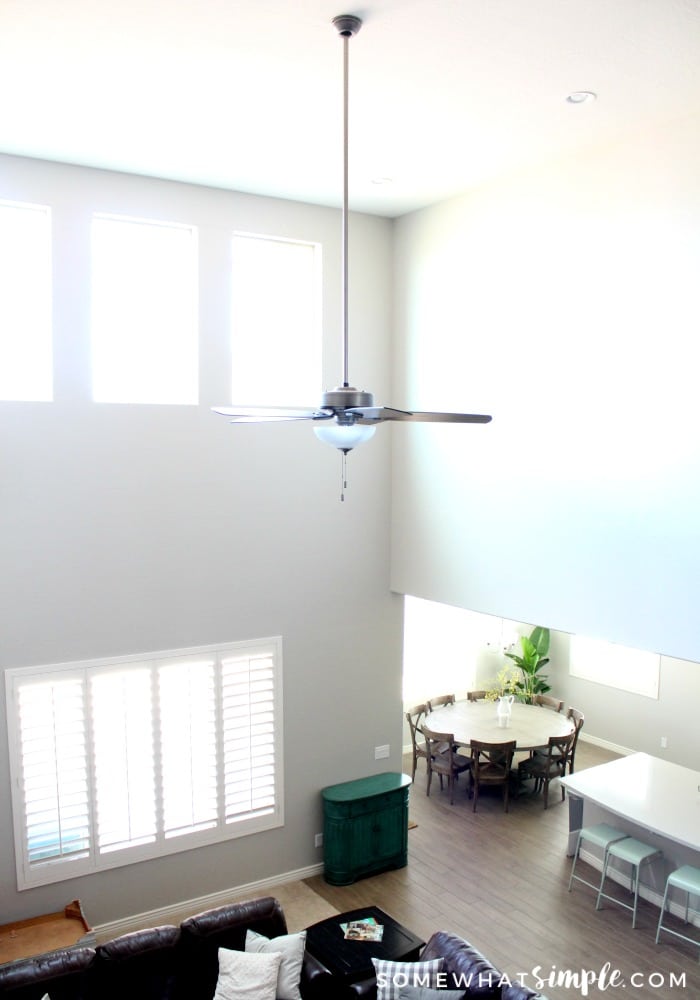 This fan has a 60 inch blade span and we hung it on a 72 inch downrod. This fan looks beautiful and the air circulation is perfect! You can feel a breeze while sitting on the couch and it really makes the room feel nice and fresh.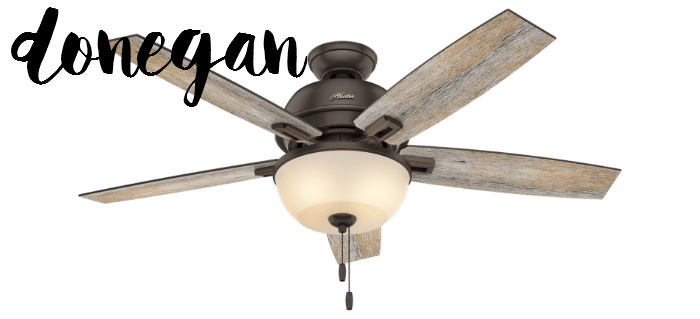 For the rest of the rooms in our house, we went with the Donegan. I chose the same fan for every room to cut down on the amount of decisions I had to make while decorating, plus it also gives a nice, cohesive feel – and I like that everything matches.
We have some bedrooms with white furniture, and some with dark furniture. So while we used the same fan in each room, we still had the option to choose the blade color that would show – one side of the Donegan's blades are a darker wood, one side is a lighter wood.
My master bedroom has dark, cherry furniture, so our fan in here is showing the darker blades –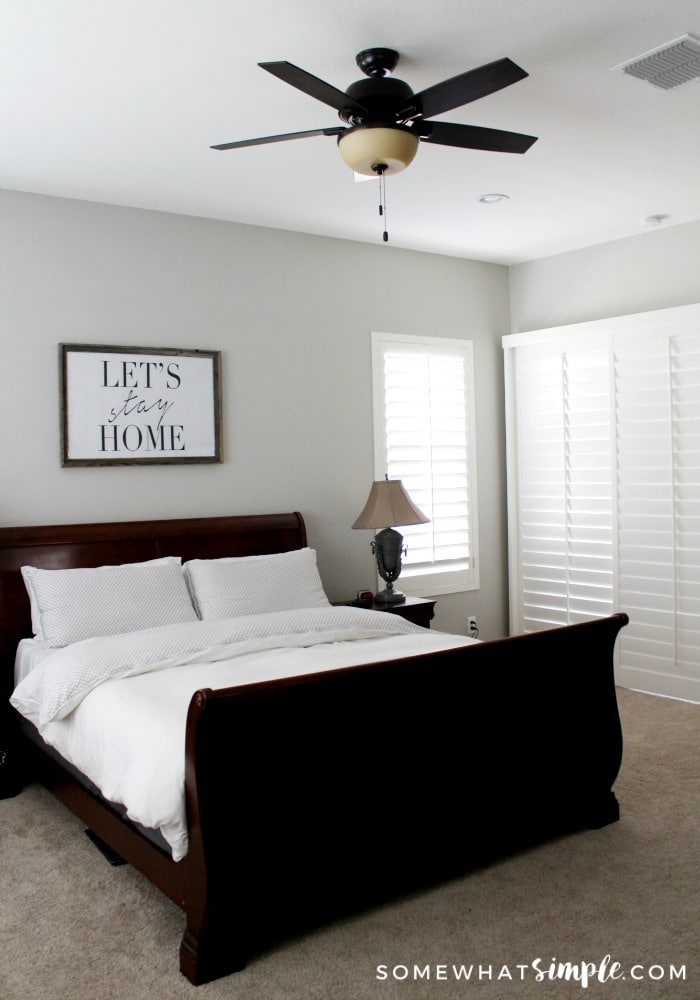 My office has white furniture, so we chose to go with the blades that are much lighter and have a little bit of a farmhouse or rustic feel –
(Isn't it pretty?)
The Donegan has a 52″ blade span and fits great in all the bedrooms! Our ceiling height is 10 feet, so no downrods were needed.
A Few Favorites…
I gathered a few more of my favorite fans from the Hunter website for your viewing pleasure. Hopefully you can find a few that you love too!
Direct links are below this image, and many fans have multiple finish options, so click the links to be taken to their product pages.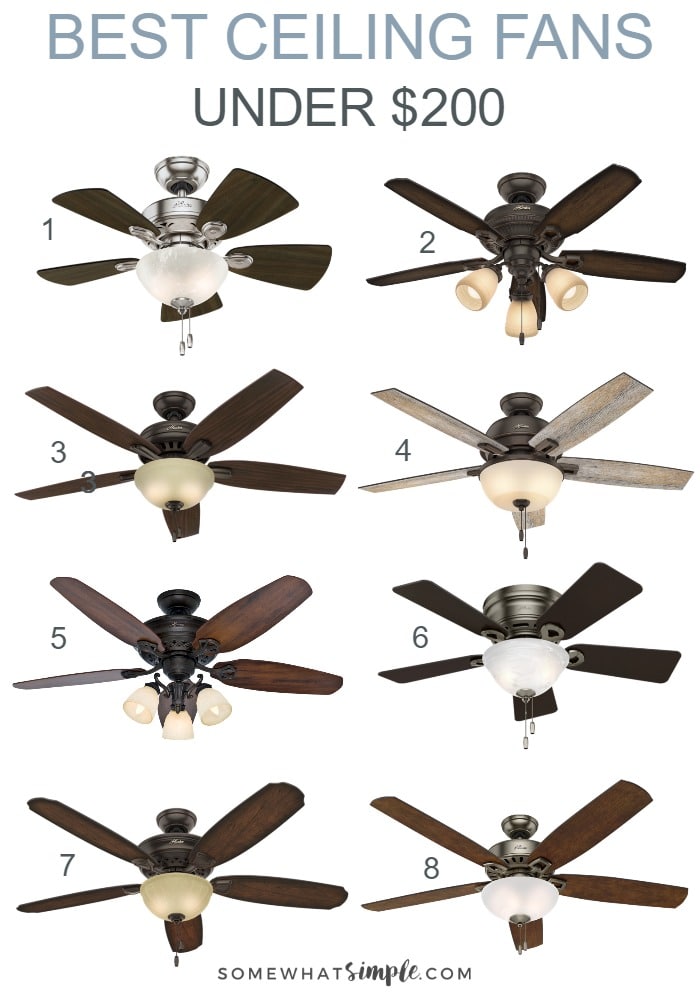 Watson || $109
Ambrose || $159
Newsome || $154
Donegan || $179
Woodford || $149
Conroy || $119
Markley || $189
Groveland || $179
Which one would you pick?
Did you know…
This is Hunter's 130th year making fans, and in celebration of that, they've released over 130 new fans, making it their biggest launch to date! For more information on finding the perfect fans for your home, visit Hunter's website and social channels:
Website || Facebook || Instagram || Pinterest || YouTube
Do you have ceiling fans in your home?
Let me know in the comments below, I'd love to hear your thoughts!
This is a sponsored post on behalf of Hunter written by me. All opinions expressed here are 100% my own because I truly love Hunter fans! Thanks for supporting our sponsors so we can continue to provide creative content and household tips to SomewhatSimple.com