Today we're going to show you how to clean your kitchen sink and why it is so important to stay on top of this simple task!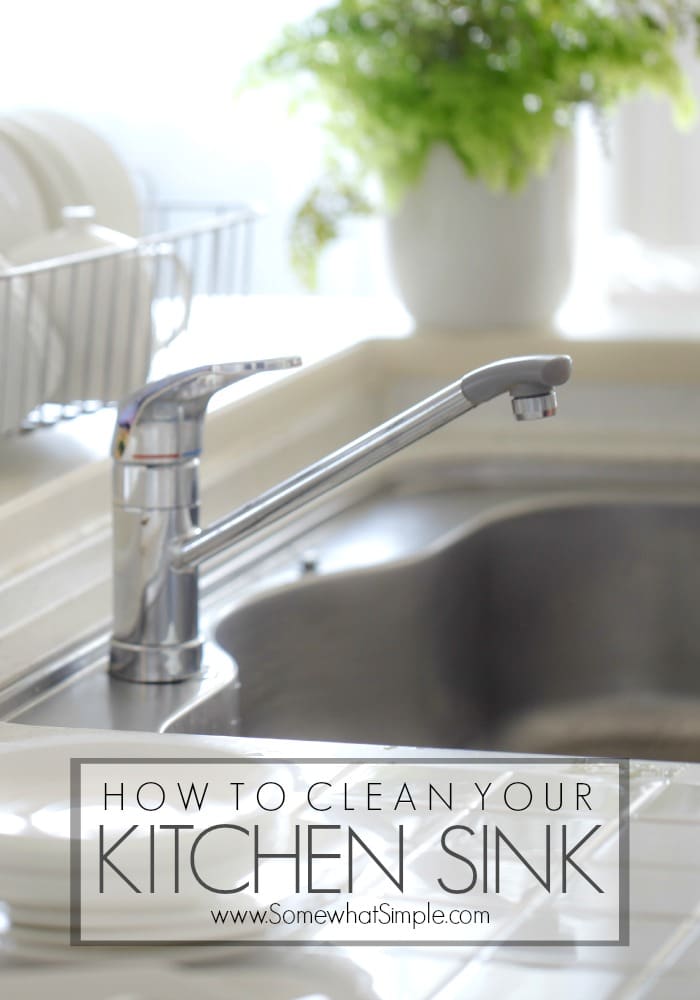 Did you know that your kitchen sink is the second dirtiest place in your house, even dirtier than your toilets?? But cleaning it and keeping it clean doesn't have to be a hard task- in fact, if you put in the work once then do some simple, daily maintenance, your sink won't look like the remains of a school science experiment any more! So for those of you at war with a breeding ground for bacteria, here is how to clean your kitchen sink in an easy way, along with some helpful tips.
Other Great Kitchen Tips
How to Clean Your Kitchen Sink
ITEMS NEEDED:
hot water
1 cup of Regular Bleach
all-purpose cleaner or baking soda
window cleaner or Glass Wipes
clean sponge or wash cloth
butter knife
old toothbrush
TIPS BEFORE YOU GET STARTED:
Be sure to rinse your kitchen sink in between each step so you aren't mixing cleaners that can create a dangerous gas.
Make sure you wear gloves. You will be working with bleach and you don't want to irritate your skin.
Empty the sink of all dirty dishes before you start cleaning.
DIRECTIONS:

Deep Clean
Follow these steps to clean your sink, then move on to the simple cleaning maintenance.
Fill your sink up all the way with very hot water + 1 cup of bleach. Let this water sit for 30-60 minutes, then drain the sink and rinse it well.
Use your favorite cleaner or baking soda and a clean sponge or wash cloth and scrub your sink. Rinse well.
Clean around the rim of the sink with a toothbrush to scrub small crevices and places where the sink meets the counter. Use a butter knife to dig out any touch scum or grime.
Scrub the faucet with your cleaner and sponge. Use the toothbrush to get in the cracks of the hardware.
Using some window cleaner, wipe the sink to make it nice and shiny.
Simple Cleaning Maintenance
Now that your sink has been cleaned and is free from bacteria, soap scum and caked-on food particles, get in the habit of doing the following tasks daily, after each use or as needed.
Rinse all your dishes as soon as you're done using them. Don't let dirty dishes sit long because if you're like me- once a pile starts, it is easy to keep adding to that pile until it has completely taken over your sink and counter!
Wipe your sink's surface often. I keep Clorox® Disinfecting Wipes on-hand and as soon as the dirty dishes have been loaded in the dishwasher, I wipe down the entire sink.
Avoid water spots by drying the sink with a designated towel each time you use it.
If you use a dishwasher, put your clean dishes away as soon as the load is done. This ensures you always have a place to put dirty dishes instead of letting them sit in your sink.
If you hand-wash your dishes, put your clean dishes away as soon as they are dry. This way you can put away your dish-drying rack and not have more unnecessary clutter on the counter.
Do you have any sink cleaning tips you want to share?