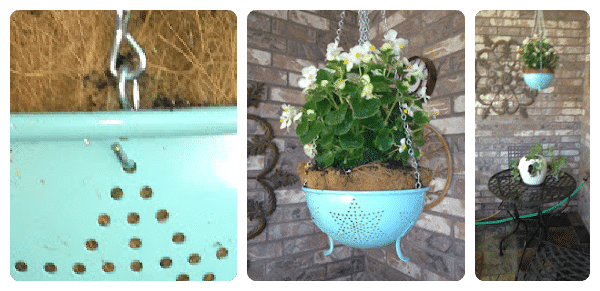 I'm excited to have Silvia from Thru My Garden Gate here today. Silvia and her daughter Marjory picked me up at the Salt Lake Airport last April so I wouldn't been stranded and I will love them both forever for their kindness! Silvia has recently dove into blogging and has some especially fun garden tips and tricks. She is here today with a darling tutorial to share with us- How to Make a Hanging Planter from A Colander.

Thanks Steph for giving my my first chance to do a guest post,how fun! Here's a little bit about me. I garden whenever possible, sew when I can, and read and craft in between. My hubbie (35 years and counting) and I have one daughter who has one husband and they have three of the most wonderfulest girlies of their own.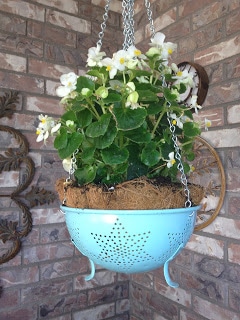 My mom taught me about reusing things from the kitchen in the garden. I'll admit though that I used to roll my eyes and groan inside at her thriftiness. Now I do the same thing.
I had an old colander that had been banging around in the garden for a couple of years and then – aha! This is how it was turned into a pretty little hanging planter.
I used this really lovely color – 'peekaboo blue' and sprayed inside and outside the colander 4 times. I did the inside even though it won't show to protect the metal from rusting and running through onto the exterior.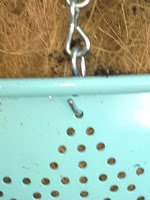 The chain is from ACE Hardware (it's right around the corner from us). And I love s-hooks, they are so handy I use them for hanging stuff outside all the time. To keep the soil from washing out put a coir liner inside the colander. When you first water go slowly so that the liner can absorb as much water as possible.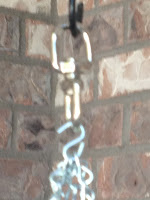 I always use a swivel connector for my hanging plants. It makes it easy to rotate the planter to get even sunlight. They are 'officially' used on dog chains to keep them from getting twisted up. I added my chains to the colander with the s-hooks and pinched them closed.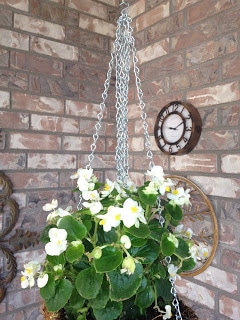 I guessed too long on the length of the chain that was needed. But instead of cutting it off I let it dangle down in the center of the plant. It turned out to be a nice touch and added some interest and movement.
And here's the finished planter on my front porch. It's hanging over another pot which catches the drips when I water. Check the weight of the planter after you water and see how heavy it is – this can be used as a guide for when to water next – never let it get too lightweight or your plants will quickly suffer. Remember to put another pot underneath and the runoff won't be wasted.

Thanks for visiting today Sylvia!
For even more gardening ideas, please visit Thru My Garden Gate.