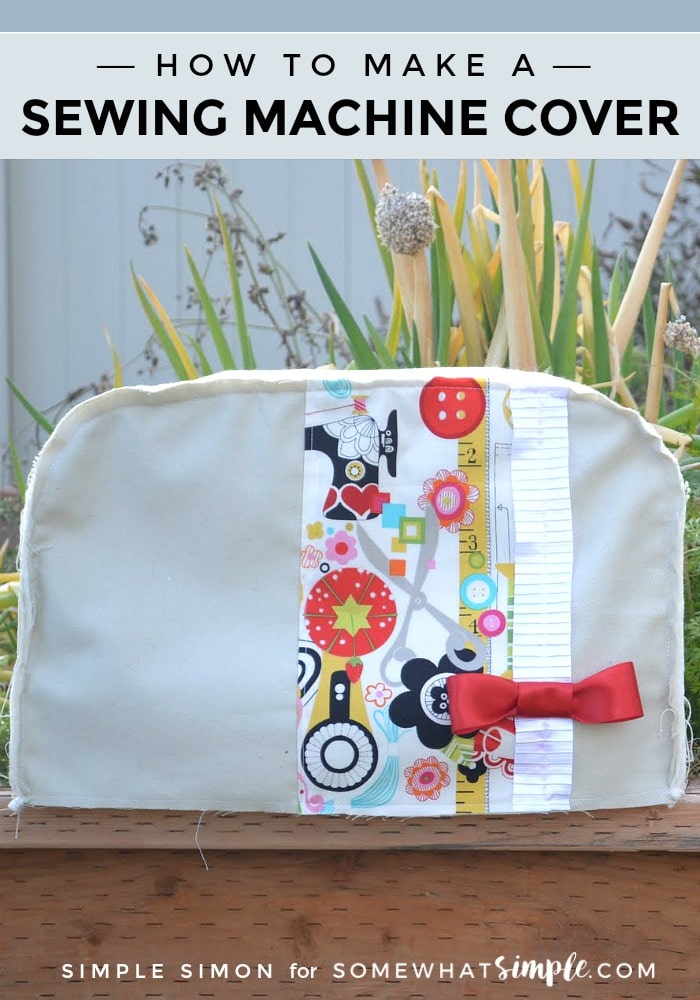 Making your own sewing machine cover is not only a cost effective way to take care of your machine, it is also a super easy and FUN sewing project!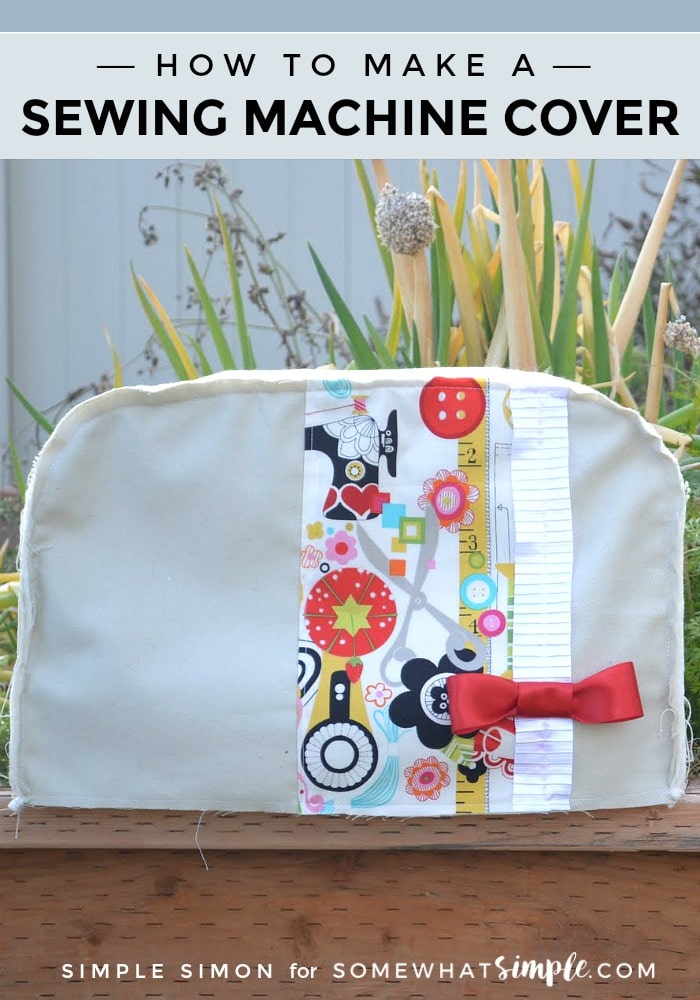 I've been wanting to make a sewing machine cover forever now! It has been TOP on my list of things to do. And since I've been working on re-doing my sewing space, I thought it was prime time to finally make one. The process is surprising easily. Here's how:
How to Make Your Own Sewing Machine Cover
MATERIALS NEEDED –
marker
wrapping paper (to make the pattern)
scissors
heavy canvas
soft felt, for the interior lining
straight pins
sewing machine
sewing fabric, ribbon, hot glue gun – optional for embellishments
DIRECTIONS –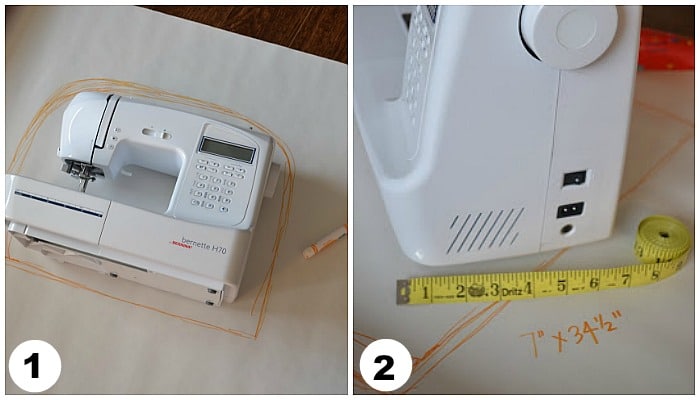 1. Unroll your wrapping paper and lay your machine down on its side on top. Trace around the edges of your machine, leaving a generous 1 inch allowance on all sides to make sure your pattern is big enough even after the seams are sewn. Cut out your pattern.
2. Next, measure the depth of your machine by standing it up and adding half an inch while tracing it. Then, measure your machine from the base/bottom of the left side, up over and across the top, and down to the base/bottom of the right side and add a good 2 to 3 inches (just to be sure your piece will be long enough). My measurements ended up being 7″ deep and 34 and 1/2″ from the base to base (going up over the top).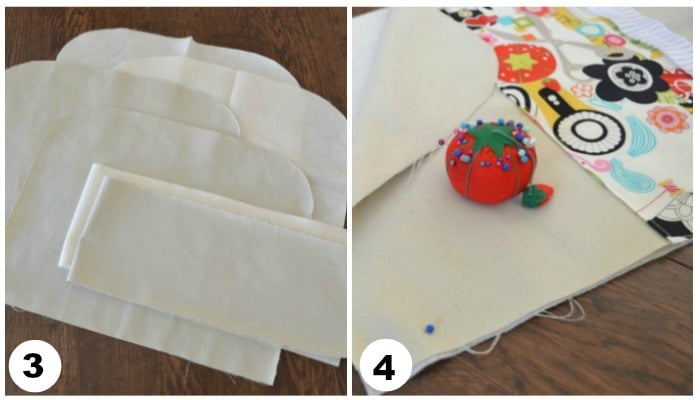 3. Using a heavy canvass, cut 2 flat pieces from the side pattern, and 1 piece matching the width and depth measurement you took. Cut the same number of pieces out of felt.
4. Add a strip sewing fabric along with some ribbon onto the front panel, optional. Pin each canvass piece to it's matching flannel/lining piece.
Let's start sewing!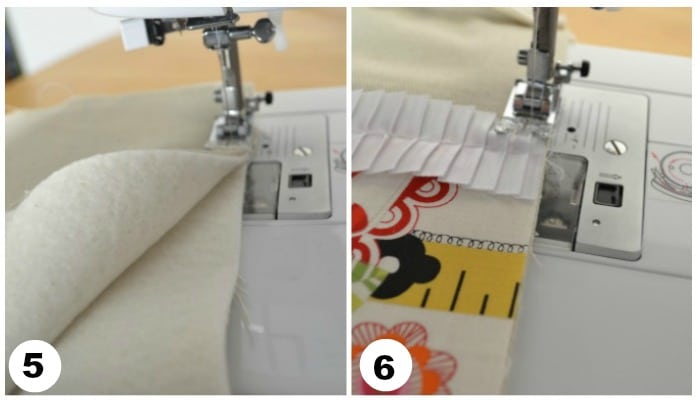 5. Begin sewing. I started by sewing the bottom right hand corner of the cover to the long strip….sewing a long seam up and over the top and finishing at the left hand corner. When I was finished I repeated the same process this time with the back panel of the cover. I also sewed my pieces wrong sides together because I wanted a work in progress kind of look with the raw edges but you can easily sew it with right sides together for a more finished, clean looking machine cover.
6. Now that your cover is completely assembled, place your cover on your machine trim anything off of the bottom. To finish it off, stitch around the entire bottom about 1/2 in from the raw edge bottom.
Since I'm fussy and can't leave anything well enough alone, I hot glued a ribbon on the front of the cover when I was done.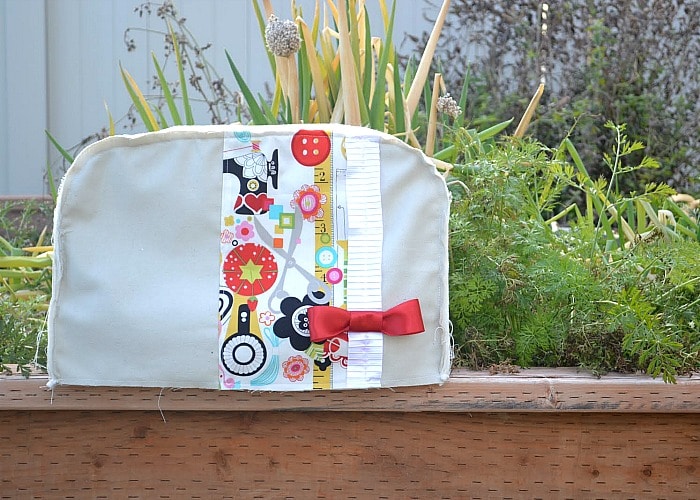 Such a simple project! I should have made one of these sewing machine covers forever ago!
Much better than the cheesy plastic cover my machine came with!
So go and cover those naked machines of yours. Winter is coming – don't leave them out in the cold! 😉
. . . . .
ABOUT THE AUTHORS – We are Elizabeth and Elizabeth, two girls who married brothers and ended up with the exact same name. We are the same age, both former school teachers, have the same number of children, and share a love for homemaking. Together we blog over at Simple Simon and Company where we share tips, tricks, tutorials and recipes.
Simple Simon & Co. first published this post as members our contributing team in November 2011.