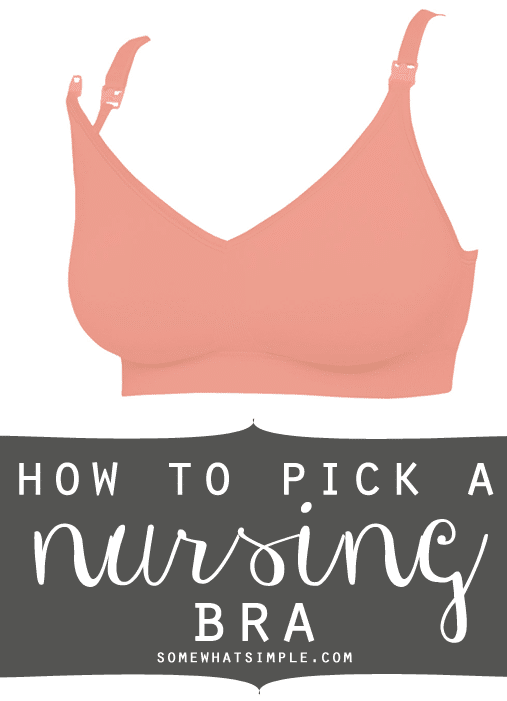 Any nursing or soon-to-be-nursing moms out there? We have expert tips on how to pick a nursing bra with information you might find very helpful!
4 Things to Consider:
Measure for the perfect fit. (Preferably after your milk has unpacked its suitcases.) A two to three cup size increase post child arrival is not unusual. (Measuring instructions HERE.) Your getup shouldn't bind the breast in any way that will interfere with milk flow. This means wearing a regular bra or one that doesn't fit isn't an option. Not only because of the sad visual state it leaves you, but also because it can inhibit your milk flow all together, and sometimes cause crippling pain.
Avoid underwire. Underwires are like nursing kryptonite. At least during the first few weeks following birth when the breasts and milk flow are most volatile. Underwire can confine the growth changes in breast size and shape during pregnancy and restrict milk flow during breast feeding.
Quick draw. Try it on and make sure you can unfasten, unzip, unclip, or slip as necessary with one hand.
Soft Cottons are a must. Even if the cup has some lace or alternative fabric on the exterior, the interior should be lined with seamless, sweet cotton. Anything else can irritate and may not keep them cool, dry, and free of infections.
Where to Buy:
If you aren't confident in your bust-measuring abilities, go to a well-equipped department store or bra boutique and get a professional to calculate this for you. However, I must warn you, my favorite department store only carried one style of nursing lingerie, and I had to button a pair of trousers and pack a double stroller to capacity to get there.
You can order online and enjoy the diversity of sizes and styles available, not to mention the convenience of ordering at home in your postpartum stretchy pants.
My Top 5 Nursing Bra Recommendations:
It is important to note that I am not being compensated to suggest these, but I will include affiliate links when I mention those that are available online.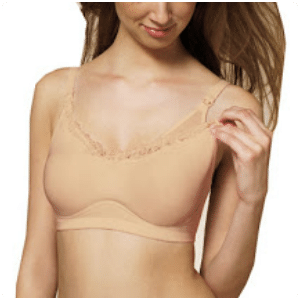 1. Elle Macpherson Intimates Maternelle Nusing Bra
Comfort: 10 // Flexibility: 10 // Support: 6 // Prettiness: 7 // Fits True to Size
In the first few weeks following your baby's arrival, when your lactation officials are sucked sore, not to mention incessantly shifting, this is the balm I recommend. It offers an exceptionally soft cup and lace that ascends to a luxurious level of modesty , a strong contrast to the amount of exposure you currently endure, and resembles a fancy camisole when glimpsed peaking under blouses.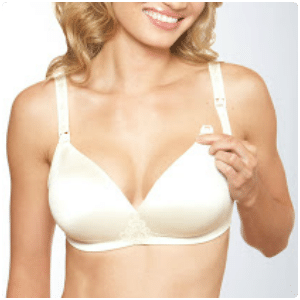 2. Bravado Designs Bliss Nursing Bra
Comfort: 9 // Flexibility: 8 // Support: 8 // Prettiness:8 // Fits True to Size
If I could recommend only one nursing bra, this would be it. Bravado offers a soft cup with the strength of seaming and underwire. It both calms and camouflages.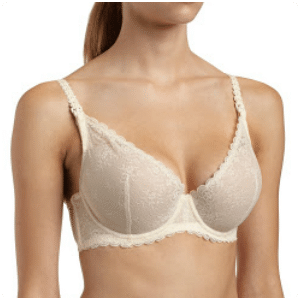 3. Le Mystere Sexy Mama Underwire
Comfort: 7 // Flexibility: 6 // Support: 10 // Prettiness: 10 // Fits True to Size
Once your milk supply has stabilized and pretty become a primary consideration, test drive this Cadillac of the nursing kingdom. Whether you're concerned with shape under a blouse or seduction sans buttons, both views are lovely.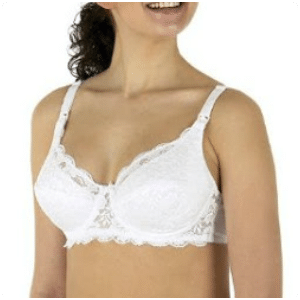 4. Gilligan & O'Malley Underwire Nursing Bra
Comfort: 6 // Flexibility: 6 // Support: 9 // Prettiness: 8 // Fits True to Size
If you want an affordable effect similar to Le Mystere with only a slightly diminished amount of support and prettiness, I recommend this price sensitive compromise.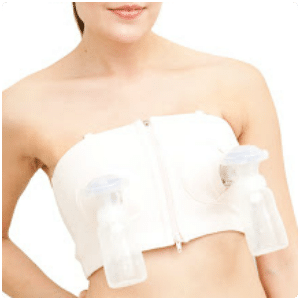 5. Simple Wishes Hands Free Breast Pump Bustier
Functionality: 10 // Prettiness:0 // Adjustable Fit
While not even close to attractive, I adore the function of this nursing aid. My hands prefer several activities to the tiresome task of nursing pump support.
So, what do you think? Do you have a favorite?
Let us know in the comment section below.
. . . .
About the Author: This post was written by our Fashion Contributor Reachel Bagely from Cardigan Empire in December 2011