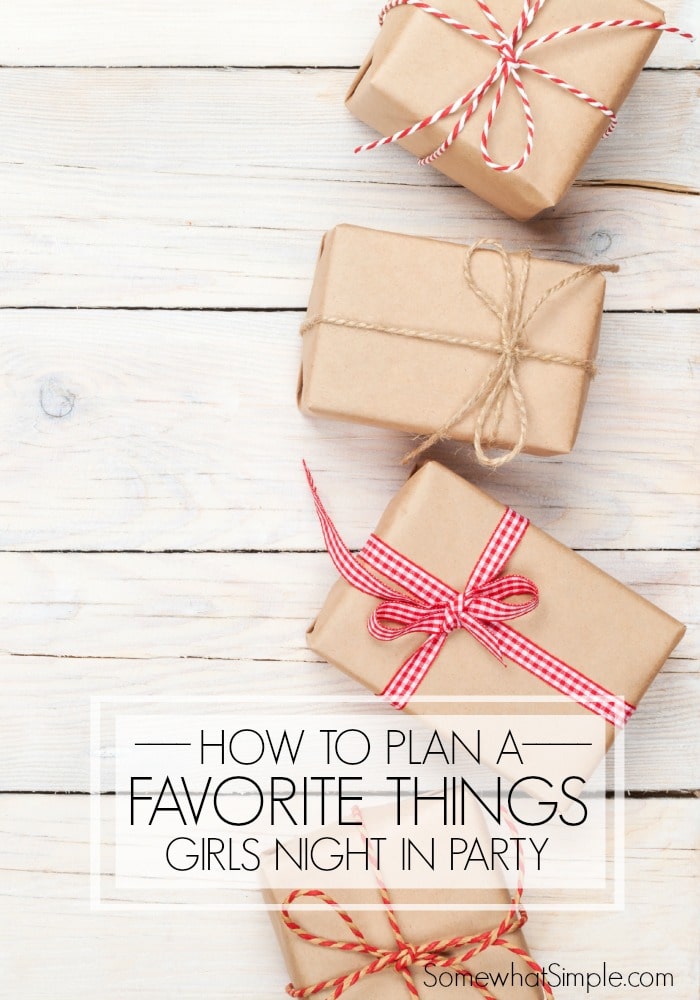 This week I am having a fun group of girls over for a Favorite Things Party. What is a Favorite Things Party, you ask? Let me tell you all about it and how to plan your own!
A Favorite Things Party is just another excuse to gather your girlfriends together and exchange gifts. You each bring an item to the party (all similar in price), eat yummy food, chat, relax and do whatever it is you and your friends love to do. It is a perfect Girls Night IN!
How to Plan a Favorite Things Party
The Guest List
I'd suggest inviting 10-25 girls. Too small of a group and the gift exchange goes way too fast, but too many could turn your girls night into a slumber party… and you don't want the gift exchange to take too long!
The Invites
Make sure you include the standard info (date, time and place) but you also want to include some details about the gift exchange. Here is the invitation I made:
Click on the image to save and print or download the PDF HERE.
Let's talk about the gifts, shall we?
On the invitation, you'll specify a price limit that each guest should stick to. You could also specify a certain theme, if you'd like. For example, you could have everyone bring their favorite treat, their favorite beauty product, their favorite kitchen gadget etc. For tonight's party, I am keeping it very generic and I've simply asked my guests to bring their "favorite thing". I am sure we will get a variety of products- and that sounds like fun to me! For a list of gift ideas, read about this Favorite Things Party from Blue Cricket Design HERE
The Set Up
Guests will arrive and mingle, so you should consider having a variety of your favorite foods ready to go. I thought about planning a dinner for everyone, but then I decided I wanted to be a part of the festivities and not stuck in the kitchen, so my table will have an array of finger foods and snacks that I love- cupcakes, brownie bites, veggie sticks, fresh fruit, Banana Dippers, crackers and a couple of my favorite dips.
The Schedule
After mingling for a bit, we'll congregate to the family room where we'll do a short round of introductions, and then we'll start the gift exchange.
How to Exchange the Gifts
There is no right or wrong way to exchange gifts, but tonight we'll do it White-Elephant Style. Everyone will write their name on a piece of paper and put it in the bowl. All wrapped gifts will be placed in the center of the room. As the host, I will draw one persons name from the bowl. That person will get to pick the first gift from the pile. Once opened, we'll ask who brought the gift and why that product is their "favorite thing." (Be prepared to start a mental list of all the new products you "have to try"!) The host will then draw another name from the bowl and that person can choose to pick an un-opened gift from the pile, or steal any of the gifts that have already been opened. We allow each item to be "stolen" twice, meaning the 3rd person to have their hands on it gets to keep it and it cannot be stolen from them for the rest of the night. The host will continue drawing names out of the bowl until everyone has had their chance to get a gift. This can take about an hour, depending on how chatty your group is and how many people you have at your party.
Another Idea
At another Favorite Things Party that my sister-in-law put together, the hostess had some extra "door prizes" of her favorite things that she gave to guests after the gift exchange. (I think she had a hard time deciding what ONE gift to put in the gift exchange, so she bought a bunch!) She simply drew a name from the same bowl used in the gift exchange and gave that person an additional "prize" or gift.
And Then What???
After the gift exchange is over, guests are welcome to stay and mingle and indulge on more yummy foods. Before each person leaves, they'll get a goody bag with a few more of the hostess' favorite things- a fun-sized snicker bar, a notepad and pen ('cause I am a list maker!), a facial mask ('cause I love to be pampered) nail polish…just a few extra items that will let them know I appreciate them coming!
…how is that for a night of fun???